ECB Monetary Policy Unchanged after today´s meeting.
Oil plunges to $ 45 as JPM,UBS slash price 
Euro drops after ECB announcement.
City traders are on edge as Britain heads to the polling stations today
The European Central Bank has dropped its pledge to cut interest rates to fresh record lows if needed.
Following today's governing council meeting, the ECB has (as expected) voted to leave borrowing costs at their current levels.
But importantly, it has adjusted the language in today's statement. It now says that it expects interest rates to remain "at their present levels for an extended period of time".
Previously, the ECB promised that rates would remain "at their present levels or lower".
The ECB has raised its growth forecasts for the next few years. It now expects GDP to rise by 1.9% this year, up from 1.8% expected back in March.
But while the eurozone economy is recovering, there are still "downside risks", predominately due to "global factors", Draghi says.
Draghi says " Inflation is converging towards our projections of close but below 2 percent". "
Draghi says it's important to look at the reasons behind Europe's low inflation. One problem is that wage growth is modest, because negotiations are "backward looking" — ie, bosses only offer small pay rises because inflation has been so low recently.
Draghi also points out that many of the jobs created recently are of relatively poor quality — many are temporary, or part-time.
The euro drops half a cent against the US dollar after Mario Draghi announced the ECB has slashed its inflation forecasts.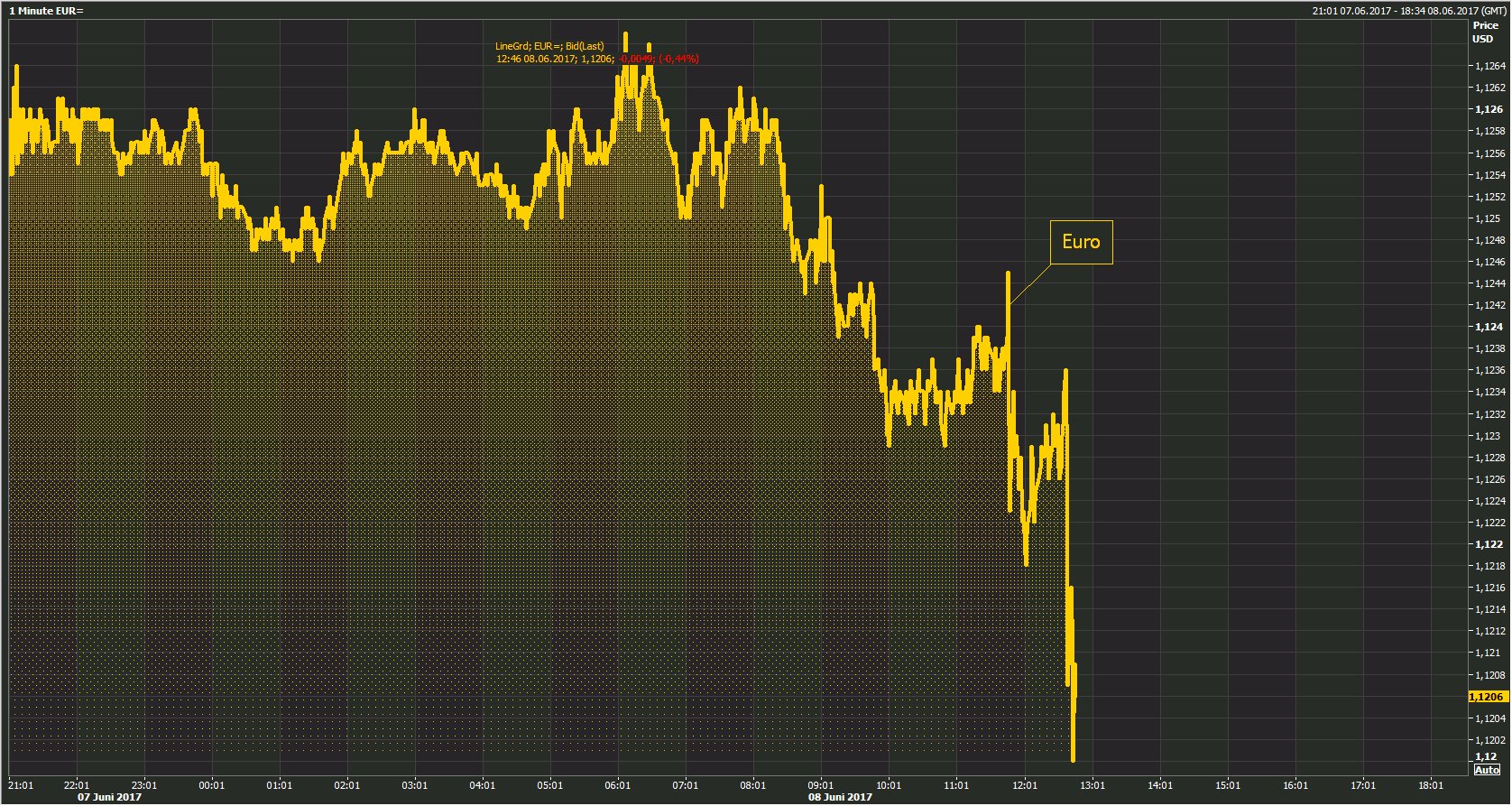 U.S. stock index futures were slightly higher on Thursday,  while investors remained focused on an ECB meeting and the UK election outcome.
Today's Markets
In Asia, Japan -0.4%. Hong Kong +0.3%. China +0.3%. India -0.2%.
In Europe, at midday, London flat. Paris +0.4%. Frankfurt +0.5%.
Futures at 6:20, Dow -0.1%. S&P flat. Nasdaq +0.3%. Crude +0.8% to $46.07. Gold -0.5% to $1287.40.
Ten-year Treasury Yield +2 bps to 2.2%
Then main moves in markets:
Currencies
The Bloomberg Dollar Spot Index added 0.2 percent as of 8:58 a.m. in New York.
The euro fell 0.3 percent to $1.1228, while the pound weakened 0.3 percent to $1.2923.
Stocks 
The Stoxx Europe 600 Index edged lower, while the FTSE 100 dropped 0.2 percent.
Futures on the S&P 500 added 0.1 percent after the underlying gauge added 0.2 percent Wednesday.
Bonds 
The yield on 10-year Treasuries rose one basis points to 2.19 percent.
Benchmark U.K. gilt yields rose three basis points to 1.03 percent, underperforming European peers. German bund yields added one basis point.
Commodities
Oil fell to the lowest level in a month in New York after an unexpected increase in U.S. crude stockpiles cast doubt on OPEC's ability to rebalance world crude markets. Futures fell as much as 0.9 percent in New York after sinking 5.1 percent Wednesday.
Gold dropped 0.3 percent to $1,283.07 an ounce.
Stocks News
Alibaba is forecasting massive revenue growth of 45%-49% this year, a target that implies sales of up to $34.3B, and elicited gasps of "wow" from investors at an event in Hangzhou. The guidance puts Alibaba (NYSE:BABA), which in May recorded its biggest quarterly rise in revenues since its IPO in 2014, on track for its biggest underlying rise so far, said CFO Maggie Wu. BABA +10.2% premarket.
Amazon has stepped up lending to third-party sellers on its site who are looking to grow their business. The company doled out more than $1B in small loans to sellers in the past 12 months, compared with more than $1.5B it lent from 2011 through 2015, said Peeyush Nahar, VP of Marketplace. Sellers have used the money to expand their inventory or discount items on Amazon (NASDAQ:AMZN).
Yahoo shareholders will vote today on the sale of the company's internet businesses to Verizon (NYSE:VZ). The $4.5B transaction would leave stakeholders with shares in a new firm, called Oath, that would primarily hold $57B in stock of Alibaba (BABA) and Yahoo Japan (OTCPK:YAHOY). According to Recode, layoffs are expected to number up to 1,000 jobs, which is less than 20% of the combined company. YHOO +6.4% premarket.
Toshiba aims to name a winner for its prized semiconductor unit on June 15, even as the struggling conglomerate criticized the chip partner that is fighting to win its lucrative business. Toshiba's (OTCPK:TOSYY) race has narrowed to two main groups: Broadcom (NASDAQ:AVGO) plus U.S. tech fund Silver Lake vs. a U.S.-Japan group of Western Digital (NYSE:WDC) and Japanese government-related investors.
Hong Kong's Court of Appeal found that Moody's (NYSE:MCO) broke the rules when it published a report on Chinese firms in 2011, rejecting the credit rating agency's attempt to appeal a tribunal ruling on the matter. The case has been closely watched by the financial industry as it's likely to redefine the limits on what can be written in research reports on public companies.
Credit Suisse has sold over 99% of the shares on sale in its rights offering to existing investors, raising $4.3B to fund its strategic overhaul. Credit Suisse (NYSE:CS) said it would have a common equity Tier 1 ratio of 13.4% and a leverage ratio of 5.1% after the capital increase, based on numbers from Q1.
Italian banks are considering assisting in a rescue of troubled lenders Popolare di Vicenza and Veneto Banca (OTC:VENBF) by pumping €1.2B of private capital into the two regional banks, Reuters reports. The Italian government plans to lead the rescue but EU competition authorities have requested a private capital injection as a condition to approve the bailout.
IKEA plans to test selling its products on third party websites as the world's biggest home furnishing retailer targets more online customers due to the "changing competitive landscape." Amazon (AMZN)? Alibaba (BABA)? "I leave unsaid on which (platforms), but we will test and pilot, to see what does this mean, what does digital shopping look like in future," said Inter Ikea Group CEO Torbjorn Loof.
Australian tennis star Thanasi Kokkinakis is facing a battle over the right to use his "Special K" nickname commercially, as Kellogg's (NYSE:K) takes the sportsman to court in his native Australia. "His association [with the brand] could help, but at the end of the day it's a trademark that we own and we want to continue to own," said a Kellogg spokeswoman.
Building on its future strategy, Honda (NYSE:HMC) is aiming to launch Level 4 autonomous driving technologies in its cars by 2025. That will mean they can drive themselves on highways and city roads under most situations – only one step away from a fully functioning self-driving vehicle. Honda has also been ramping up R&D spending, earmarking a record ¥750B ($6.84B) for the year to March.
A magistrate judge has ruled that UBER must hand over a key document that could shed light on what its executives knew about alleged theft of trade secrets from Alphabet's (GOOG, GOOGL) Waymo self-driving car unit. Another blow? He also shot down a motion by Uber to put the litigation on hold while the company appeals his decision that the case can't be moved into arbitration.
Boeing is streamlining its aircraft production systems at its largest factory, trying to cut costs to compete with rival Airbus (OTCPK:EADSY) and chip away at the near-$30B deficit created by its 787 Dreamliner. Dozens of complex robots are replacing humans for such mundane tasks as drilling and riveting, and Boeing (NYSE:BA) is reordering some of its assembly steps to speed up the process.
The U.S. government is considering banning laptops from the cabins of inbound flights from 71 airports overseas, a dramatic increase from the 10 airports where the security protocol currently applies. The ban is necessary because of "a very, very real threat – a very sophisticated threat," DHS Secretary John Kelly told a House Homeland Security Committee hearing.