UK May hit hard in Humiliating vote reverse
UK Labour beats expectations. Corbyn : Ready to Serve.
Sterling tumbled the most since October
Theresa May Says She Will Form A Government With Support Of  rightwing DUP Party
Shares of U.K. banks and housebuilders fell and sterling dropped as low as at $1.2636 before recovering to $1.2733, as investors feared a hung parliament would usher in a fresh period of political uncertainty and make it more difficult for the U.K. to secure a favorable deal in its negotiations to exit from the European Union.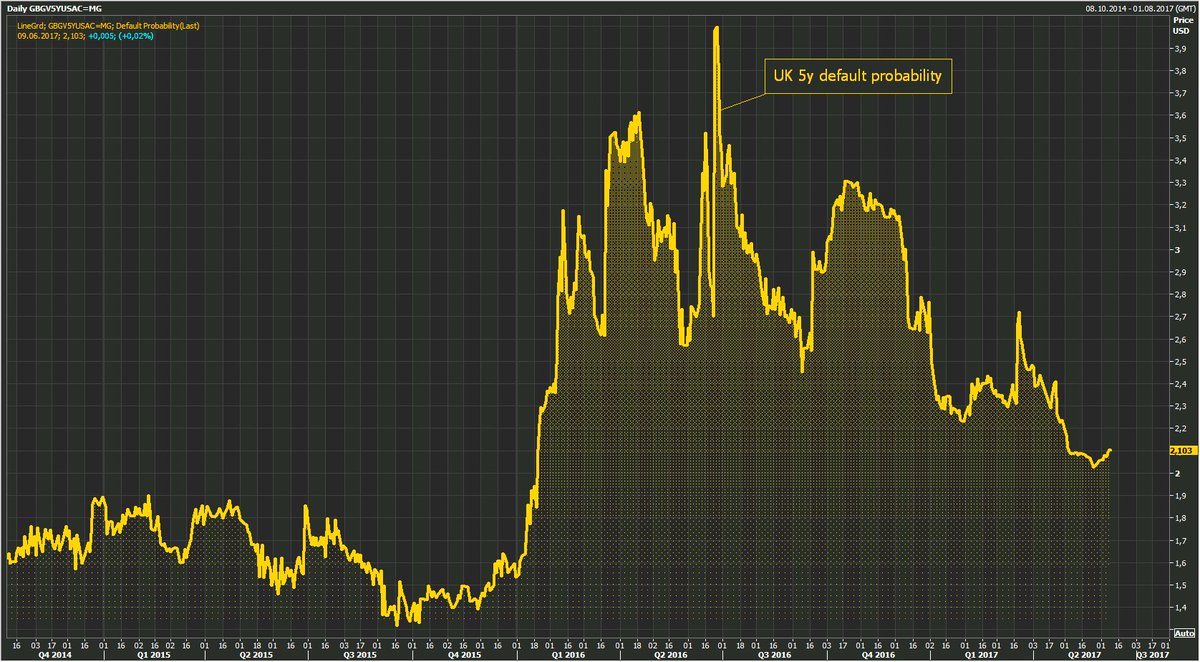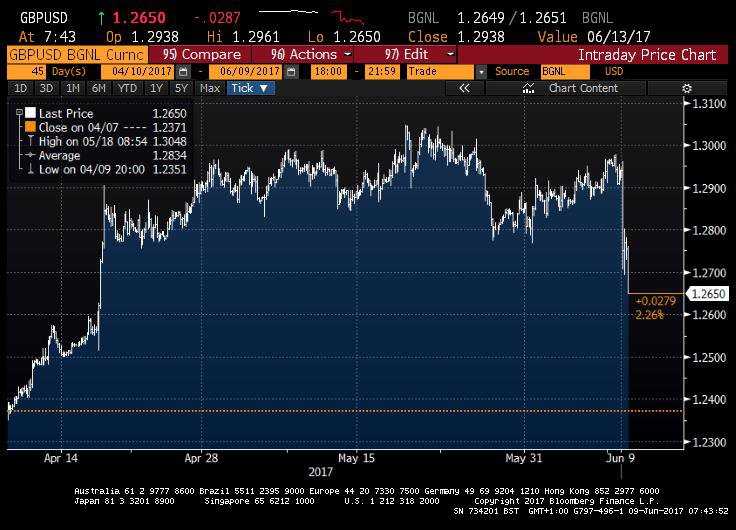 the Stoxx Europe 600 rose 0.1% in morning trading despite declines in real estate and travel shares. The rest of the EU is in a stronger negotiating position than the U.K., investors say, and is unlikely to suffer from a more drawn-out negotiation period.
The euro extended losses to three days, and the Stoxx Europe 600 Index swung. Fears of a supply glut continue to weigh on oil, but it managed to reverse an earlier decline.
"For now, the results of U.K. elections do not appear to be threatening the global growth story," Mark Haefele, global chief investment officer at UBS Group AG, said in a note to clients. But for Britain,"political uncertainty is likely to more than offset any benefit from a marginally weaker pound," he said.
Clearly, the fact that the Conservatives will be able to get past the 326 line with the help of Northern Ireland's DUP is probably allowing markets, at least at this early stage, to keep a sense of perspective. Had the result been closer, investors would have been more nervous, but it still looks unlikely that Jeremy Corbyn will get anywhere near No. 10
Today's Markets
In Asia, Japan +0.5%. Hong Kong -0.1%. China +0.3%. India +0.2%.
In Europe, at midday, London +0.5%. Paris ++0.2%. Frankfurt +0.3%.
Futures at 6:20, Dow +0.2%. S&P +0.1%. Nasdaq +0.1%. Crude +0.5% to $45.86. Gold -0.2% to $1276.50.
Ten-year Treasury Yield flat at 2.2%
Economy
The prospect of a second Scottish Independence referendum has been called into question as the election results dealt a major blow to the SNP. The nationalists lost 21 of their 56 seats in parliament to parties that want to keep the United Kingdom united. The vote also claimed the scalps of former party leader Alex Salmond and deputy leader Angus Robertson.
The U.K. could suffer another ratings downgrade after a general election led to a hung parliament, according to S&P Global. The country lost its AAA rating last June following its vote to leave the EU. S&P said at the time it was worried the decision would lead to a deterioration of Britain's economic performance and institutional framework.
More elections around Europe: Voters in France will go to the polls on Sunday for the first round of legislative elections that will decide how far President Macron can push his reformist agenda. Italy is also due to hold the first round of municipal elections, which will test populist sentiment in a nation that's seen as the next big source of political risk in the eurozone.
The U.S. is "no longer interested in guaranteeing Europe's security in our place," European Commission President Jean-Claude Juncker declared, saying the bloc had to push for more defense and security cooperation on its own. "Our deference to NATO can no longer be used as a convenient alibi… We have no other choice than to defend our own interests."
Starting today, financial advisers will be required to put their customers' interests ahead of their own when providing advice about their retirement money. However, the so-called fiduciary rule could be killed by a provision in the Financial CHOICE Act, which was passed by a House vote on Thursday. Whatever the case may be, the DOL will not enforce the law until next January.
"Dodd-Frank represents the greatest imposition on our business enterprises than all Obama era regulations combined," said House Financial Services Committee Chairman Jeb Hensarling following the vote on the CHOICE Act. The bill would relieve healthy banks of some regulatory requirements and force failing firms through bankruptcy, but it's expected to be substantially rewritten in the Senate.
Puerto Ricans are due to vote this weekend in a referendum on the island's political status. Three choices will be on the ballot: statehood, "current territorial status" and independence. It's not certain what would happen if any of the options wins clearly or how Congress would interpret the results, but the referendum, the island's fifth since 1898, comes amid a crippling economic crisis.
Subsidies and their effects on the environment will be high on the agenda when G7 environment ministers meet in Bologna on Sunday. EPA Administrator Scott Pruitt will lead the U.S. delegation. During last year's summit in Japan, the G7 confirmed a commitment to eliminate inefficient fossil fuel subsidies and encouraged all other countries to do the same by 2025.
Main moves in markets:
Currencies
The Bloomberg Dollar Spot Index added 0.2 percent on Thursday.
The euro fell 0.1 percent to $1.1203 in early trading Friday, after dropping 0.4 percent on Thursday. The pound weakened 1.6 percent, the most since October.
The yen climbed 0.1 percent to 109.89 per dollar.
Stocks 
The S&P 500 rose less than one point, for a second day of gains. It briefly rose above its closing record during Comey's testimony but faded in afternoon trading.
The Stoxx Europe 600 Index edged lower, while the FTSE 100 dropped 0.4 percent.
The MSCI Emerging Market Index added 0.3 percent.
Bonds 
The yield on 10-year Treasuries rose two basis points to 2.19 percent on Thursday.
Benchmark U.K. gilt yields rose three basis points to 1.03 percent, underperforming European peers.
German bund yields fell one basis point to 0.25 percent.
Commodities
Oil fell to the lowest level in five weeks in New York after an unexpected increase in U.S. crude stockpiles cast doubt on OPEC's ability to rebalance world crude markets.
Futures settled lower by 0.2 percent to $45.72. The contract fell as much as 0.9 percent in New York after sinking 5.1 percent Wednesday.
Gold futures fell 1.1 percent to settle at $1,279.50 an ounce in New York.
Rubber capped its longest run of losses in at least 42 years, dropping to a seven-month low on concern that a shaky Chinese economy may slow demand just as supply picks up.
Stocks News
New York health insurers requested double-digit increases as high as 47% for ObamaCare policies next year as the debate rages in Washington on how to overhaul the law. The state's Department of Financial Services will decide on 2018 rates following a 30-day public comment period, but noted that the average proposed increase for individual policies for 2018 is 16.6%. Related tickers: AET, ANTM, CI, HUM, UNH
In the latest step toward remaking the company, Teva Pharmaceutical (NYSE:TEVA) will seek to overhaul its board by nominating four new directors. Among their first orders of business would be picking a new chief executive. "We are evolving the board to meet new challenges both within Teva and the business" of generic drugs, said Sol Barer, the board's chairman.
A new senior role? Apple (NASDAQ:AAPL) has scooped up Dr. Sumbul Desai, who has been overseeing a health project for the Apple Watch, as the executive director of Stanford Medicine's center for digital health. It's unclear whether she'll oversee the company's existing efforts, such as its software frameworks, or head up an unannounced plan, but it demonstrates that Apple is taking its health ambitions seriously.
As the U.S. battles a growing opioid abuse crisis, the FDA has asked Endo International (NASDAQ:ENDP) to withdraw its long-lasting opioid painkiller, Opana ER, from the market. Endo shares plunged 14% AH on the news. It comes after a panel of advisers concluded in March that the drug's benefits did not outweigh the risks – opioids were involved in more than 33,000 deaths in 2015.
Bain Capital is replacing rival KKR in a Japanese government-led consortium bidding for Toshiba's (OTCPK:TOSYY) prized chip unit, sources told Reuters, without identifying the reason. The group, led by state-backed Japan Innovation Network Corp and also includes Western Digital (NYSE:WDC), is one of two frontrunners in the race for the world's second biggest producer of NAND flash memory chips.
SoftBank is scooping up two more robotics companies from Alphabet (GOOG, GOOGL) as part of its own deeper move into the field. While terms weren't disclosed, Boston Dynamics and secretive bipedal robotics firm Schaft will be added to the company's growing AI portfolio. SoftBank (OTCPK:SFTBY) is also one of the companies behind Pepper, which has been billed as the world's first robot capable of reading human emotions.
Shares of Cloudera experienced whiplash AH after the company's first earnings report since its IPO in April. The stock initially jumped 10% and then fell 17% after operating expenses more than tripled, and key industry measures like deferred revenue and billings fell short of analysts' projections. Cloudera (OTC:CLDR) specializes in data science technology using an open-source framework called Hadoop.
Hard times in retail… Hudson's Bay (OTC:HBAYF) is cutting about 2,000 jobs across North America, but it's still unclear how the layoffs will be distributed across Saks Fifth Avenue and Lord & Taylor. The restructuring is expected to save the company more than C$350M annually and comes after Nordstrom's (NYSE:JWN) founding family said they were exploring the possibility of taking the retailer private.
Struggling with relationships? Sears (NASDAQ:SHLD) is in another battle with one of its Craftsman vendors, this time filing a lawsuit against Western Forge, which has worked with the company for more than 50 years. Earlier this week, Sears settled a dispute with One World Technologies, another Craftsman partner, which the department store chain had first sued in mid-May.
Opel's sale to France's PSA Group (OTCPK:PEUGF) could be completed as early as July 31, pending regulatory approval from antitrust authorities. A swift closing has been made possible because the European arm of GM formally agreed to protect factory jobs by signing binding contracts last week, a trade union source told Reuters.
The U.S. International Trade Commission will decide today whether to end or continue an anti-dumping case by Boeing (NYSE:BA) against Bombardier (OTCQX:BDRAF, OTCQX:BDRBF). The agency is expected to decide in favor of Boeing, which alleges subsidies and unfair pricing took place during the sale of the CSeries jet in the United States.