Technology Stocks drag global shares
Italian and French sovereign debt yields fall on improved political outlook
European tech stocks caught in global sector sell-off, adding to pressure on indices
Pound fails to hold $1.27
Yen and gold in demand as haven assets in demand
Oil prices continue to rally.
UK: Business optimism has plunged since the election
A selloff in U.S. technology stocks spread through Asia and Europe, battering shares from South Korea to the Netherlands.
On sovereign debt markets, yields on French and Italian 10-year debt are falling, as a more benign political outlook in both countries draws investors in to buy bonds.
The sudden slide in tech stocks, which had helped send global equities to repeated record levels this year, blindsided many investors after markets largely brushed aside last week's trio of risk events. The question now is whether the drops represent merely a pause or a more fundamental crack in the U.S. stock bull market.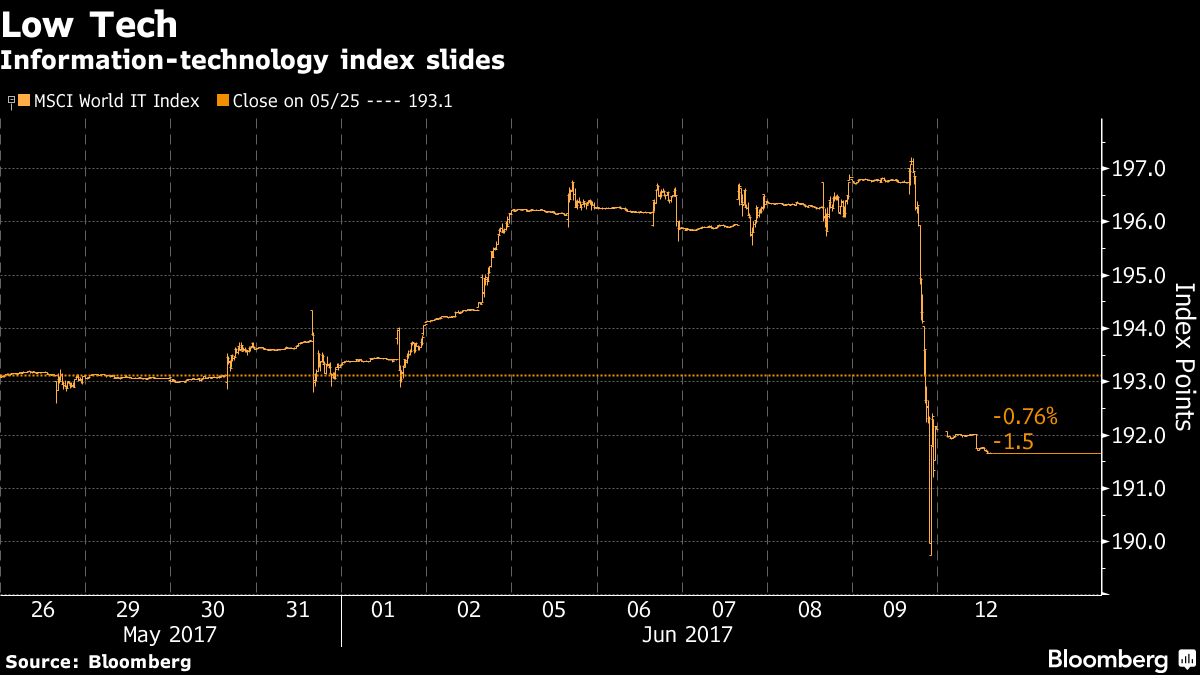 France's 10-year yield is down 4 basis points at 0.60 per cent and Italy's is down 7.5bp at 2.002 per cent. Yields fall when prices rise.
Today's Markets
In Asia, Japan -0.5%. Hong Kong -1.2%. China -0.6%. India -0.5%.
In Europe, at midday, London -0.1%. Paris -1%. Frankfurt -0.9%.
Futures at 6:20, Dow -0.1%. S&P -0.2%. Nasdaq -0.7%. Crude +1.3% to $.46.44 Gold -0.1% to $1270.40.
Ten-year Treasury Yield +1 bps to 2.21%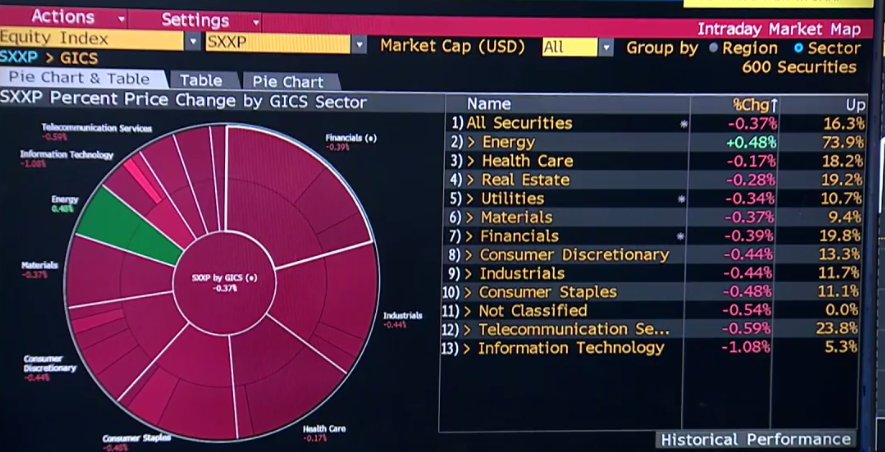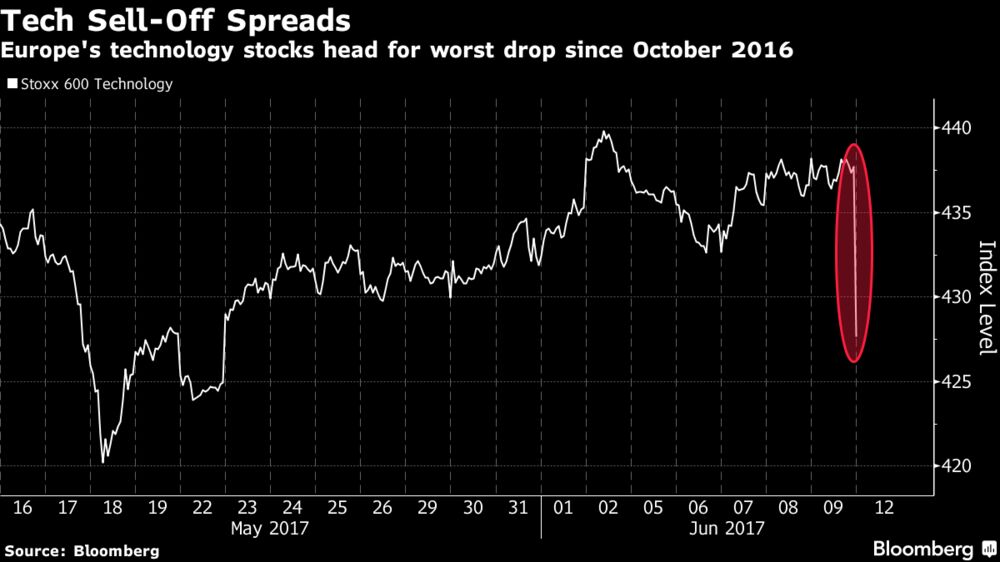 The pound retreated as an embattled Theresa May fought to survive the fallout from the British general election.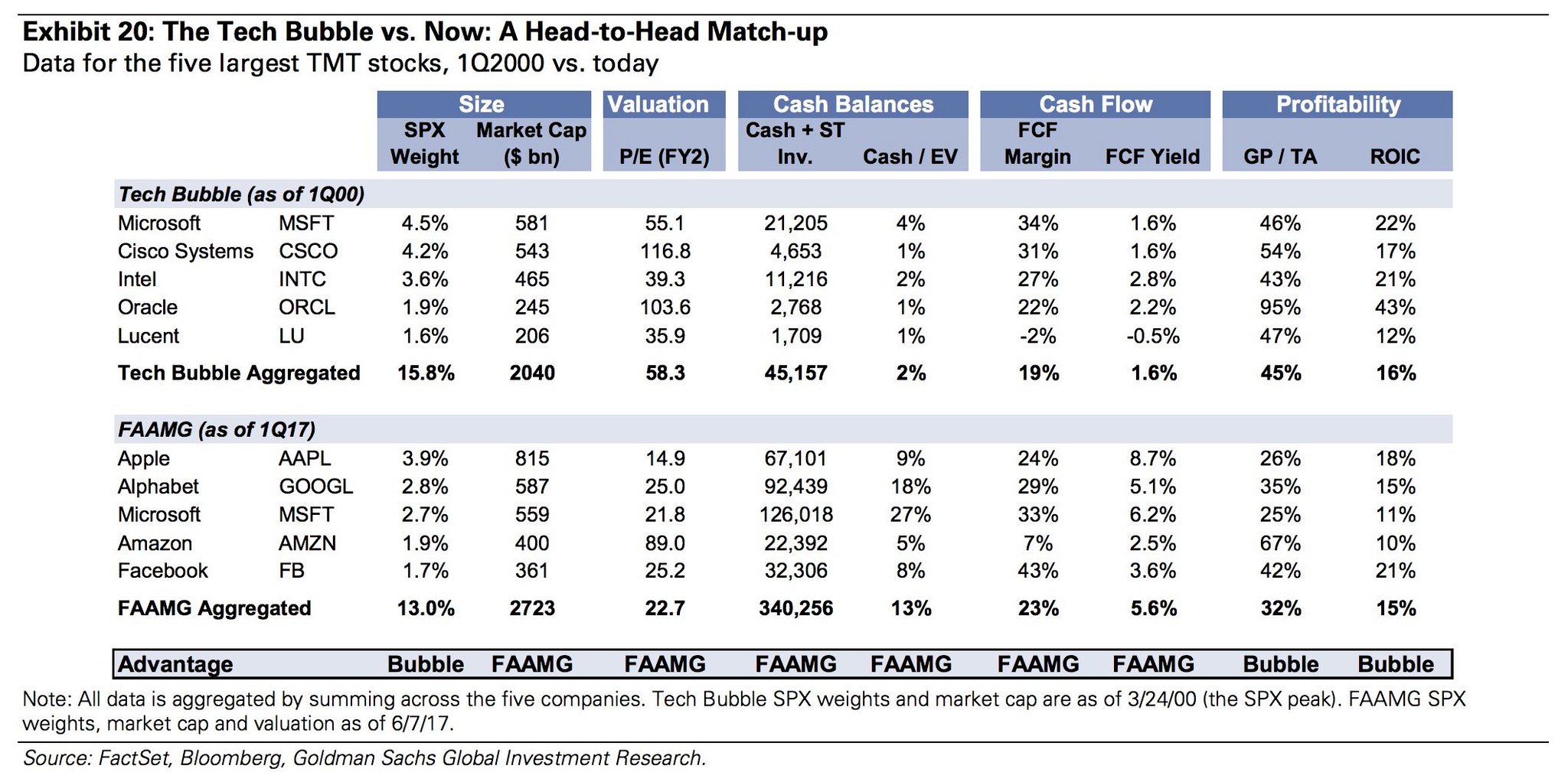 Spain Lieberbank  tumbled 41 percent last week on concern that Spain's smallest publicly traded lender faces the same real estate challenges that sank Popular.  The shares rose as much as 32 percent Monday after market regulators banned short-selling on the bank, or bets that the shares will decline using borrowed securities.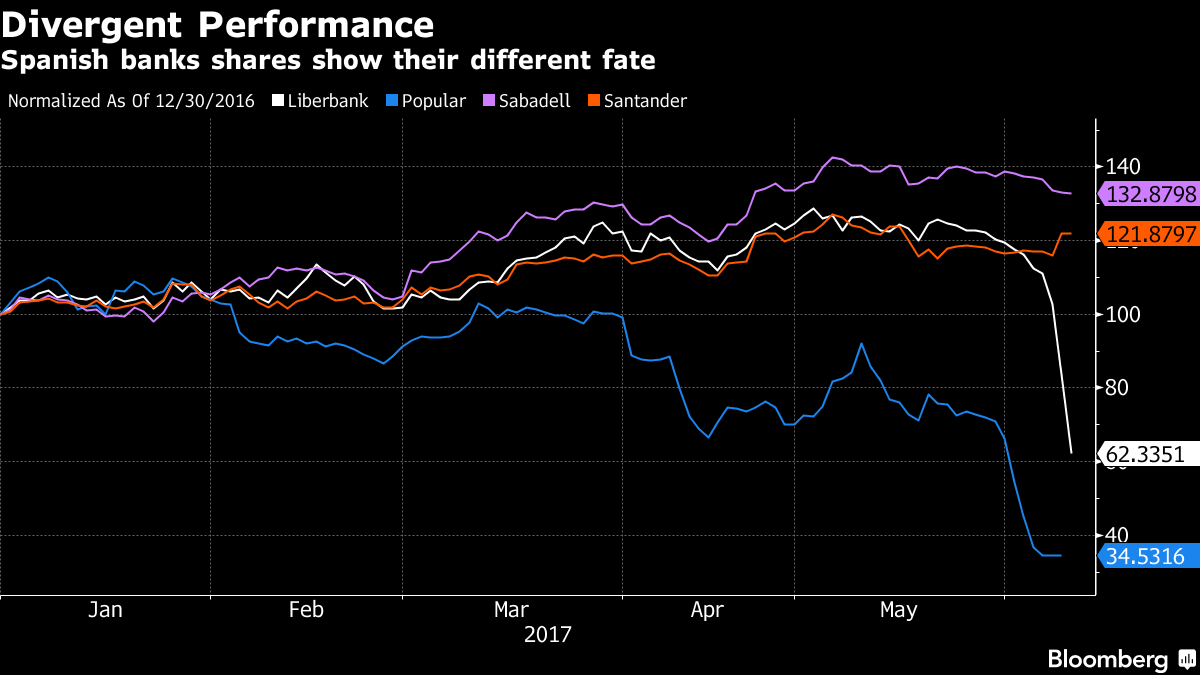 UK : The Institute of Directors have issued a stark warning that business optimism has plunged after Theresa May lost her House of Commons majority last week.
In a poll conducted over the weekend,  IoD members found that 57% are either quite pessimistic or very pessimistic about the UK economy over the next 12 months. Just a fifth described themselves as optimistic — which gives a 'net confidence' score of minus 37.
That's a serious deterioration compared to the previous month, when 34% were optimistic and 37% pessimistic.
The IoD's survey isn't the only cause for concern this morning.
Visa have reported that household spending fell last month, for the first time in almost four years.
As things stand this morning, May's grip on Number 10 is looking precarious, with insiders saying she cannot lead the Conservative Party into another election.
Britain's businesses are "totally unprepared" for the drop in migration after Brexit, according to a new report from the Resolution Foundation today.
The think tank polled more than 500 UK businesses who employ EU workers, and found that 17% expect no change to the current system of freedom of movement for EU/EEA nationals to the UK. Another 30% believe this system will be maintained for anyone from the EU who arrives in Britain with a job offer.
These are "totally unrealistic expectations", warns Resolution, because: 
The Prime Minister in contrast has ruled out either option, stating that her government – rather than firms' demand for workers – will control migrant numbers.
Qatar's stock market bounced on Friday on some glimmers of hope for a resolution of the crisis. However, the nation's stocks took a hit in Sunday trading. The market may still not be pricing in the risk of a potential escalation of tensions.
Investors will be watching:
Theresa May will address rank-and-file Tory lawmakers on Monday, in a meeting that will test her chances of staying in office. A day later, she'll meet Northern Ireland's DUP leader Arlene Foster in a bid to reach a deal to govern together.
Sessions will testify before the Senate on Tuesday.
Fed policy makers are forecast to raise their benchmark interest rate for the second time this year on Wednesday. Central banks in Japan, Switzerland and Britain are also scheduled to weigh in with policy decisions this week.
Markets movers from Bloomberg:
Stocks
The Stoxx Europe 600 Index slid 0.8 percent as of 8:47 a.m. in New York, with ASML Holding dropping 3.8 percent.
S&P 500 Index futures retreated 0.1 percent. The benchmark gauge fell 0.1 percent on Friday, while the tech-heavy Nasdaq Composite Index dropped 1.8 percent. Apple sank 3.9 percent, while Microsoft, Amazon, Facebook and Alphabet all lost more than 2 percent.
France's CAC 40 lost 0.9 percent even as Emmanuel Macron headed for a clear majority in the National Assembly. His success appears to be largely priced in.
Currencies
The pound fell 0.7 percent to $1.2662. The currency lost 1.6 percent on Friday.
The euro strengthened 0.2 percent to $1.1219.
The Bloomberg Dollar Spot Index fell less than 0.1 percent after gaining 0.5 percent over the previous three sessions.
Bonds 
The yield on 10-year Treasuries rose one basis point to 2.21 percent.
U.K. benchmark yields decreased two basis points, after dropping three basis points on Friday. French yields slipped four basis points while those in Germany fell one basis point.
Italian 10-year yields tumbled seven basis points.
Commodities
West Texas crude added 1.7 percent to $46.59 a barrel after Saudi Arabia and Russia sought to reassure investors that coordinated production cuts by OPEC and its partners are draining a global glut.
Gold was little changed at $1,267.21 an ounce, after three days of declines.
Palladium rose as much as 2.7 percent before trading 0.9 percent higher.
Asia
Tech shares were the biggest losers on the MSCI Asia Pacific Index, which dropped 0.3 percent. South Korea's Kospi lost 1 percent, with Samsung Electronics Co. slumping 1.6 percent. Hong Kong's Hang Seng Index declined 1.2 percent, as Tencent Holdings Ltd. fell 2.5 percent.
Markets in Australia, Malaysia and the Philippines were closed for holidays.