Global Markets Rebound As Tech Rout Ends; Sterling Rises
U.S. Stocks Boosted by Recovering Technology Shares
U.S. stocks were higher on Tuesday, with the Dow hitting an all-time high as bank stocks gained and technology shares rebounded from a selloff.
Even after surrendering $176 billion of market value since Friday, the S&P 500 Information Technology Index remains perched at the highest level relative to the full index since 2001. The ratio between the two sat at 0.40 before Friday, 25 percent higher than the 10-year average.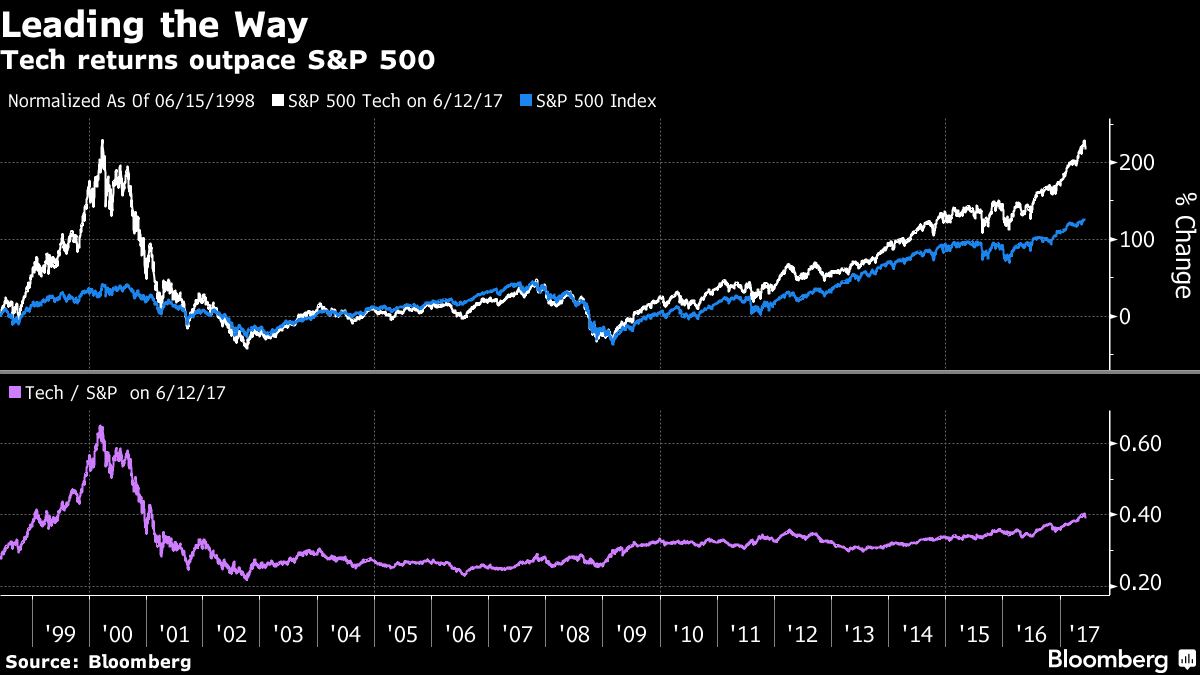 Today's Markets
In Asia, Japan -0.1%. Hong Kong +0.6%. China +0.5%. India flat.
In Europe, at midday, London +0.1%. Paris +0.5%. Frankfurt +0.6%.
Futures at 6:20, Dow +0.1%. S&P +0.2%. Nasdaq +0.2%. Crude +0.4% to $46.28. Gold -0.4% to $1263.70.
Ten-year Treasury Yield flat at 2.22%
Global stocks have recovered their footing and European shares rise, led by a bounce in tech stocks as last Friday's global selloff that started in the sector shows signs of abating. Asian stocks and U.S. futures gain as investors turn their attention to tomorrow's barrage of macro data including Yellen, CPI and retail sales.
This morning, almost every industry group in the Stoxx Europe 100 Index traded in the green, with the mentioned tech bounce meanings technology shares are poised for the largest gain in more than a month. The Stoxx Europe 600 Index climbed 0.6 percent as of 11:17 a.m. in London, after dropping 1 percent on Monday. Tech shares rose 1.3 percent. Futures on the S&P 500 Index rose 0.2 percent. The Nasdaq 100 fell 0.6 percent on Monday, adding to its 2.4 percent rout on Friday. Apple fell 2.4 percent while Microsoft Corp. slid 0.8 percent.
U.S. Attorney General Jeff Sessions will testify today before the Senate Intelligence Committee, facing questions over his dealings with Russian officials and whether he had a role in the firing of James Comey. The hearing comes amid reports that President Trump is considering the termination of special counsel Robert Mueller – the man looking into possible collusion between the Trump campaign and Russia.
Fed officials are gathering to begin their two-day meeting on interest rate policy. The FOMC is expected to raise the central bank's benchmark rate by a quarter percentage point, marking the second nudge upwards this year following a similar move in March. Policymakers will also release their latest set of quarterly projections on growth, unemployment and inflation, as well as their rate hike path.
"The most urgent and dangerous threat to peace and security is North Korea," U.S. Defense Secretary Jim Mattis told the House Armed Services Committee. Its "continued pursuit of nuclear weapons and the means to deliver them has increased in pace and scope." Potential losses in case of a conflict? "It would be a war like nothing we have seen since 1953."
The Brazilian Social Democratic Party, the main ally of President Michel Temer, will stay in his coalition for now, despite a move by younger members to break away from the scandal-plagued government. With the PSDB on board, Temer is more likely to muster support for his economic measures in Congress and block any attempt to have the Supreme Court try him for corruption charges.
"I got us into this mess and I will get us out of it," said U.K. Prime Minister Theresa May as she prepares to meet DUP leader Arlene Foster in a bid to secure her parliamentary majority. Meanwhile, EU chief Brexit negotiator Michel Barnier has warned Britain not to waste time before starting talks, while U.K. Brexit Secretary David Davis remains set on leaving the EU single market.
COMMODITIES
1. Palladium continues to outperform, as more car buyers shift from diesel to gasoline.
This rally has little to do with the stock market and everything to do with the collapsing Venezuelan bolivar. It takes over 7k bolivares to buy one dollar on the black market.
Stocks News
A Los Angeles judge has refused to throw out allegations that Shari Redstone deprived her father's former girlfriend of lifetime financial support following Sumner Redstone's reconciliation with his daughter in the fall of 2015. That event precipitated a broad shakeup of Viacom (VIA, VIAB), which saw the departure of CEO Philippe Dauman in 2016 and Paramount CEO Brad Grey in February.
The fallout from Uber's workplace culture probe has extended into the upper ranks of its leadership, as the company pushed out Emil Michael, chief business officer and No. 2 to CEO Kalanick (who is likely take a leave of absence). Serious leadership void? UBER is also seeking a new CFO, COO and general counsel, and recently lost its senior executives for product, engineering and self-driving vehicle development.
Indonesia has reached a settlement with Google (GOOG, GOOGL) in their dispute over 2016 taxes, according to Indonesia Finance Minister Sri Mulyani Indrawatim, but he said "we can't disclose the figure, that is a secret." Last September, a senior tax official said Indonesia planned to pursue Google for five years of back taxes and the company could face a bill of more than $400M for 2015 alone.
Toshiba is being sued by another group of foreign investors for ¥43.9B ($399M) in damages over a $1.3B accounting scandal uncovered two years ago. It's now been taken to court by 26 groups and individuals since it first admitted to reporting inflated profits going back to 2008. Due to the new suit, Toshiba (OTCPK:TOSYY) will have to book an additional provision for the year ended March.
After a game-filled E3 2017 conference, Sony (NYSE:SNE) announced it sold over 60.4M PS4 consoles since it launched just over three years ago (the figure is up 7M units from the 53.4M reported on Jan. 5). New horizons? There was no word of the latest sales of Sony's VR headset, but the company said last week that the figure was over 1M units.
Sprint CEO Marcelo Claure has praised a potential merger with T-Mobile (NASDAQ:TMUS), but added that other possible outcomes exist for the wireless carrier. "Our job is to evaluate all potential options. T-Mobile is one of them, a very important one because of the enormous levels of synergies," he told CNBC. T-Mobile has previously called Sprint (NYSE:S) a "huge prize" and said cost savings could exceed $30B.
Facebook may soon help its users do something unfamiliar on the platform: pay for news. The social-media giant is building a product that would allow users to subscribe to publishers directly from the mobile app, sources told the WSJ. Facebook's (NASDAQ:FB) feature, long-requested by publishers, is expected to roll out by the end of 2017.
Investors are getting ready for the Morgan Stanley Financials Conference, which will begin today at the InterContinental New York Barclay Hotel. Top executives at many of the largest U.S. financial companies, including JPMorgan (JPM), BofA (NYSE:BAC), Wells Fargo (NYSE:WFC), Morgan Stanley (NYSE:MS), Citigroup (NYSE:C) and BlackRock (NYSE:BLK), will attend, along with those from fintechs OnDeck Capital (NYSE:ONDK) and Betterment and private equity firms Carlyle (NASDAQ:CG) and Oaktree Capital (NYSE:OAK)
Deutsche Bank will pay $170M to settle an investor lawsuit claiming it conspired with other banks to manipulate Euribor, the euro-denominated equivalent of Libor, and related derivatives. It follows similar settlements with Barclays (NYSE:BCS) and HSBC for a respective $94M and $45M, which have won preliminary court approval. Deutsche Bank's (NYSE:DB) legal bills have topped €15B since 2009.
General Electric has begun testing autonomous drones and robotic "crawlers" to inspect refineries, factories, railroads and other industrial equipment, Reuters reports. It comes after GE CEO John Flannery promised to conduct a swift review of the company's business portfolio with "no constraint," but didn't indicate any big changes to outgoing Jeffrey Immelt's strategy of digitizing the industrial space.