Federal Reserve Expected to Deliver Rate Increase
European Stocks Higher on Tech stocks bounce.
Oil Slump as data showed U.S. stockpiles increasing
U.K. real wages fall
European equity investors were in a bullish mood as technology companies extended their bounce, leading gains across almost all sectors. The dollar steadied and Treasuries rose.The Stoxx Europe 600 Index headed for the highest in more than a week .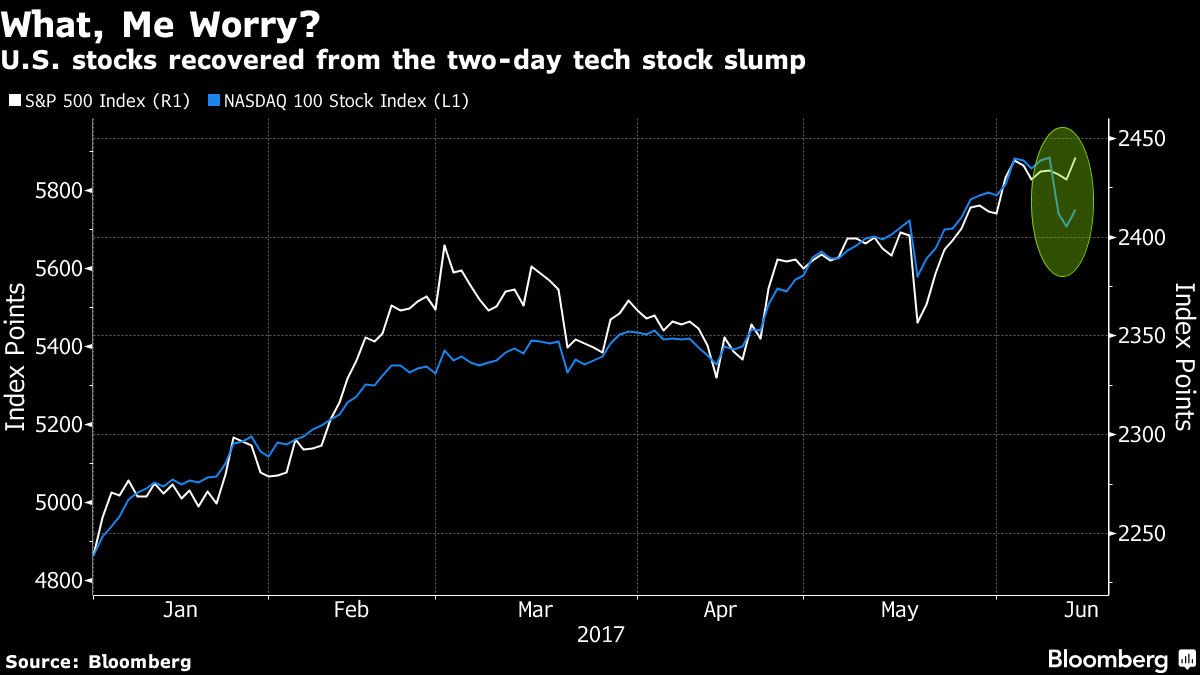 The widely expected quarter-point interest rate hike will take the Fed funds target rate above 1 percent for the first time since the immediate aftermath of the collapse of Lehman Brothers in 2008. Central bank is likely to lift its benchmark interest-rate range to between 1% and 1.25% after its meeting concludes Wednesday.
 Markets steady ahead of Fed´s : Futures suggested the S&P 500 would open 0.1% higher, after a recovery in the shares of tech giants helped send the S&P 500 and Dow Jones Industrial Average to records on Tuesday.
But, wait,there may be surprises ahead of the Fed´s decision:
Drop in U.S. Retail Sales Tumble; Another indication that not all is expected growth: the economy struggling as shown by normal consumers . It fell Most Since January 2016 As Gasoline, Electronics Sales Slump. It signals uneven consuming spending. Fell 0.3 % in March.
Americans broadly reduced spending at retailers in May, dealing the latest setback to an economy struggling to shift into faster growth.
Retail sales—measuring consumer spending at stores, restaurants and online—fell 0.3% from a month earlier, the Commerce Department said Wednesday. That was the steepest drop since January 2016.
Retail sales less autos fell 0.3% in May, notably worse than the expectation of a 0.1% rise.  The breakdown show a big tumble in Electronics and appliance stores, along with gasoline prices.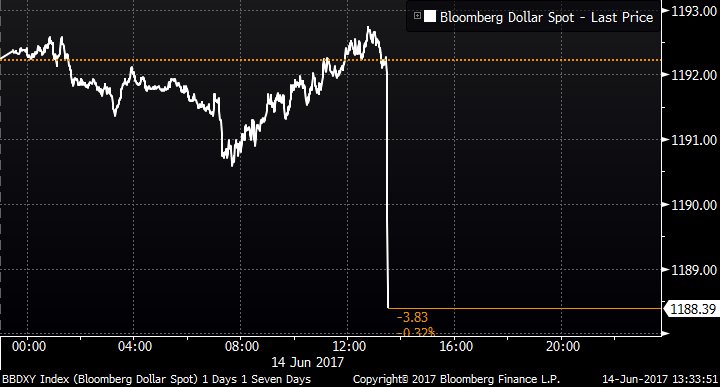 Also in the UK  Squeeze Tightens as Real Wages Drop Most in Almost 3 Years.
According to the Office for National Statistics, they have gone backwards. The average basic weekly wage, adjusted for movements in prices, now stands at £458. In the eve of the  brutal recession, in 2008 , in that month, the average basic weekly wage, excluding bonuses, was £473.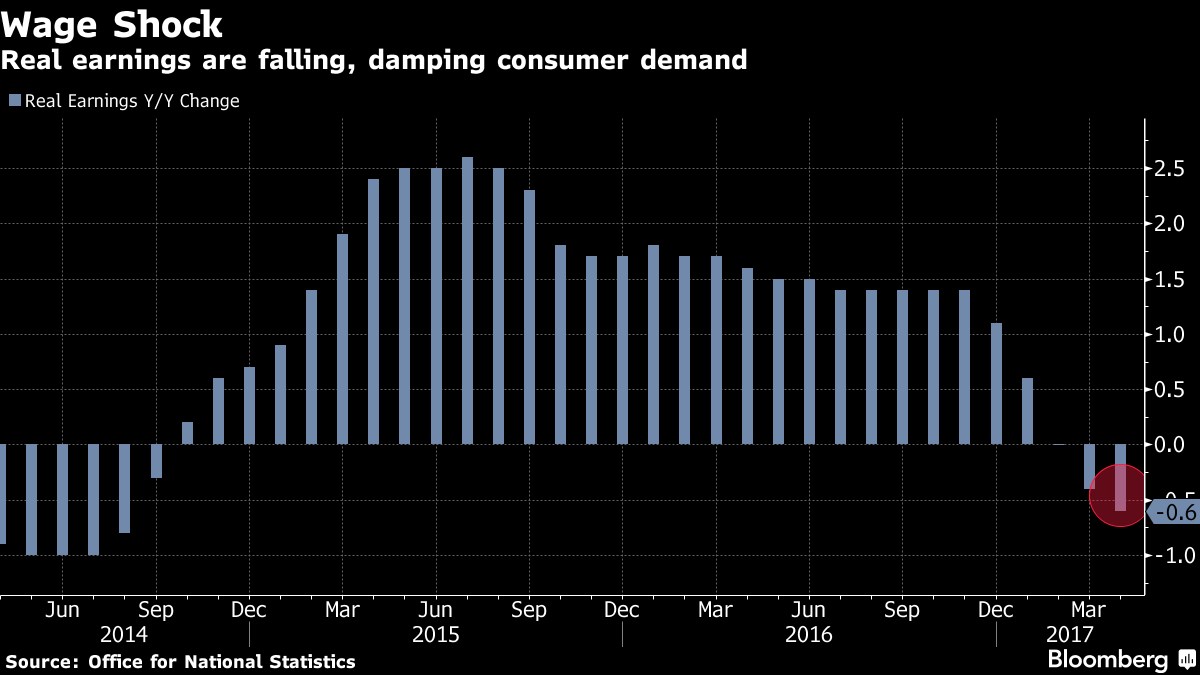 The fall in living standards is already sapping consumer confidence, weighing on an economy that relies on household spending.
Inflation is now close to 3 percent and rising, the result of the plunge in the pound since the Brexit vote a year ago. That's having a material impact on consumer spending, with figures Thursday forecast to show retail sales fell in May for the second time in three months.
Oil Oversupply :A barrel of West Texas Intermediate for July delivery was trading at $45.92 at 5:50 a.m. as data showed U.S. stockpiles increasing and a report from the International Energy Agency predicting production from non-OPEC countries would increase faster than demand next year.
Global Oil Glut Won't Subside in 2017, Says IEA
OPEC's efforts to rein in supply are taking longer than expected as U.S. oil producers see rebound.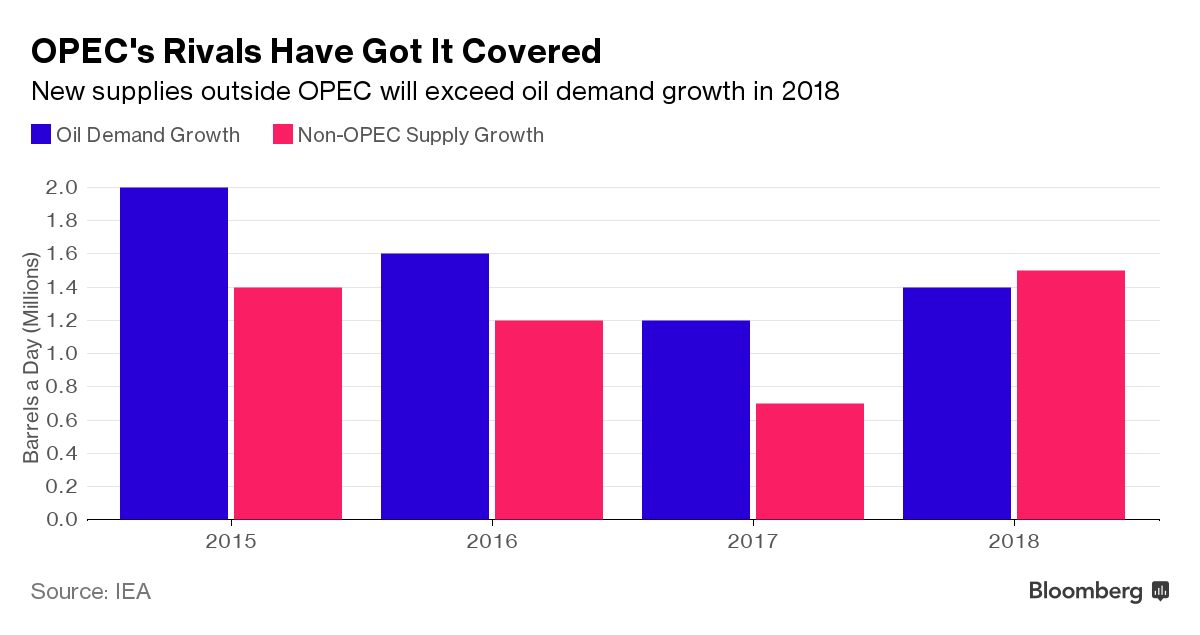 The U.S., Brazil, Canada and other producers outside the Organization of Petroleum Exporting Countries will increase output next year by the most in four years, the IEA said. So while the cutbacks should reduce the world's bloated oil inventories to average levels by the time they're scheduled to end next spring, demand for OPEC crude won't be high enough for the group to reverse the curbs without seeing stockpiles rise again.
Today's Markets
In Asia, Japan -0.1%. Hong Kong +0.1%. China -0.7%. India +0.2%.
In Europe, at midday, London +0.6%. Paris +0.9%. Frankfurt +0.9%.
Futures at 6:20, Dow +0.1%. S&P +0.1%. Nasdaq +0.2%. Crude -1.1% to $45.95. Gold +0.1% to $1269.60.
Ten-year Treasury Yield -1 bps to 2.19%
Stocks News
Quantitative investing based on computer formulas and direct trading by machines is leaving the traditional stock picker in the dust and now dominating the markets. "The majority of equity investors today don't buy or sell stocks based on stock specific fundamentals," according to JPMorgan, which estimates "fundamental discretionary traders" account for only about 10% of trading volume in equities.
The restructuring goes on… Sears (NASDAQ:SHLD) is slashing 400 jobs at its corporate offices as part of its previously announced plans to save $1.25B in costs a year. More woes? Sears Canada (NASDAQ:SRSC), which was partially spun off from Sears Holdings, has cast doubt on its own ability to continue operating after struggling to cobble together necessary financing.
EU antitrust regulators have opened an investigation into Nike (NYSE:NKE), Universal Studios (NASDAQ:CMCSA) and Hello Kitty owner Sanrio (OTCPK:SNROF) to see if the companies are illegally blocking online sales in the bloc. The European Commission said the probe will focus on the three companies' licensing and distribution practices related to their merchandise.
North America and Asia Pacific are tipped to beat Europe in 5G adoption, according to Ericsson's latest "Mobility Report, which expects more than half a billion 5G subscriptions worldwide by 2022. "In North America, there's great interest from the major operators… we've seen statements from both Verizon (NYSE:VZ) and AT&T (NYSE:T) to deliver as early as possible," declared Magnus Ewerbring, Asia Pacific CTO at Ericsson (NASDAQ:ERIC).
Nintendo shares are up some 50% so far this year on surprisingly strong sales of its Switch console and new game lineup. As for Microsoft's (NASDAQ:MSFT) recent announcement of the XBox One X, the company believes it doesn't pose a threat. "Our demographic is much wider. We want consumers from 5 to 95 playing our games," said Reggie Fils-Aime, President of Nintendo America (OTCPK:NTDOY).
Deepening its move into passenger vehicles, IBM is pairing with BMW (OTCPK:BMWYY) to provide cloud-based data management for the automaker's recently launched connected car initiative. Last year, IBM announced a similar deal with General Motors (NYSE:GM). BMW officially launched its CarData program last month, which is designed to link some 8.5M vehicles equipped to transfer data.
Fiat Chrysler is widening its search for a successor for CEO Sergio Marchionne, with a group of second-tier managers joining company veterans on a growing list of candidates, Bloomberg reports. While Fiat's (NYSE:FCAU) Europe chief Alfredo Altavilla and CFO Richard Palmer are under consideration, the search has broadened to some younger candidates as the board casts a wide net.
"The auto industry is undergoing big changes, and issues and ideas which we may have thought were far off in the future could affect us tomorrow," President Akio Toyoda said at Toyota's (NYSE:TM) annual shareholders meeting. The company is now considering M&A to procure new auto technologies, like self-driving cars and electric vehicles, conceding it may have focused too much on preserving the status quo until now.
Waymo has retired its self-driving prototype dubbed the "Firefly," a tiny test car with no steering wheel or pedals, to focus on building autonomous technology into mass-produced vehicles like the Chrysler Pacifica. The move confirms that Alphabet's (GOOG, GOOGL) driverless-car unit has come to terms with the high regulatory and societal hurdles of selling vehicles without traditional controls.
More turmoil at Uber… Board member David Bonderman has stepped down after an uproar about a remark he made, apologizing for saying that more women on a company board leads to "more talking" in meetings. Yesterday, CEO Travis Kalanick took a leave of absence following a damning report by Eric Holder criticizing UBER's "dysfunctional" corporate culture.
The Senate has voted 53-47 to defeat an effort that would bar part of President Trump's highly touted arms deal with Saudi Arabia. At issue were $500M of Boeing-made (NYSE:BA) Joint Direct Attack Munitions, which would be used in Yemen's civil war. It comes as Boeing restructures its defense division into smaller units and eliminates 50 executive positions.