United States Fed Funds Rate raised  by 25 bps to 1.25 percent .
Fed Sets Out Plan to Shrink Asset Holdings Beginning This Year.
S&P 500 futures fall after report Trump being investigated.
Dollar lifted on Fed´s move
Stocks fell in Europe and Asia on Thursday.
Stocks fell in Europe and Asia on Thursday as investor concern over the pace of U.S. economic growth overshadowed a widely telegraphed rise in Federal Reserve interest rates that lifted the dollar off recent lows.
U.S. stock futures signaled a rocky start on Wall Street after Wednesday's rate hike and another tumble in tech stocks.
A Washington Post report that U.S. President Donald Trump was under investigation for possible obstruction of justice added to investor worries and undermined their appetite for riskier assets.
The Fed raised interest rates for the second time this year, by a quarter percentage point to a target range of 1.00-1.25 percent and forecast one more rise in 2017. Policymakers said the economy was strengthening and that they viewed recent softness in inflation as largely transitory, Reuters reports.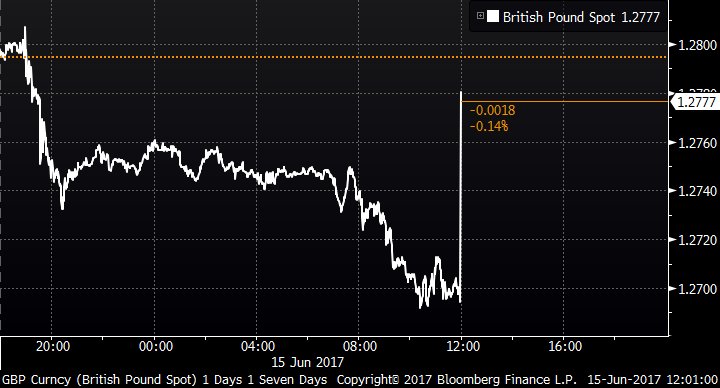 Today's Markets
In Asia, Japan -0.3%. Hong Kong -1.2%. China +0.1%. India -0.3%.
In Europe, at midday, London -0.8%. Paris -1.1%. Frankfurt -0.9%.
Futures at 6:20, Dow -0.4%. S&P -0.7%. Nasdaq -1.2%. Crude flat at $44.73. Gold -1.2% to $1260.90.
Ten-year Treasury Yield flat at 2.14%
Is Yellen overoptimistic?: 
The 10Y Treasury yield says no room for that:
A  slumbering 10-year yield matters as it sends a signal of sombre expectations for the pace of economic growth and inflation. The Federal Reserve is tightening policy but the bond market thinks the current cycle will not see overnight borrowing costs rise much beyond 2 per cent.
Given the recent drop in US inflation and lowered expectations for fiscal stimulus from the Trump administration, the 10-year yield at the very least appears idle at current levels.
The problem for Janet Yellen is that the data is there for us all to see: What few inflation pressures did exist are now receding rapidly. By failing to comprehensively address the fact that the committee's projections are constantly over-optimistic, they further undermine their own credibility.
Junk-Bond Payout at Decade Low as Deutsche Warns on Risk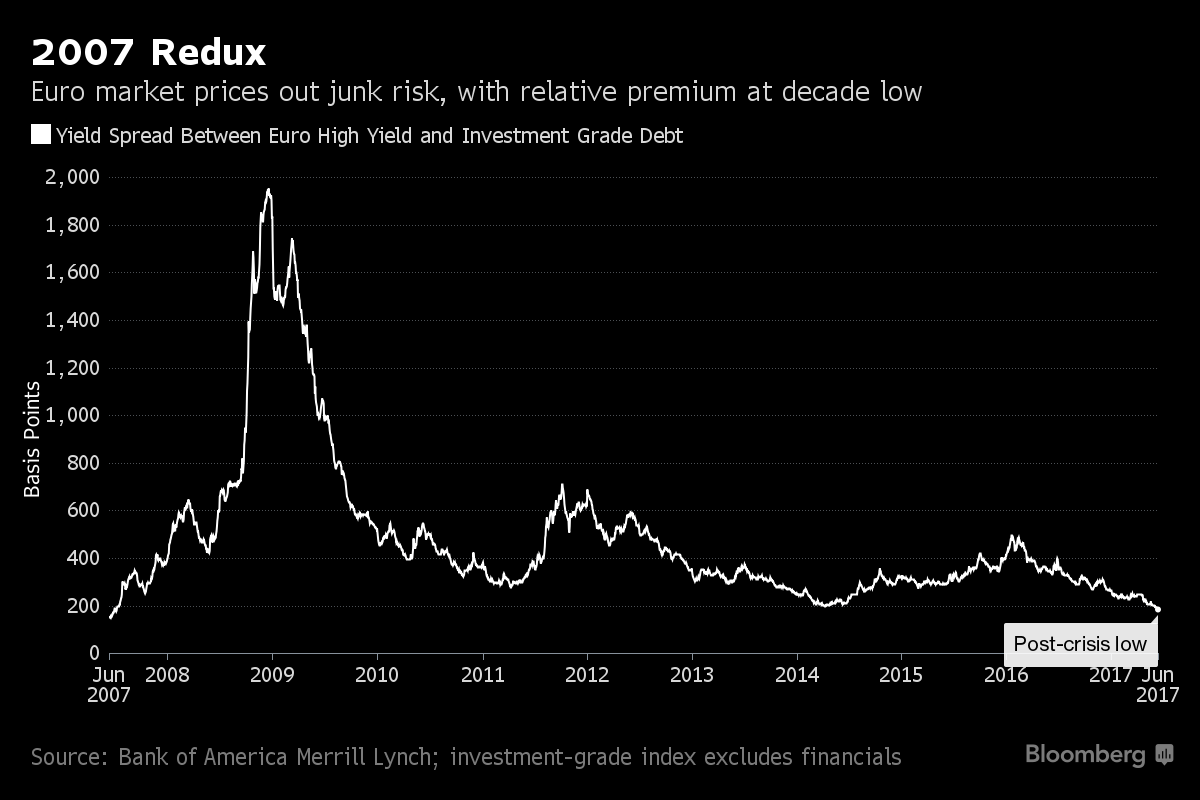 Investors are accepting the lowest pay-out for European junk bonds in a decade. The premium relative to high-grade peers has fallen to a pre-crisis low of 188 basis points as government debt yields languish near zero. In a report published Tuesday, Deutsche Bank AG strategists said they prefer obligations backed by stronger balance sheets to speculative-grade bonds with "stretched" valuations.
Investors appear confident that, as in the past, US demand will again be a powerful driver of EM exports and company profits. Some analyst believe that  US demand, while eagerly awaited, has yet to materialise and  warns that it is not about to. Reason :  the federal personal income tax receipts has been negative for five of the past six months: not the most powerful case for an EM export surge.
More news on Economy
"The economy is doing very well, is showing resilience," said Janet Yellen after the central bank hiked interest rates by a quarter percentage point and penciled in one more increase later this year. Unwinding its balance sheet? The Fed will start allowing up to $6B in Treasury securities and $4B in mortgage bonds to roll off without reinvestment every month, and let those amounts rise each quarter.
The White House is preparing to launch a search for the next Federal Reserve chief and those efforts will reportedly be spearheaded by Gary Cohn, director of the National Economic Council and President Trump's closest economic advisor. According to the WSJ, some market strategists even believe the former Wall Street executive could be his own candidate for the position.
The U.S. Senate has voted 97-2 for fresh sanctions in response to a trio of Russian actions, including interference in the 2016 election, engagement in Syria and the invasion of Crimea. It was filed as an amendment to the Iran sanctions bill. Lawmakers also agreed that the additional penalties on Russia would prohibit President Trump from being able to lift them without Congressional approval.
A big turning point? Special counsel Robert Mueller's investigation of Russian interference in the 2016 election has widened to determine whether President Trump attempted to obstruct justice, The Washington Post reports. A spokesman for Trump's legal team told NBC: "The FBI leak of information regarding the president is outrageous, inexcusable and illegal."
Prime Minister Theresa May is moving closer to clinching a coalition deal with the Democratic Unionist Party, but Brexit news is still dominating the headlines. British chancellor Philip Hammond is expected to roll out his vision tonight for a more business-friendly divorce from the EU at the annual Mansion House gathering of London's financial elite.
Eurozone finance ministers are closing in on a deal to unblock Greece's €86B bailout program, paving the way for new loans to Athens while leaving the contentious debt relief issue for later. Diplomats and European officials expressed confidence that, barring last-minute surprises, an agreement was in sight at a meeting today in Luxembourg.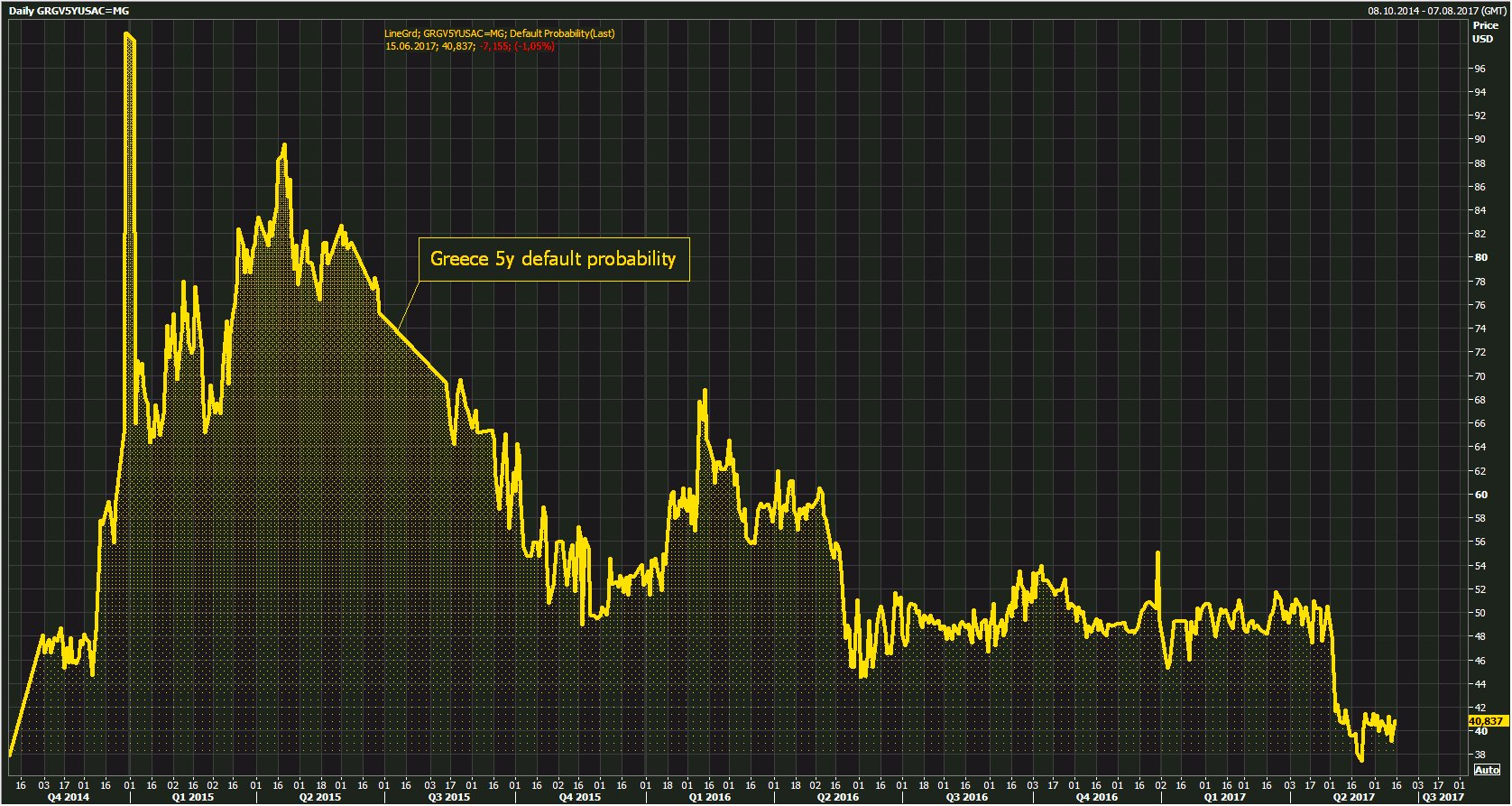 Stocks News
Deepening a spat between partners, Western Digital (NYSE:WDC) has sought an injunction that would stop Toshiba (OTCPK:TOSYY) from selling its NAND chip business until its arbitration case against the conglomerate has been decided. Western Digital, which jointly operates Toshiba's main chip plant, has been at loggerheads with the Japanese firm over an auction that could see the unit end up with a rival company.
Fresh tech developments… Nokia (NYSE:NOK) has unveiled new network routers which it says are the fastest products of their kind. Separately, Apple (NASDAQ:AAPL) supplier Wistron (OTC:WICOF) has reportedly confirmed that new iPhones will feature wireless charging and a more waterproof design, while supplier Foxconn (OTC:FXCOF) may soon assemble the devices in a U.S. factory in Wisconsin.
Deutsche Bank has announced a new structure for its corporate and investment banking division, including the creation of a separate business for its equity, debt and leveraged capital markets operations, Bloomberg reports. Deutsche (NYSE:DB) CEO John Cryan said in March he wants the reunited business to focus more on corporate clients and will pare the list of fund managers and other institutions it serves.
Bank of America is laying off an undisclosed number of technology workers in Charlotte, the latest job cuts to hit the second-largest U.S. bank. "Like all companies, we are in a changing marketplace, and we must adjust our workforce to meet those needs," spokesman Dan Frahm declared. BofA (NYSE:BAC) has trimmed about 75K jobs under CEO Brian Moynihan, who has pushed to slash costs and boost financial targets.
Multiple cyberattacks on major bitcoin exchanges this week underline the many challenges facing the young digital currency world. Bitfinex said on its status website yesterday that its platform was under DDoS attacks, following a similar one reported on Tuesday. The news follows BTC-e exchange's tweet Monday morning of an attack on its systems, which temporarily brought down its website.
Piloting a so-called "smart contract," AIG has joined forces with IBM to develop an insurance policy that uses blockchain to manage complex international coverage. IBM has been partnering with leading companies in several industries, including Danish transport company Maersk (OTCPK:AMKAF), to create blockchain-based products that can streamline various dealings across sectors.
Maersk was also informed by the U.S. coast guard overnight about the threat of a "dirty bomb" on board one of its vessels. The Maersk Memphis (OTCPK:AMKAF) was immediately evacuated and crew transported to the Port of Charleston in South Carolina. Upon investigation, the Coast Guard cleared the four suspected containers and determined there was no existing threat to the terminal.
Besides the shooting that took place yesterday on Republican congressmen and staffers, another gun-related incident occurred at a UPS delivery center in San Francisco. Just before their daily morning meeting, a man opened fire with a handgun, killing three co-workers before fatally shooting himself. The gunshot victims, like the killer, were all UPS drivers.
The Standing Rock Sioux tribe is calling it a "significant victory." A federal judge has handed a lifeline to efforts seeking to block Energy Transfer Partners' (NYSE:ETP) Dakota Access pipeline, ruling the Army Corps of Engineers didn't adequately consider the impacts of an oil spill under Lake Oahe. A new environmental analysis must be done and he'll consider halting operations in the meantime.
A divide between Saudi Arabia's ruling family and executives of the kingdom's oil company over where to list its shares is slowing the march toward a planned 2018 IPO, WSJ reports. The question is whether it will be New York or London. Up to 5% of Saudi Aramco (Private:ARMCO) is expected to be listed in Riyadh, and one or more international markets that could raise $100B.
European leaders are piling pressure on Volkswagen (OTCPK:VLKAY) as the automaker agreed to extend warranties to European owners of its diesel cars by two years. Financial payouts, however, will not be included in the deal. VW has come under fire since 2015 after admitting to cheating on emissions tests on 11M diesel vehicles sold worldwide – the majority of them in Europe.
It could take "weeks or months" before regulators decide whether to green light a software fix for Fiat Chrysler (NYSE:FCAU) diesel vehicles, according to Justice Department lawyer Leigh Rende. "There is uncertainty" about whether the fix will be approved, she said at a federal court hearing in San Francisco. "This is really a technical decision."
Looking to expand its fleet portfolio, China Aircraft Leasing is buying 50 737MAX aircraft from Boeing (NYSE:BA) for an aggregate list price of $5.8B. Meanwhile, Qatar will purchase as many as 36 Boeing (BA) F-15 fighter jets from the U.S. despite efforts by Saudi Arabia and other neighboring countries to isolate the nations for what they say is its support of terrorist groups and Iran.
United Continental CEO Oscar Munoz will deliver remarks at 11 a.m. ET at the Wings Club monthly luncheon in New York. On watch: Munoz has had to grapple with the fallout from several major public relations disasters in recent months, including the forceful removal of a paying customer from one of United's (NYSE:UAL) flights, which prompted an industry-wide conversation on customer service and passenger rights.