European Stocks head north after French Elections.
Investors snapped up cut-price retail and tech stocks.
European stocks gained ground in morning trading Monday, following Asian markets higher ahead of a busy week.
The Stoxx Europe 600 index was up 0.6% in European late morning trading. U.S. equity futures followed, with the Dow Jones Industrial Average up 0.3%, and S&P 500 futures up 0.3%.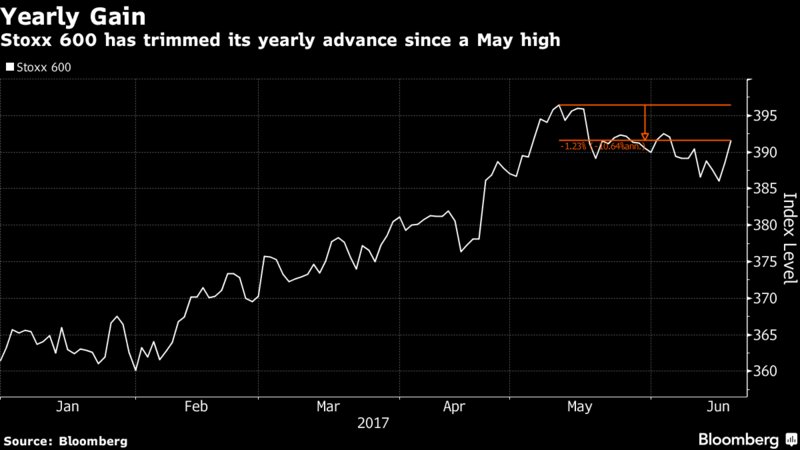 French stocks led gains, with the country's CAC 40 index up by 0.8%.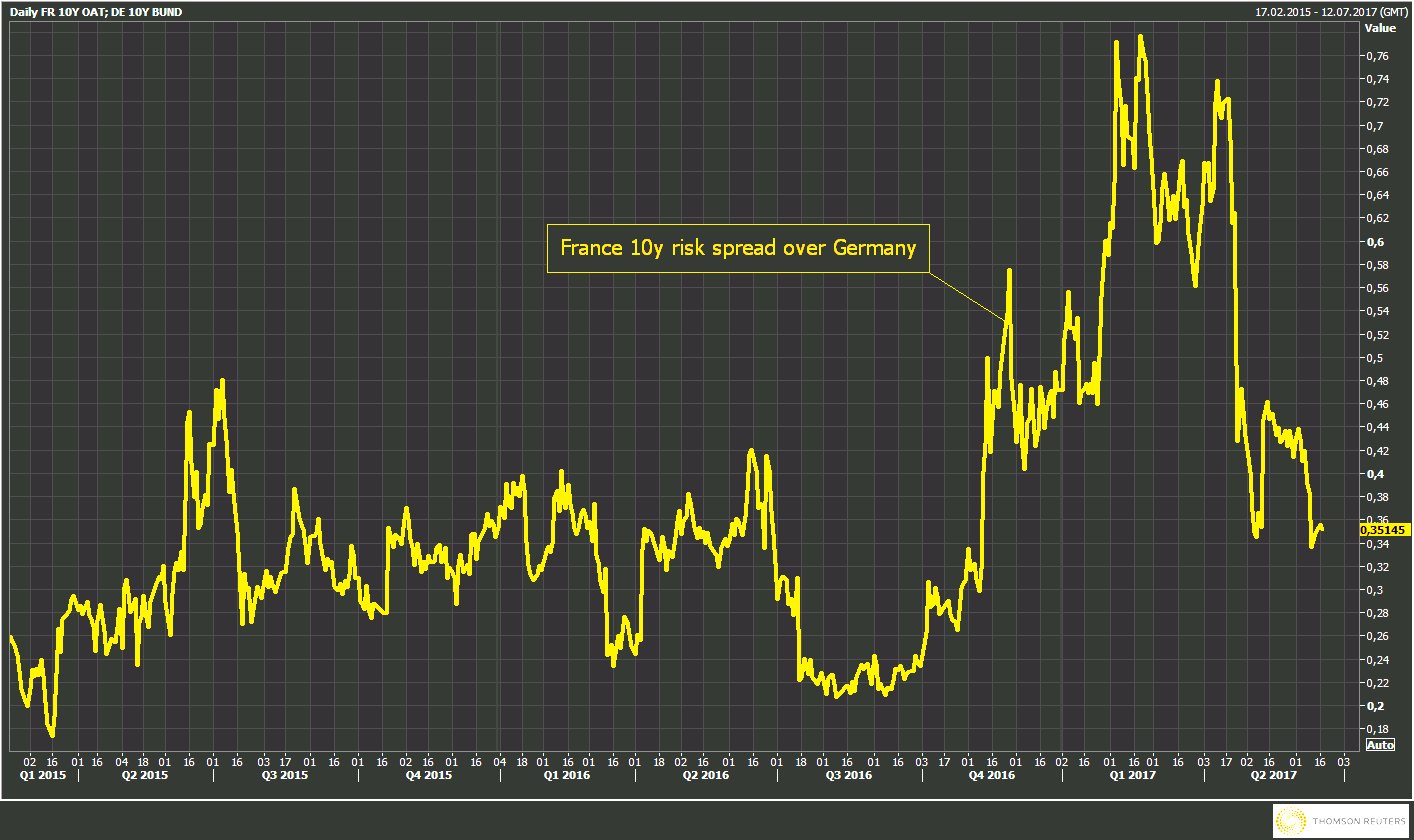 Investors will be focused on the start of formal Brexit negotiations and a decision on whether to include China's domestically traded A-shares in its benchmark emerging-market index, which is widely followed.
Today's Markets
In Asia, Japan +0.6%. Hong Kong +1.2%. China +0.7%. India +0.8%.
In Europe, at midday, London +0.6%. Paris +0.9%. Frankfurt +0.8%.
Futures at 6:20, Dow +0.3%. S&P +0.3%. Nasdaq +0.6%. Crude +0.2% to $45.08. Gold -0.3% to $1252.90.
Ten-year Treasury Yield flat at 2.15%
In Asia, Nikkei Stock Average closed up 0.6%, with a softer yen aiding a move back above 20000 points. Hong Kong's Hang Seng Index gained 1%, and the Shanghai Composite Index rose 0.7%.
Local stocks shrugged off the report as the exports data in Japan "continue to reinforce the growth story for Japan's economy,"
Japan's exports jumped 15% for May from a year earlier, the biggest rise since January 2015, marking the sixth consecutive month of increases, the government said Monday. However, the figure came in lower than an 18% increase expected by economists polled by The Wall Street Journal.
In the commodities market, oil prices jumped in late morning trading in Europe, after declining during Asian trading hours. July Nymex was up 0.4% at $44.91 a barrel, while August Brent rose 0.3% to $47.51.
Data out Friday afternoon in the U.S. showed another week of rising active U.S. oil-drilling rigs, but some traders say at this level, prices may be close to a floor.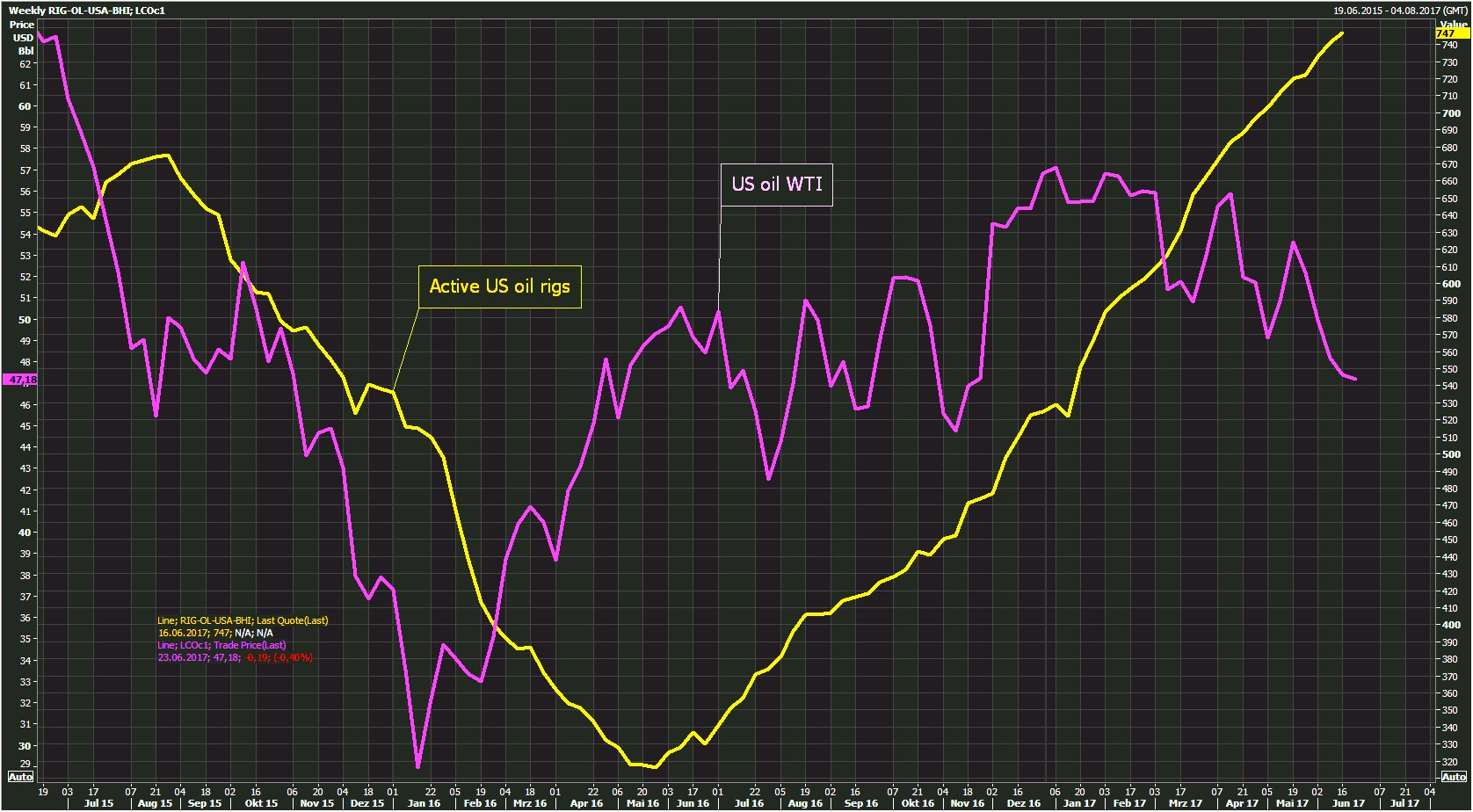 Companies drive down costs, scale back projects and tackle spendthrift culture; 'lower for longer' is the new mantra.
The price of Brent crude, the international benchmark, is now down 59% since it hit a closing high of $115.06 a barrel three years ago on Monday. West Texas Intermediate, the U.S. gauge, is also 58% lower than the $107.26 high it hit a day later.
The steep fall sparked a slump in oil company profits, recessions from Russia to Venezuela and huge job cuts across the world's oil fields.
But now, petrostates, investors and major oil companies are adapting to a world in which they see a range of $50 to $60 a barrel as the new equilibrium.
Brexit :Nearly a year after the United Kingdom voted to leave the European Union, negotiations began this morning on that divorce in Brussels with confusion remaining on what the U.K. wants from the breakup.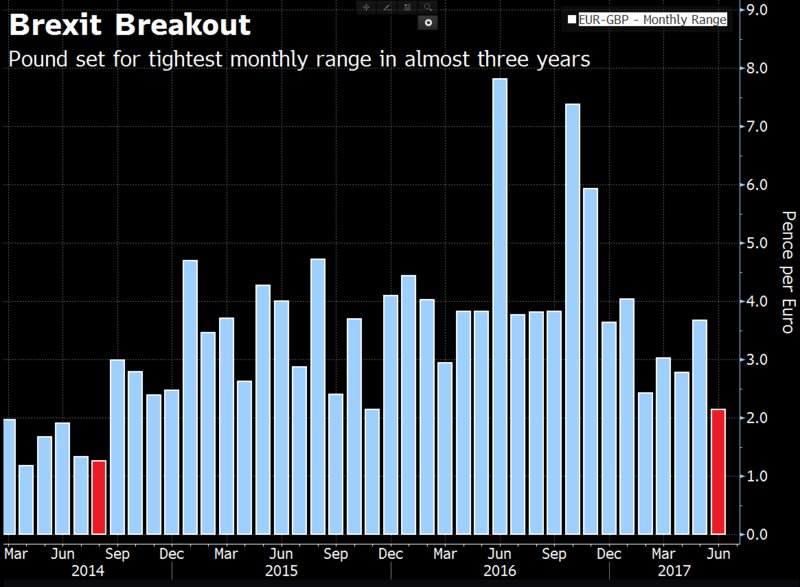 "Because we're leaving the EU, we will be leaving the single market. And, by the way, we'll be leaving the customs union," U.K. Treasury chief Philip Hammond declared, despite the Conservative Party's recent election setback. What about a possible €55B-€60B divorce bill? "I don't recognize these sums at all," he said. "I think this is the most egregious pre-negotiation posturing that I've seen for a very long while."
President Emmanuel Macron won a commanding majority in France's parliamentary elections on Sunday, securing a powerful mandate to push through his pro-business reforms. According to exit polls, year-old En Marche! was on track to take around 361 seats in the 577-seat national assembly, marginalizing the long-dominant Republican and Socialist parties.
Efforts to end a two-week-old crisis in the Persian Gulf have shifted to the U.S., with Rex Tillerson canceling a trip to Mexico to try to end a Saudi-led coalition's isolation of Qatar. "The Secretary of State will continue his efforts to de-escalate tensions in the Middle East region through in-person meetings and phone conversations with Gulf and regional leaders," according to the State Department.
Stocks
The aircraft industry is descending on Paris for the biennial aviation and defense industry gathering that alternates with Farnborough, England. More than 350K people visited the Paris Air Show in 2015 and 91 countries were represented. It will go some way in determining whether the recent orders slowdown will reverse, or is simply a cooling-off period after years of supercharged growth.
First news… Airbus (OTCPK:EADSY) has unveiled the A380plus, the world's new largest passenger jet, while Boeing (NYSE:BA) is expected to launch the 737 MAX 10. Raytheon (NYSE:RTN) plans to announce it will restart its Standard Missile 2 production line after a $650M order from four U.S. allies, and Lockheed Martin's (NYSE:LMT) F-35 is set to score a load of customers.
Brexit boost? Jaguar Land Rover (NYSE:TTM) will hire 5,000 staff as it boosts skills in autonomous and electric vehicle technology. It's a business endorsement for Theresa May as she starts Brexit negotiations following a botched election. The additional personnel will include 1,000 electronic and software engineers, as well as 4,000 employees for manufacturing.
Fiat Chrysler is not pulling the plug on its Chrysler brand in Japan, shooting down rumors stating it would stop selling the cars due to poor sales. "Although FCA Japan has already announced its intention to concentrate its resources on the Jeep brand ahead, no decisions have been made regarding (the) Chrysler brand," Fiat (NYSE:FCAU) said in a statement.
General Electric is looking at opportunities to invest in transportation in the Middle East and Africa after signing a $575M railway deal in Egypt. "Demand for infrastructure continues unabated, the region is shifting to renewables, which is becoming more and more important," said GE Vice Chairman John Rice. "We don't expect that to change."
Bitcoin traded higher on Saturday near $2,680, according to CoinDesk, up more than 20% from a June low of $2,185.96 hit Thursday that had erased gains for the month. The cryptocurrency still remains more than 150% higher since Jan. 1, while rival ethereum has skyrocketed over 4,000% YTD and came closer this week to topping bitcoin in market value.
"Some thought we shouldn't broadcast this interview because his baseless allegations aren't just offensive, they're dangerous. But here's the thing: Alex Jones isn't going away," Megyn Kelly told viewers Sunday night. Kelly, who gained prominence as an anchor at Fox News (NASDAQ:FOX), joined NBC (NASDAQ:CMCSA) this year. The network is banking on her as its next flagship star, who is drawing a salary reported to be about $15M.
"While we and others have worked for years to identify and remove content that violates our policies, the uncomfortable truth is that we, as an industry, must acknowledge that more needs to be done. Now," Google (GOOG, GOOGL) wrote in a weekend blog post. The tech giant will implement more measures to identify extremist videos and up the number of experts that flag them, while taking a tougher stance and expanding its counter-radicalization efforts.
Investors are still talking about Amazon's (NASDAQ:AMZN) deal to acquire Whole Foods Market (NASDAQ:WFM) for $13.7B, a move that catapults the e-commerce giant into hundreds of physical stores and fulfills a long-held goal of selling more groceries. The deal sent shockwaves across both the online and brick-and-mortar industries on Friday. Wal-Mart (NYSE:WMT) fell as much as 7.1%, while Kroger (NYSE:KR) tumbled 17% on fears of an increasingly cutthroat industry.