Fall in Oil Prices Weigh:
European Stocks and U.S. Futures lower on Oil Price drop
British Pound drops on S&P Rating Outlook.
European stocks gave up gains as a slump in commodities including oil and copper dragged down miners and energy shares.
Shares of drilling and oil service companies were among the worst performers in premarket trading, while the Stoxx Europe 600 edged down 0.2% amid a decline in oil and mining companies.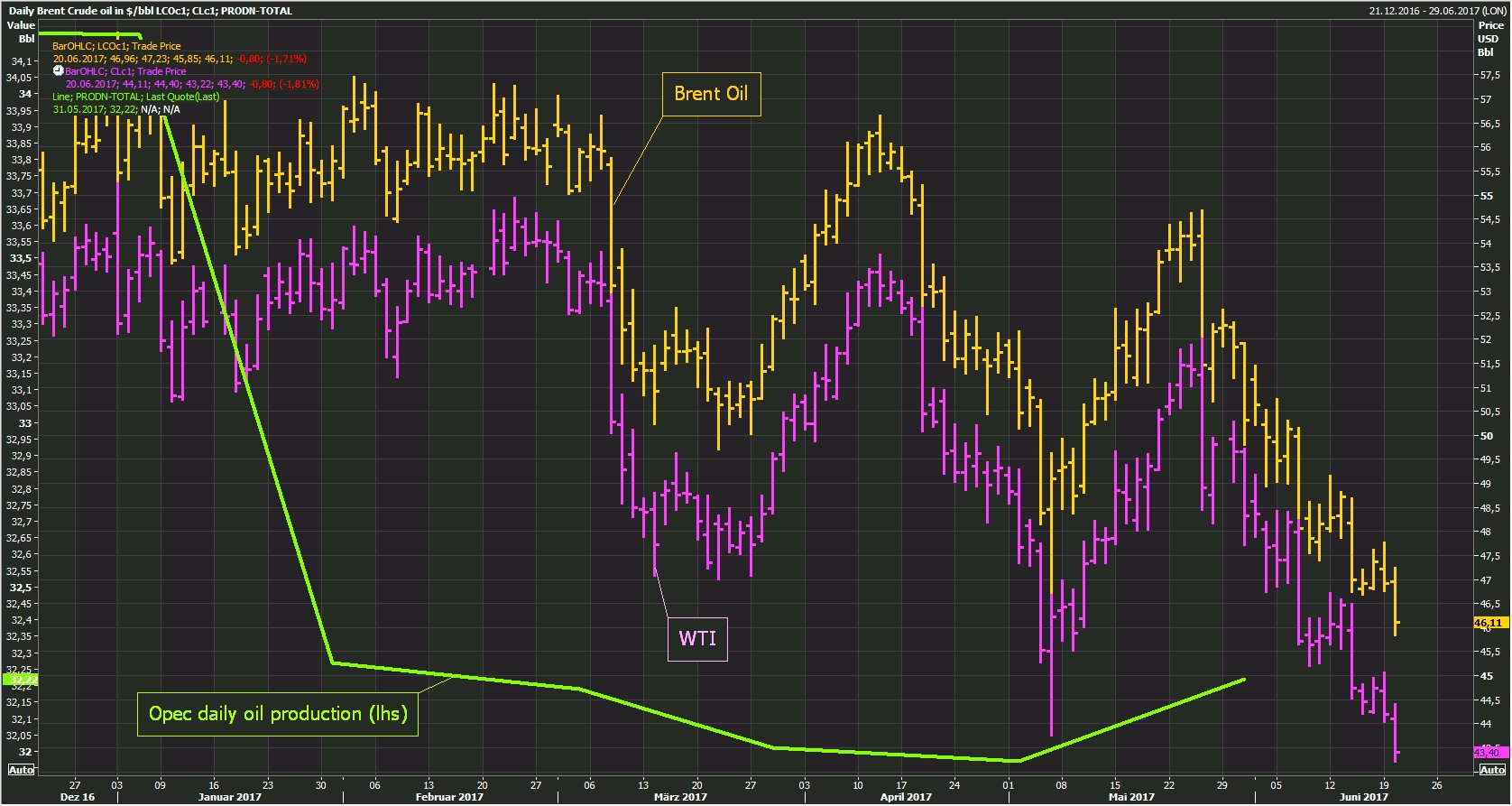 Brent crude oil fell 2.4% to $45.78 a barrel Tuesday, around its lowest levels since November, as investors remained skeptical about major oil producers' efforts to curtail supply.
While the energy sector only makes up about 6% of the S&P 500, nearly half of projected earnings growth for the second quarter was forecast to come from the sector, according to FactSet.
Futures pointed to a 0.1% opening decline for the S&P 500, after a recovery in shares of technology companies sent Wall Street bourses to record levels on Monday.
Markets
in Europe, major markets are in red:
Germany's DAX

: -0.32%

at 12,894
France's CAC:

– 0.2%

at 5,320
Italy's FTSE MIB: –

0.5

% at 20,909
Spain's IBEX:

-0.85%

at 10,799
Europe's STOXX 600:

-0.2%

at 391
The FTSE 250, which is more UK-focused than the FTSE 100, is down 0.4% at 19,796.
In Asia, Japan +0.8%. Hong Kong -0.3%. China -0.1%. India flat.
Gold +0.1% to $1247.30.
Ten-year Treasury Yield flat at 2.18%
The pound sank for a second day, with the GBPUSD tumbling to 1.2661, alongside gilt yields as Britain central bank governor Mark Carney said he is still worried about the impact Brexit will have on the U.K. economy and said he "now is not the time" to raise rates.
Rating agency Standard & Poor's have warned that it could downgrade the UK before the terms of the Brexit deal are known, putting even more pressure on the pound.
The pound is falling further against the euro too, down almost one eurocent at €1.134.
FTSE 100 dragged lower by commodity stocks
Barclays, Former CEO Criminally Charged Over Qatar Fundraising The SFO allegations focus on how Barclays arranged two capital injections from Qatari investors during the 2008 financial meltdown, when the bank raised £11.8 billion ($15 billion) to prop it up and avoid a state bailout unlike peers RBC and Lloyds. Barclays said it paid £322 million in "advisory services" to Qatari investors, which wasn't initially disclosed after the capital was raised.
Stocks
Tech is back on a tear as Apple (NASDAQ:AAPL) helped the Nasdaq yesterday log its best day of the year, with the S&P and Dow closing at new record highs. "Tech got beat up unfavorably over the past week or two, but as the group's earnings remain strong, we expect buyers are coming in to take advantage of the depressed prices," said Murphy Capital Management's Peter Lewis. More gains look in store for today's open.
"Like an old traditional marriage, where there are all kinds of rules and chaperones, we can't consummate the marriage, until we're actually officially hooked up," Whole Foods (NASDAQ:WFM) CEO John Mackey declared, describing the company's $13.7B deal with Amazon (NASDAQ:AMZN). Expansion of products? "Over time, there could be other formats that evolve that – that might – wouldn't be branded Whole Foods Market, potentially, wouldn't be our standards."
The tradeoff between time and quality looms large for McDonald's (NYSE:MCD) as it begins to roll out its fresh burgers. An on-demand Quarter Pounder takes about a minute longer to land in a customer's hands than does the original sandwich, according to restaurant managers and analysts, because grilling begins only after a patron orders. Speed-minded drive-through patrons account for 70% of McDonald's U.S. revenue.
Dumping sweets, chasing health? Nestle (OTCPK:NSRGY) has acquired a minority stake in Freshly, a provider of direct-to-consumer freshly prepared meals that are made without refined sugars or artificial ingredients. The investment will help Freshly build a new East Coast distribution center and kitchen in 2018 as it prepares to expand its U.S. service nationwide.
UPS plans to charge retailers extra fees to deliver packages during the busiest weeks before Christmas, creating a new challenge for an industry seek to offset declining foot traffic to shopping centers. UPS's fees will force retailers like Amazon (AMZN) and Wal-Mart (NYSE:WMT) to decide over the next few months whether to raise prices, a difficult to do when online shoppers are reluctant to pay shipping fees.
The U.K. Serious Fraud Office has charged Barclays (NYSE:BCS) and four former senior executives over fundraising from Qatari investors in 2008. The investigation, which has taken five years, centered around undisclosed payments to investors in the country amid a £12B emergency fund raising at the height of the financial crisis. BCS -0.3% premarket.
Don't believe everything Martin Shkreli says, at least what he tweets, his lawyer told a federal judge in an attempt to reduce his bail from $5M to $2M. The motion was rejected. The plea came ahead of Shkreli's fraud trial next week, which will decide whether the "Pharma Bro" looted millions of dollars from Retrophin (NASDAQ:RTRX) to repay investors in two hedge funds.
Samsung is hoping the Galaxy Note 8 will be able to put last year's exploding Note 7 fiasco behind it and be a major challenger to Apple's (AAPL) iPhone 8. Alleged leaked images of the upcoming smartphone were posted overnight and sources say Samsung (OTC:SSNLF) will unveil the device at a media event in New York City on Aug. 26.
A merger between Sprint (NYSE:S) and T-Mobile (NASDAQ:TMUS) is "financially compelling," according to Moody's, but it faces a long road and daunting challenge from an operational standpoint. "A successful integration would likely take significant time, enabling competitors such as Verizon (NYSE:VZ) and AT&T (NYSE:T) to advance their own strategies and take market share."
A federal judge in San Francisco has named lawyer Elizabeth Cabraser to lead the case brought against Fiat Chrysler (NYSE:FCAU) by owners over allegations it bypassed diesel emission controls. She also served as lead attorney in Volkswagen's (OTCPK:VLKAY) Dieselgate scandal that led to the automaker agreeing to buy back 500K vehicles and spend billions compensating owners.
A man killed in a crash last year while using the semi-autonomous driving system on his Tesla (NASDAQ:TSLA) Model S kept his hands off the wheel for extended periods of time despite repeated audible warnings not to do so. That's according to the NTSB, which released 500 pages of findings. Tesla is also nearing a deal to open its first production plant in China, Bloomberg reports, which would help it avoid a 25% import tariff.
The U.S. Air Force is resuming local flying operations of Lockheed Martin's (NYSE:LMT) F-35 at Luke Air Force base in Arizona after an 11-day suspension. They were stopped earlier in the month when five "physiological"problems, like irregularities in pilots' oxygen supplies, occurred during flights between May 2 and June 8.
Boeing received more than three dozen pledges to buy the planned Max 10 on the first day of the Paris Air Show, as the planemaker stretched its 737 workhorse to challenge Airbus's (OTCPK:EADSY) sales lead for the largest single-aisle airliners. Boeing expects to win 240 orders or commitments for the new model – valued at roughly $30B – during the industry event this week.