U.S. Stocks Steady as Oil Inches Up
Oil Halts Drop as Dollar Slips
China shares gain after MSCI inclusion
European stocks soft but Wall Street steady
Crude oil entered a bear market, closing down over 20% from the 2017 highs. NYMEX oil futures dipped below $43/bbl before bouncing slightly in the afternoon.
U.S. stocks fluctuated after the biggest drop in a month as technology shares reasserted leadership to offset renewed selling in energy producers.
The Nasdaq 100 Index paced gains among major American equity benchmarks, while the two-day drop in energy shares in the S&P 500 Index topped 2 percent.
Today's Markets
In Asia, Japan -0.5%. Hong Kong -0.6%. China +0.5%. India flat.
In Europe, at midday, London -0.4%. Paris -0.8%. Frankfurt -0.5%.
Futures at 6:20, Dow flat. S&P -0.2%. Nasdaq -0.3%. Crude flat at $43.50. Gold +0.4% to $1248.
Ten-year Treasury Yield flat at 2.15%
The pound rallied after hawkish comments from the Bank of England's chief economist.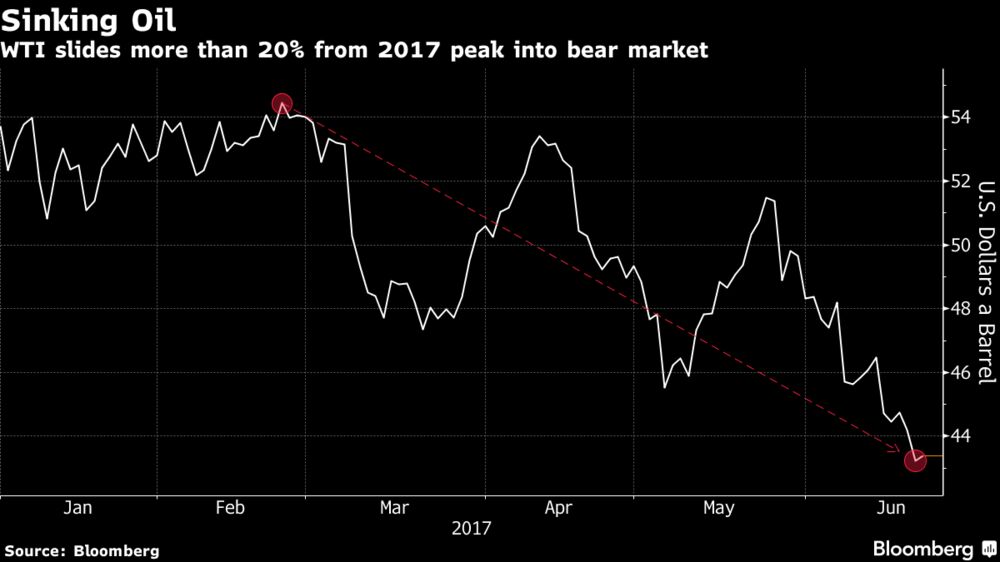 Weaknesses in crude and other commodities threaten to dent arguments from U.S. central bankers that soft inflation rates will be transitory. That may add to investor concerns of a Fed policy error that could unintentionally crimp the global economic recovery.
Oil has lost 20 percent in value this year as a global oversupply continues to weigh on prices despite efforts by major producers to reduce output. Oil prices are on track for their biggest slide in the first half of any year since 1997.
"If oil prices continue to move lower, obviously that would be bad for inflation or even result in disinflation."
Investors are also mindful of the impact of inflation on the pace of future interest rate hikes, with a tug-of-war between inflation and the future of financial stability playing out among the Federal Reserve's policymakers.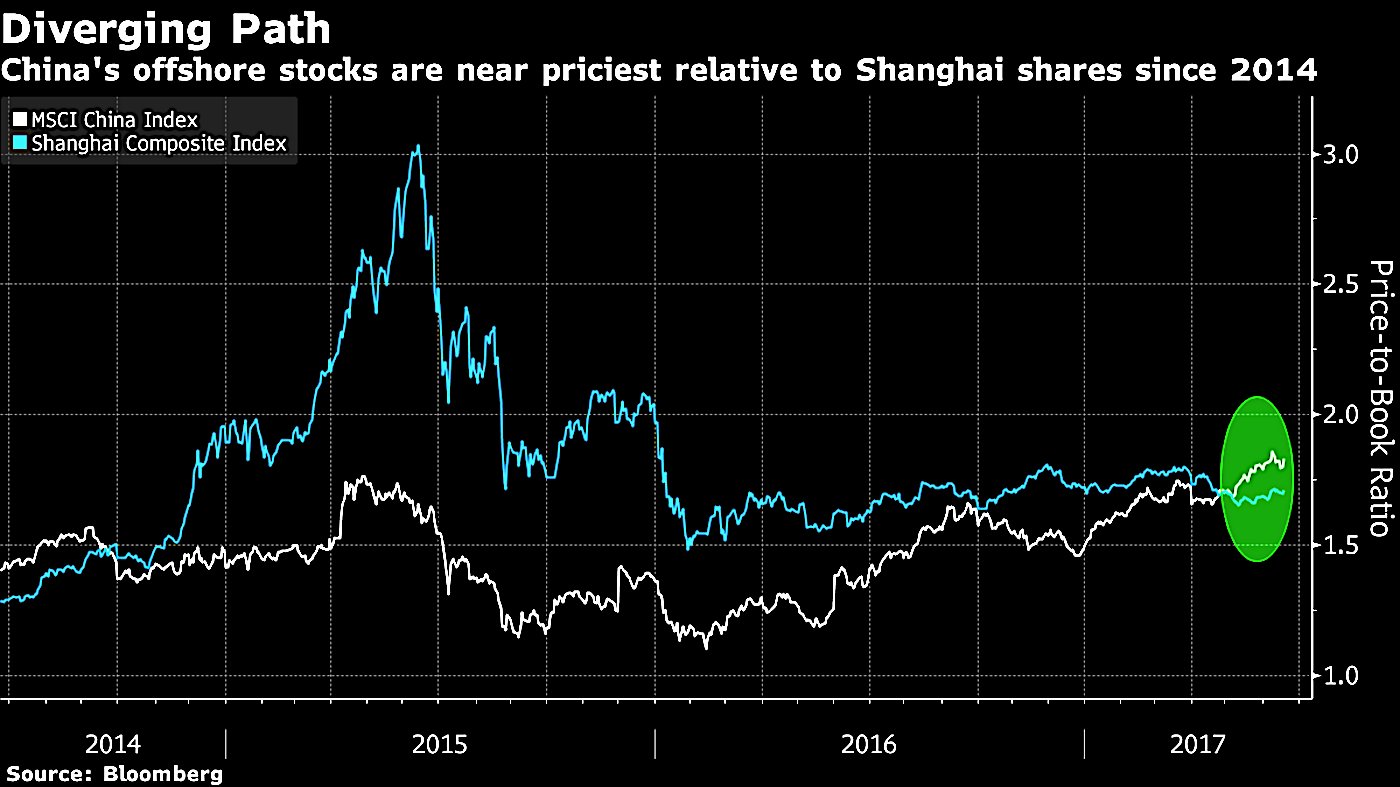 About $17B-$18B should initially flow into China's mainland stock market once some stocks are added to the key MSCI Emerging Markets Index EEM. The long-awaited A-shares decision was announced on Tuesday afternoon, in what was seen as a major milestone. "International investors have embraced the positive changes in accessibility… over the last few years," said Remy Briand, Chairman of the MSCI Index Policy Committee
MSCI's decision Tuesday to add China A-shares, stocks denominated in yuan and listed in either Shanghai or Shenzhen, to its MSCI Emerging Markets Index stands to boost demand for Chinese stocks by billions of dollars over time.
Yet adding China to the MSCI index would expose foreign investors to a market still plagued by limited transparency and frequent government intervention, some of the concerns cited by the index provider in the past three years following rejections.
Market Moves, from Bloomberg
Commodities
West Texas oil rose 0.1 percent to $43.54. Futures tumbled more than 2 percent on Tuesday, touching the lowest since August.
Gold rose 0.1 percent to $1,244.13 an ounce after falling for five straight days.
Currencies
The British pound jumped 0.6 percent to $1.2706.
The euro climbed 0.2 percent to $1.1151 after two days of declines.
The yen slipped 0.1 percent to 111.54 per dollar, after gaining 0.1 percent on Tuesday.
The Bloomberg Dollar Spot Index fell 0.2 percent after rising 0.3 percent on Tuesday and 0.4 percent the previous day.
Bonds
The yield on 10-year Treasuries rose one basis point to 2.17 percent, after declining three basis points on Tuesday.
The yield on U.K. benchmark bonds rose five basis points.
Asia
Australia's S&P/ASX 200 Index slumped 1.6 percent, erasing its gain for the year, as energy shares tumbled. BHP Billiton Ltd. and Rio Tinto Ltd. slid at least 2.9 percent.
The Shanghai Composite Index finished with a 0.5 percent gain, after swinging between gains and losses throughout the day following the MSCI decision. Hong Kong's Hang Seng Index fell 0.6 percent.
Economy News
In a major shakeup, Saudi Arabia's King Salman has relieved his nephew, Muhammad bin Nayef, as crown prince, replacing him with his son, Mohammed bin Salman. The 31-year-old prince has led a complete overhaul of the Saudi economy, diversifying the kingdom beyond oil under Vision 30 and a planned IPO for Saudi Aramco (Private:ARMCO). He has also frequently praised the country's relationship with the U.S.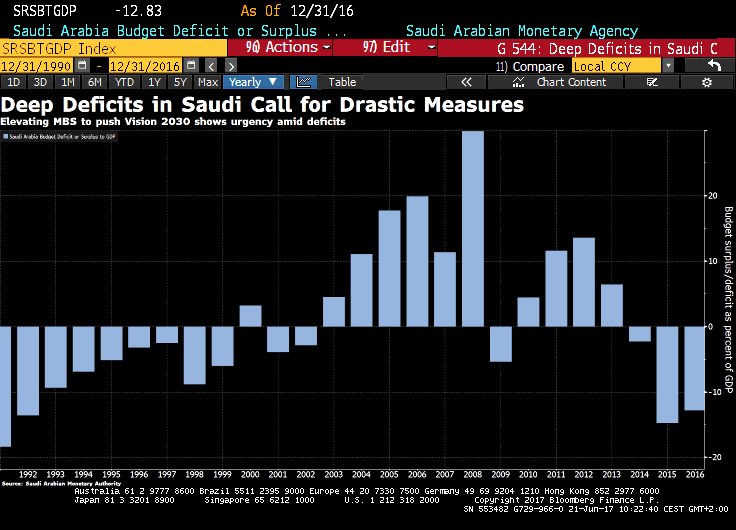 Stocks News
One week after taking a leave of absence, UBER CEO Travis Kalanick has resigned from the $70B company he founded, NYT reports. "I have accepted the investors' request to step aside so that Uber can go back to building rather than be distracted with another fight," he said in a letter. The ride-hailing firm has been plagued by allegations of sexual harassment and misconduct, which saw the firing of more than 20 employees.
"Turns out that Tesla isn't a good fit for me after all," said autopilot software head Chris Lattner, who quit the company after just six months on the job. He worked at Apple (NASDAQ:AAPL) for more than a decade before joining the automaker in January. Following the resignation, Tesla (NASDAQ:TSLA) hired Andrej Karpathy, a researcher at OpenAI, as director of artificial intelligence and the Vision team.
Toshiba has selected a consortium consisting of the INCJ, Bain Capital and the Development Bank of Japan as a preferred bidder for its memory chip business, estimated to be worth around $20B. Western Digital (NYSE:WDC) responded to the news, saying Toshiba (OTCPK:TOSYY) continued to ignore both its subsidiary SanDisk's rights and the dual-track legal process currently underway.
Jack Ma is in Detroit making a high-profile pitch to small American businesses. He's hosting an event called Gateway '17, aimed at convincing smaller enterprises to work with Alibaba (NYSE:BABA). It expands on a meeting Ma had with President Trump in January, when they talked about how independent businesses could grow by selling to China's growing market and thereby creating a million U.S. jobs.
Forget about disrupting the grocery sector, Amazon (NASDAQ:AMZN) is heading into fashion. Amazon Prime Wardrobe will let users try before they buy, and only pay for what they keep (free shipping and discounts are also available). Market reaction? Retailer stocks were hit by the news on Tuesday, including Nordstrom (NYSE:JWN), J.C. Penney (NYSE:JCP), Ascena (NASDAQ:ASNA), Chico's (NYSE:CHS), TJX and Ross Stores (NASDAQ:ROST).
Sears Canada has "significant doubt" about its ability to continue as a going concern and is exploring a possible sale of the business. Sears Canada (NASDAQ:SRSC), whose Q1 net loss more than doubled from a year ago, also abruptly called off its annual meeting scheduled for today, postponing it to an undetermined future date.
The world's largest home appliance maker has lost its captain. Whirlpool's (NYSE:WHR) CEO Jeff Fettig will step down on Oct. 1 after thirteen years at the helm and will be replaced with current COO Marc Bitzer. Fettig steered the company through the recession and oversaw the acquisition of Italy's Indesit and China's Hefei Rongshida Sanyo Electric.
"If I had to pick one word that IBM's reinventing around, it's 'data,'" CEO Ginni Rometty told Mad Money host Jim Cramer. "The cloud is in its early stages and it's changing," she declared, emphasizing IBM's current focus on collecting data. "20% of the world's data is searchable… "But 80% of the world's data, which is where I think the real gold is – that is all with our clients.
Ericsson has signed an agreement with software firm Flex to sell its power modules business, the first exit of assets under a new strategy to focus on its core business. Ericsson (NASDAQ:ERIC) announced the strategy in March, saying it would concentrate on its main product areas of networks, digital services and Internet of Things.
A Supreme Court ruling has led St. Louis Circuit Judge Rex Burlison to declare a mistrial in a case claiming J&J's (NYSE:JNJ) talcum powder caused ovarian cancer. It centers on whether state courts can hear claims against companies that are not based in the state, or if the injuries did not occur there. Juries in four St. Louis trials have already hit J&J and a talc supplier with $307M in verdicts.
Get ready for Cigna's investor day, its first since its deal with Anthem (NYSE:ANTM) officially broke off. The insurer is expected to unveil its post-Anthem plans for growth, addressing issues such as mergers and acquisitions, the Obamacare individual market and legislative reform. Cigna's (NYSE:CI) event starts at 8:30 a.m. ET and will end at 1:00 p.m.
Former Barclays CEO John Varley has resigned from BlackRock's (NYSE:BLK) board, where he served as an independent director since 2009. He was among those from Barclays (NYSE:BCS) charged yesterday with conspiracy to commit fraud in connection with an emergency fundraising in Qatar in 2008. "BlackRock and its management team have benefited greatly from his contributions," said CEO Larry Fink.
Tropical Storm Cindy has caused the suspension of service at a major Gulf of Mexico oil terminal and evacuations at rigs and platforms as it moves toward an expected landfall early Thursday. "While the storm may not be a whopper, it will influence shipping and may impact imports and exports of oil for next week," said a senior market analyst at Price Futures Group. Related tickers: LNG, ENB, APC, BHP, ETR, RDS.A, RDS.B