Stocks Struggle in Europe.
Global Shares Pause as Oil Price Continues to Drag
U.K. stocks fall as pound gains one year after Brexit vote.
With front-month futures down 4.3 percent since last Friday, crude was poised for a fifth week of declines as the supply glut shows no signs of ending. Saudi Arabia, Russia, and their allies are reducing output, but supply that's beyond their control keeps rising. This week's moves put prices back below where they were when the Organization of Petroleum Exporting Countries first struck its historic deal to cut supplies last year.
As Saudi Arabia, Russia and their allies reduce output, supply that's beyond their control keeps rising. Libya and Nigeria — OPEC members exempt from the curbs — and U.S. shale producers are resurgent, undermining efforts to tame a global glut. Prices are back below where they were when the Organization of Petroleum Exporting Countries first struck its historic deal last year.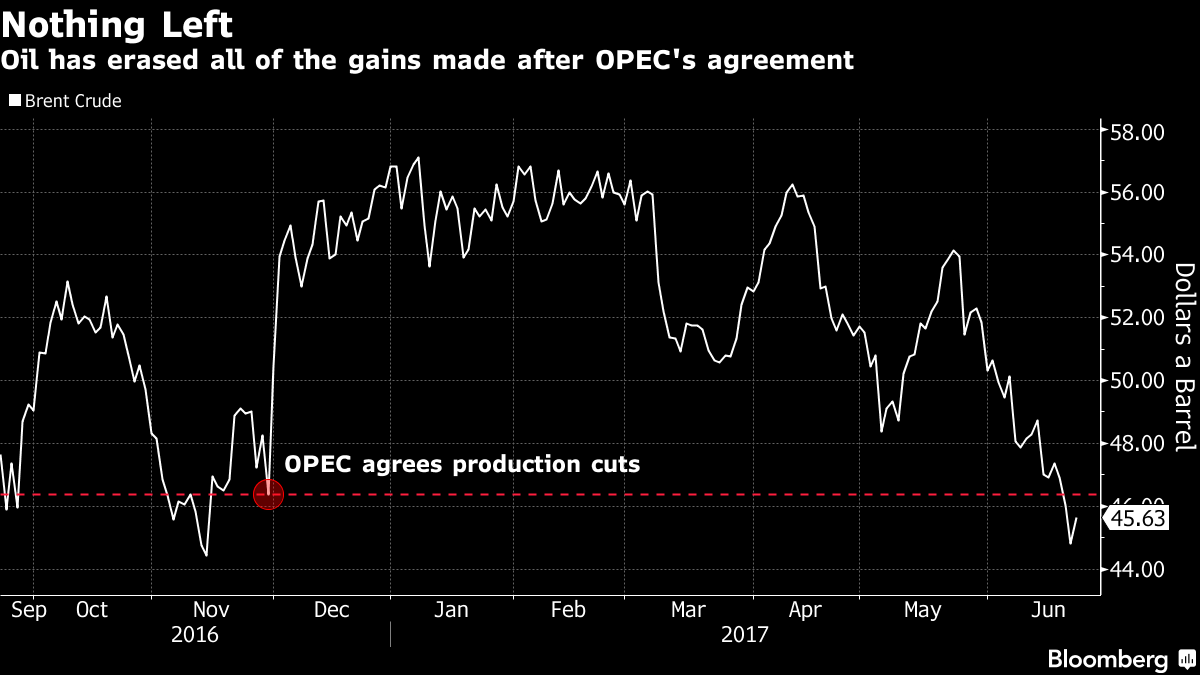 Oil is not the only comodity to suffer from low prices, although for different reasons.
Today's Markets
In Asia, Japan +0.1%. Hong Kong flat. China +0.3%. India -0.5%.
In Europe, at midday, London -0.5%. Paris -0.6%. Frankfurt -0.7%.
Futures at 6:20, Dow -0.2%. S&P flat. Nasdaq -0.2%. Crude +0.2% to $42.81. Gold +0.7% to $1257.80.
Ten-year Treasury Yield flat at 2.16%
Agricultural commodities continue to hemorrhage.
Global stocks found little traction Friday, while the British pound inched up on the first anniversary of the U.K.'s vote to leave the European Union.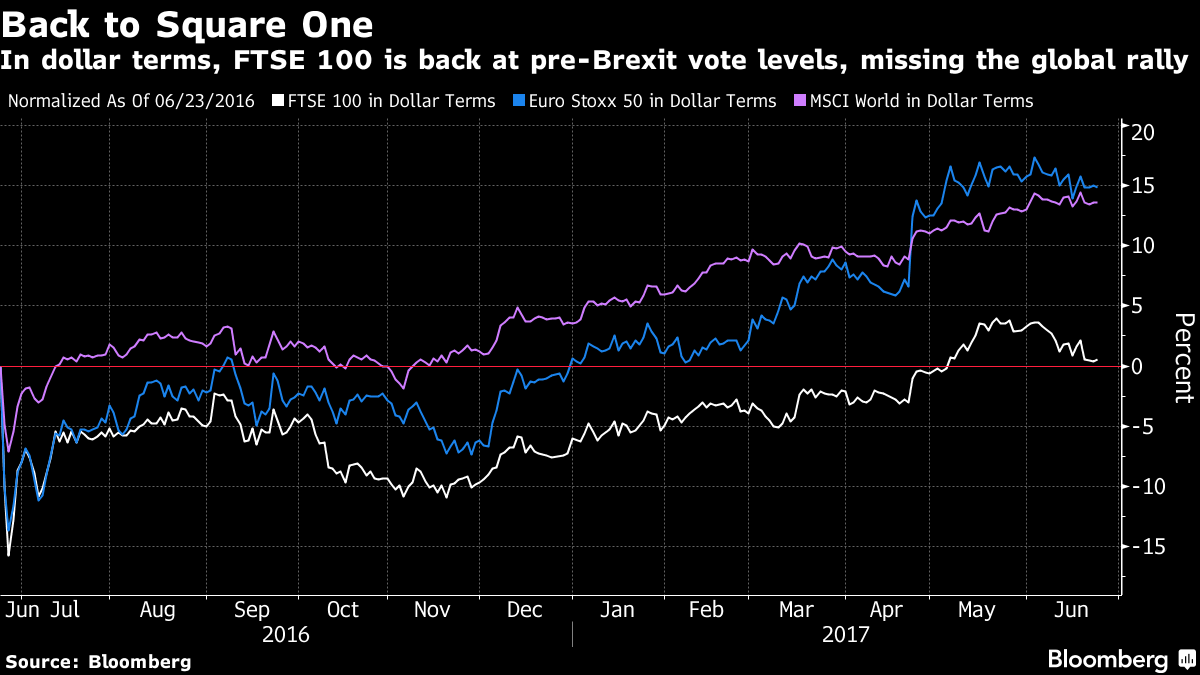 Futures pointed to a 0.1% opening loss for the S&P 500, following a muted session in Asia. The Stoxx Europe 600 was down 0.5% midday, led lower by declines in autos and chemicals companies, while London's export-heavy FTSE 100 was off 0.6% as the pound climbed 0.4% to $1.2728.
The eurozone's economy slowed slightly in June, but still had its strongest quarter in more than six years, according to a survey of activity in the manufacturing and services sectors published Friday.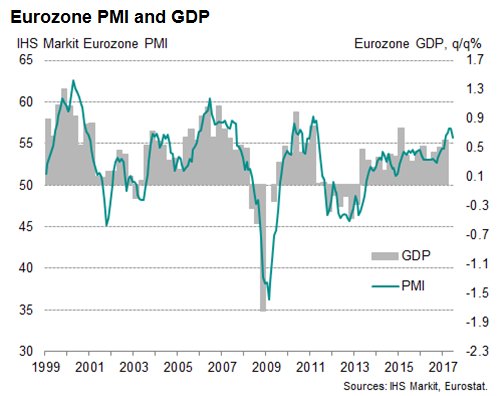 IHS Markiy Eurozone PMI ( purchase managers index):
"However, at 56.4, the average PMI reading for the second quarter was above the reading of 55.6 seen in the first three months of the year and was the highest since the first quarter of 2011. At these levels, the PMI is historically consistent with GDP growth accelerating from 0.6% in the first quarter to 0.7% in the three months to June."
GDP compared to pre crisis :
Only Italy (-6.8%) and Spain are yet to come over 2008 GDP.
Economy News
Today will be one of the biggest and busiest trading days in the U.S. equity market as investment managers adjust their portfolios to the rebalancing of Russell indexes. Why is it so important? Indexes rule the world because passive investing rules the world, and these indexes determine what go into many mutual funds and many ETFs. There's about $8.5T in assets benchmarked to or invested in products based on Russell U.S. indexes.
FTSE Russell's global stock indexes are used as benchmarks for about $12.5 trillion in assets, the company said in May. An estimated $8.5 trillion in investments track Russell indexes in the U.S., which include the Russell 1000 and Russell 2000, according to Mathew Lystra, a senior research analyst with the London Stock Exchange Group.
Theresa May unveiled an offer last night to allow at least 3M EU citizens living in the U.K. to stay after Brexit, but didn't reveal the exact date after which new arrivals are no longer guaranteed the status. European heads of state, including German Chancellor Angela Merkel and Austrian Chancellor Christian Kern, welcomed the initial offer, which came on the first anniversary of the Brexit vote.
Four Arab states boycotting Qatar over alleged support for terrorism have sent Doha a list of 13 demands, including closing Al Jazeera and reducing ties to their regional adversary Iran. It also demands shuttering of a Turkish military base in Qatar and surrendering all designated terrorists on its territory. The countries gave Doha 10 days to comply, upon which the list would become "void."
Stocks News
The 34 largest U.S. lenders have all cleared the first stage of the Fed's annual stress test, showing they would be able to maintain enough capital in an extreme recession to meet regulatory requirements. Banks are still subject to a second portion of the test in which the Fed approves or denies their capital plans, which will be released next week.
The healthcare sector closed at the top of yesterday's leaderboard as the Senate released its healthcare reform bill. "The initial proposal I think is more generous and more positive to the industry than expected," said Jeff Jonas, portfolio manager with Gabelli Funds. Changes were aplenty in the new bill, but were not seen as a radical departure from ACA for individuals.
"Yes, are competing for TV ad dollars that were previously exclusively TV ad dollars," said YouTube's (GOOG, GOOGL) head of original programming, adding that the next step is professional-created content with big-name stars. YouTube recently hit the threshold of 1.5B viewers every month, equivalent to one in every five people on the globe, and said its users on average watch more than an hour of mobile videos per day.
It's not been a good few weeks for CenturyLink (NYSE:CTL). While in the midst of a $34B merger, the firm has been hit with a pair of lawsuits seeking up to $12B in damages for a Wells Fargo-like scheme. Now, a video has emerged of Odell Riley, recently VP Human Resources and Chief Diversity Officer at CenturyLink, railing against the sins of homosexuals at a church in Mississippi.
Is Google Glass still alive? The device just received its first update in nearly three years, including bug fixes, performance improvements and Bluetooth input device support. It's a totally unexpected move from Google (GOOG, GOOGL), prompting speculation of an impending return for Glass. Sales of the futuristic gadget were halted back in 2015 after many considered it ugly, creepy and overly expensive.
In a hospitality industry crossover, Ritz-Carlton (MAR) has revealed plans for a luxury cruise line scheduled to hit the water in late 2019. It's building three 298-passenger yachts that will cater to the "1% of global travelers," according to Bloomberg. While home ports for the ships have not yet been announced, bookings will begin next May.
Sears is preparing to close 20 more stores in the United States. That's on top of 245 closings already announced, Sears (NASDAQ:SHLD) employees told Business Insider, and will bring the company's store count down to about 1,180. Yesterday, Sears Canada (NASDAQ:SRSC) announced it would close a quarter of its 59 locations as part of court-ordered restructuring.
Volkswagen has agreed to buy back diesel cars equipped with illicit emissions software after deciding not to appeal a German court ruling backing plaintiffs' calls for compensation. VW (OTCPK:VLKAY) said its decision was an exception to its position to "not compensate, but fix" vehicles of European customers, and stemmed from the low value of the cars in question.
After losing the 2017 Paris Air Show to rival Boeing (NYSE:BA), Airbus (OTCPK:EADSY) sales chief John Leahy, one of the dominant figures of modern aviation, has hinted he would retire this fall. He pledged to ensure a smooth transition to his designated internal successor, Kiran Rao. The 67-year-old New Yorker has overseen the sale of more than 10,000 aircraft worth $1T since 1994.
SpaceX is about to kick off a busy weekend with today's launch of a previously flown Falcon 9 rocket. If successful, it will be the fastest turnaround time between two SpaceX (Private:SPACE) launches ever. The company is also targeting a Sunday launch of more Iridium (NASDAQ:IRDM) satellites, putting it on track to launch more rockets than its competitors for the first time in a calendar year