Stocks Down
Draghi is Upbeat on economy Outlook: Euro Up
U.S. Stocks Poised for Lower Open With Tech Sector Under Pressure
Oil extends advance fourth day; gold climbs after selloff
Ukraine, Russia Report Ransomware Computer Virus Attacks: BREAKING NEWS
Companies in Ukraine and Russia came under attack from hackers who planted a virus that locked computers at energy and transport companies, banks and state bodies, Bloomberg News reports.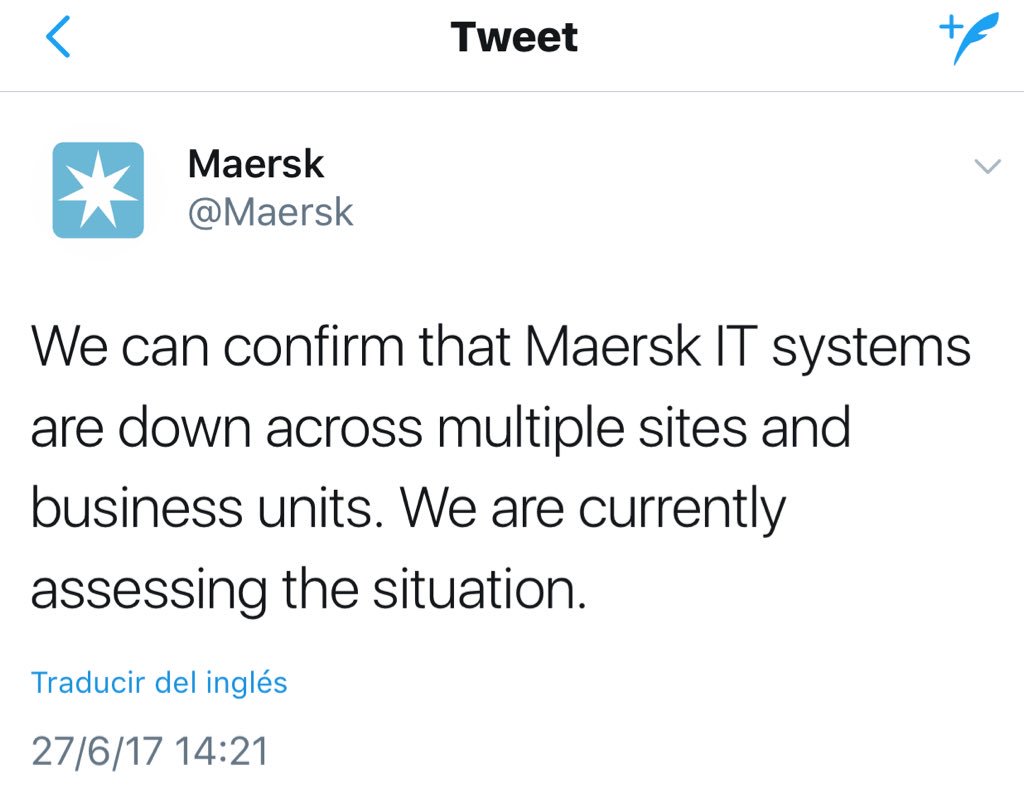 Anxious Investors Try to Hedge Against a Big Selloff, Even as Good Times Roll. Stock volatility is near an all-time low and corporate profits have bounced back from a year ago, but investors are increasingly moving to protect themselves from big swings in financial markets.
Draghi's overly-optimistic expectations for growth were taken as hawkish by the markets and earlier weakness in Bunds (yields spiking) and strength in EUR (surging to 2-week highs) have continued.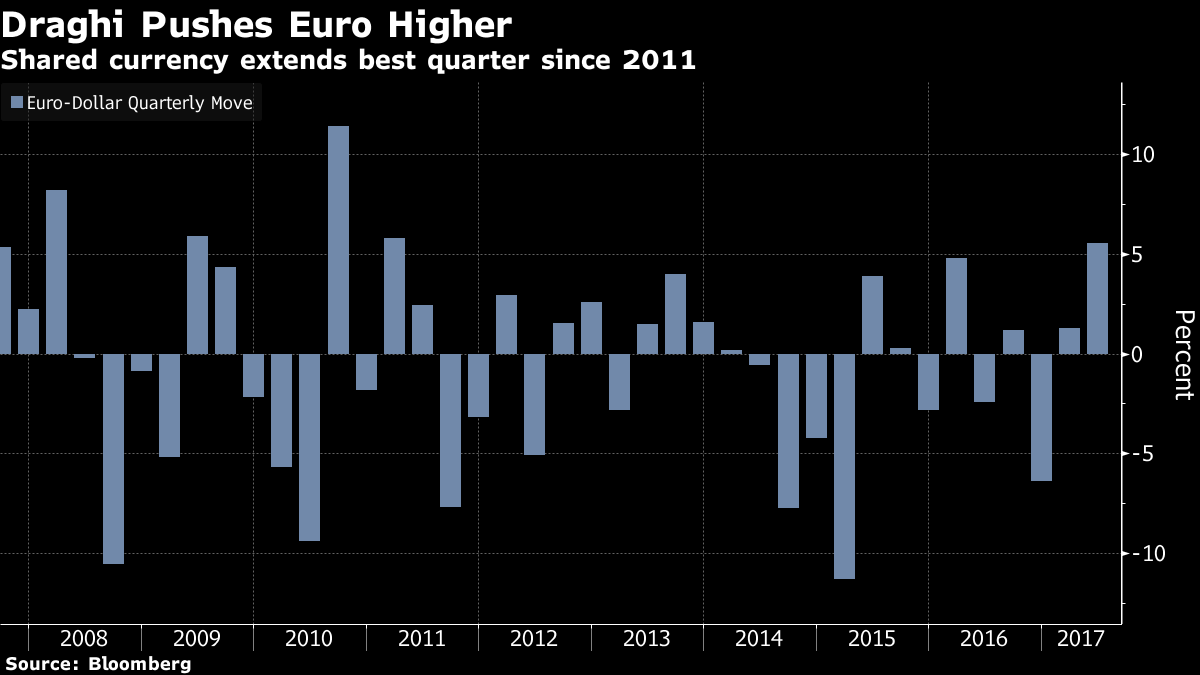 Speaking at the ECB's annual policy forum, Draghi highlighted a recovering euro zone economy that "the threat of deflation is gone and reflationary forces are at play".
The Stoxx Europe 600 Index dropped, led by travel and leisure shares, though basic resources companies were among those bucking the trend as commodities advanced.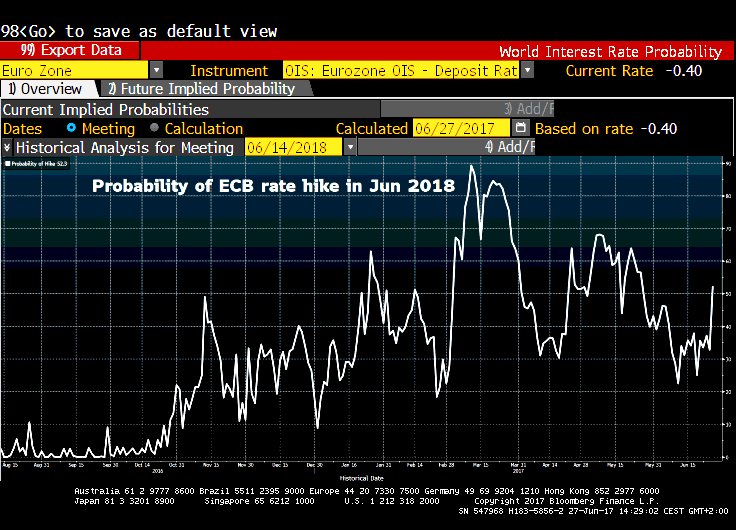 The euro jumped as bonds and the dollar fell after Mario Draghi said headwinds to inflation in the region are temporary.
Reuters adds, Draghi's comments "sounded to investors like he was ready to give more ground on German demands that the ECB get on with starting to reduce the volume of extra euros it is feeding monthly into the economy."
Bank Of England Orders Banks To Boost Capital To "Protect From Rising Risks"
The Bank of England is pushing the UK financial sector to prepare for a downturn, by making them hold an extra £11bn of capital. But…. Carney says this won't be a problem, as banks already hold more capital than required, since the rule were relaxed after the Brexit vote.
Wall Street has opened lower, with the IMF's downgraded growth forecasts dampening the mood in New York.
The main indices are all in the red, with shares in Alphabet (Google) shedding more than 1.2% after it was slapped with a €2.4bn fine by Brussels today.
IMF Cuts U.S. Outlook, Calls Trump's Growth Target Unrealistic.
The IMF reduced its forecast for U.S. growth this year to 2.1 percent, from 2.3 percent in the fund's April update to its world economic outlook.
The world's biggest economy is being held back by problems ranging from an aging population to low productivity growth, the fund said in its annual assessment of the U.S. economy released Tuesday.
The Trump administration is counting on planned tax cuts, increased infrastructure spending and regulatory relief to boost expansion while balancing the budget.
Even with an "ideal constellation of pro-growth policies, the potential growth dividend is likely to be less than that projected in the budget and will take longer to materialize," the IMF said in a statement Tuesday.
Main moves in markets, from Bloomberg
Stocks
The Stoxx Europe 600 Index dropped 0.7 percent as of 8:28 a.m. in New York, as declines in travel and leisure shares overshadowed the rally in miners.
Futures on the S&P 500 Index fell less than 0.1 percent. The underlying gauge rose less than one point on Monday. The Nasdaq 100 fell 0.3 percent.
Currencies
The euro surged 0.9 percent to $1.1280.
The Bloomberg Dollar Spot Index fell 0.4 percent after gaining 0.1 percent in the previous session.
The British pound added 0.3 percent to $1.2766.
Commodities
West Texas Intermediate crude rose 1.4 percent to $43.98 a barrel, adding to a three-day rally following oil's drop into a bear market.
Gold increased 0.4 percent to $1,249.66 an ounce. The precious metal sank almost 1 percent on Monday.
Bonds
The yield on 10-year Treasuries rose three basis points to 2.17 percent, after dropping less than one basis point on Monday.
European government bonds dropped across the board, with the yield on benchmark French bonds climbing eight basis points and that of Germany seven basis points.
Asia
The Chinese yuan jumped both onshore and overseas amid speculationof central bank intervention.
Hong Kong's Hang Seng index fell 0.1 percent and the Shanghai Composite Index advanced 0.2 percent. A string of small-cap Hong Kong stocks suddenly plunged during the day, with traders pointing to links between some of the companies and a brokerage that's under regulatory investigation.
Japan's Topix climbed 0.4 percent to the highest closing level since August 2015.