Global stocks Retreat
Tech´s Dominance Questioned
North Korea Scares Investors on Independence Day
U.S. markets are closed for Independence Day.
Global stocks were mostly lower Tuesday as a decline in shares of U.S. technology companies the previous day reverberated overseas.
The Stoxx Europe 600 edged down 0.1% in afternoon trading, following steeper losses across Asia, with trading volume limited as U.S. markets were closed for Independence Day.
A risk-off mood seeped into markets on Tuesday, with haven assets including gold and the Japanese yen climbing and stocks slipping as North Korea's weapons program continues.
Gold headed for its first advance in four days.
European stocks slipped, led by telecom and utility shares.
Oil's rally stalled after OPEC production increased.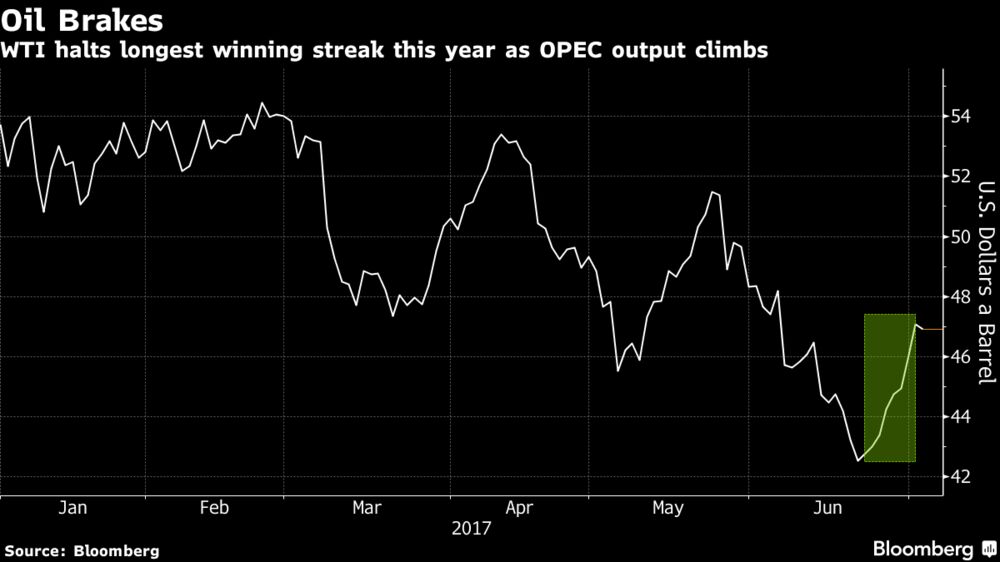 "Supply is well and truly adequate," says David Lennox, a resource analyst at Fat Prophets in Sydney "Oil could quite easily revisit its lows again if we don't see stronger seasonal demand from the U.S. and OPEC members increase output further." For now, however, it is higher.
Oil prices show considerable volatility. This happens because it is difficult to keep supply and demand exactly balanced; there are many factors determining needed price level, including both the amount consumers can afford and the costs of producers. The bouncing of prices up and down is to a significant extent in response to interest rate changes, and resulting changes in currency relativities and debt growth.
The Bank of England has raised the pressure on UK lenders not to offer credit recklessly. The central bank is demanding proof that loans are being made in a sensible fashion, following growing concern that an unsustainable credit bubble is building.
Over in Rome, the ECB's chief economist has added his voice to the cacophony of central bank policymakers offering guidance about how, and when, monetary policy might change.
Peter Praet's view is that the European Central Bank's stimulus measures are bearing fruit; but it's too early to stop them.
Main moves in markets from Bloomberg
Currencies
The yen rose 0.1 percent to 113.25 per dollar as of 8:34 a.m. in New York. The currency tumbled 0.9 percent on Monday.
The Bloomberg Dollar Spot Index was little changed after jumping 0.5 percent in the previous session. The dollar strengthened the most in two weeks Monday after U.S. factories powered up in June at the fastest pace in nearly three years.
The pound fell 0.1 percent to $1.2926 after halting an eight-day rally on Monday.
The euro was 0.2 percent lower at $1.1345.
Stocks
The Stoxx Europe 600 Index slipped 0.1 percent, with telecom and utility shares both dropping 0.6 percent.
Futures on the S&P 500 Index rose 0.2 percent after the underlying index posted a similar gain on Monday. The U.S. market closed early for the July 4 holiday.
Commodities
West Texas Intermediate crude slipped 0.2 percent to $46.96 a barrel. The contract rose 2.2 percent on Monday, capping an eight-day rally as oil rebounded after falling into a bear market.
Gold rose 0.4 percent to $1,224.48 an ounce, after dropping 1.7 percent on Monday for its biggest loss of the year amid the dollar's advance.
Bonds
The yield on 10-year Treasuries rose five basis points to 2.35 percent on Monday, after surging 16 basis points last week. The market was closed on Tuesday.
U.K. 10-year yields dropped one basis point to 1.25 percent.
Asia
The yen rose as much as 0.5 percent after North Korea's missile test, rebounding after tumbling 0.9 percent on Monday. The Aussie dollar dropped 0.8 percent, erasing an earlier gain.
Hong Kong's Hang Seng fell 1.5 percent, with Galaxy Entertainment Group Ltd. and Tencent Holdings Ltd. among the biggest losers. Analysts attributed the drop to the selling of index futures after the benchmark fell below 25,500.
Australia's S&P/ASX 200 Index jumped 1.8 percent, the most since Nov. 10, with stocks bouncing back after a two-day slump totaling 2.3 percent. Banks surged 2.2 percent.