Minutes get hold of Investors Looking for Clues
S&P Flat As Fed Minutes Await
European markets  also Await ECB transcripts

Gold, yen decline as stocks edge higher; oil's win streak ends

U.S. markets reopen after holiday; Treasuries trade sideways

Qatar Outlook Downgraded by Moodys
Oil Slides
UK: Slowdown in Service sector and Low productivity
A shift to haven assets faded impulsed by geopolitics in North Korea. S&P futures were little changed at 2,425 ignoring tensions in the Korean peninsula of the past two days which will likely be a major topic in the upcoming G-20 summit.
"While North Korea's military ambitions are a background threat for markets, we don't think that this particular geopolitical event is at the stage yet where it will cause a spike in volatility." some analyst said.
European stocks fluctuate and Asian markets advance. Crude oil fell, snapping the longest winning streak this year, as Russia said it opposed any proposal to deepen OPEC-led production cuts.
Investors have focused on global central bank signals in recent trading sessions amid signs officials might be ready to ease off on massive stimulus programs. Minutes from the Fed's June meeting, due later Wednesday, could help cement expectations for U.S. interest rates.
Business surveys in the eurozone released Wednesday showed the bloc's economic recovery likely accelerated in the second quarter of 2017, adding to expectations for the ECB to wind down its massive bond-purchase program.
Benoît Coeuré, an ECB executive board member, said Wednesday the central bank hadn't yet discussed making changes to its policy. But many investors continue to bet on tighter policy ahead.
Today's Markets 
In Asia, Japan +0.3%. Hong Kong +0.5%. China +0.8%. India +0.1%.
In Europe, at midday, London flat. Paris +0.1%. Frankfurt +0.1%.
Futures at 6:20, Dow flat. S&P flat. Nasdaq -0.2%. Crude -1.5% to $46.36. Gold steady at $1219.14.
Ten-year Treasury Yield flat at 2.35%
Four Arab foreign ministers met in Cairo to weigh possible further sanctions against Qatar on Wednesday in a dispute that has aroused deep concern among Western allies of the region's ruling dynasties, key partners in energy and defense.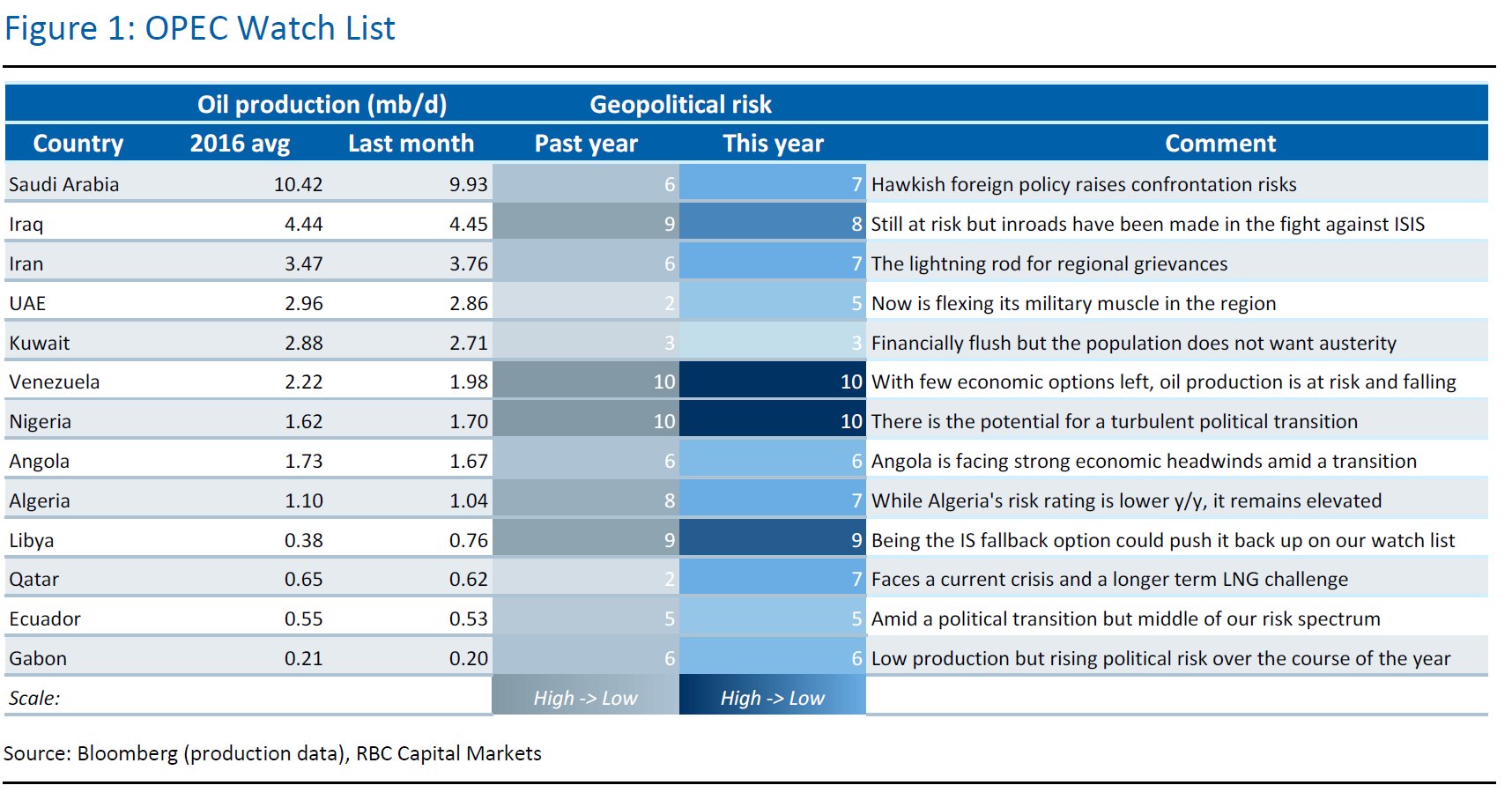 Energy risks mount as Qatar crisis splits Mid-East into warring camps. Clash unpredictable.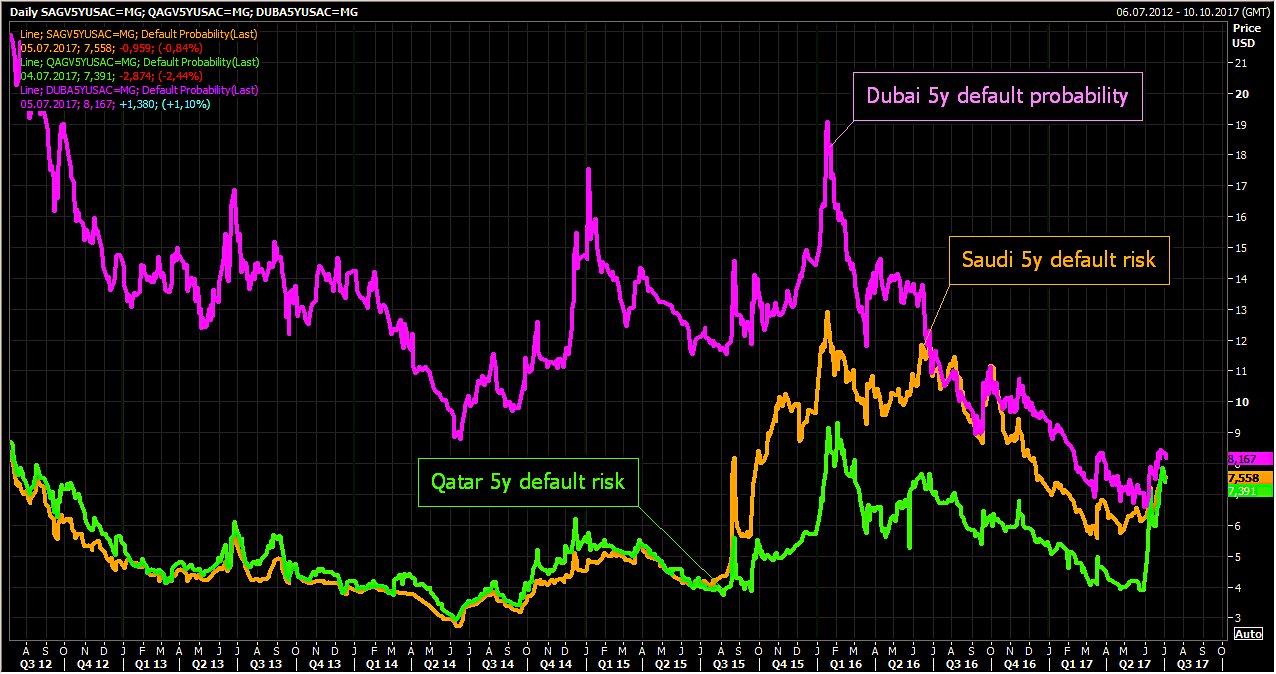 Qatar's credit outlook was cut to negative by Moody's Investors Service, which cited economic and financial risks from an ongoing diplomatic spat between the OPEC nation and its Arab neighbors.
Nation's rating affirmed, fourth highest investment grade

Moody's says diplomatic dispute a risk to credit fundamentals.
OIL: While prices have surged during the past week, oil remains in a bear market after concerns that rising global supply will offset output cuts from OPEC and its partners. Libya and Nigeria, exempt from the OPEC-led curbs, accounted for half of the group's production boost last month, according to data compiled by Bloomberg.
Futures dropped 1.3 percent in New York after eight straight sessions of gains. Russia wants to continue with the current deal and any further supply curbs would send the wrong message to the market, according to government officials. The U.S. dollar strengthened, reducing the appeal of commodities denominated in the currency.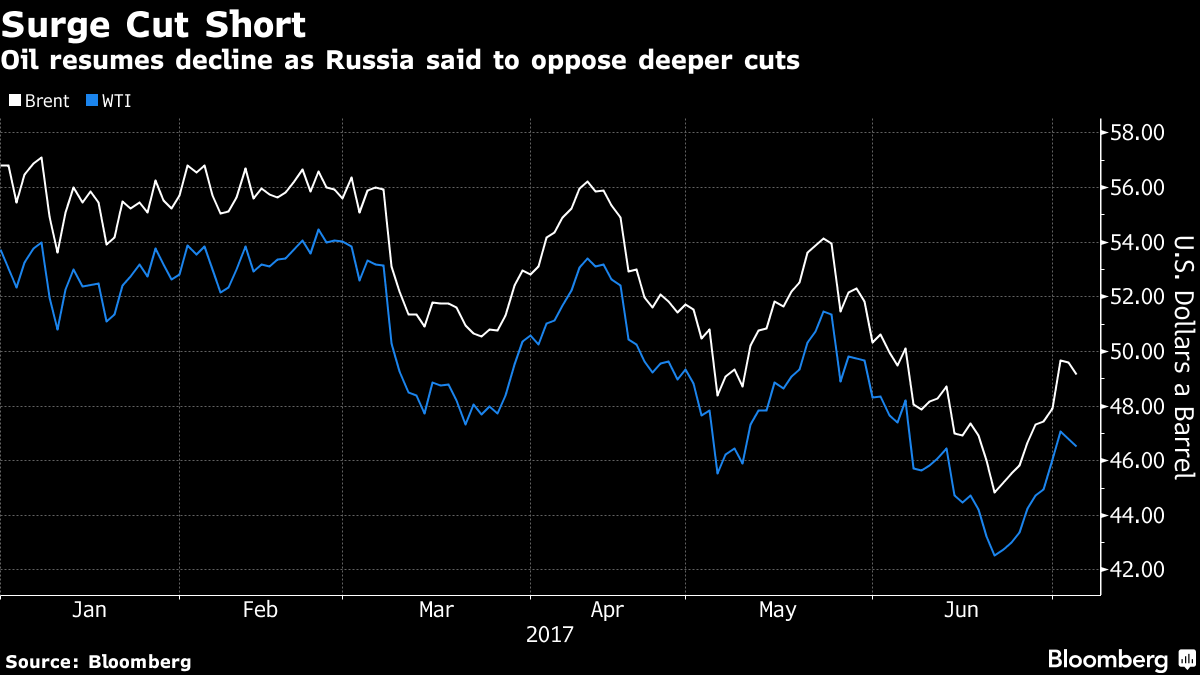 UK: The government will be worried by the disappointing slide in UK productivity, which shank by 0.5% in the first three months of this year.
Poor productivity usually leads to lacklustre growth, and ultimately weaker tax receipts; not ideal, if you're facing pressure to abandon austerity and end the public sector pay freeze.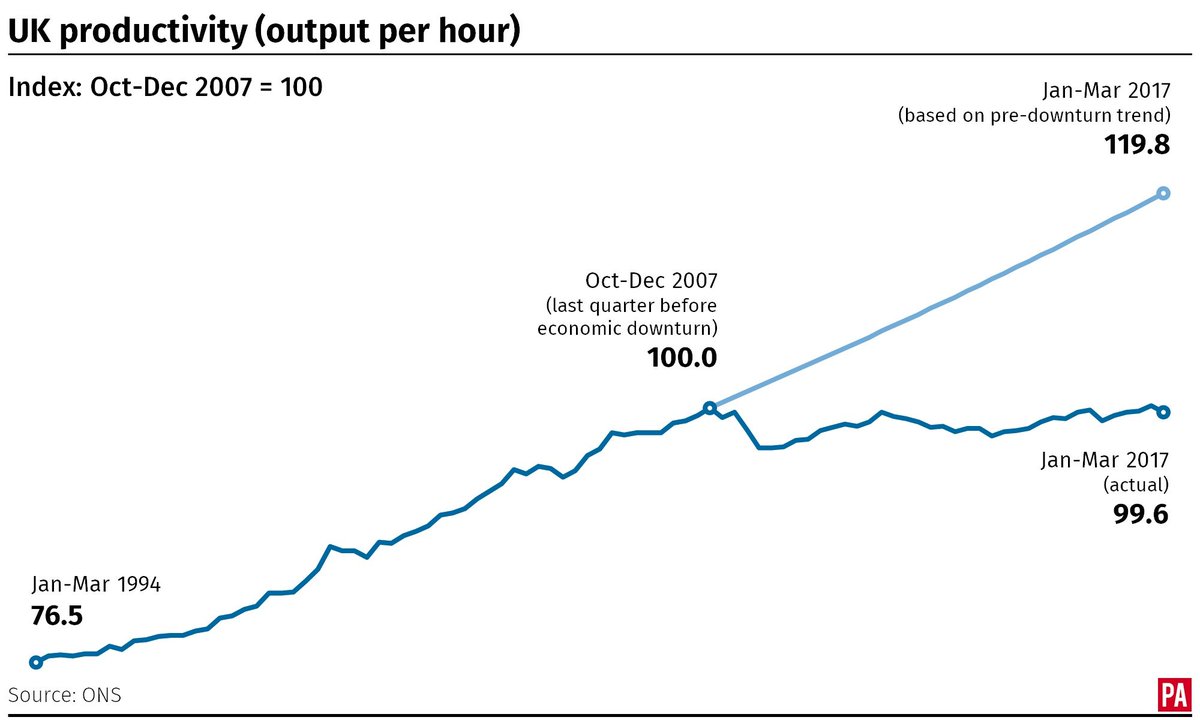 UK Service sector slowdown 
In another blow, UK service sector companies were hit by a steep increase in their costs in June.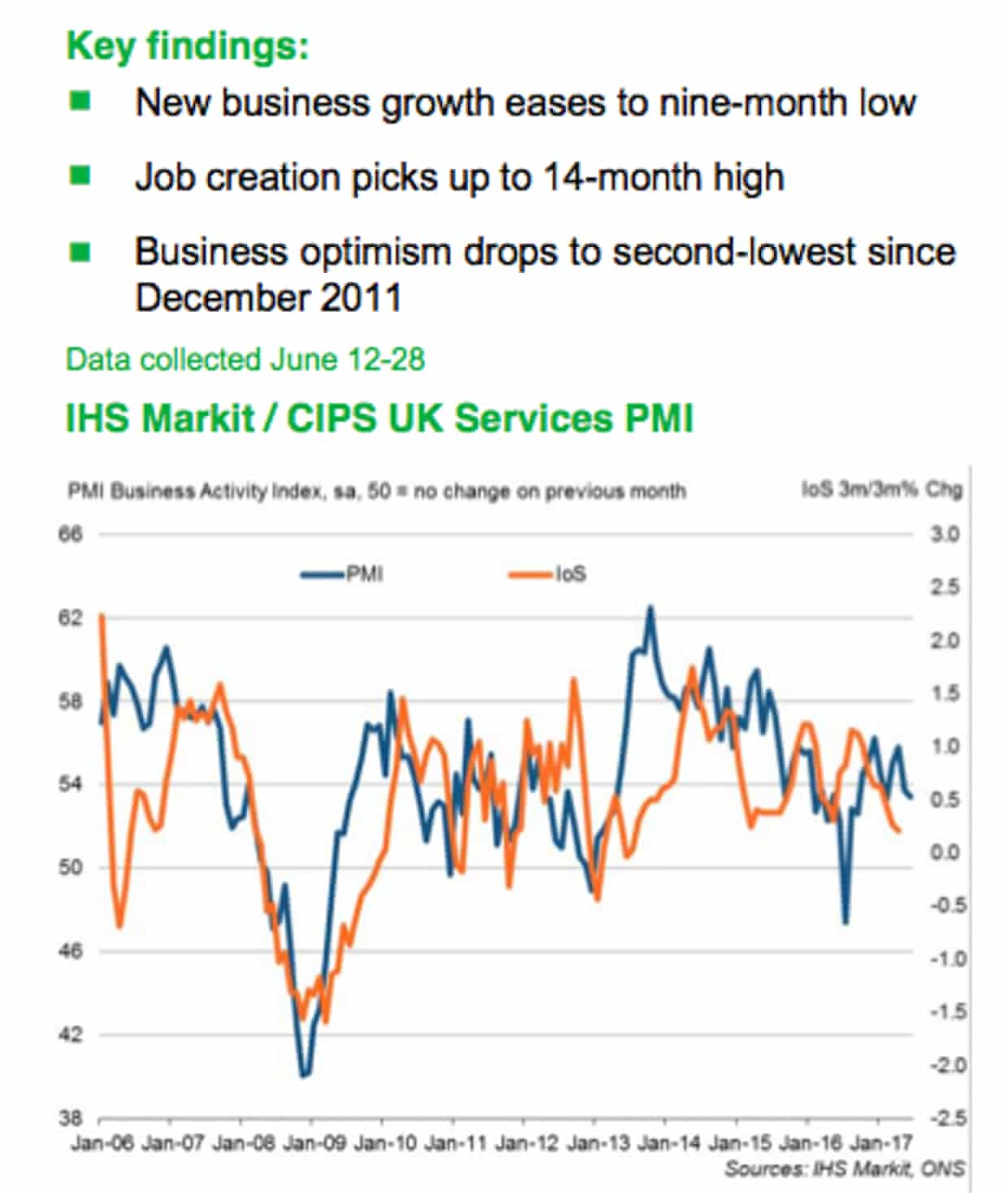 Stocks News
The Italian government has taken control of Monte dei Paschi (OTCPK:BMDPY), injecting €5.4B into the troubled lender as the EU approved a state bailout. In return, BMPS has promised to transfer its bad loans to a special vehicle and institute a cap on executive compensation. The recapitalization will bring the total amount of Italian taxpayer funds deployed to rescue banks over the past week to more than €20B.
Italian prosecutors have also decided to take Morgan Stanley (NYSE:MS) to court over allegations that it caused €2.7B in losses to the state in relation to derivative transactions, Reuters reports. The Corte dei Conti, which rules on abuses of public funds, is bringing the case against the bank on behalf of Italy's taxpayers. Hearings are expected to begin next April.
Santander has launched a €7.1B rights issue, pricing the cash call at a 19% discount to Monday's closing price, as the lender looks to finance the takeover of Banco Popular (OTCPK:BPESY). Existing shareholders have until later this month to decide whether they want to buy into the capital increase. Santander (NYSE:SAN) will also set aside billions of euros to cover Popular's bad property assets.
"I can confirm the U.S. filed an application with the EU General Court to intervene in the case involving the retroactive application of state aid rules to Apple (NASDAQ:AAPL)," a source told Reuters. The report didn't specify when the application was submitted, so it's unclear if it occurred under the Obama or Trump administration. The European Commission ordered the tech giant to pay up to €13B in back taxes to Ireland in 2016.
Look out Echo (NASDAQ:AMZN), Home (GOOG, GOOGL) and HomePod (AAPL)! Samsung (OTC:SSNLF) is developing a voice-activated speaker powered by its digital assistant Bixby, WSJ reports. The timing is far from determined as the English-language version of Bixby has been delayed and many of its features and other specifications are yet to be decided.
More speakers? Alibaba (NYSE:BABA) has launched a voice assistant speaker, marking its first foray into artificially intelligent home devices. The "Tmall Genie", named after the company's e-commerce platform, costs 499 yuan ($73.42), significantly less than western counterparts. It's currently programmed to use Mandarin as its language and will only be available in China.
Toshiba has asked a U.S. court to dismiss Western Digital's (NYSE:WDC) request for an injunction to prevent a sale of its chip business, saying the court has no jurisdiction and that an injunction would cause irreparable harm. Western Digital, which jointly runs Toshiba's (OTCPK:TOSYY) main semiconductor plant, is claiming that its partner breached joint venture contracts as it pursues an $18B sale of the unit.
Ericsson Chairman Leif Johansson plans to stand down before the company's next annual meeting in 2018, as Cevian Capital, an activist fund with a 5.6% stake, pressures the board over the group's performance. Ericsson (NASDAQ:ERIC) shares have lost almost half their value in the last two years and the company reported a loss of 12.3B Swedish crowns ($1.45B) in the first quarter.
Disney's biggest business, cable TV, is stalling, and the problems go well beyond ESPN, WSJ reports. The Disney Channel and Freeform (NYSE:DIS) have lost about 4M subscribers over the past three years, bringing them to about 90M apiece, according to consulting firm SNL Kagan. The troubles are twofold: a lack of hits and the shift to digital alternatives.
Looking to expand into other markets, Nokia (NYSE:NOK) and Chinese smartphone maker Xiaomi (Private:XI) have announced an agreement to cross-license patents from each other. According to a press release, the companies will "explore opportunities for further cooperation" in areas such as data centers, the internet of things, augmented/virtual reality and artificial intelligence.
Tencent shares recovered slightly overnight after plunging as much as 5.1% in Hong Kong on Tuesday, wiping out nearly $17.5B in market value. It followed an avalanche of criticism over Tencent's (OTCPK:TCEHY) smartphone game "Honor of Kings" for encouraging all-nighter gaming marathons with Chinese kids. The game has over 50M daily active users.
A top European legal adviser has said France has the right to punish UBER for running an "illegal" service in the country. Uber played down the non-binding opinion from an advocate general at the Court of Justice of the EU, stating it applied only to a service using unlicensed drivers known as UberPOP, which it had already discontinued in France.
All new Volvo Car models launched from 2019 will be fully electric or hybrids, becoming the first major automaker to set a date for the complete phase-out of traditional vehicles. "This announcement marks the end of the solely combustion engine-powered car," Volvo Cars (OTCPK:GELYY) CEO Hakan Samuelsson declared. "This means that in the future there will be no Volvo cars without an electric motor."