Global Bond Trashing Sends S&P Futures, European Stocks Sliding

French debt auction sparks wider selloff after weak demand

ECB discussed removing easing bias, minutes show; oil gains
Stocks slid Thursday while German government bond yields climbed to their highest since early 2016 as investors bet central banks were edging closer to an exit from ultra-easy monetary policies.
The drop in key eurozone government bonds prompted by a major rethink over the path of monetary policy has pushed the yield on 10-year German bonds to 0.5 per cent today for the first time since early 2016. Eurozone sovereign bonds have been in investors' crosshairs since European Central Bank president Mario Draghi last week declared victory over deflation.
The yield on the 10-year bond climbed three basis points to 0.51 per cent this morning according to data compiled by Bloomberg.(Yields rise when prices fall.)
The move comes just ahead of the publication of the ECB's latest monetary policy minutes for its June meeting (12.30 BST) when the central bank ruled out any further interest rate cuts.
While the strengthening eurozone economy has prompted equity investors to rush into European stocks this year, debt markets have been more wary of the prospect of higher growth being enough to persuade ECB policymakers to ease back their €60bn-a-month bond-buying programme.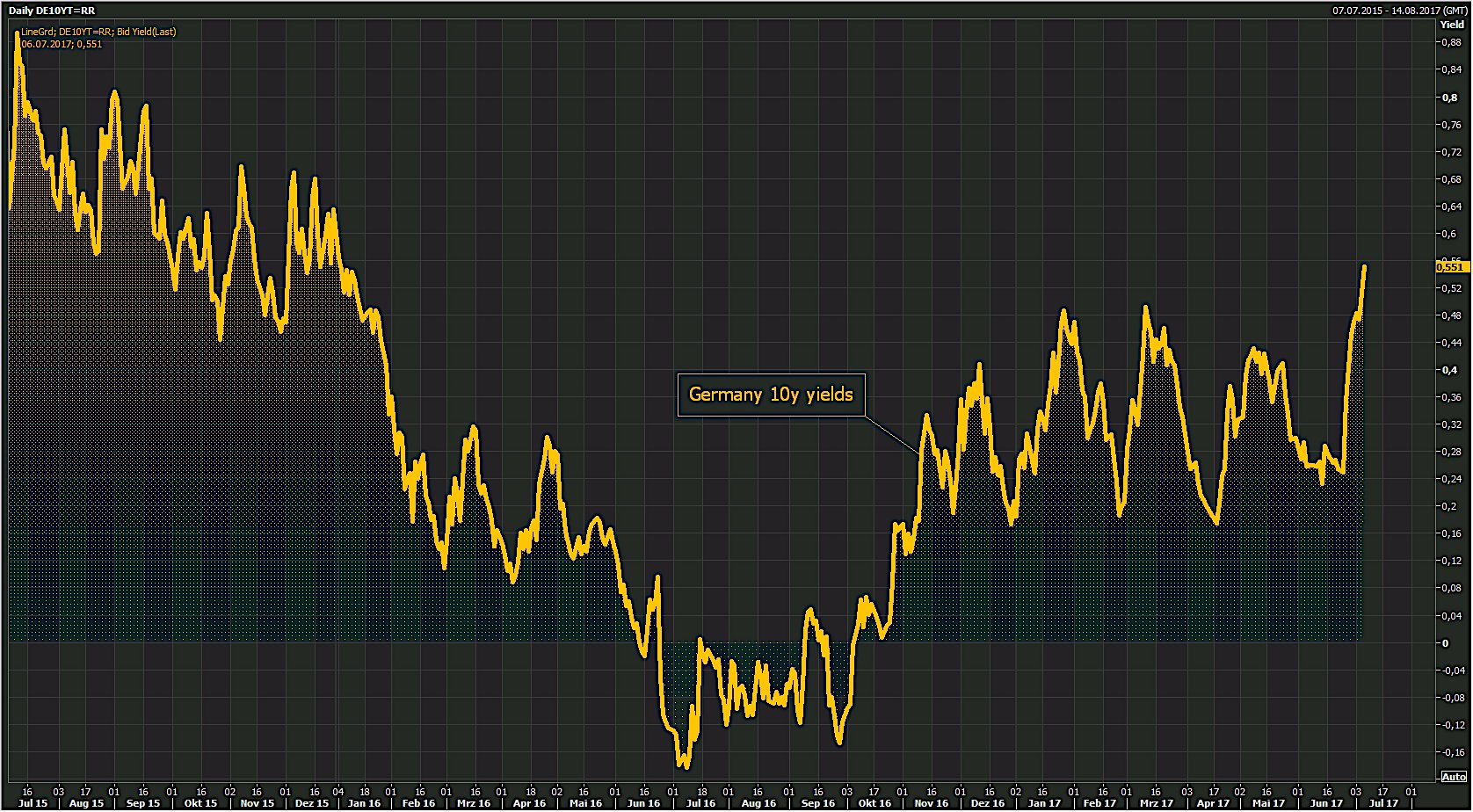 Equities had a largely quiet session at least until the recent yield fireworks, with MSCI's index of Asia-Pacific shares ex-Japan closing down 0.1 percent overnight. Japan's Nikkei slipped 0.5 percent as a stronger yen depressed the outlook for export earnings.
The Dow Jones Industrial Average slid 56 points, or 0.3%, to 21422 shortly after the opening bell. The S&P 500 dropped 0.4%, and theNasdaq Co mposite fell 0.5%.
The Stoxx Europe 600 fell 0.9%, following modest declines in Asia.
The selloff in bonds comes as central banks from Asia to Europe and the U.S. have taken a more hawkish stance as they seek to remove nearly a decade of accommodation. The rise in yields has started to weigh on equity markets just as data show growth in the American economy may be moderating.
European Central Bank officials considered when they met last month removing a pledge to increase bond-buying, while ADP Research Institute data showed companies adding fewer workers to U.S. payrolls in June than than the prior month.
All things considered:
"Central banks are all trying to extricate themselves from being the stock and bond markets' biggest supporter," said Brent Schutte, chief investment strategist at Northwestern Mutual Wealth Management. "I worry that as some of these central banks stop soaking up huge amounts of government bonds, you need more real buyers, who will demand real returns," he said.
Stocks
The Fed and FDIC have disclosed how eight of the nation's largest banks would wind down – without needing a taxpayer bailout – and gave AIG and Prudential Financial (NYSE:PRU) an extra year to submit their doomsday plans. Public portions of the "living wills" were posted for BofA (NYSE:BAC), JPMorgan (NYSE:JPM), Goldman Sachs (NYSE:GS), BNY Mellon (NYSE:BK), Citigroup (NYSE:C), Morgan Stanley (NYSE:MS), State Street (NYSE:STT) and Wells Fargo (NYSE:WFC).
Latest Brexodus… Deutsche Bank (NYSE:DB) is preparing to move large parts of the trading and investment banking assets it currently books in London to its hometown of Frankfurt in response to Brexit, Bloomberg reports. The strategy, which is still being finalized and would be reviewed if the Brexit scenario changes, will probably be implemented over the next 18 months.
Poland has agreed to buy Patriot missile defense systems (NYSE:RTN) from the U.S., in a deal worth up to $7.6B, as President Trump visited Warsaw to discuss transatlantic relations. During a joint news conference with Polish President Andrzej Duda, Trump stated it was "past time" for all NATO countries to "get going" on their financial obligations.
Reckitt Benckiser has warned it will report lower sales after falling victim to the "Petya" malware attack in late June that wreaked havoc on a range of global companies. Shares are on under pressure in London, falling as much as 3%. Reckitt (OTCPK:RBGLY) now expects a 2% drop in second quarter like-for-like revenues and revised down its full-year growth forecast.
EU antitrust regulators are charging Merck (NYSE:MRK), Sigma-Aldrich (NASDAQ:SIAL), General Electric (NYSE:GE) and Canon (NYSE:CAJ) for providing misleading information during their merger deals. While the charges will not affect the EU approvals, they could lead to fines up to 1% of global revenue for Merck and General Electric, and up to 10% for Canon.
Tesla has shed another 3% premarket, on top of yesterday's 7% fall – its biggest percentage decline in more than a year – as worries grew over its delivery numbers. News from a new set of crash tests isn't helping. The Insurance Institute for Highway Safety is questioning Tesla's (NASDAQ:TSLA) claim that the Model S is the "safest car in history."
The European Commission has given the green light to Peugeot's (OTCPK:PEUGF) €2.2B takeover of Opel (NYSE:GM), creating Europe's second-largest carmaker after Volkswagen (OTCPK:VLKAY). The EU said the combined market shares of the two companies were relatively small in all the bloc's national markets, only exceeding 40% in Estonia and Portugal. Opel hasn't turned a profit since 1999.
Baidu is under investigation to determine whether it had broken any laws after its chief executive tested a driverless car on public roads and live-streamed the experience. Forming broad alliances and partnerships, Baidu (NASDAQ:BIDU) is taking a leading role in the development of self-driving cars in China and beyond, but may now face sanctions from authorities investigating the incident.
United Airlines is in hot water again over forcing a woman flying from Houston to Boston to hold her 2-year-old son on her lap after an employee gave the toddler's purchased seat to a standby passenger. "What happened to my son was unsafe, uncomfortable and unfair," Shirley Yamauchi told KITV. United (NYSE:UAL) issued an apology five days after the flight.
Pandora board members and top shareholders have Adam Bain, Twitter's (NYSE:TWTR) former chief operating officer, on a short list of possible candidates to become the company's new CEO. "They have someone in mind who is a world-class executive with an advertising background," a source told the NY Post. However, he still hasn't had substantive talks with Spencer Stuart, the firm seeking Pandora's (NYSE:P) new chief.
A tale of two billionaires… Dish Network (NASDAQ:DISH) CEO Charlie Ergen has been turning his attention to the tech world and a somewhat surprising potential partner has emerged: Amazon (NASDAQ:AMZN) CEO Jeff Bezos. The two have gotten to know each other better over the past year and have discussed a partnership to enter the wireless business, sources told WSJ.
As viewers increasingly rely on the internet to watch sports, Facebook (NASDAQ:FB), Twitter (TWTR) and Snap (NYSE:SNAP) are seeking online rights to video clips from next year's World Cup. According to Bloomberg, the companies have offered 21st Century Fox (FOX, FOXA) tens of millions of dollars for highlights of the Russia-hosted games that air in the U.S.
SoftBank is targeting raising between $3B-$5B through an offering of U.S. dollar bonds, Reuters reports. An issuance of hybrid bonds is said to be under preparation. It comes after SoftBank (OTCPK:SFTBY) announced the world's largest private equity fund – the nearly $100B Vision Fund (also backed by Saudi Arabia's main sovereign wealth fund) – in May.
Cybersecurity pioneer John McAfee has agreed not to use his own name atop his firm or in connection with other cybersecurity products as part of a deal to end a lawsuit he brought against Intel (NASDAQ:INTC). Intel bought the name more than two decades ago, but McAfee sued the company in September asking a court to declare he could use his name to rebrand MGT Capital Investments (OTCPK:MGTI).