Trump (Junior) releases emails of Russian Affaire…
…and U.S. Stocks Fall …to claw back
Dollar Retreats
Treasuries Advance
Stocks turn negative territory after Donald Trump Jr. releases emails about setting up a meeting with a Russian lawyer.
The moves proved short-lived, with the S&P 500 Index quickly falling more than 0.5 percent and then clawing much of its loss. The Bloomberg Dollar Spot Index was flat after erasing earlier gains, Treasury yields held near 2.37 percent, gold fluctuated and oil rose.
"Until now, the markets have been ignoring political news," said John Conlon, chief equity strategist at People's United Wealth Management in Bridgeport.
Markets now :
" We're just beginning earnings season, and in the past that has been a big driver. All this is going to do is push some of this stuff to the background while congress focuses on Russia."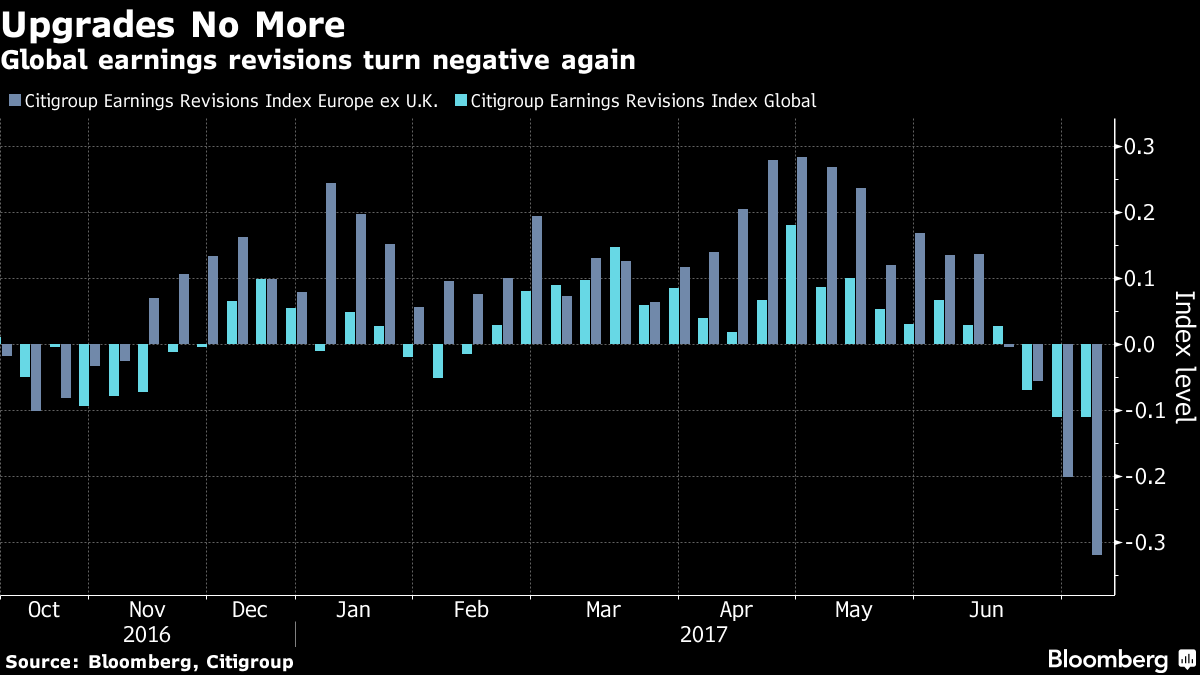 While analysts expect S&P 500 firms to post another quarter of earnings growth, many say they are taking a more cautious stance on stocks—especially as valuations are at higher-than-average leve lsand central banks signal they will move toward normalizing monetary policy.
Government bonds were recently little changed, with the yield on the 10-year U.S. Treasury note trading at 2.373%, according to Tradeweb, compared to 2.371% Monday. Yields rise as bond prices fall.
Equity Index world map 11/07/2017
These are the main moves in markets, from Bloomberg
Stocks
The S&P 500 fell 0.2 percent to 2,422.78 as of 12:52 p.m. in New York. It had been little changed before the report on Trump Jr.
The Euro Stoxx 50 Index lost 0.4 percent following a 0.4 percent gain Monday.
The MSCI Emerging Market Index jumped 0.9 percent.
Commodities
West Texas Intermediate crude rose 1.8 percent to $45.18 a barrel before U.S. government data forecast to show oil stockpiles extended declines.
Gold gained 0.2 percent to $1,216.99 an ounce, near the lowest since March on expectations of tighter monetary policy.
Bonds
The yield on 10-year Treasuries rose one basis point to 2.39 percent.
The yield on 10-year bunds added one basis point to 0.55 percent. Benchmark gilt yields increased a similar amount, reversing direction after a two-day recovery.
Currencies
The Bloomberg Dollar Spot Index fell 0.1 percent, reversing gains that had the greenback strengthening against most of its G-10 peers.
The pound added 0.3 percent to $1.2849, while the euro added 0.4 percent to 1.1444 little changed.
Asia
The yen weakened 0.3 percent to 114.33 per dollar, extending declines to a third day.
Japan's Topix Index climbed 0.7 percent. Hong Kong's Hang Seng Index strengthened 1.6 percent, heading for its first back-to-back gain in three weeks. The Hang Seng China Enterprises Index soared 2.1 percent, its biggest advance since March 16.
The Shanghai Composite Index was down 0.3 percent after a short-lived advance mid-afternoon local time. Other indexes on the mainland were also lower.