Stock Markets  Rise After Dovish Yellen Comments.
Treasuries rallied after Testimony
European and Global Stocks Rise.
Equity markets edged higher in Europe on Thursday, following another record U.S. market close driven by dovish comments from Janet Yellen.
The hawkish tone and global bond rout unleashed by central bankers at the Sintra ECB forum two weeks ago is now behind and seems an old happening. This may be a relief rally, or not.
Federal Reserve Chairwoman Ms Yellen are taken as dovish comments , signaling the commitment  over achieving the 2% inflation objectives , and drawing a route map on unwinding balance sheet " normalizing the Fed´s balance sheet in a balance and predictable way"  " Inflation should rebound, but Fed could alter Policy if softness persists"
That suggests no rate increase in September, some analysts suggest.
Given the recent deterioration in US inflation metrics, the market saw Yellen's comments as a bit dovish. Will this "lowflation" force the Fed to slow down its rate hikes?
Treasuries rallied right at the start of the testimony. Here is the 2yr yield.
The dollar resumed its downward drift as speculative accounts increasingly bet against the US currency.
The probability of a third increase from the Federal Reserve this year dropped by around 5 percentage points to below 45% after Ms. Yellen's comments, according to Richard McGuire, head of rates strategy at Rabobank.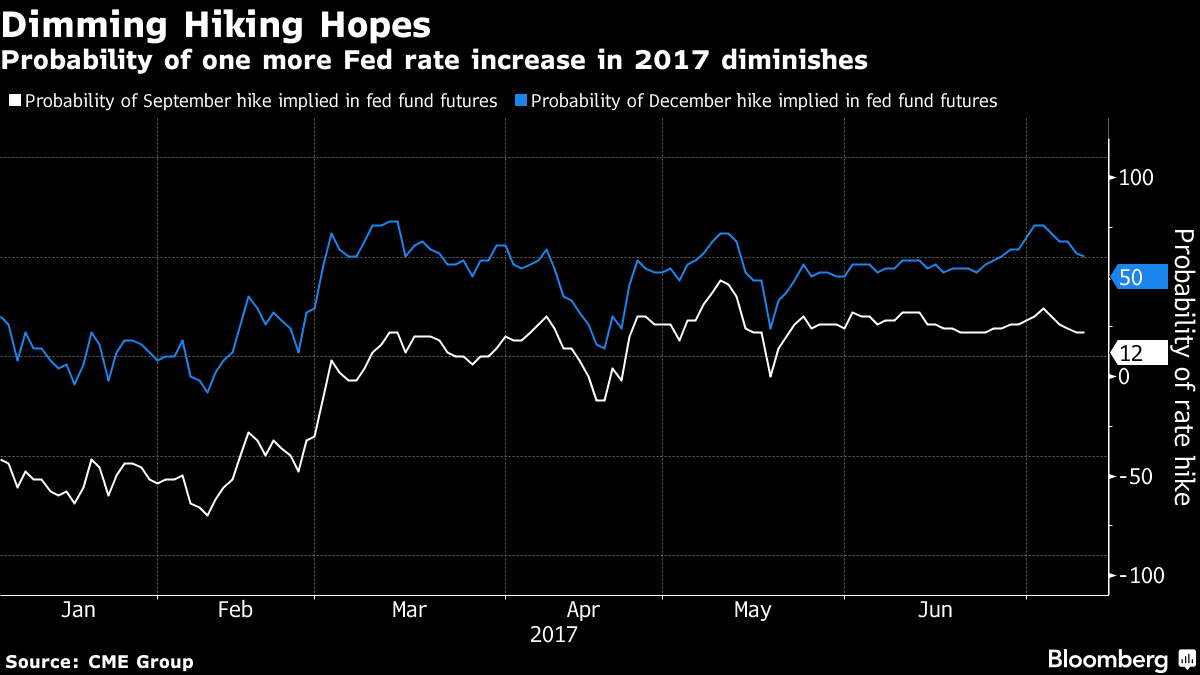 Sovereign bonds in the U.K. and France followed gains in Treasuries after Yellen expressed confidence in the U.S. economy and signaled monetary tightening would be gradual.
The Stoxx Europe 600 index rose by 0.5% in late morning trading, with bank stocks up 0.9%. U.S. stock market futures also rose, with the S&P 500 ticking up by 0.2%, and Dow Jones Industrial Average futures up 0.1%.
This follows another record close for the Dow Jones Industrial Average in the U.S., which rose 0.6% to 21,532.14 on Wednesday.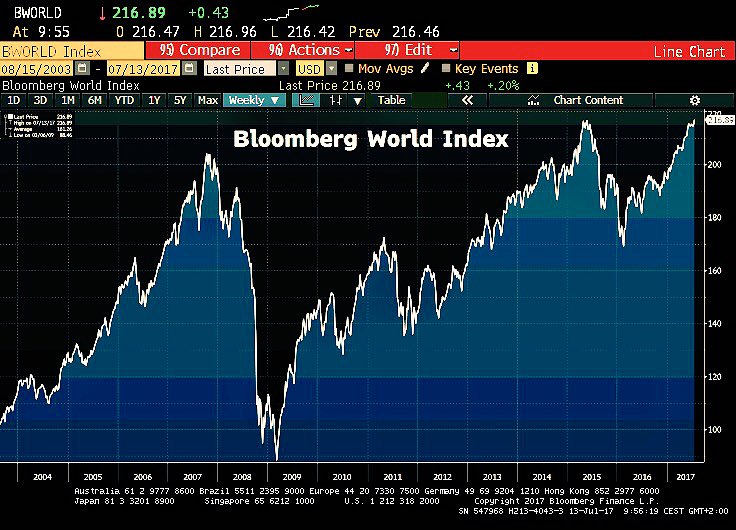 Yellen's testimony diverted attention from Donald Trump Jr.'s emails about his meeting with a Russian lawyer saga.
In foreign exchange markets, the WSJ Dollar Index fell by 0.15% against a basket of 16 other global currencies. The euro dipped 0.1% to $1.14.
The British pound rose 0.3% to $1.291. The U.K's FTSE 100 equity index, which tends to do badly when sterling rises, was the worst-performing major European index on Thursday, up 0.1% on Wednesday's close.
Bullish sentiment got another boost when China reported upbeat data on exports and imports for June, in what was seen as a sign that global trade is finding some real traction again, helping push Asian shares up more than 1 percent. As shown below, every single indicator not only rebounded from May, but also beat expectations, while the Chinese trade balance rose to $294.3bn in June, above the $275.1bn expected.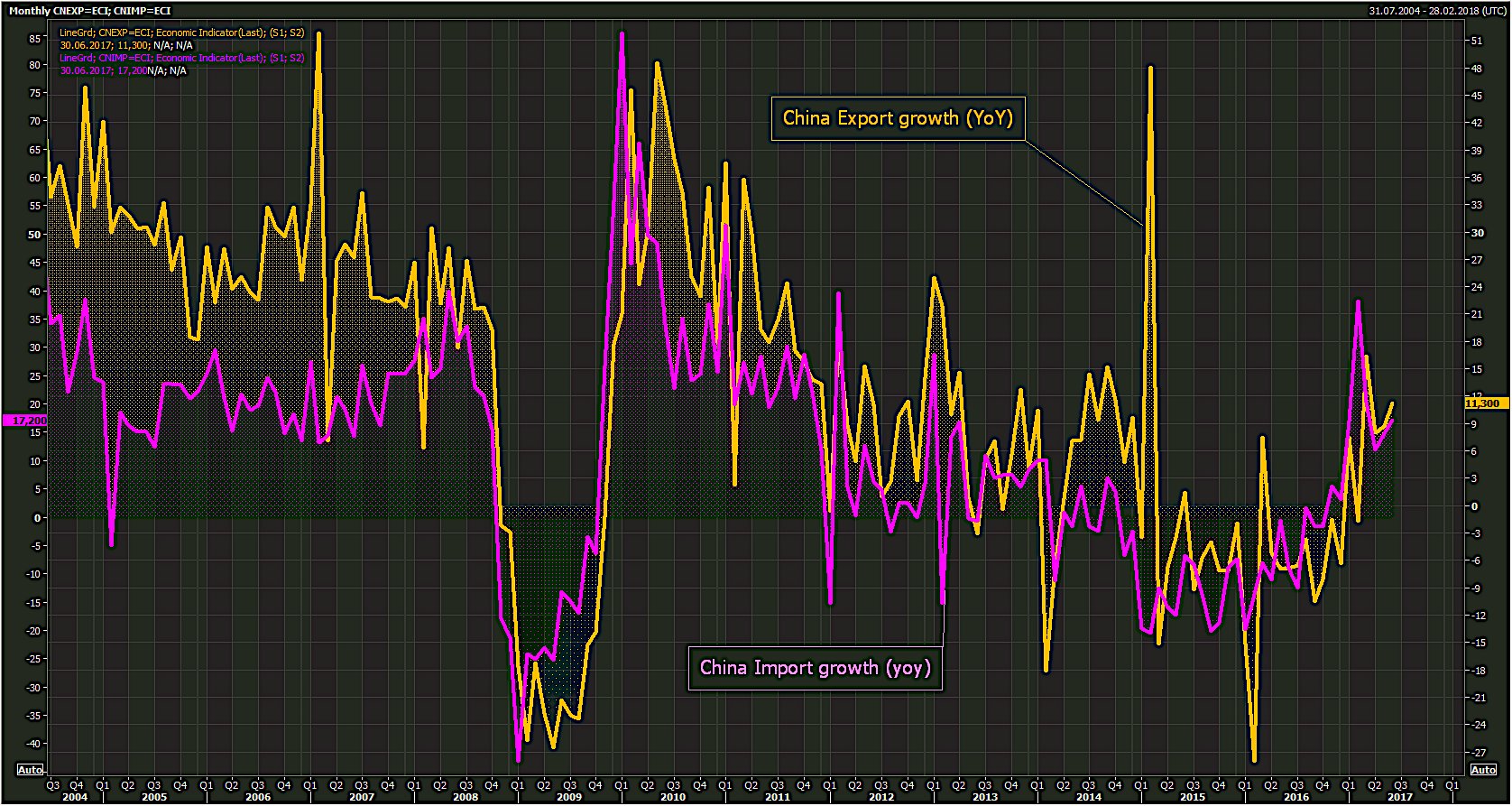 Markets now:
Main Markets Moves from Bloomberg:
Stocks
The Stoxx Europe 600 Index climbed 0.5 percent as of 11:34 a.m. in London, building on Wednesday's 1.5 percent gain. Telecoms and retailers led gains.
The MSCI ACWI Index, which includes emerging and developed world markets, rose 0.3 percent to a record high.
S&P 500 futures added 0.2 percent. The underlying index advanced Wednesday to just 0.4 percent shy of its closing record. The Dow Jones Industrial Average rose 123 points to a record 21,532.
Currencies
The greenback fell against most of its major peers, with the dollar index touching the lowest since Sept. 22. The gauge has lost 0.8 percent this week.
The pound climbed 0.3 percent to $1.2919. The euro slipped 0.1 percent to $1.1399.
Commodities
Spring wheat for September delivery fell as much as 1.6 percent to $7.7025 a bushel before recouping losses. The U.S. Department of Agriculture said domestic production will be greater than analysts expected.
West Texas Intermediate crude lost 0.3 percent to $45.34 a barrel. It climbed 1 percent the previous session after data showed crude inventories fell 7.56 million barrels last week.
Gold added 0.2 percent to $1,222.60 an ounce, a fourth day of gains on expectations rates will stay low.
Rates
The 10-year U.S. Treasury yield fell one basis point to 2.31 percent.
The yield on U.K. 10-year debt dropped two basis points and that on similar French bonds four basis points. Benchmark bund yields declined two basis points to 0.56 percent.