China GDP Growth Beats Estimates In Q2
European Shares Steady After Chinese Market Losses.
Euro, pound slip as Brexit talks resume; oil gains 6th day.
Economic data was the key driver for markets on Monday, with industrial metals and mining companies rallying on better-than-expected Chinese growth and stocks fluctuating after European inflation figures.
European stocks were little changed Monday despite a steep drop in Chinese markets, as a climb in commodity prices and a record finish on Wall Street proved supportive.
The Stoxx Europe 600, which swung between small gains and losses in morning trading, was last down 0.2% as a fall in bank shares offset gains in the basic resources sector.
The euro edged down 0.2% to $1.1453 as eurozone inflation data was roughly in line with expectations. Zinc and iron ore were the biggest winners and precious metals joined the advance after figures showed China's economy grew faster than expected in the second quarter.
Today's Markets 
In Asia, Japan +0.1%. Hong Kong +0.3%. China -1.4%. India +0.2%.
In Europe, at midday, London +0.3%. Paris -0.2%. Frankfurt -0.5%.
Futures at 6:20, Dow flat. S&P flat. Nasdaq flat. Crude +0.1% to $46.56. Gold +0.1% to $1229.
Ten-year Treasury Yield flat at 2.31%
China Maintains 6.9% Economic Growth, Beating Expectations as Beijing Walks Tightrope.
Though the Chinese economy was holding up better than expected in the first half of the year, a slowdown is kind of inevitable," said Zhou Hao, an economist with Commerzbank AG .
There are also doubts about how accurately the data reflects actual momentum in the economy. China said Friday it was revising the way it measures GDP to better align its data with international standards, adding the health-care, tourism and "new, emerging economy" industries to its calculations.
Despite the biggest net liquidity injection by the PBOC since mid June after the central bank injected a net 130 billion yuan, and despite yet another rebound in the Yuan, overnight China's Shanghai Composite slumped by 1.4%, the most since December as a result of a plunge in the small-cap ChiNext index, which tumbled by 5.1%, and is now down 16% in 2017 to levels not seen since January 2015: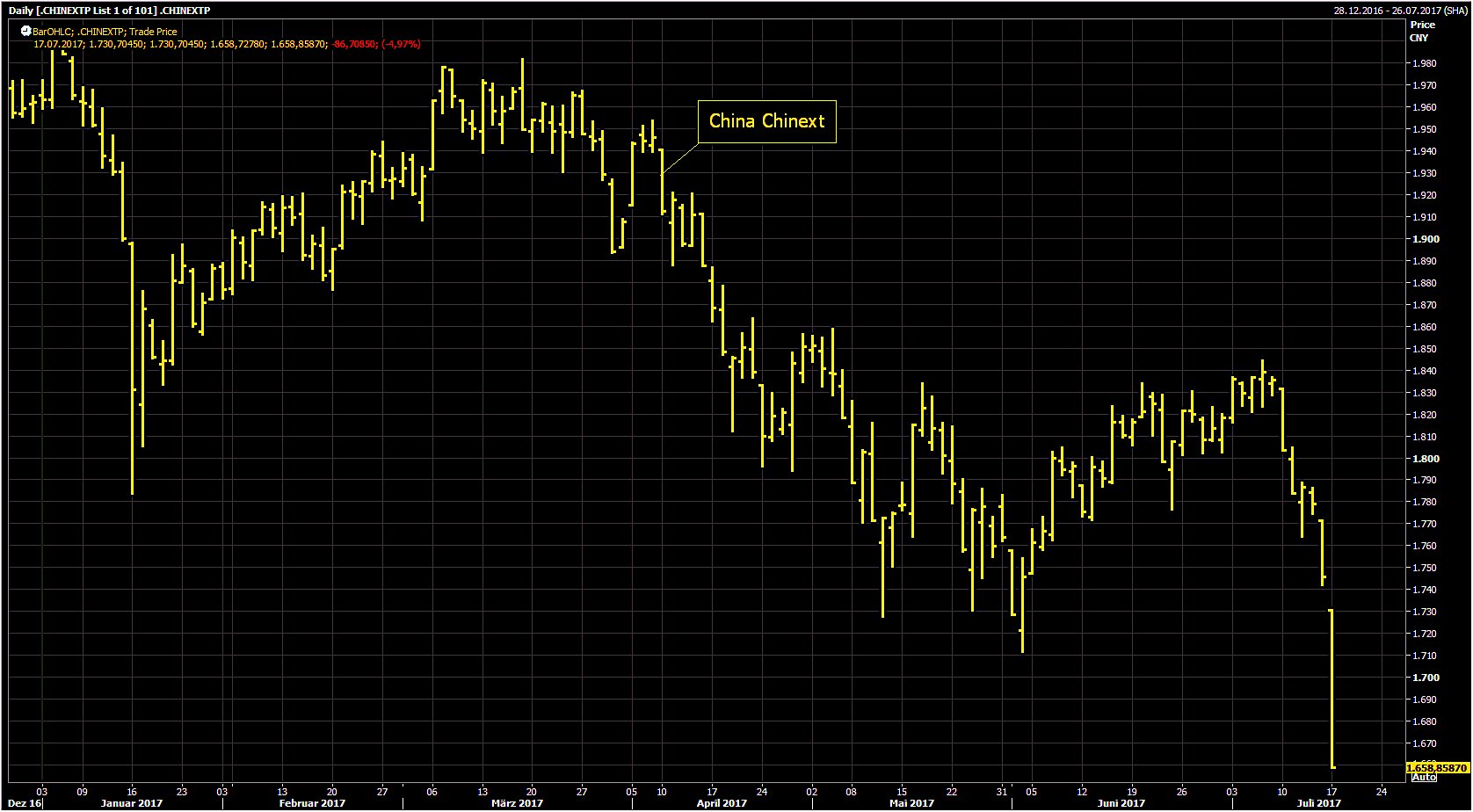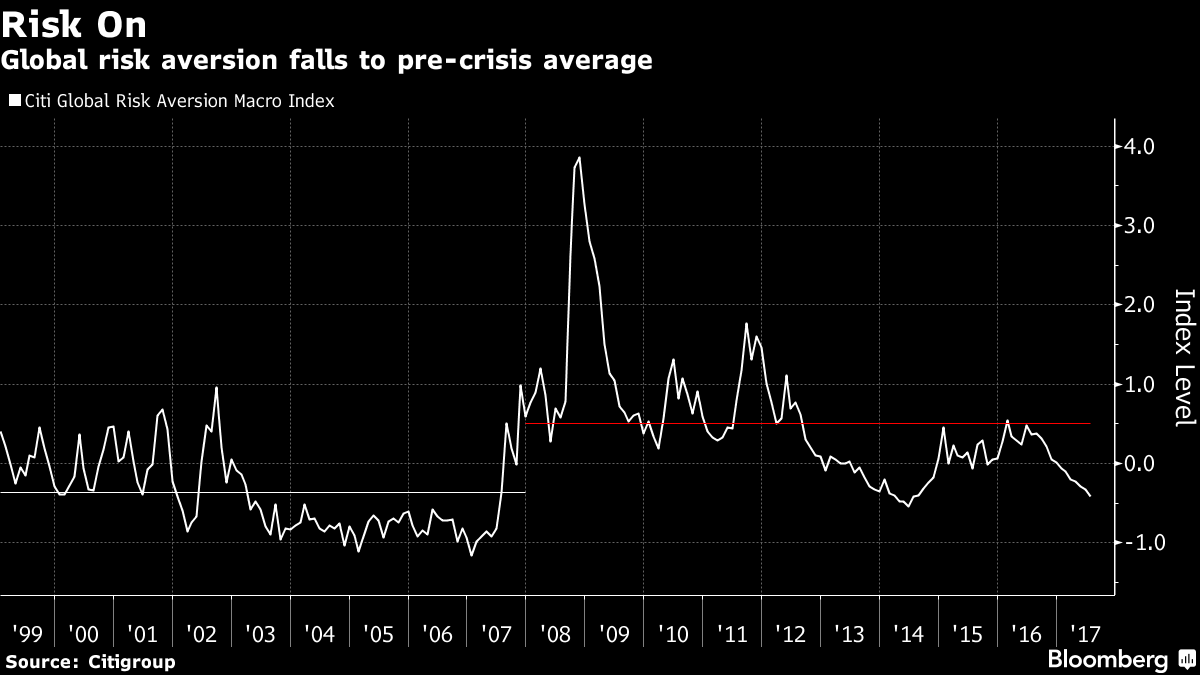 The week ahead to watch:
The European Central Bank meets Thursday. Bloomberg Intelligence expects no change then, and no rate hike before 2019. Reuters cited unidentified officials as saying the bank is keen to keep asset purchases open-ended.
The Bank of Japan is forecast to stand pat at its meeting Thursday.
Round two of Brexit talks get underway in Brussels.
Australia's central bank on Tuesday releases minutes of its July 4 gathering. Government data on the labor market is due Thursday.
Stock News:
It would be the biggest company ever to face a proxy fight. Nelson Peltz's Trian Fund Management plans to battle for a board seat at Procter & Gamble (NYSE:PG) in an effort to jolt the products giant whose sales and profit growth have stalled, WSJ reports. P&G shares have underperformed the S&P 500 and the consumer-staples group for the past 10 years.
More consumer wars? Unilever (UL, UN) is locked in a £2B battle with Hormel Foods (NYSE:HRL) to buy Reckitt Benckiser's (OTCPK:RBGLY) food business, according to the Sunday Times. Reckitt is rushing to offload the unwanted division after receiving a series of knockout bids in recent weeks. Binding offers for the unit are expected in the next few weeks.
Wells Fargo is preparing to jettison a "handful" of businesses, which are not "top-tier providers," as it looks to restore investor confidence in the wake of its sham accounts scandal. "We get a little bit smaller, a little bit less complex and we can focus on what we're good at," Wells Fargo (NYSE:WFC) CFO John Shrewsberry told FT. "We could be more focused."
Cryptocurrencies took a beating over the weekend. Bitcoin traded as low as $1,836, down about 8% on the day, and almost 40% from its high of $3,018 on June 11, while ether plunged almost 20% to $155, knocking off about 60% from its high of $395 on June 13. The selloffs are yet another stark reminder that digital assets remain highly speculative trading vehicles.
Jumping further into the financial cybersecurity market, Big Blue has launched a new mainframe system capable of running more than 12B encrypted transactions per day. "We think this will be broadly adopted across financial services, government, retail and travel and transportation," announced Ross Mauri, general manager of IBM Z.
San Marino is set to become the first country in the world to be upgraded to a nationwide 5G network after Telecom Italia (NYSE:TI) said it would use the enclave as a test bed for the new technology. It will double the number of mobile sites and install a network of small cells in the capital this year that will provide the backbone for the future network.
Disney is building an immersive Star Wars hotel as part of a flurry of investments announced Saturday by the company. Theme parks are Disney's (NYSE:DIS) second-largest division after TV. It's been investing heavily in the business on the premise that park attractions can't easily be "replicated" or made obsolete by new technology.
operations in Macau from July 22 as it could "not secure a business environment" to "unlock the full benefits of ride-sharing." Global retreat? UBER recently announced it would cede control in Russia to search giant Yandex following last year's pullout in neighboring China.