Dollar drops to lowest in 10 months  amid health care bill doubts
Euro Surges against Dollar, highest since May 2016
China Stocks lower on regulation and support Concerns
Gold hits Highest in 2 weeks as dollar drops.
Stocks in Europe and Asia under pressure
Stocks in Europe and Asia were under pressure Tuesday while the dollar fell to postelection lows after Senate Republicans gave up their efforts to dismantle and replace much of the Affordable Care Act.
The Stoxx Europe 600 was down 0.7% midday, following modest declines across Asian markets, as a weaker greenback hindered shares of exporters in those regions.
Futures pointed to a flat opening for the S&P 500 amid of a flurry of corporate-earnings reports Tuesday, including results from Goldman Sachs Group Inc. and Bank of America Corp. BAC -0.78% before the opening bell.
Today's Markets 
In Asia, Japan -0.6%. Hong Kong +0.2%. China +0.3%. India -1.1%.
In Europe, at midday, London -0.1%. Paris -0.6%. Frankfurt -0.8%.
Futures at 6:20, Dow +0.1%. S&P flat. Nasdaq flat. Crude +0.8% to $46.38. Gold +0.3% to $1237.20.
Ten-year Treasury Yield flat at 2.3%
 Oil prices steadied as expectations of firm demand, particularly from China, was met ample supply despite Ecuador announcing it would exit the OPEC production cut deal. Brent crude futures eased 0.1 percent to $48.35 a barrel while U.S. crude oil fell 0.2 percent to $45.93.
China's banking regulator told some lenders to lower the rates they offer on wealth-management products, people familiar with the matter said, as officials move to reduce financial risks and stimulate the economy.
Geopolitics and News 
A blueprint for a new NAFTA has been released by the Office of the United States Trade Representative. It envisions an agreement that "reduces the trade deficit" with Canada and Mexico, and aims to preserve "Buy America" provisions. The road map also backs an unspecified mechanism to prevent currency manipulation and eliminates unfair subsidies and market-distorting practices.
Greek bonds have rallied to post-crisis highs this week as the country eyes a return to the debt markets for the first time in three years. It's expected to sell a five-year bond this week or next. Athens successfully received a €7.7B tranche of rescue cash from its creditors earlier this month, ensuring it will avoid defaulting on its lenders in July.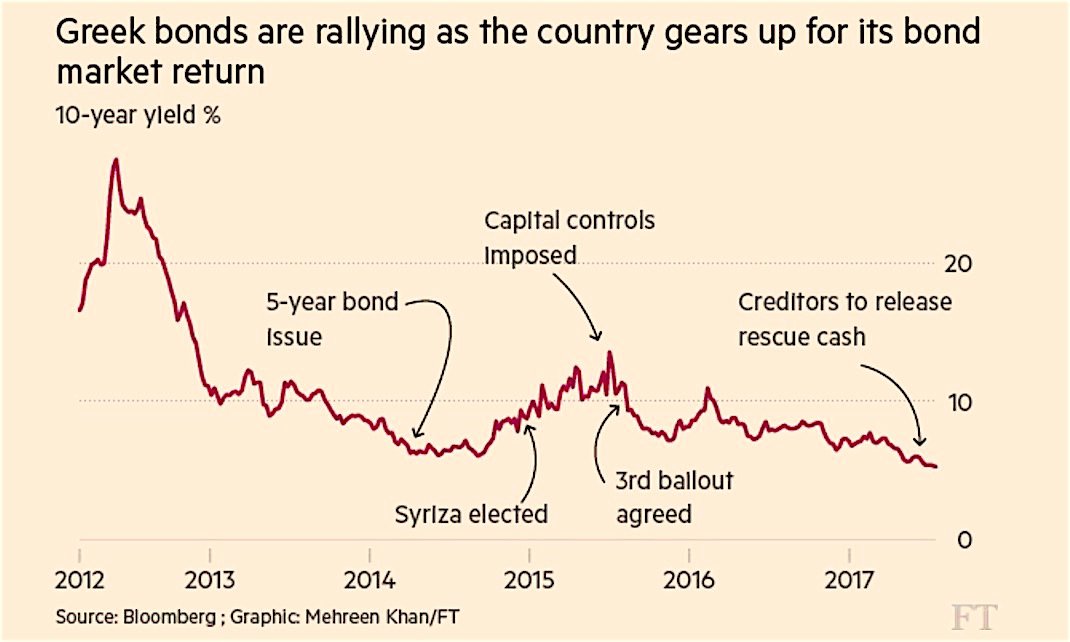 Nicolas Maduro is coming under growing pressure as Venezuela's opposition announced plans for a parallel government and President Trump warned of sanctions if he moves ahead with plans to rewrite the constitution. "It's time for the zero hour," said opposition leader Freddy Guevara, calling for a 24-hour strike on Thursday and the naming of new Supreme Court judges.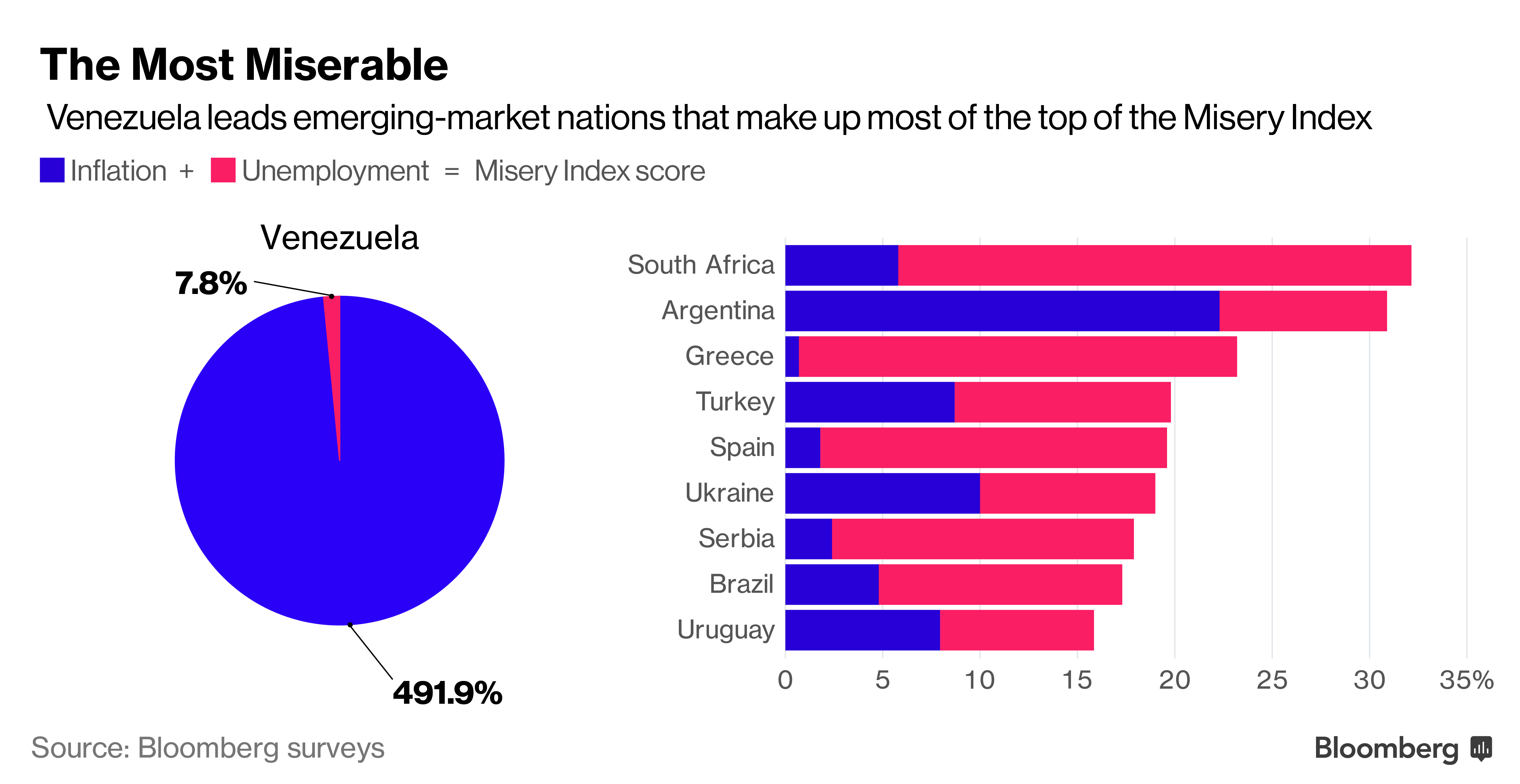 It's classic subprime: hasty loans, rapid defaults, and, at times, outright fraud.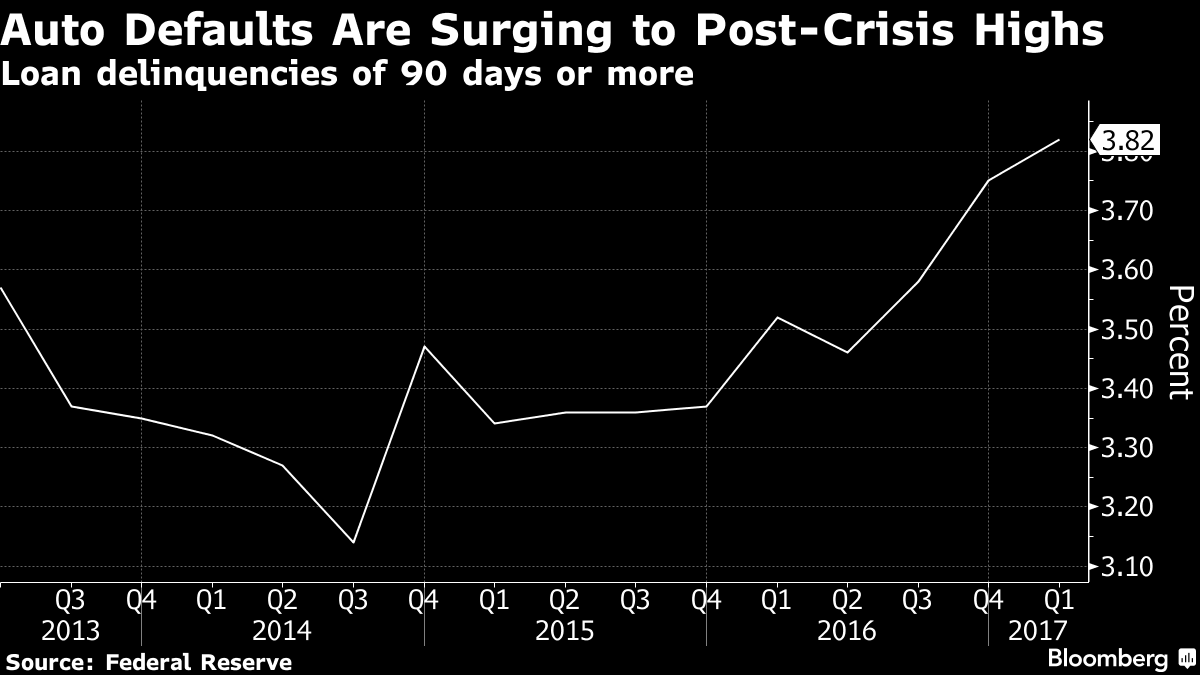 Few things capture this phenomenon like the partnership between Fiat Chrysler Automobiles NV and Banco Santander SA. Since 2013, as U.S. car sales soared, the two have built one of the industry's most powerful subprime machines.
Details of that relationship, pieced together from court documents, regulatory filings and interviews with industry insiders, lay bare some of the excesses of today's subprime auto boom. Wall Street has rewarded lax lending standards that let people get loans without anyone verifying incomes or job histories. For instance, Santander recently vetted incomes on fewer than one out of every 10 loans packaged into $1 billion of bonds, according to Moody's Investors Service. The largest portion were for Chrysler vehicles.
Iran is complying with its nuclear agreement with world powers, according to the Trump administration, but it warned that Tehran was "unquestionably in default of the spirit of the JCPOA." Despite the certification, additional sanctions will be leveled today against Iran's ballistic missile program and other behavior the White House considers destabilizing.
It looks like the Qatar crisis could drag out for a while. "The situation we want to move to is a neighbor that we can trust, a neighbor that is transparent, that we can do business with," said Anwar Gargash, UAE Minister of State for Foreign Affairs. "This is not a crisis where we are looking for a quick fix… We need a solution that will stick."
Ecuador has dealt a blow to OPEC unity by announcing it will start raising crude production this month. The country won't be able to meet its commitment to lower output by 26,000 barrels a day to 522,000, arguing that it needs the money. Its exit is largely immaterial when considering the size of the global oil market, but it could create a dangerous precedent.
Stock News
Netflix shares soared more than 10% AH after the company smashed subscriber targets and said it was spending $6B a year on content. It added 5.2M new customers during the second quarter, with a significant proportion coming from non-U.S. markets. At the end of June, Netflix (NASDAQ:NFLX) for the first time also recorded more subs abroad than in the United States – 52.03M vs. 51.92M.
Rearden LLC is going after Disney's (NYSE:DIS) use of a facial-capture technology, potentially threatening the company's ability to profit from the top-grossing movie of 2017. The lawsuit alleges copyright, patent and trademark infringement in the March blockbuster Beauty and the Beast, as well as 2014's Guardians of the Galaxy and 2015's Avengers: Age of Ultron.
European earnings roundup: Ericsson (NASDAQ:ERIC) -11% premarket after posting a bigger than expected loss in the second quarter, while sentiment also soured after the telecom equipment maker slashed its outlook for 2017. Meanwhile, Novartis (NYSE:NVS) beat expectations in Q2, amid improvements in its eyecare unit Alcon, as the firm said the GOP healthcare bill collapse will not affect its business. NVS +2.7% premarket.
General Motors has extended a shutdown at the Michigan factory that builds the new Chevrolet Bolt electric car as part of a broader effort to get control of bulging inventories of unsold vehicles in the U.S. It hit a 10-year high in June at 105 days supply. The Bolt (NYSE:GM) was the first American electric car to offer more than 200 miles of driving range per charge at a starting price of around $35,000.
Headlines from Tesla… The automaker has added two independent directors to its board: Twenty-First Century Fox's (FOX, FOXA) James Rupert Murdoch and and Johnson Publishing's Linda Johnson Rice. It comes after Elon Musk called Tesla's (NASDAQ:TSLA) stock price "high based on past and present, but low if you believe in Tesla's future," and another Autopilot drama following a crash in Minnesota.
Toshiba shares jumped almost 20% in Tokyo overnight as investors returned from a public holiday on Monday. The rally comes after a California court postponed a hearing on Western Digital's (NYSE:WDC) attempt to block Toshiba's (OTCPK:TOSYY) memory chip business sale. Another boost? David Einhorn's Greenlight Capital just revealed a stake in the struggling conglomerate.
Alibaba is following up on Amazon's (NASDAQ:AMZN) entry into the grocery scene with news of its own: three new Hema supermarkets in Beijing and Shanghai. The stores blend online and offline shopping: Besides various tech features, like smartphone purchases and Alipay (NYSE:BABA) payments, the outlets double as fulfillment hubs, which can deliver goods within 30 minutes.
Latest Brexodus… Citigroup (NYSE:C) is set to pick Frankfurt as its European Union base this week in preparation for when Britain leaves the bloc, according to numerous sources. It would be another shot in the arm for Germany's financial capital, with Goldman Sachs (NYSE:GS), Morgan Stanley (NYSE:MS) and Nomura (NYSE:NMR) among the other firms to outline plans to establish or grow operations there.
PayPal is taking another step into the world of traditional retail banking, striking a deal with Visa (NYSE:V) that enables it to issue debit cards in Europe. The move is expected to appeal in particular to small businesses which carry balances in their PayPal (NASDAQ:PYPL) account for buying supplies, or for people who do not have a bank account but use PayPal.
As the head of the world's largest asset management firm sees things, ETFs will be playing an ever-increasing role in investor portfolios in ways that the financial world never saw coming. Whether it's getting a toehold in mortgages, developing new hedging strategies or "more utilization across the board in more products," BlackRock (NYSE:BLK) CEO Larry Fink believes growth of the funds could be in its early stages.