S&P, Nasdaq hit  record-highs.
Euro Slips  after dovish ECB minutes.
Spanish assets regain ground after sell off.
European Stocks mixed.
Stocks in Asia little changed
Pound falls on May's perceived weakness following speech
Spanish assets rose and bonds were snapped at an auction, even though Catalan tensions linger, weighing on the Euro as the ECB dovish stance points to "lower for longer" option for monetary policy.
The euro has touched a day-low and investors are buying government debt from the EU periphery.
The demand for the bonds is pushing their yields lower. The yield on Spain's 10-year paper, which rose as the Catalan political crisis deepened, is down 3 basis points at 1.73 per cent. Italy's is down 5bp at 2.21 per cent. and France's is down 3.2bp at 0.7225 per cent. Germany's 10-year Bund yield is flat at 0.44 per cent.
In Europe, the Stoxx Europe 600 edged down 0.1% after snapping a nine-session winning streak on Wednesday, its longest in more than two years.
Spanish stocks showed signs of recovering, however, with Spain's IBEX 35 index adding 1.8%—led by gains in utility companies—after sliding 2.9% Wednesday, its biggest percentage decline in more than a year.
Shatres of Banco Sabadell jumped 4% after a bank official said they would see the  board to approve a relocation of its HQ out of Catalonia. Sabadell has a much broader customer base outside Catalonia than inside ( 15%).
Some analyst say that the potential of independence has been priced out as a tail risk with the stance of the Spanish government.
Other point of view can take this as  indication that – the banks (and the government) are increasingly convinced that Catalan independence is going to happen.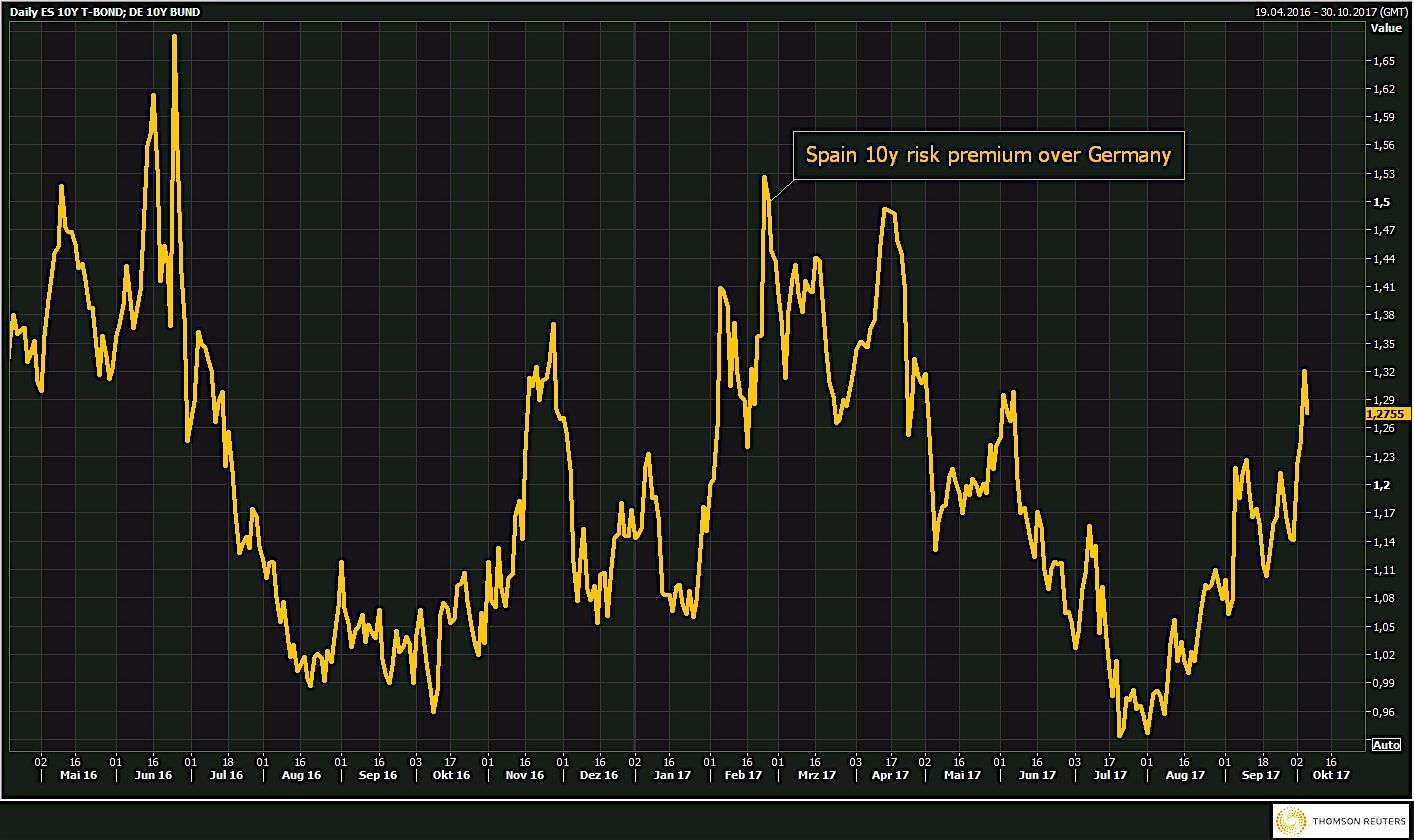 The euro was last down 0.2% at $1.1742, little changed after the minutes, while the British pound fell 0.6% to $1.3163. Sterling has fallen 1.8% this week following disappointing economic data releases and building concerns about political stability.
"In the U.K and in the Eurozone, markets are underestimating political risk going forward," said Adam Cole, currency strategist at RBC Capital Markets. Euro and pound traders "have to price in a larger political risk and that supports the strength of a trend of a stronger dollar." said to  Bloomberg.
Brent crude is up 0.7 per cent at $56.20 as the market deals with competing signals of lower US inventories and stronger output. West Texas Intermediate, the main US oil contract, is down 0.3 per cent at $50.12. Gold is flat at $1,274 an ounce.
Main Moves in Main Markets, from Bloomberg
Stocks
The Stoxx Europe 600 Index sank 0.1 percent as of 1:50 p.m. in London, the largest decrease in almost three weeks.
The MSCI All-Country World Index dipped 0.1 percent, the first retreat in more than a week.
Spain's IBEX Index gained 1.5 percent, the largest rise in more than a week.
The MSCI Emerging Market Index gained 0.1 percent, reaching the highest in two weeks on its fifth consecutive advance.
Futures on the S&P 500 Index rose 0.1 percent, hitting the highest on record with its seventh straight advance.
Currencies
The Bloomberg Dollar Spot Index increased 0.2 percent to 1,166.64, the highest in 11 weeks.
The euro declined 0.2 percent to $1.1732, the weakest in seven weeks.
The British pound fell 0.8 percent to $1.3144, the weakest in four weeks.
Bonds
The yield on 10-year Treasuries dipped less than one basis point to 2.32 percent, the lowest in a week.
Germany's 10-year yield declined two basis points to 0.43 percent, the lowest in more than a week.
Spain's 10-year yield fell six basis points to 1.724 percent.
Commodities
West Texas Intermediate crude gained 0.3 percent to $50.15 a barrel, the biggest rise in more than a week.
Gold increased 0.2 percent to $1,277.25 an ounce.
Copper surged 1.8 percent to $6,640.50 per metric ton, the highest in more than three weeks on the biggest jump in more than five weeks.
Economy News
European bourses are fighting to avoid posting back-to-back losses for the first time in a month, with the Stoxx Europe 600 Index down 0.33%. Germany's DAX has edged lower after a record close, while Spain's IBEX 35 is rebounding from a large drop on Wednesday with a 0.50% gain. It was a quiet day for Asian stocks, with markets in Hong Kong, China and South Korea all closed for national holidays. U.S. stock futures are level after yesterday's records for the Dow, S&P 500 Index and Nasdaq. If the S&P 500 Index closes higher today, it will mark the first stretch of six consecutive new all-time highs since 1997.
Trade representatives of the United States and South Korea will amend the two countries' trade deal, a pact that has come in for criticism from President Trump, who has argued for exiting it. Trump would like to close a trade deficit largely fueled by South Korea's exports of cars and mobile phones (though that's been narrowing). But the agreement has solid defenders in Congress, including those from agricultural states.
Crude oil prices are slightly higher after a stretch of declines tied to oversupply concerns and some booking of profits. Traders have their eyes on a tropical depression that could develop into a hurricane that threatens the U.S. Gulf Coast on Sunday. WTI crude oil futures +0.48% to $50.22/bbl at last check. Brent crude +0.99% to $56.35/bbl.
The National Retail Federation expects holiday sales to increase between 3.6% and 4.0% this year. The forecast is higher than the 3.5% annual growth seen over the past five years. Retailers are expected to hire between 500K and 550K temporary workers this holiday season, down from last year's total of 575K. Wal-Mart (NYSE:WMT) won't be part of that tally due to its decision to meet the holiday crush by adding hours for current employees.
Stocks News
Delivery bombshell: Amazon (NASDAQ:AMZN) is testing out a new delivery service that will make more products available for free two-day delivery. The program sees more deliveries made straight from the warehouses of third-party merchants straight to the homes of customers. The method cuts down on warehouse overcrowding and could reduce Amazon's reliance on FedEx (NYSE:FDX) and UPS (NYSE:UPS). In premarket trading, FedEx is down 2% and UPS is off 3%. 
Bain Capital said it plans to list the chip unit of Toshiba (OTCPK:TOSBF, OTCPK:TOSYY) on the Tokyo Stock Exchange within three years after settling a legal dispute with Western Digital Corp. (NYSE:WDC). In advance of a potential sale, the private equity firm aims to achieve stability at the chip unit through key client Apple (NASDAQ:AAPL).
Legoland owner Merlin Entertainment is said to be interested in making a deal for parts of SeaWorld Entertainment (NYSE:SEAS). Sources indicate SeaWorld has also received interest from other suitors. The theme park operator is believed to prefer an outright sale over selling assets. Shares of SeaWorld are up 7.7% in premarket trading.
A Senate panel approved a self-driving car bill that creates a national framework of regulations for the industry. The bill includes amendments covering cybersecurity issues and allows automakers to sell up to 80K self-driving vehicles annually if safety standards are met. Self-driving commercial trucks aren't included in the legislation. It's been a busy week on the autonomous vehicle front in general, with Ford mapping its strategy to funnel investments into self-driving cars and General Motors (NYSE:GM) tipping off that its Cruise Automation business is making "rapid progress" on fully autonomous driving capabilities.
With the deadline of October 24 approaching quickly, German firm Linde (OTCPK:LNAGF, OTCPK:LNEGY) asked investors to tender their shares for the planned merger with Praxair (NYSE:PX). As of October 4, only 27.7% of Linde shares have been accepted. The deal needs an acceptance rate of 75% to fly.
In a business update, early-stage human tissue developer Organovo (NASDAQ:ONVO) says it will cut 13% of its workforce to reduce costs, and issued preliminary revenues for its second quarter below Street consensus. The company will take a restructuring charge with the layoffs but expects to save millions, and it sees Q2 revenues falling 2% from a year ago.
Creating a high-tech urban space is on the radar of Alphabet (NASDAQ:GOOG) as it closes in on a deal to develop a 12-acre chunk of the Toronto waterfront. The tech giant's Sidewalk Labs unit would back the construction projects, which will initially create a 3M square foot facility to pair with a 750-acre development on adjacent land. Details are scarce, but construction cost estimates put the project over $1B.
There are high expectations for Warner Bros. (NYSE:TWX) feature Blade Runner 2049after a blistering pace of advance ticket sales and some rave reviews from key publications. "Blade Runner 2049 ranks as one of the great science-fiction films of all-time," gushed Variety's Peter Debruge. The long-awaited sci-fi film has an outside chance of breaking the all-time October opening record of $55.7M recorded by Gravity in 2013, despite the 183-minute run time limiting the numbers of showings per day. Even if it falls short of a record, the film is expected to provide a Q4 box office bounce for Cinemark (NYSE:CNK), Regal Entertainment (NYSE:RGC), Carmike Cinemas (NASDAQ:CKEC), IMAX (NYSE:IMAX) and AMC Entertainment (NYSE:AMC).
Marni Walden will step down from her leadership post at Verizon (NYSE:VZ), where she was in charge of Media and Telematics, at the end of the year. Walden had a prominent role during Verizon's bumpy courtship of Yahoo (which it bought in a $4.5B acquisition). Her departure means that AOL veteran Tim Armstrong, now in charge of Verizon's Oath media businesses, will report directly to CEO Lowell McAdam.