Dollar and Treasury yields climb after US jobs report
Wall Street lower at opening bell
European stocks look to eurozone periphery.
jobs data points to rate hike
The number of workers on U.S. payrolls declined last month for the first time since 2010, reflecting major disruptions from the latest Hurricanes, Labor Department figures showed Friday. The jobless rate fell to a new 16-year-low while wage gains accelerated.
The Dow Jones Industrial Average fell 26 points, or 0.1%, to 22746 shortly after the opening bell. The S&P 500 fell 0.2% and the Nasdaq Co mposite lost less than 0.1%.
But other parts of the report were more encouraging—showing workers' wages jumping and the unemployment rate falling more than expected.
While U.S. stocks were mostly muted, other markets swung following the jobs report, as some investors bet nascent signs of wage growth could push the Federal Reserve to raise interest rates again before the end of the year.

The dollar, which is typically more attractive to yield-seeking investors in a higher-rate environment, rose, with the WSJ Dollar Index—a measure of the U.S. currency against a basket of 16 others—adding 0.4%.
The day's moves marked a pause for major indexes, which have climbed to fresh highs this week, buoyed by broad gains across sectors. The S&P 500 climbed to its sixth consecutive closing high Thursday, posting its longest streak of records in 20 years.
Oil futures plunged 3 percent on Friday, and were set to end Brent's longest multi-week rally in 16 months following profit taking and the return of oversupply concerns.
The prospect of extended oil production cuts by the Organization of the Petroleum Exporting Countries and other producers led by Russia had supported prices in recent sessions.
The pound is under renewed pressure today as uncertainty builds over Theresa May's future as Prime Minister.
Grant Shapps, a Tory MP and a former party chairman, has admitted his role in a plan to put pressure on May to call a leadership election.
He said MPs were "perfectly within their rights" to call for a contest after May's gamble to win a bigger majority at the general election did not pay off.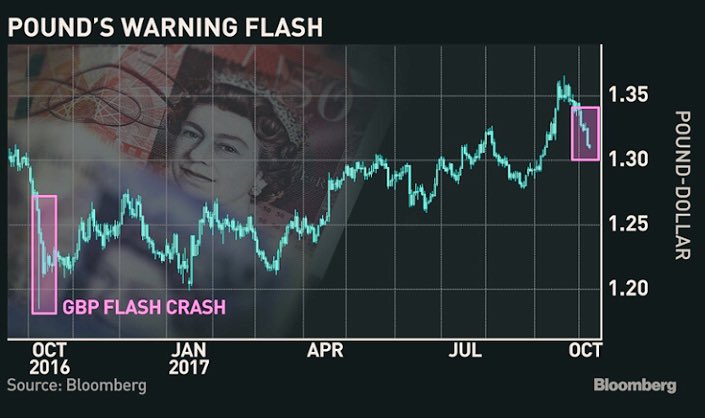 The main moves in markets, from Bloomberg:
Stocks
The S&P 500 Index fell 0.2 percent at 11:38 a.m. in New York.
The CBOE Volatility Index rose 6.2 percent after closing at a record low Thursday.
The Stoxx Europe 600 Index sank 0.4 percent.
The MSCI Emerging Market Index dropped 0.1 percent.
Currencies
The Bloomberg Dollar Spot Index was little changed after hitting the highest in more than 11 weeks.
The euro erased losses, rising 0.1 percent to $1.1726.
The yen was little changed at 112.84 per dollar, erasing a decline of 0.5 percent.
Bonds
The yield on 10-year Treasuries advanced one basis points to 2.36 percent, after touching the highest in more than 12 weeks.
Germany's 10-year yield rose less than one basis point to 0.46 percent.
Commodities
West Texas Intermediate crude decreased 3 percent to $49.26 a barrel.
Gold rose 0.3 percent to $1,271.95 an ounce, after falling as much as 0.6 percent.