Global stocks swings between green and red.
Dollar drifting.
Ten Years Ago:  S&P 500 Hit Its Pre-Crisis Peak.
Turkish lira sinks on political tensions.
Chinese stocks rise after holiday.
Expect un-defused Tensions in Spain after today.
European stocks are slightly higher, with the Stoxx Europe 600 Index up 0.13%. Spain's IBEX 35 is in positive territory following a large demonstration in Barcelona over the weekend to protest the Catalonia secessionist movement.
Chinese stocks were mixed after a weak nonmanufacturing print and more concerns over Golden Week traffic. The Shanghai Composite Index rose 1%, while the Hang Seng Index fell back 0.5%.
U.S. stock futures are riding confidently into the beginning of Q3 earnings season. Dow and Nasdaq future are up 0.1% in early trading action ahead of a session with very little data due out.
Investors are pondering the next move as political tensions appears to be rising in Europe and may have a greater associated economic crisis risks.
German elections aftermath, Catalan referendum and Brexit negotiations loom over the markets.
10 years ago:
The crisis in Catalonia could affect national politics and lead to strikes and acts of violence that worsen the social and economic climate, said strategists at UBS. But the impact on markets should remain contained, they added, given the European Central Bank's plans for its bond-purchase program will likely remain the most important performance driver of European government bonds over the next six months, says the WSJ.
Madrid's Ibex 35 stocks benchmark is up 0.8 per cent, led by the Catalan-based banks that were hit hardest by last week's selling. CaixaBank is up 2 per cent and Banca Sabadell is up 1.7 per cent.
Yields on the 10 Y sovereign bonds are slipping as debt is back on demand, taking them down 1 basis point to 1.67 % and further away from the 1.81% peak, for now.

The euro is also steady, up 0.1 per cent at $1.1744. The Turkish lira fell as much as 6.6 per cent against the dollar to an eight-month low after the US blocked processing of most new visas in Turkey, which responded in kind. The escalation of tensions between the two sides came after the arrest of a US embassy employee last week. Th3 currency has pared its losses to weaken by 2.8 per cent to TL3.7130 per dollar.
Chinese blue-chip stocks touched their highest levels since late 2015, partly in a delayed reaction to a targeted cut in the amount of cash some banks must hold in reserve bank announced a week ago. Mainland Chinese markets rose Monday, although the advance faded as banks were unable to hold on to much of their early gains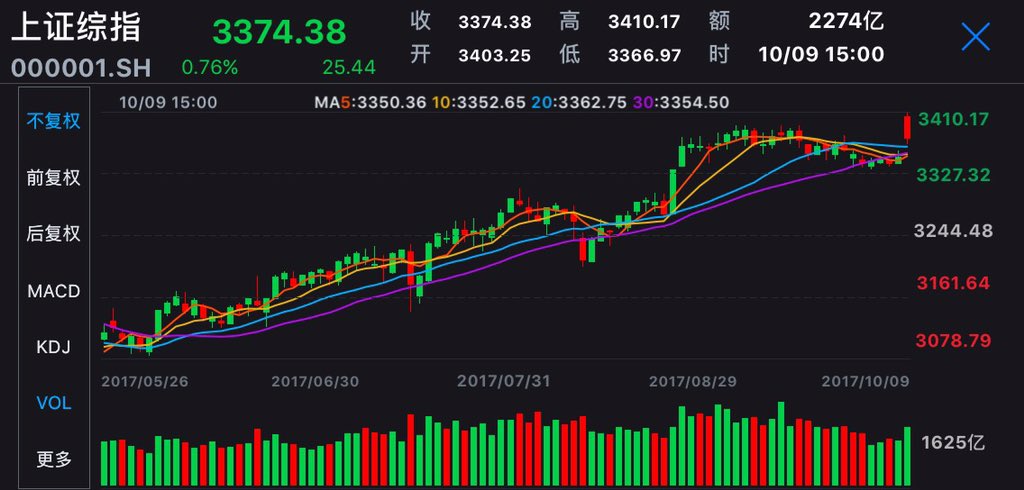 Stocks News:
In an aggressive move, Qualcomm (NASDAQ:QCOM) indicated in a European regulatory filing that it will offer concessions in an attempt to get a green light for its $38B acquisition of NXP Semiconductors (NASDAQ:NXPI). The European Commission has raised concerns that a Qualcomm-NXP combination could squeeze out rivals and then raise prices. A spokesperson for the EU said the deal deadline is still suspended despite the new remedies.
A major shakeup may be in the cards for Honeywell (NYSE:HON). Sources indicate that the company is considering a plan to spin non-core assets in a streamlining strategy that could see at least two new publicly listed companies created. The development arrives with hedge fund Third Point applying pressure on the Honeywell board.
After a consistent build-up in criticism from military chiefs and President Trump over the cost of the F-35 fighter jet, the Pentagon is taking over cost-cutting efforts on the $400B program. The move is an implicit rejection of the most recent efforts championed by the key partners on the F-35: Lockheed Martin (NYSE:LMT), Northrop Grumman (NYSE:NOC) and BAE Systems (OTCPK:BAESY).
A defensive move out of Bentonville, Arkansas could rattle the exploding smart speaker market. Wal-Mart (NYSE:WMT) is offering a $25 discount to users who purchase a Google (NASDAQ:GOOG) Home product and link their online Wal-Mart account to Google Express. The strategic move appears to be a countermeasure to Amazon's (NASDAQ:AMZN) aggressive Echo/Alexa push. On a broader scale, the recent e-commerce acquisitions by Wal-Mart of Jet.com and Bonobos are a clear indication that Wal-Mart intends to keep challenging Amazon directly.
In a bid that marks a 23% premium, France's Accor hotel group (OTCPK:ACRFF) has offered A$1.2B (about $932M) for Australia's Mantra Group. Due diligence on the deal is underway to see if Mantra will agree to the offer. The proposed deal would double Accor's size in Australia and is more expensive than prior deals at a purchase price of 13 times 2018 EBITDA. Mantra Group closed 16% higher in Sydney trading.
Steve Wynn said the behavior of the Las Vegas mass shooter would have set off warning signals at Wynn Resorts (NASDAQ:WYNN) properties. For starters, Wynn noted that an inquiry is launched by the hotel when a guest has a "do not disturb" marker on their room for more than 12 hours as happened at the Mandalay Bay. The casino exec also pointed to additional security measures instituted at Wynn Las Vegas and Encore Resort, including guarding all doors and installing magnetometers at high-traffic areas.
M&A radar: It could be an active week for deals with SeaWorld Entertainment (NYSE:SEAS) being circled by Merlin Entertainment, the Nordstrom (NYSE:JWN) family scrapping for a go-private deal and a casino marriage of Penn National Gaming (NASDAQ:PENN) and Pinnacle Entertainment (NYSE:PNK) brewing. BroadSoft (NASDAQ:BSFT) is in play, while Marriott Vacations (NYSE:VAC) is said to be stalking ILG (NASDAQ:ILG). Sprint (NYSE:S) and T-Mobile (NASDAQ:TMUS) are also seemingly heading for the runway.
The number of visitors to Macau during the first four days of Golden Week fell 2% from last year's level, according to tourism officials. At the gambling mecca's casinos, VIP betting volume is expected to have fallen slightly, while mass gaming revenue is anticipated to have posted a gain despite the slip in traffic. Wynn Macau (OTCPK:WYNMF, OTCPK:WYNMY, WYNN), Sands China (OTCPK:SCHYY, OTCPK:SCHYF, LVS), MGM China (OTCPK:MCHVF, OTCPK:MCHVY, MGM) and Galaxy Entertainment (OTCPK:GXYEF) fell today in Hong Kong to extend on last week's slide. The sector could see some extra volatility this week as analysts start pumping out their revenue projections for October.
The estimated box office numbers for Blade Runner 2049 fell below expectations after the film's running of over three hours held back the number of showings that exhibitors such as AMC Entertainment (NYSE:AMC), Regal Entertainment (NYSE:RGC) and Cinemark Holdings (NYSE:CNK) could squeeze in. The Warner Bros. (NYSE:TWX) sci-fi sequel brought in about $32M to fall short of the $45M to $55M range forecast by analysts. The film brought in $50.2M across 63 global markets, a mark much closer to expectations. The film cost Warner about $150M to make before market costs.
Main moves in markets, from Bloomberg
Stocks
The S&P 500 Index fell 0.1 percent at 11:15 a.m. in New York.
The Stoxx Europe 600 Index increased 0.1 percent.
The MSCI All-Country World Index rose less than 0.05 percent.
Spain's IBEX Index rose 0.4 percent.
The MSCI Emerging Market Index declined 0.3 percent.
Currencies
The Bloomberg Dollar Spot Index erased losses to trade little changed.
The euro climbed 0.1 percent to $1.1740.
The British pound increased 0.5 percent to $1.3130.
The Turkish lira fell 3.3 percent.
Bonds
Spain's 10-year yield dipped three basis points to 1.676 percent, the lowest in more than a week.
Germany's 10-year yield fell two basis points to 0.44 percent, the lowest in a week.
Britain's 10-year yield fell less than one basis point to 1.355 percent.
Commodities
West Texas Intermediate crude rose 0.1 percent to $49.35 a barrel.
Gold increased 0.4 percent to $1,281.73 an ounce.