European Stocks on edge Ahead of Catalan unfolding.
U.S. Stocks on Track for Third day climb
The Stoxx Europe 600 slips as declines in shares of Spanish and Italian companies offset a modest advance in U.K. stocks.
Dollar halts recent advance
Euro supported with an Eye on Catalan Developments.
S&P futures are again modestly in the green as European shares hold steady ahead of a meeting of the Catalan regional parliament and a possible declaration of independence by Catalan leader Puigdemont, while Asian shares rise a the second day.
The dollar declined for the 3rd day, its losses accelerating across the board amid growing concerns that Trump's tax reform is once again dead.
For some analyst, the week dollar is a sign that the December interest rate increase will be not aggressive and  this is a good outlook for equities.
Asia stocks advanced as traders in Japan and South Korea returned from holidays, pushing the regional benchmark to a three-week high amid a broad weakness in the dollar.
Today in Europe, all eyes are in Spain and in Barcelona in particular, where Catalan lawmakers will meet today to consider a declaration of independence that risks an ironclad backlash from Madrid, as calls for dialogue have been left unanswered by Spanish central gov and no back up from the Catalan gov. . Attention will focus on the form of words used by Catalan President Carles Puigdemont, who is due to address the parliament in Barcelona at 6 p.m. The IBEX fell alongside most national gauges across Europe.
U.S. gauges:
Stocks in the U.S. and Asia moved higher Tuesday even as lingering concerns about Spain weighed down European bourses.
Futures pointed to a 0.2% opening advance for the S&P 500 following gains in Japan and Hong Kong as global investors bet the coming earnings season would deliver solid results.
Companies in the S&P 500 are expected to post earnings growth of 2.8% in the third quarter, a slightly slower rate than recent quarters due to the recent hurricanes.
Companies with a higher share of global revenue are forecast to particularly benefit meanwhile from a strengthening world economy and weaker dollar, according to FactSet.
"This whole Catalonia thing just caught investors by surprise," said William Hamlyn, portfolio manager at Manulife Asset Management, "but it's really hard to believe that Catalonia is going to break away given all the difficulties that entails," he added to the WSJ.

"Spain generally has been doing pretty well, so I'd be surprised if the Catalonia situation was enough to tip over other positive things going on in European economy,"
In a sign that the region's economic recovery has continued to broaden, German exports surged in August due to strong demand from the eurozone, data showed Tuesday.
Continued geopolitical tensions hurt travel-related stocks, with Lotte Tour Development and Korean Air Lines both off roughly 2%. On Monday, U.S. Defense Secretary Jim Mattis told a gathering of Army officers and troops they need to be ready in case negotiations with North Korea about its nuclear weapons program fail.
In Japan, the Nikkei Stock Average gained 0.6%, led by auto makers, following Monday's market holiday in its longest winning streak this year. Trading sentiment in Japan was lifted by strong polls for the incumbent Liberal Democratic Party. Expectations are for Prime Minister Shinzo Abe to win a "solid" majority in the lower-house elections on Oct. 22, according to analysts at Capital Economics .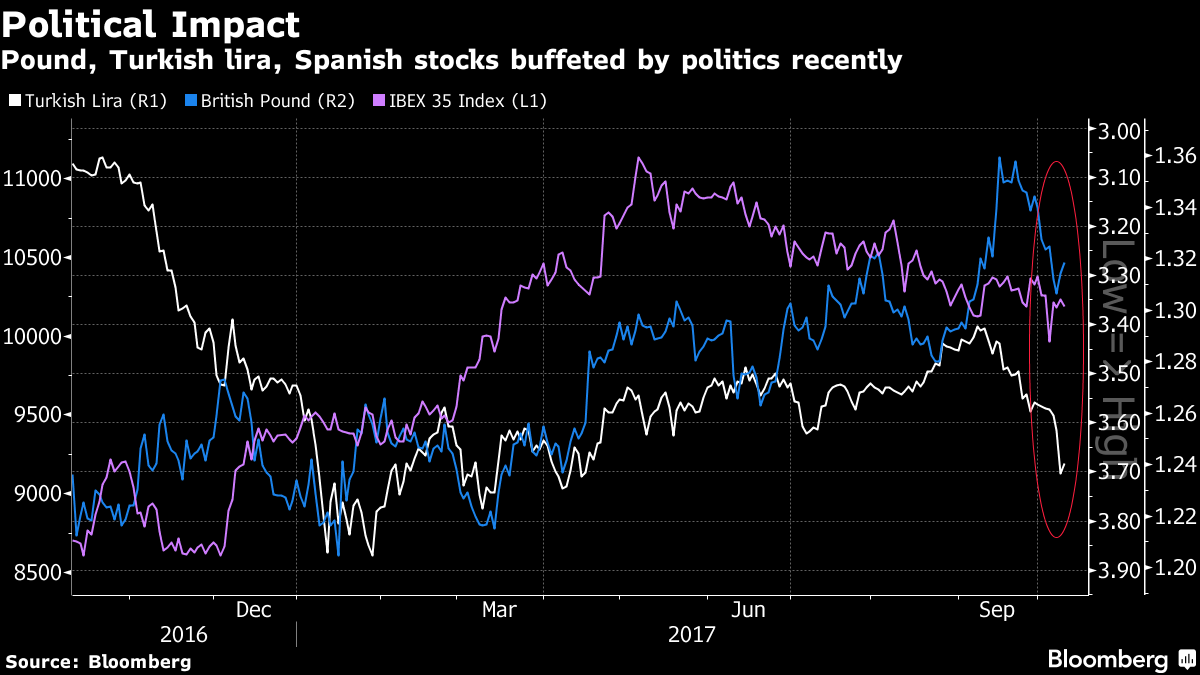 Main moves in markets, from Bloomberg:
Stocks
The Stoxx Europe 600 Index decreased less than 0.05 percent as of 7:26 a.m. New York time.
The MSCI All-Country World Index rose 0.2 percent.
The U.K.'s FTSE 100 Index rose 0.2 percent.
Spain's IBEX Index fell 1.1 percent.
The MSCI Emerging Market Index jumped 0.8 percent to the highest in almost three weeks.
Futures on the S&P 500 Index increased 0.1 percent to 2,547.00.
Currencies
The Bloomberg Dollar Spot Index declined 0.3 percent.
The euro gained 0.3 percent to $1.1781, the strongest in more than a week.
The British pound advanced 0.4 percent to $1.3188.
The Japanese yen rose 0.2 percent.
Bonds
The yield on 10-year Treasuries dipped less than one basis point to 2.36 percent.
Germany's 10-year yield increased one basis point to 0.45 percent.
Britain's 10-year yield gained three basis points to 1.383 percent.
Commodities
West Texas Intermediate crude advanced 1.3 percent to $50.21 a barrel.
Gold increased 0.6 percent to $1,291.15 an ounce, the highest in two weeks.
Copper climbed 0.3 percent to $3.04 a pound.
Iron ore fell 2 percent to 440 yuan per metric ton, the lowest in 15 weeks.
Stocks News
A scandal has erupted beyond company borders in Japan over false data supplied by Kobe Steel (OTCPK:KBSTY) over the strength and durability of its products used in some mission-critical applications in cars, aircraft and perhaps a rocket. The falsification was intended to make metals look like they met clients' quality standards. Kobe Steel has acknowledged shipping products including copper and aluminum products to more than 200 customers but did not disclose their names. Toyota (NYSE:TM), Honda (NYSE:HMC) and Subaru (OTCPK:FUJHY) all said they used materials from Kobe Steel that were subject to such falsification. Boeing (NYSE:BA) gets some parts from Subaru but says nothing so far has raised safety concerns. Other top Kobe customers by revenue: Shinsho Corp., Mitsubishi (OTCPK:MSBHY), General Motors (NYSE:GM), Ford Motor (NYSE:F), Nissan Motor (OTCPK:NSANY).
General Electric tumbled nearly 4% yesterday en route to its lowest level since August 2015, as investors were rattled by a management shakeup that included the exit of the CFO and two other top executives and what the move might portend about Q3 results to be announced next week. J.P. Morgan analyst Stephen Tusa views the departures as a "clear negative" for the stock, which indicates that the fundamental challenges facing GE are worse than Wall Street has expected. Tusa also thinks the chance of a dividend cut has moved "materially higher." Meanwhile, GE has given Trian Fund founding partner Ed Garden a seat on its board, evidently with more critical items on its plate than the distraction of a potential proxy fight.
Google has uncovered evidence that Russian operatives used its platforms to interfere with the November 2016 U.S. election, according to multiple reports. The disinformation campaign hit YouTube, Google's DoubleClick ad network and Gmail (GOOG, GOOGL). The ads reportedly were funded with tens of thousands of dollars but did not trace back to the same "Kremlin-affiliated troll farm" that advertised on Facebook (NASDAQ:FB), a sign that the Russian effort to spread fake news online may be a much broader problem than previously understood. Google is said to have shared some of the Russian-bought ads with congressional investigators.
Procter & Gamble is set to become the biggest company ever to face a shareholder vote over a proxy contest, seeking to prevent Trian Fund CEO Nelson Peltz from securing a seat on its board of directors. After the two sides collectively spent more than $100 million on mailings, phone calls and advertisements to woo investors, the outcome as of late Monday reportedly was too close to call. Peltz wants PG to reorganize into three business units: beauty, grooming and healthcare; fabric and home care; and baby, feminine and family care. The vote will be influenced more than usual by individual stock owners, who collectively hold about 40% of PG's stock, a much higher proportion than at most big companies.
Online users have slammed Mark Zuckerberg as a "heartless billionaire" after the Facebook (FB) CEO live-streamed a virtual reality cartoon avatar of himself in hurricane-ravaged Puerto Rico. The tone-deaf display was part of Zuckerberg's demonstration of Facebook Spaces, a product that allows users to create a 3-D virtual avatar of themselves to use with an Oculus Rift VR headset and communicate with each other by having their avatars be in the same space, even if the real people talking are not. Zuckerberg also talked about features such as Safety Check, which allows Facebook users to mark themselves safe when a natural disaster hits, and said the company had donated more than $1.5M to Puerto Rico relief efforts.