Dow crosses 23,000
The Euro declined for a fourth day, the longest streak since May
UK inflation hits new five-and-a-half-year high
The Dow Jones Industrial Average crept above 23000 for the first time Tuesday, buoyed by gains in shares of health-care companies.
Just four weeks since The Dow crossed 22,000, but thanks to Goldman, Boeing, Caterpillar, 3M, and JPMorgan (accounting for over 500 Dow points), the media's favorite index just topped 23,000 for the first time ever.
Although U.S. Industrial production depicts a different chart ( 
<img
<img
Global markets traded near all-time highs on Tuesday, with S&P futures, Asian shares and European stocks all flat this morning, while oil continued to gain on Kurdish geopolitical concerns while most industrial metals fell.
The Stoxx Europe 600 Index was little changed following mixed trading in Asian stocks earlier, after North Korea warned that a nuclear war could "break out any moment."
The pound weakened after Governor Mark Carney said the Bank of England is making contingency plans for a "hard" exit from the European Union.
The Consumer Prices Index rose by 3.0% in the 12 months to September, the highest level since early 2012.
The European Central Bank is expected to give further clues next week about how it plans to slow its monthly asset purchases. Knowing when the bond buying will come to an end is key because it will set the stage for the ECB to start nudging up rates for the first time since 2011, analysts said.
Spain's IBEX-35 had a volatile day after the secessionist conflict in Catalonia escalated further Monday, when a judge jailed two key pro-independence civil society leaders. The index was recently up 0.8%.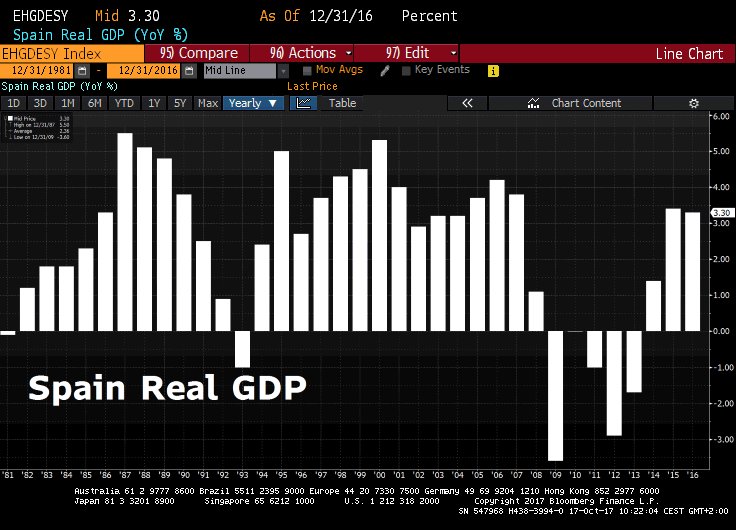 The main moves in markets here, from Bloomberg
Stocks
The S&P 500 was little changed at 11:08 a.m. New York time.
The Dow Jones Industrial Average rose 0.2 percent to 22,998.59
The Stoxx Europe 600 fell 0.1 percent.
The U.K.'s FTSE 100 Index rose 0.2 percent.
Spain's IBEX Index rose 0.8 percent.
The MSCI Emerging Market Index sank 0.5 percent, the first retreat in more than a week.
Currencies
The Bloomberg Dollar Spot Index gained 0.4 percent to the highest in a week.
The euro dipped 0.4 percent to $1.1746.
The British pound declined 0.6 percent to $1.3176.
The Japanese yen decreased 0.1 percent to 112.3 per dollar.
Bonds
The yield on 10-year Treasuries was little changed at 2.3 percent.
Britain's 10-year yield fell six basis points to 1.27 percent.
Spain's 10-year yield fell one basis point to 1.54 percent.
Commodities
West Texas Intermediate fell 0.5 percent to $51.59 a barrel
Gold sank 0.8 percent to $1,285.06 an ounce.
Copper sank 1.4 percent to $3.1925 a pound, the first retreat in more than a week.
Asia
Japan's Topix index closed 0.2 percent higher. Australia's S&P/ASX 200 Index rose 0.7 percent in its fifth straight gain and South Korea's Kospi index was up 0.2 percent.
Hong Kong's Hang Seng Index was little changed, as the Shanghai Composite Index slipped 0.2 percent
Economy News:
Trade ministers from the U.S., Canada and Mexico wrap up a contentious round of NAFTA trade talks today, issuing statements at a joint event at 3 p.m. ET and later briefing the media. The hardline demands from the Trump administration so far include forcing renegotiations every five years, reserving the lion's share of automotive manufacturing for the U.S. and making it easier to pursue import barriers.
Brexit talks between the U.K. and Brussels aren't deadlocked, according to Chancellor of the Exchequer Philip Hammond, who stated it was clumsy to call EU negotiators "the enemy" during an interview last Friday. Despite the confidence, the two sides appeared to reach an impasse recently over unresolved issues, like the so-called "divorce bill," the North Irish border and EU citizens' rights.
Morale among German investors rose by a fraction during October, according to ZEW survey data, which showed its economic sentiment index climbing to 17.6 from 17.0 points in the previous month. "The indicator, however, still remains below the long-term average of 23.8 points," said ZEW President Achim Wambach. The euro extended earlier losses in response to the report, losing 0.4% against the dollar to $1.1756.
The situation on the Korean Peninsula "has reached the touch-and-go point and a nuclear war may break out any moment," according to North Korea's deputy U.N. ambassador. The warning from Kim In Ryong, which builds on previous escalating threats, comes as the U.S. and South Korea begin one of the largest joint naval drills in the region.
President Trump plans to formally interview Janet Yellen this week about staying on as Fed chairman, according to Politico, citing two sources close to the situation. While the Yellen Fed hasn't wavered from its plan to gradually hike interest rates and pare the balance sheet, her supporters within the administration argue she may well be the most dovish of those being considered for the role.
Stocks News
New Jersey is making a high-dollar pitch for Newark as Amazon's (NASDAQ:AMZN) second headquarters, offering up to $7B in state and city tax incentives. "Let any state go and try to beat that package," said Governor Chris Christie. The nationwide competition is heating up: Initial proposals for Amazon's new home, which could create up to 50,000 jobs, are due Thursday.
General Motors is planning to become the first company to test self-driving cars in the Big Apple, deploying a fleet of autonomous Chevrolet Bolts early next year to a 5-square-mile section of lower Manhattan. Engineers are still mapping the area, said Kyle Vogt, chief executive of Cruise Automation, the driverless-car developer GM acquired last year.
The French government, which owns an 11% stake in Airbus (OTCPK:EADSY), has welcomed the planemaker's deal for a majority stake in Bombardier's (OTCQX:BDRAF, OTCQX:BDRBF) CSeries jet program. "I welcome this news, everything that makes Airbus stronger, everything that makes the European aircraft manufacturing industry stronger goes in the right direction," Finance Minister Bruno Le Maire told journalists.
Qualcomm's long march towards 5G is a few steps closer to reality, as the company showcased the first working 5G data connection to a mobile device via its Snapdragon X50 chipset. The demonstration, shown at Qualcomm's (NASDAQ:QCOM) 4G/5G Summit in Hong Kong, will up the ante against rivals such as Intel (NASDAQ:INTC) and Huawei in the battle for next generation mobile broadband.
$100B appears to be not enough. SoftBank (OTCPK:SFTBY) is in talks to create a second and possibly larger giant tech fund, multiple sources told Recode. CEO Masayoshi Son wants to raise the supplemental technology investing pool to complement his massive Vision Fund, which has made bold and sometimes controversial investments across the tech sector over the last year.
Apple's health team was until recently deep in talks to buy a startup called Crossover Health, which works with big employers to build and run on-site medical clinics, CNBC reports. The talks went on for months but didn't materialize into a deal. Apple (NASDAQ:AAPL) also approached nationwide primary care group One Medical, according to several sources.
Five former employees have disclosed that Microsoft's (NASDAQ:MSFT) secret internal database for tracking its software bugs was broken into by a highly sophisticated hacking group in 2013. It marks the second only known breach of such a corporate database. Spies for governments around the globe and other hackers are said to covet such information because it shows them how to create tools for electronic break-ins.
Activist investor RBR Capital Advisors will launch a campaign later this week for splitting Credit Suisse (NYSE:CS) into three parts – an investment bank, an asset management group and a wealth manager – according to the FT. The bank has outperformed most European peers over the past year, but its share price – diluted by capital raisings – is barely half of what it was when CEO Tidjane Thiam took the helm in 2015. CS +0.5% premarket.
Meanwhile, Procter & Gamble appears to have narrowly beaten Nelson Peltz's bid for a board seat by 6.15M votes, only about 0.2% of its shares outstanding, in one of the biggest and most expensive proxy contests ever. With such a close margin, the vote is now headed to a lengthy recount, but it could take weeks until Procter & Gamble (NYSE:PG) announces a final tally.
Toys "R" Us, the retailer that filed for bankruptcy in North America, has been exploring options for its growing Asian operations including a potential IPO, Bloomberg reports. The business would likely be listed on the Hong Kong bourse and could be valued at as much as $2B, however, representatives for the company and its owners, KKR, Bain Capital and Vornado Realty Trust, declined to comment.
Canada's TMX Group, operator of the Toronto Stock Exchange (OTC:TMXXF), is exploring delisting stocks of marijuana companies with interests in the U.S., where their operations are prohibited under federal law. Although illegal on the national level, a memo issued by former U.S. Deputy Attorney General James Cole in 2013 directed federal prosecutors not to go after those that complied with state law.
Netflix jumped to a new all-time high in AH trading, climbing 2.2% to $207.21 per share, after posting Q3 results. The video streaming service added 5.3M net subscribers this past quarter and outlined a new content budget of between $7B-$8B for next year. Netflix (NASDAQ:NFLX) also ruled out a bid for the Weinstein Company, which has been struggling to deal with sexual assault allegations aimed at its co-founder.
The news comes after the Weinstein Company and Colony Capital (NYSE:CLNS) entered into a preliminary agreement for the latter to provide an immediate capital infusion. "We will help return the company to its rightful iconic position in the independent film and television industry," Colony CEO Thomas Barrack declared. The troubled movie firm also has a board meeting slated for today.