Stocks Hit New Record Highs
Tech, bank stocks lift Wall Street
Dollar Jumps On Senate Vote
Japan on the best stock run strike ever.
Euro slips as investors eye Spain.
Catalonia Crisis reaching breaking point
Catalan economy hit in muddling waters.
Technology and bank stocks lifted Wall Street on Friday and investor optimism received a fresh boost from Washington, where the Trump administration inched a step closer to implementing tax-cut plan.
The Dow Jones Industrial Average rose 43 points, or 0.2%, to 23206 a day after notching its 52nd record close of 2017. If the Dow closes higher Friday, it will mark the most records for the blue-chip index reached in a calendar year since 1995.
In Europe, The Stoxx Europe 600 added 0.3% following its biggest daily decline since August, echoing widespread gains across Asian markets.
Investors across Europe remain in an upbeat mood this mood, with the FTSE 100 still in with a chance of a new closing high (7,556.24 is the number to beat).
The pound has reversed earlier losses against the dollar after a hint of progress on Brexit talks from a meeting of European leaders in Brussels.
Money Managers Think the Catalan Crisis Will Be 'Contained:
The fastest-growing major economy in the euro area is in the middle of a political crisis with its richest region fighting for independence, yet Spain's government bonds and the euro only briefly faltered.
Anyhow, Barcelona is starting to feel the pinch as tourist are adamant to visit the catalan Capital as the political crisis deepens.
International flight bookings to Catalonia have dropped 17% compared to last year since the restive region's independence referendum on October 1, according travel intelligence firm ForwardKeys.
Street protests have become a regular occurrence in the regional capital of Barcelona, one of the world's premier tourist destinations.
Barcelona is the 12th most popular city in the world for tourism, according to Mastercard. Last year, the city welcomed 8.4 million international visitors who spent roughly $9 billion.
Japan's Nikkei 225 Stock Average rose for a 14th day, matching the longest winning streak on record ahead of Sunday's general election when the Abe administration's popularity will be put to test. The last time the index saw a similar rally was back in 1961. The Nikkei 225 has gained on every trading day in October, rising 5.4 percent, while the Topix index extended its rally to a tenth session.
The yen was on track for its worst week in five against the dollar, with the greenback climbing as much as 0.8 percent on Friday to 113.42 yen, its strongest since mid-July, as investors readied for Sunday's Japanese national election.
Japan's Nikkei .N225 – which tends to show a negative correlation to the yen – logged its 14th straight session of gains, its longest such streak since 1961.
ECB EU inflation target: One of the European Central Bank's policy makers has made a plea that should delight workers: it's time to get a pay raise.
Slow wage growth despite falling unemployment is one of the key missing pieces in the inflation puzzle the ECB faces as it prepares to scale back its stimulus. For Governing Council member Ewald Nowotny, that means dropping central-bank restraint and calling for higher salaries.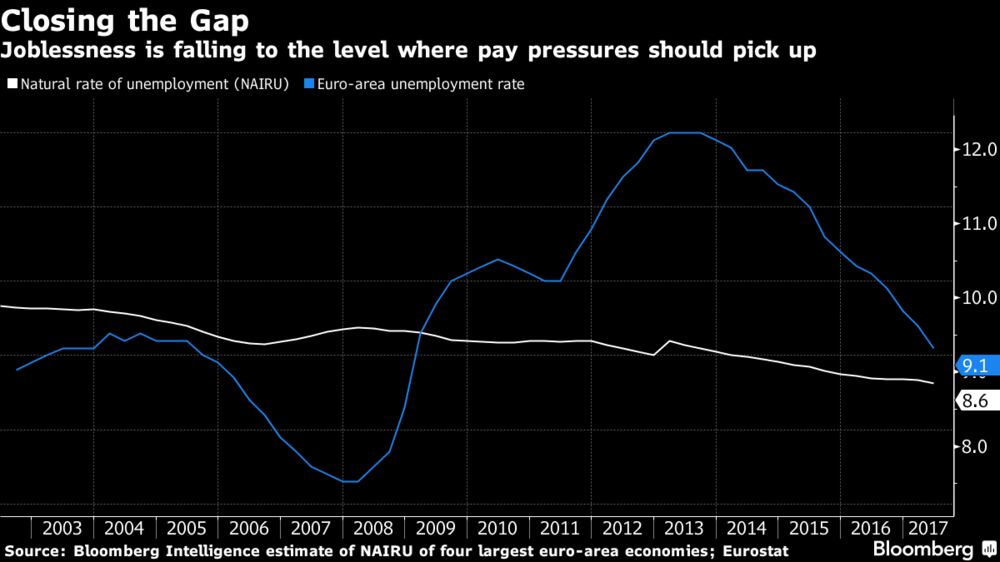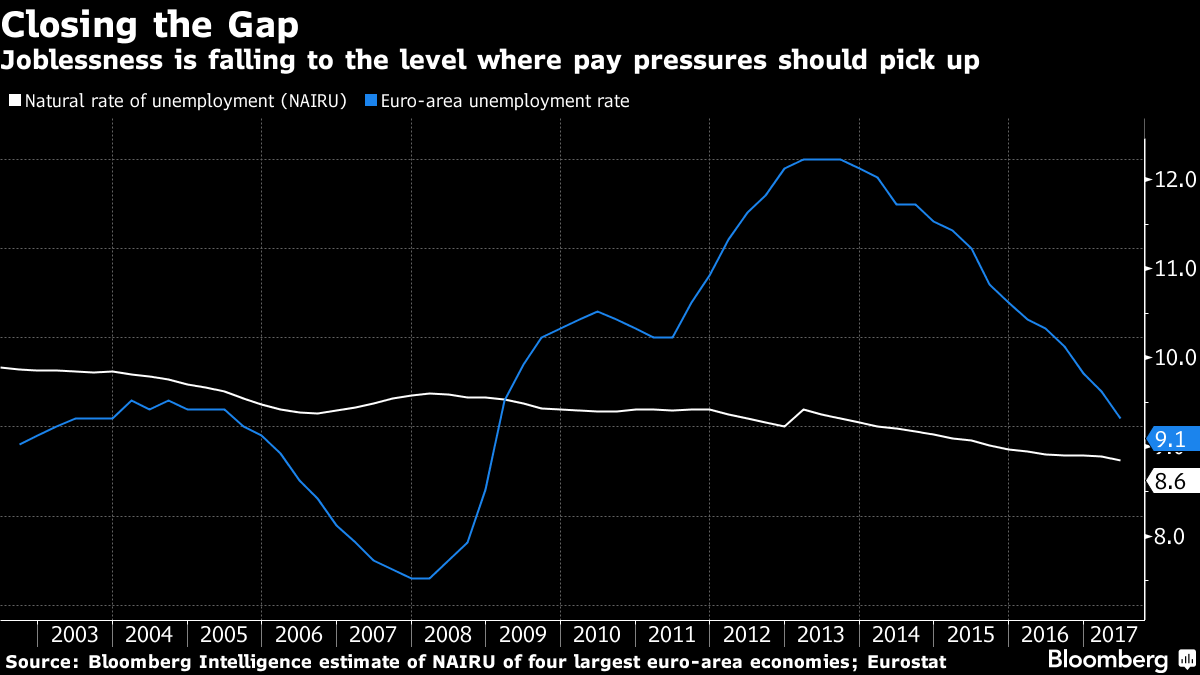 the main moves in markets from Bloomberg
Stocks
The S&P 500 Index added 0.3 percent as of 11:41 a.m. in New York.
The Stoxx Europe 600 Index rose 0.3 percent.
The U.K.'s FTSE 100 Index climbed 0.2 percent.
Japan's Nikkei 225 Stock Average gained less than 0.05 percent to the highest in about 21 years.
The MSCI Emerging Market Index increased 0.4 percent.
Currencies
The Bloomberg Dollar Spot Index gained 0.6 percent.
The euro fell 0.7 percent to $1.1767.
The British pound increased 0.1 percent to $1.3175.
The Japanese yen decreased 0.9 percent to 113.55 per dollar, the weakest in 14 weeks.
Bonds
The yield on 10-year Treasuries rose seven basis points to 2.39 percent, a five-month high.
Germany's 10-year yield climbed five basis points to 0.45 percent.
Britain's 10-year yield added five basis points to 1.33 percent.
Commodities:
West Texas Intermediate crude rose 0.3 percent to $51.45 a barrel.
Gold dipped 0.8 percent to $1,279.65 an ounce.
Copper fell 0.4 percent to $3.156 a pound.