Global Stocks Mixed as Earnings not that Bright.
U.S. stock futures point to small opening losses.
Nikkei in a Roll.
Bond yields climb
Pound jumps after U.K. growth figures.
Investors reacted with a shrug after the latest set of corporate results, leaving stocks worldwide with no traction.
The S&P 500 was set to open 0.2% lower in one of the busiest earnings weeks of the year, echoing muted sessions in Europe and Japan.
Earnings reports in the U.S. have so far delivered mostly positive surprises, with roughly 72.5% beating expectations compared with 64% in a typical quarter, according to Thomson Reuters data.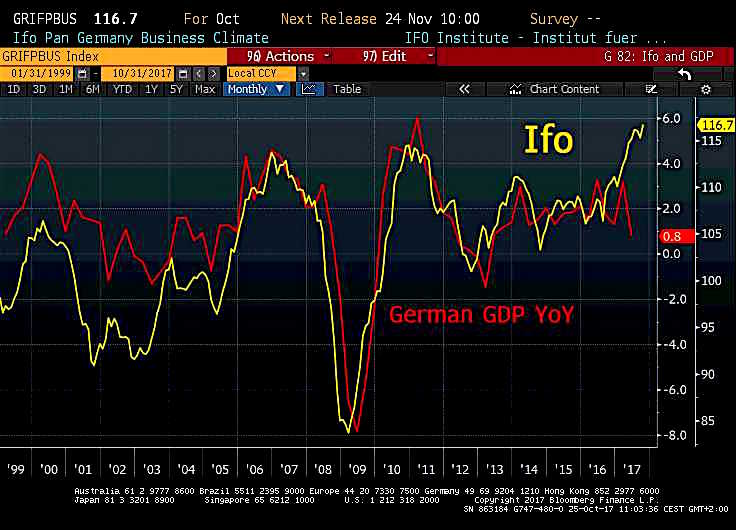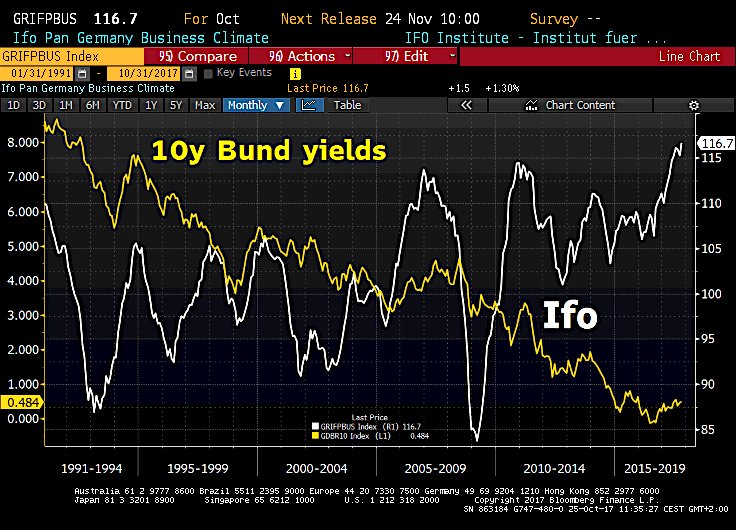 German 10-year bond yields rose to 0.492% from 0.474%, with the European Central Bank widely expected to announce plans to unwind its massive bond-purchase program at its meeting on Thursday, keeping market participants on edge.
On the ECB bond tapering the German news Handelsblat says: The ECB just can't seem to take the bond-buying pacifier away from the euro-zone economy. After nearly three years of suckling, taking that soother away – or even suggesting it – could provoke a market tantrum. And no one wants that – not even the German central bank, one of the program's most vocal critics. So when the ECB governing council announces its plans for the loose monetary policy at tomorrow's meeting, it looks as if they'll do what any smart caregiver would: avoid talking about an end-date and instead go for a "lower for longer" approach. After all, no one wants to watch the market throw a hissy fit
The euro rose 0.2% to $1.1781 after data showed German business sentiment surged to a record high in October, while the Australian dollar fell 0.8% against its U.S. counterpart as Australian consumer prices came in below the central bank's target, disappointing traders hoping for an interest-rate increase in early 2018.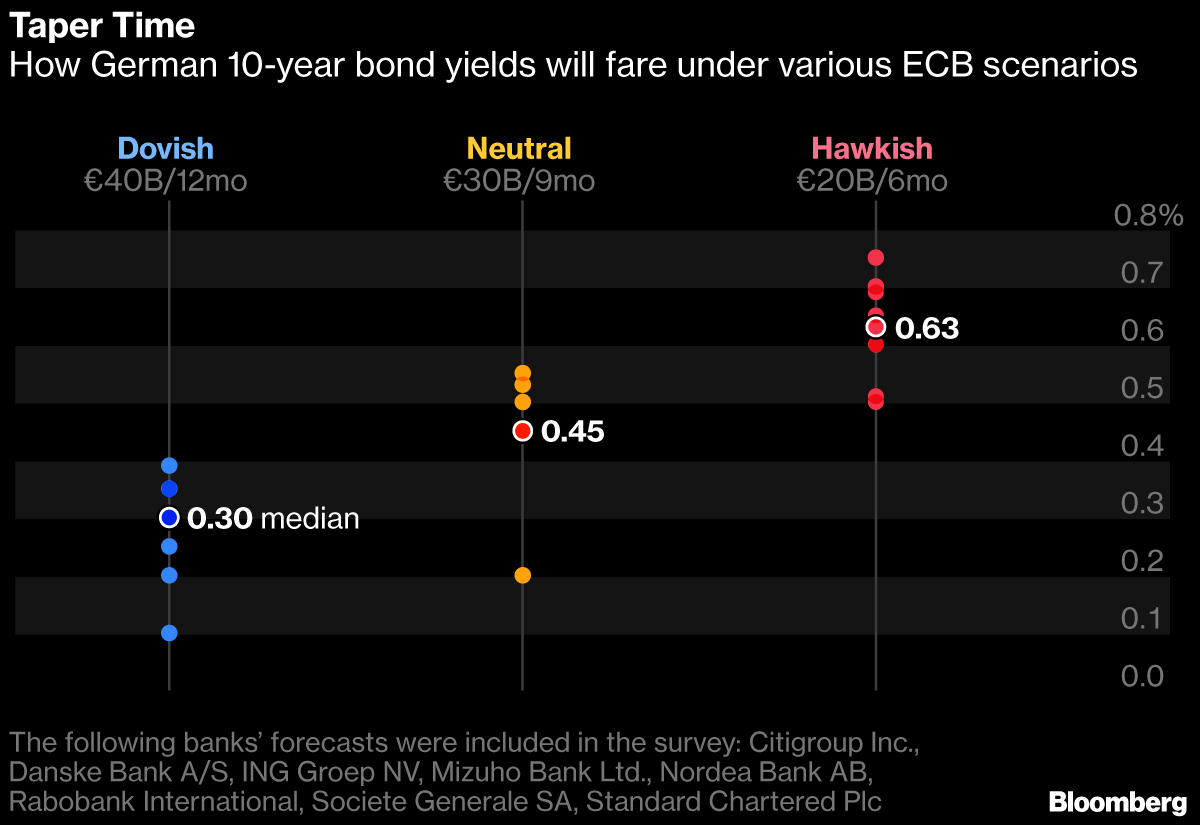 The European Central Bank is expected to announce a reduction in the size of its monthly bond buying at its policy meeting Thursday, the biggest scheduled event for markets this week.
UK: Britain's economy grew a little faster than expected in the third quarter of this year, but still below its long-term growth rate.
GDP rose by 0.4% in July-September, ahead of City expectations. It's an increase on the 0.3% growth recorded in the first two quarter of 2017, but still a fairly moderate performance
Britain's economy expanded by 0.4% between July and September
Spain: Spanish Prime Minister Mariano Rajoy has asked for the power to remove the Catalan government and call fresh elections. Catalan separatists have called for civil disobedience in response to the prospect of control from Madrid. No quick resolution appears imminent.
The stand off between the Spanish and Catalan governments are denting the stock market progress relative to it´s European peers. Anyhow,  the worst that can be said for markets is that Spanish stocks are lagging a strong rally. The Euro Stoxx index has gained 5% since the start of September, while the IBEX 35 is down 1%. The yield spread between Spanish and German 10-year bond yields has remained steady, at just under 1.2 percentage points, while the euro has barely reacted at all.
The main moves in markets from Bloomberg:
Stocks
The Stoxx Europe 600 Index rose 0.2 percent as of 8:02 a.m. New York time.
The MSCI All-Country World Index increased 0.1 percent.
The U.K.'s FTSE 100 Index decreased 0.4 percent to the lowest in three weeks on the largest dip in almost six weeks.
Germany's DAX Index decreased 0.1 percent.
The MSCI Emerging Market Index increased 0.5 percent, the largest climb in more than a week.
Futures on the S&P 500 Index declined 0.2 percent.
Currencies
The Bloomberg Dollar Spot Index decreased 0.1 percent.
The euro gained 0.1 percent to $1.1778.
The British pound climbed 0.9 percent to $1.3256, the largest increase in almost six weeks.
Bonds
The yield on 10-year Treasuries gained two basis points to 2.44 percent, the highest in about seven months.
Germany's 10-year yield climbed one basis point to 0.48 percent, the highest in 12 weeks.
Britain's 10-year yield gained five basis points to 1.407 percent, the highest in almost nine months.
Commodities
Gold decreased 0.3 percent to $1,273.52 an ounce, the weakest in almost three weeks.
West Texas Intermediate crude dipped 0.3 percent to $52.30 a barrel.
Copper declined 0.7 percent to $3.18 a pound, the biggest drop in more than a week.
LME nickel fell 0.9 percent to $11,890 per metric ton, the largest fall in a week.
Asia
Japan's Topix index fell 0.3 percent and the Nikkei 225 declined 0.5 percent at the end of trading in Tokyo. Australia's S&P/ASX 200 Index rose 0.1 percent. The Hang Seng Index climbed 0.5 percent, while the Shanghai Composite Index gained 0.3 percent. India's Sensex advanced 1.3 percent.
The Japanese yen dipped 0.1 percent to 114.06 per dollar, the weakest in more than five months.
Economy News:
As China's Communist Party Congress wraps up in Beijing, President Xi Jinping broke with tradition by unveiling a new leadership lineup that included no clear potential heirs, raising the chances that he might seek to stay in office beyond 2022. What does it mean for investors? They hope a stronger Xi will now be able to push through bold economic and financial reforms as he also enshrined his name and doctrine into the party's constitution. Shanghai +0.3% to 3,398.
At an event in Riyadh meant to highlight the kingdom's influence in the business world, Crown Prince Mohammed bin Salman told investors that Saudi Arabia was returning to "moderate" Islam and intended to "eradicate" extremism. The comments follow announced reforms on women's rights, plans to sell a stake in Saudi Aramco and creation of the world's largest sovereign wealth fund.
Stocks News
Canada pushed Bombardier to make a deal with Airbus (OTCPK:EADSY) for its CSeries planes to thwart a potential venture with Chinese investors, Reuters reports. The government signaled its preference after Bombardier (OTCQX:BDRAF, OTCQX:BDRBF) failed to reach an agreement with Boeing (BA) earlier this year that would have given the U.S. company a stake in the CSeries program.
Hospital del Nino is the "first of many" solar and storage projects going live in Puerto Rico as Tesla (NASDAQ:TSLA) makes good on its promise to help the island rebuild its energy grid after Hurricane Maria. Governor Ricardo Rossello and Puerto Rican Chief Innovation Officer Glorimar Ripoli have proposed turning the territory into a flagship example of what Tesla's solar technologies can do for the world.
Toyota's solid-state battery technology under development could be a "game changer" for pure EVs, but that does not mean the automaker is moving away from hydrogen-powered fuel cell vehicles, EVP Didier Leroy said at the Tokyo Motor Show. Toyota (NYSE:TM) is also scaling back on its plans to build a new plant in Mexico, reducing its investment by 30% and cutting output capacity by 50%, according to Nikkei Asian Review.
Industrial suppliers, including W.W. Grainger (NYSE:GWW) and Fastenal (NASDAQ:FAST), slumped 5.3% and 3.6%, respectively yesterday in response to Amazon's (NASDAQ:AMZN) launch of Business Prime Shipping, an annual membership for business customers in the U.S. and Germany. "Millions" of items are eligible for the new service. Amazon Business announced that it surpassed 1M customers in July.
Just months after a similar decision by Campbell Soup (NYSE:CPB), Nestle (OTCPK:NSRGY) is leaving the Grocery Manufacturers Association, a lobby group that represents hundreds of food companies in Washington. The move comes during a tumultuous time for food manufacturers facing new labeling requirements, like GMO ingredients and nutrition values, as consumers shun conventional packaged food.
At least three bidders are expected to be shortlisted for the second round of an auction for Unilever's (UL, UN) margarine and spreads business, which could be worth more than $7B. While a Bain Capital-led group, KKR and Apollo (NYSE:APO) are likely to proceed, a joint offer from Blackstone (NYSE:BX) and CVC Capital, as well as BC Partners, which bid on its own, are no longer in the fray.
More ICOs? Overstock.com (NASDAQ:OSTK) +2.3% premarket after announcing that its unit T0.com (tZERO) will launch an initial coin offering next month. The statement from Chairman Patrick Byrne came at the Money 20/20 conference in Las Vegas. tZERO's coin offering will be legally compliant with the SEC using an instrument called the Simple Agreement for Future Tokens.
As political pressure mounts on social media companies to say where ads are coming from, Twitter (NYSE:TWTR) said it will reveal more information about political advertising on its platform. Users will be able to see identities of buyers, targeting demographics and total ad spend by election advertisers. Twitter is also scheduled to testify on Capitol Hill next week about Russian influence on its network.
Apple, which recently said it was including wireless charging in its iPhone X (NASDAQ:AAPL) and iPhone 8 smartphones that begin pre-sales on Friday, has acquired New Zealand firm PowerbyProxi that designs wireless power products for consumers and industry. Wireless charging allows users to recharge devices by placing them on a pad or other surface rather than inserting them in a cradle or attaching a cable.
Hulu CEO Mike Hopkins is leaving to become chairman of Sony Pictures Television (NYSE:SNE), while board member Randy Freer will succeed him. The service – owned by Comcast (NASDAQ:CMCSA), Disney (NYSE:DIS), Time Warner (NYSE:TWX) and 21st Century Fox (NASDAQ:FOX) – last disclosed its total number of subscribers 17 months ago; at the time, the figure stood at 12M. In comparison, Netflix (NASDAQ:NFLX) announced last week that it now has 51M paying U.S. subscribers.
On speed dial… T-Mobile (NASDAQ:TMUS) and Sprint (S) are laying the groundwork for special committees of their board of directors to decide on a merger, Reuters reports. The boards are important because the companies are majority owned by Deutsche Telekom (OTCQX:DTEGY) and SoftBank (OTCPK:SFTBY), and could be left vulnerable to potential lawsuits from minority shareholders if they don't establish independent mechanisms to review the deal.