Catalonia Readies Independence Amid Spanish Bank Bloodbath.
Nikkei Closes Up 22K first time since 1996.
Draghi´s QE (infinity) gives global Risk on a push.
Euro drops; Catalan indepence vote sinks Spanish stocks.
Stocks climbed and the dollar rallied after the U.S. economy saw its strongest back-to-back growth in three years: US Economy Unexpectedly Grew At 3.0% In Q3.
The S&P 500 Index jumped as U.S. GDP growth came in at 3 percent, even after multiple hurricanes ravaged the southeast. Technology shares rallied following stellar profit at Amazon.com Inc. and Alphabet Inc., buoying the Nasdaq 100.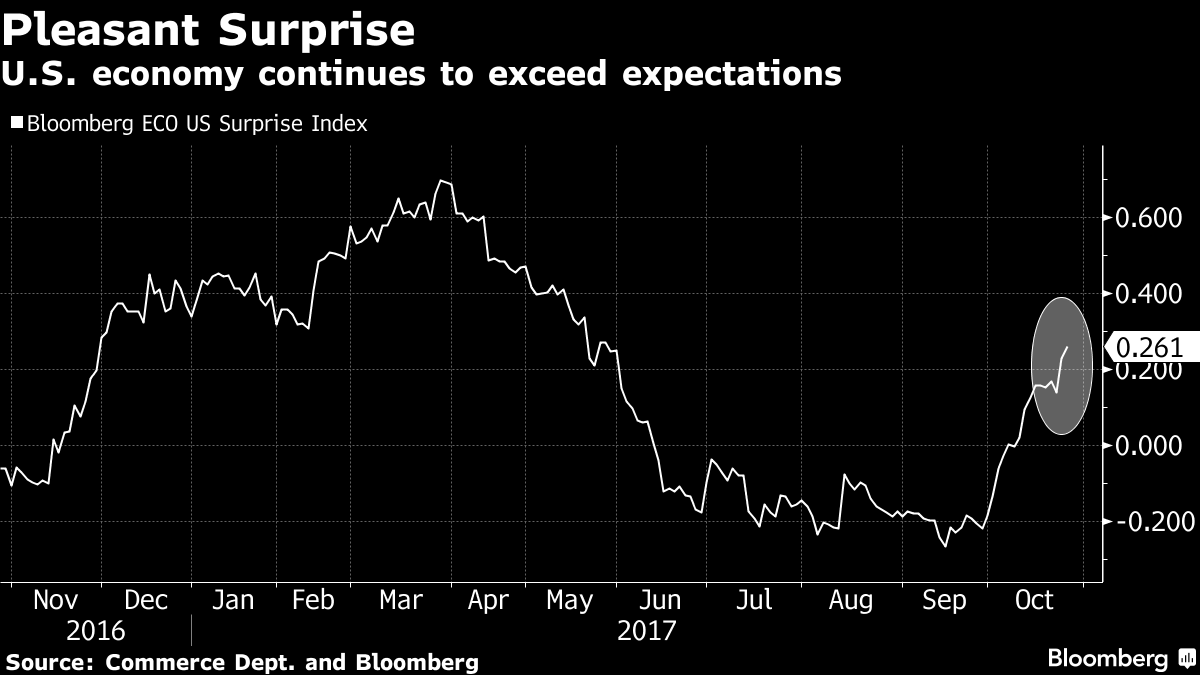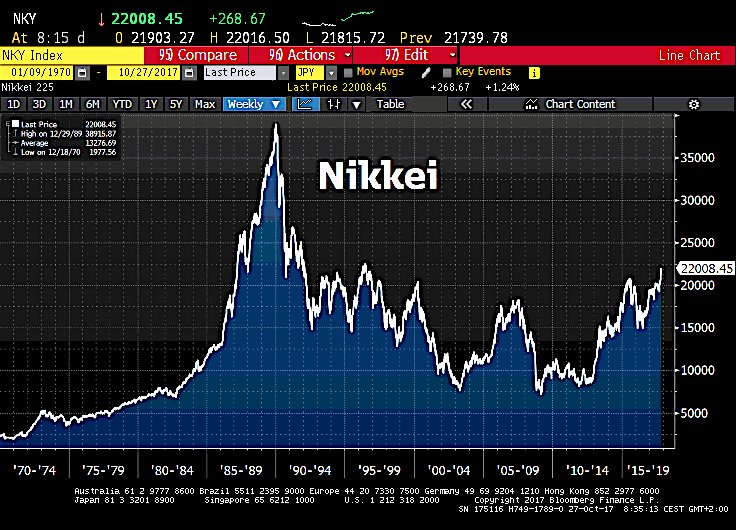 This rally in the oil price will cheer the Opec cartel, who have been restricting production in an attempt to push prices higher.
But…it may also persuade rival producers, such as America's shale industry, to increase their own output.
It is also likely to push inflation up globally, once it pushes up fuel and energy prices.
In Europe, Recent data have also underscored the strengthening recovery in the euro-area economy, with JPMorgan Chase & Co. saying European companies are showing profit growth that's twice the pace of their U.S. counterparts in the third quarter. That's helping propel the Stoxx Europe 600 Index to its best annual performance since 2013.
The upbeat tone in global markets also came after the ECB Thursday extended its bond-buying program but at a reduced level, confirming market participants' expectations that the central bank would only slowly ease off crisis-era stimulus policies.
The decision weighed down the euro but boosted German government bonds and eurozone stocks and credit markets, which have been supported by the bank's expansive stance for several years.
Spain's IBEX 35 index fell 1.4% as Catalonia's Parliament declared the region an independent republic on Friday. The declaration escalates a standoff with Madrid, as lawmakers in Madrid agreed to grant Spain's prime minister the power to impose direct rule on the region.
Nasdaq: Alphabet and Amazon's stocks jumped above $1,000 a share. Combined with Microsoft shares, the three companies added a combined $80 billion in market value in the first hour or so after the results were disclosed late Thursday. The three companies' shares rose 5.9%, 11% and 7.8%, respectively, in recent trading. Intel added 5.7%.
"Valuations across the board may be frothy, but I think there are plenty of companies who can justify their valuations," said Jon Mackay, investment strategist at Schroders. The tech sector is large, and there are plenty of high-performing hardware companies as well as those known for their innovative products, said to the WSJ.
The next world October revolution? :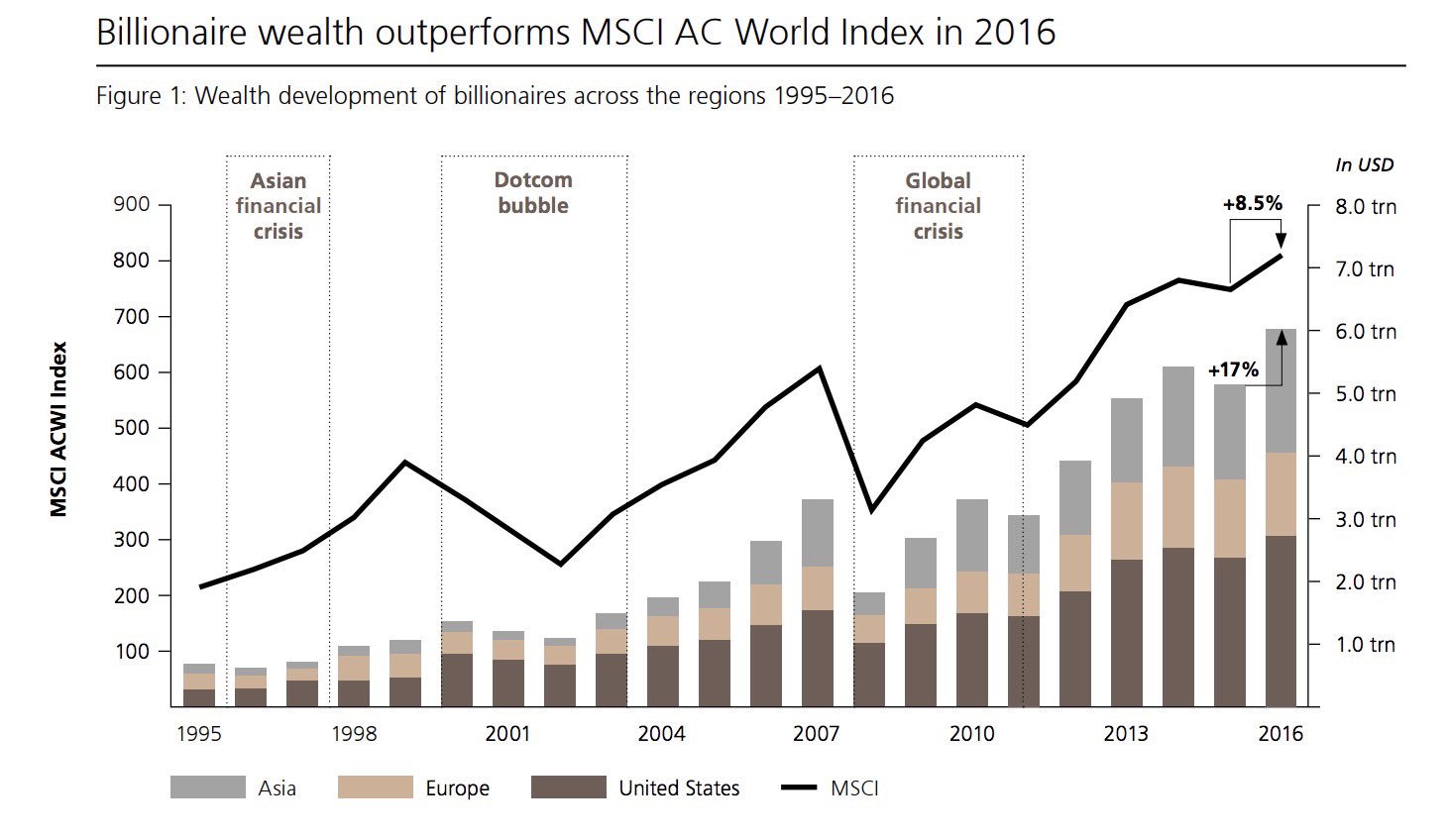 Billionaires increased their combined global wealth by almost a fifth last year to a record $6tn (£4.5tn) – more than twice the GDP of the UK. There are now 1,542 dollar billionaires across the world, after 145 multi-millionaires saw their wealth tick over into nine-zero fortunes last year, according to the UBS / PwC Billionaires report.
European markets close higher, but Spain slides
The main moves in markets:
Stocks
The S&P 500 Index climbed 0.52 percent at 10:49 a.m. New York time.
The Nasdaq 100 Stock Index added 2.2 percent.
The Stoxx Europe 600 Index climbed 0.52 percent.
The U.K.'s FTSE 100 Index increased 0.3 percent.
Germany's DAX Index climbed 0.64 percent to the highest on record.
Currencies
The Bloomberg Dollar Spot Index climbed 0.1 percent.
The euro dipped 0.4 percent to $1.1599, the weakest in 14 weeks.
The British pound declined 0.3 percent to $1.3115.
Bonds
The yield on 10-year Treasuries fell four basis points to 2.42 percent.
Germany's 10-year yield fell two basis points to 0.40 percent.
Britain's 10-year yield fell four basis points to 1.349 percent.
Commodities
West Texas Intermediate crude rose 1.6 percent to $53.50 a barrel, the highest in about six months; Brent crude rose 1.2 percent, the highest in about two years.
Gold gained less than 0.3 percent to $1,270.31 an ounce.
Copper dipped 2.4 percent to $6,820 a metric ton.
Asia
Japan's Topix index rose 1 percent at the end of the session in Tokyo. The Nikkei 225 Stock Average added 1.2 percent.
Australia's S&P/ASX 200 Index declined 0.2 percent to complete its first weekly slide in four.
South Korea's Kospi index climbed 0.7 percent.
Hong Kong's Hang Seng Index gained 0.7 percent, while the Shanghai Composite Index was little changed.