US Jobs Report : Hiring less than expected
U.S. Stocks, Dollar Fluctuate on Jobs
Spanish stocks drop on political tensions
Oil Prices Hit Two-Year High, Fueled by Global Growth
Bank of England Raises Interest first in a Decade
Venezuela seeks debt restructuring Talks
Technology shares led stocks higher Friday, boosted by a jump in Apple after the tech giant delivered its best quarterly growth in two years.
The tech-Nasdaq Composite gained 0.3% in recent trading, outpacing gains in the S&P 500 and Dow Jones Industrial Average, which were both up 0.1%. All three indexes are set to end the week higher.
The U.S. nonfarm payrolls report, a key indicator of the strength of the economy, showed a gain of 261,000 jobs in October, a pickup from the prior month, but below the 315,000 jobs expected. Wage growth was 2.4% from a year earlier and a lower figure from prior month.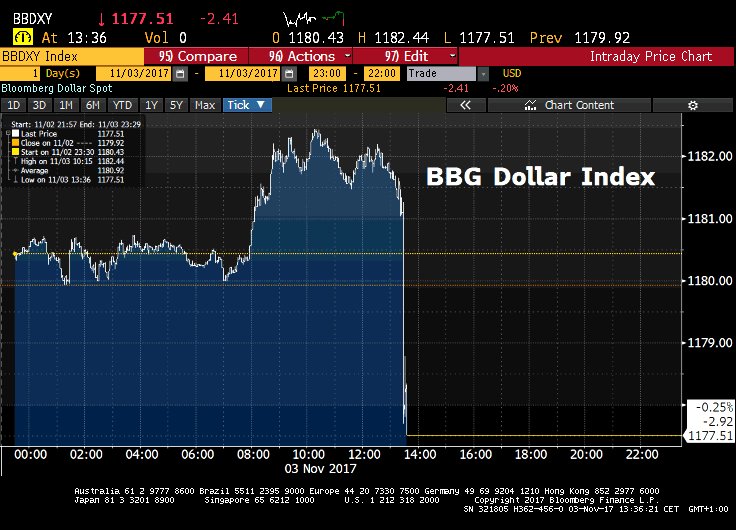 Investors are parsing details of the Republican proposed tax bill and the new Fed Chairman hiring Fed Gov Jerome Powell.
Some investors are seeing better outlook for holding equities, given the tax reform, over bonds.
In Europe Spanish outlook worsened, bank stocks leading the fall of the IBEX 35 of 1.3%, as Catalan question is again in the front line of sentiment, as a Spanish court on Thursday to issue an arrest warrant for Carles Puigdemont, the leader of Catalonia's secessionist movement who fled to Belgium to escape authorities in Spain, and the arrest of all the former Catalan government that declared formally but effectively independence.
The British pound edged up 0.3% to $1.3101 after its biggest daily decline since June. The Bank of England on Thursday raised interest rates for the first time in more than 10 years but signaled that further increases weren't imminent, causing the pound to slump 1.4% against the U.S. dollar.
President Nicolas Maduro said Venezuela will seek to restructure its global debt after the state oil company makes one more payment. While the risk of contagion is low, an index of emerging-market currencies declined for the first time this week.
Main moves in markets from Bloomberg:
Stocks
The S&P 500 rose 0.1 percent as of 9:31 a.m. in New York. The index is flat for the week.
The Nasdaq 100 Index jumped 0.4 percent, while small caps fell.
The Stoxx Europe 600 Index rose 0.1 percent.Germany's DAX Index jumped 0.3 percent to the highest on record.
Spain's IBEX Index fell 1.3 percent.
Currencies
The Bloomberg Dollar Spot Index gained 0.2 percent.
The euro dipped 0.1 percent to $1.1644.
The British pound rose 0.2 percent to $1.3088.
Bonds
The yield on 10-year Treasuries gained one basis point to 2.35 percent.
Germany's 10-year yield decreased less than one basis point to 0.37 percent.
Britain's 10-year yield increased one basis point to 1.335 percent.
Commodities
West Texas Intermediate crude rose 0.3 percent to $54.71 a barrel, the highest in almost seven months.
Gold dipped 0.1 percent to $1,274.49 an ounce.
Asia
Australia's S&P/ASX 200 Index rose 0.5 percent, and South Korea's Kospi index rose by the same amount.
Hong Kong's Hang Seng Index rose 0.3 percent. The Shanghai Composite Index fell 0.3 percent.
Apple suppliers in Taiwan advanced. Hon Hai Precision Industry Co., the main assembler of Apple devices, rose as much as 1.8 percent; Wistron Corp., another Apple assembler, gained 2.5 percent and Genius Electronic Optical Co. climbed 2.8 percent.
The Japanese yen climbed less than 0.05 percent to 114.07 per dollar.
Thursday's Key Earnings
Activision Blizzard (NASDAQ:ATVI) +1.6% AH raising guidance.
AIG (NYSE:AIG) -3.3% AH posting a big loss for Q3.
Alibaba (NYSE:BABA) -0.7% despite growth in core commerce.
Apple (AAPL) +3.1% AH projecting massive holiday sales.
Chesapeake Energy (NYSE:CHK) -7.6% on a weak production outlook.
DowDuPont (DWDP) -1.8% promising more job cuts.
Enterprise Products (NYSE:EPD) -1.9% weighed down by Harvey.
Herbalife (NYSE:HLF) -6% AH with slumping North American sales.
Starbucks (NASDAQ:SBUX) -3.1% AH selling Tazo to Unilever.
Teva (NYSE:TEVA) -19.9% slashing its forecast for 2017.
Stocks News
Apple shares rose over 3% AH, with the company's market cap topping $900B, after the tech giant reported better-than-expected earnings and offered a rosy forecast for the holiday shopping season. Quarterly shipments of the iPhone rose 2.6% from a year earlier to 46.7M units, and China sales rose for the first time since early 2016. Apple's (NASDAQ:AAPL) mound of cash also continued to scrape the cloudline, coming in at $268.9B for the quarter.
Meanwhile, long lines outside of Apple (AAPL) stores across the world are showing strong initial demand for the iPhone X, as the $999 device becomes available today in major markets like China, the U.S., the U.K., Australia, India and Japan. Analysts say the real test will be the company's ability to sustain that level of interest over the coming months as it works through supply bottlenecks.
President Trump's Twitter account was kicked offline for 11 minutes Thursday night after a rogue support staffer had some fun on his or her "last day of work." A larger security issue? It's not exactly clear what level of access various Twitter (NYSE:TWTR) employees have to user accounts, but should some have the ability to fire off tweets, it could pose a major problem in the internet age of no time delay or take-backs.
Even as Amazon takes a big jump into groceries with the $13.7B acquisition of Whole Foods, it's scaling down other parts of its grocery business. The company has emailed customers in at least five states, including New Jersey, Pennsylvania, Delaware, Maryland and California, to inform them that Amazon Fresh (NASDAQ:AMZN) will be closing for certain zip codes later this month.
Another day, another report… Sprint (NYSE:S) climbed 5% in AH trading on Thursday and T-Mobile (NASDAQ:TMUS) rose 3%, as sources told the WSJ that the two have restarted talks to salvage their $74B merger. As always, the companies could fail to agree on terms, but they're working on saving their deal, which would combine the third and fourth-biggest U.S. mobile carriers.
Singaporean prosecutors and police are examining Goldman Sachs's (GS) relationship with 1MDB, Bloomberg reports, and have interviewed Goldman executives that have worked on bond offerings for the state investment fund. Founded by Malaysian Prime Minister Najib Razak, 1MDB faces money laundering probes in at least six countries, including the U.S., Switzerland and Singapore.
The current plague outbreak in Madagascar is the country's worst in "in 50 years" and is expected to spike this weekend. The nation has recorded 1,801 cases of infection so far, which can be cured with antibiotics if it's caught early, but there have already been 127 recorded deaths. It's an unusual outbreak because approximately 67% of those cases are pneumonic, which is the most serious form of the plague.
It's not just about the price anymore. Failure of EpiPens to deploy correctly have been cited in seven deaths this year, according to reports made to the FDA and obtained by Bloomberg News. A total of 228 reports of EpiPen or EpiPen Jr. failures were received during the same time period. Shares of Mylan (NASDAQ:MYL), which slumped 4.1% on Thursday, fell another 1.2% in AH trading in response to the news.
Looking to break clean from the turmoil surrounding its British and French probes, Airbus (OTCPK:EADSY) has embarked on a new search for a sales chief to take over from soon-to-retire John Leahy, Reuters reports. His deputy, Kiran Rao, had been identified as Leahy's successor earlier this year, but CEO Tom Enders has now decided to look outside the core part of the company in a bid to denote a fresh start.
China's home-built C919 passenger jet completed its third test flight this morning, maintaining an altitude of around 10K feet as it circled above Shanghai. China's first national passenger jet aims to challenge the dominance of Boeing's (BA) 737 and Airbus's (OTCPK:EADSY) A320, bringing the Asian nation a step closer to its goal of becoming a global civil aerospace player