Global Markets Lower on U.S. Tax Bill Concerns
Stocks and Bonds Decline
Dollar lowest for a Month
Treasuries, Gilts slide with bunds
Stocks around the world extended declines after European equities suffered the biggest plunge in four months on Thursday amid concerns that "tax reform is encountering obstacles", while Treasuries fell and the dollar fluctuated.
Europe's benchmark Stoxx 600 reversed an early rebound, falling 0.2% on high volume;  It is on track for its worst week in three months, if it falls on Friday , its fourth drop in row.
Carmakers and retailers led the Stoxx 600 index to its biggest two-day drop since August as third-quarter earnings season continues. Aerospace-electronics maker Leonardo SpA crashing 20% after cutting sales forecasts.
Mining and financial services stocks bucked the downbeat trend to post gains, after companies including ArcelorMittal reported earnings that beat expectations.
In the bond market, yields on 10-year Treasurys rose for a third consecutive day to 2.367% from 2.333% Thursday, according to Tradeweb. German bund yields edged up to 0.392% from 0.379%. Yields move inversely to prices.
Asian stock indexes ended mostly lower. Japan's Nikkei Stock Average led regional declines with a 0.8% fall as teach-heavy markets extended Thursday's losses, after technology giant Qualcomm signed significant but preliminary deals with three Chinese companies to supply components.
Korea's Kospi was down 0.3%, Hong Kong's Hang Seng ended up 0.1%, and Australia's S&P/ASX 200 was down 0.3%, after the benchmark reached its best levels since 2008 this week.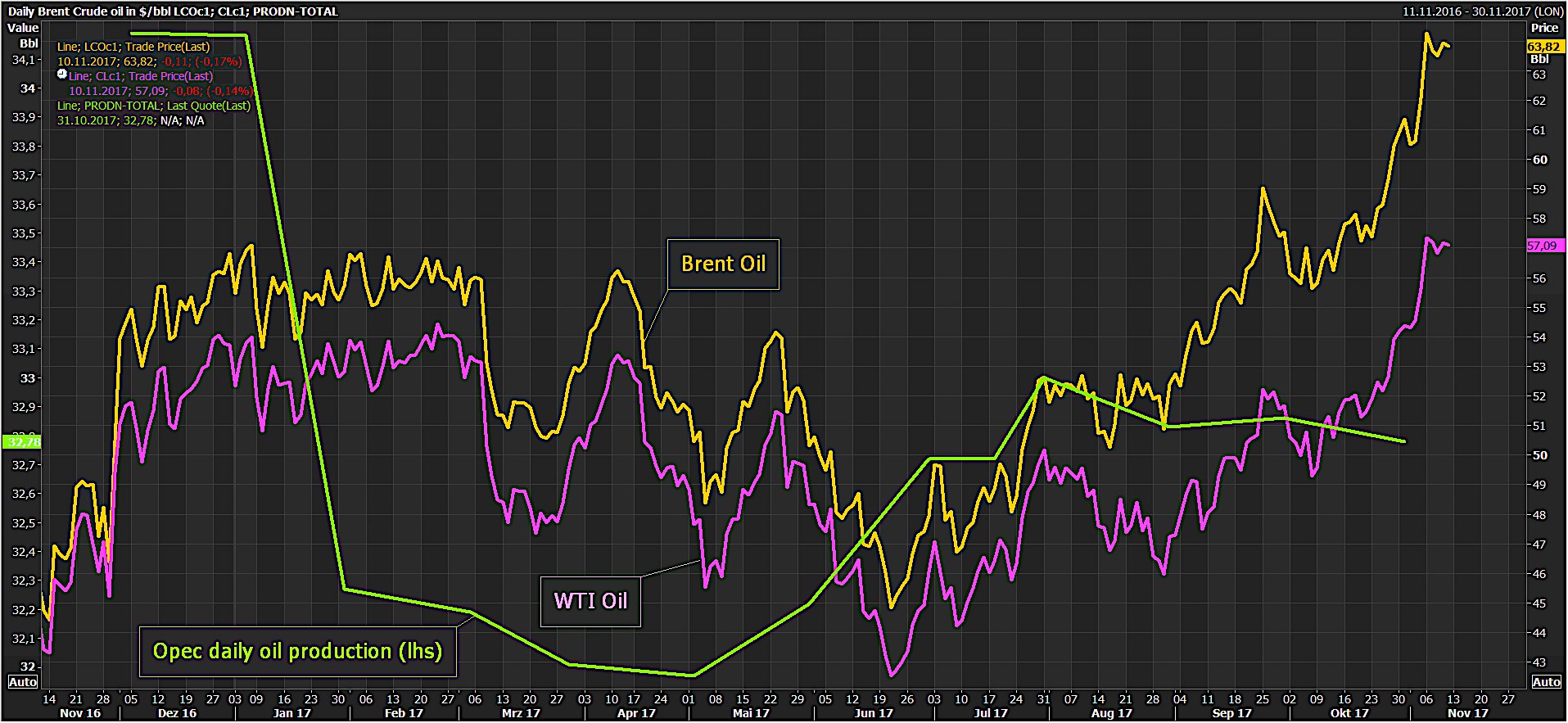 High yield ( junk) bonds : ongoing rout
Global equities hit historic highs during the week as investors were encouraged by solid earnings and synchronized global economic growth, only to sell off sharply on Thursday as the U.S. Senate revealed that its tax plan would delay cuts to the corporate rate until 2019.
Main moves in markets from Bloomberg
Stocks
The Stoxx Europe 600 Index declined 0.1 percent as of 8:27 a.m. New York time, the lowest in almost two weeks.
The U.K.'s FTSE 100 Index declined 0.5 percent to the lowest in five weeks.
Germany's DAX Index dipped 0.1 percent to the lowest in more than a week.
The MSCI Emerging Market Index declined 0.5 percent, the biggest drop in more than a week.
Futures on the S&P 500 Index fell 0.3 percent.
Currencies
The Bloomberg Dollar Spot Index increased less than 0.05 percent.
The euro gained less than 0.05 percent to $1.1647.
The British pound climbed 0.3 percent to $1.319.
The Japanese yen advanced less than 0.05 percent to 113.42 per dollar.
South Africa's rand sank 0.9 percent to 14.3789 per dollar, the weakest in almost a year.
Bonds
The yield on 10-year Treasuries increased three basis points to 2.37 percent, the largest climb in two weeks.
Germany's 10-year yield increased two basis points to 0.33 percent, the highest in more than a week.
Britain's 10-year yield increased five basis points to 1.231 percent, the largest increase in more than two weeks.
Commodities
West Texas Intermediate crude increased less than 0.05 percent to $57.18 a barrel.
Gold declined 0.1 percent to $1,283.90 an ounce.
Copper fell 0.1 percent to $3.08 a pound, the lowest in four weeks.
Thursday's Key Earnings
Disney (DIS) +1% AH detailing streaming plans.
Equifax (NYSE:EFX) following its security breach.
Hertz (NYSE:HTZ) +9.5% AH on better U.S. pricing.
Kohl's (NYSE:KSS) +0.9% after a soft quarter.
Macy's (NYSE:M) +11% meeting guidance for 2017.
Nordstrom (NYSE:JWN) -1.6% AH amid weaker same-store sales.
Nvidia (NASDAQ:NVDA) +3.2% AH on data center gains.
TransCanada (NYSE:TRP) +0.1% with support for Keystone XL.
Stocks News
Shares of Walt Disney were volatile in after-hours trading, but ended the session up 1%. The company wrapped up its fiscal year with a miss on top and bottom lines for Q4, while expecting ESPN to lay off 100 more employees. A bright spot? Disney (NYSE:DIS) fleshed out details for its upcoming streaming plans, which will be priced below Netflix (NASDAQ:NFLX), and promised a new Star Wars film trilogy.
Millions of Chinese consumers will be glued to their smartphones tomorrow for an annual shopping extravaganza known as Singles Day. Alibaba's (NYSE:BABA) event, which brought in $17.8B in 2016, surpasses what retailers earn from both Black Friday and Cyber Monday in the U.S. Citigroup even estimates sales this year could top $24B. BABA +0.4% premarket.
Public companies will soon face new guidelines for how they report cybersecurity breaches to investors as the SEC updates the directions it gave corporations over six years ago. Among the issues the commission should tackle are fully defining the level of cyber intrusion that demands a public disclosure, said William Hinman, the SEC's recently installed director of corporation finance.
Carlyle Group is exploring a sale or IPO of Ortho-Clinical Diagnostics that could be valued at more than $7B, including debt, Reuters reports. A divestment of the U.S. diagnostics company, which Carlyle (NASDAQ:CG) acquired from Johnson & Johnson (NYSE:JNJ) in 2014 for $4B, would show how buyout firms can turn unloved businesses of major firms into lucrative investments within a few years.
Desperate for cash to avoid a possible delisting, Toshiba (OTCPK:TOSYY) is considering the sale of new shares worth as much ¥600B ($5.3B). Speculation that existing shareholders would be diluted by the capital raise sent shares down by as much as 8% in Tokyo overnight. This also follows the recent sale of its prized chip unit, Toshiba Memory, to a group led by Bain Capital for $18B.
Nintendo plans to up the pace of production for its Switch game console next year, WSJ reports, showing the company's deepening confidence in the device. The plan, which would see production of 25M-30M units in its next fiscal year, is still in the early stages, but Nintendo (OTCPK:NTDOY) could aim higher depending on this year's holiday season.
"It should never have been possible" for a single staffer to temporarily deactivate President Trump's Twitter (NYSE:TWTR) account, Jack Dorsey told the NYT's DealBook conference. "There are a number of things that came out of this for us… We started looking into what we can improve and where we have weaknesses, where we have gaps. Second, particular policies around what agents have control over and what they don't."
Uber has lost an appeal to overturn a decision by a tribunal which said its drivers deserved workers' rights such as the minimum wage, in a blow to the taxi app as it battles to keep its license in London. The case was rejected at the Employment Appeal Tribunal in central London. UBER has also been forced to quit several countries, such as Denmark and Hungary.
Robots have replaced many U.S. manufacturing workers, but new mechanical exoskeletons being tested by Ford (NYSE:F) may help factory workers function like bionic people. Two of the automaker's U.S. factories are trying out upper-body devices developed by Ekso Bionics (NASDAQ:EKSO), which are designed to increase productivity and reduce the physical damage of repetitive tasks over many years. EKSO +2.9% premarket.
Self-driving boost? General Motors (NYSE:GM) has scheduled an investor event for Nov. 30, which will outline "our vision for an autonomous future." An innovation that seemed a few years away from commercialization is advancing rapidly. In the next few months, Google's (GOOG, GOOGL) Waymo will launch a robo-taxi service in the Phoenix area that will have no human driver in the front seat.