German Q3 GDP Growth above Expectations
European Stock Markets not Impressed
China Industrial Output Rises Less than Estimated
U.S. Inflation data on radar this Week
Inflation rate in the United Kingdom at 5 year high
Chinese industrial and retail figures subdued Asia, with investors also pondering whether to worry about the US yield curve flattening and a global slow down .
The Stoxx Europe 600 Index retreated as the euro advanced against all its G-10 peers after German GDP came in well above estimates in the third quarter.
Mining companies led the drop, with many commodity prices also falling in the wake of data showing China's economy moderating.
European stocks tried and failed to shrug off the negative sentiment that spurred broad-based declines in Asia, eventually reversing gains as the region's single currency strengthened on German growth data.
There was no sign of that in German where an 0.8 percent third-quarter growth reading beat forecasts and showed the economy growing at annualized rates of more than 3 percent.
UK:  Rising food prices kept Britain's inflation rate at 3% last month.
The Office for National Statistics reports that food prices jumped across "all main classes of product" including dairy products, which have seen recent wholesale shortages
With wages rising at little more than 2%, and inflation at 3%, Christmas will be a squeeze for many families, says The Guardian
Sterling dropped after slightly softer than forecast inflation and a hit three week low. It was at $1.3091, also pressured concerns British Prime Minister Theresa May may be losing her grip on power.
May's blueprint for Britain's departure from the European Union faces a test starting on Tuesday, when lawmakers try to win concessions on legislation to sever ties from the EU.
In commodity markets, gold inched down to $1,272.50 an ounce. The metal has stayed broadly within $15 an ounce of its 100-day moving average, currently at $1,277 an ounce, for most of the last month.
Oil prices held in a tight range as support from Middle East tensions and record long bets by fund managers balanced rising U.S. production.
U.S. crude was off 19 cents at $56.57, while Brent crude futures eased 23 cents to $62.92 a barrel.
Richest 1% own half the world's wealth, study finds:
Credit Suisse report highlights increasing gap between the super-rich and the remainder of the globe's population
Venezuela debt problems:
Venezuela's grand gathering with creditors Monday lasted all of 30 minutes and didn't produce anything of substance. To make matters worse, S&P Global Ratings declared the country in default while Fitch Ratings cited missed payments by the state oil company.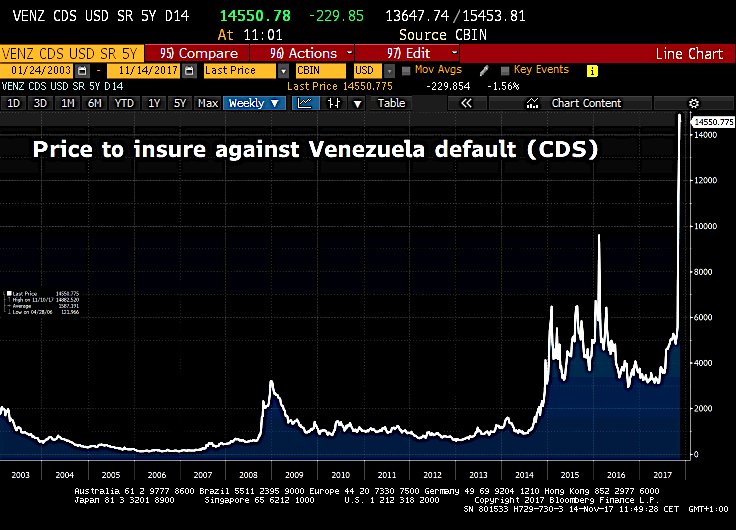 President Nicolas Maduro had summoned holders of some $60 billion of bonds issued by the government and state oil company Petroleos de Venezuela SA to begin a renegotiation as the nation's cash crunch worsens, sanctions make it difficult to transfer money and delayed payments pile up. Central bank reserves have fallen to a 15-year low and oil output has sunk to the lowest since 1989. Over the weekend, the grace period on $280 million in bond payments expired, and late Monday first Fitch Ratings declared PDVSA in default followed by S&P's announcement on the government.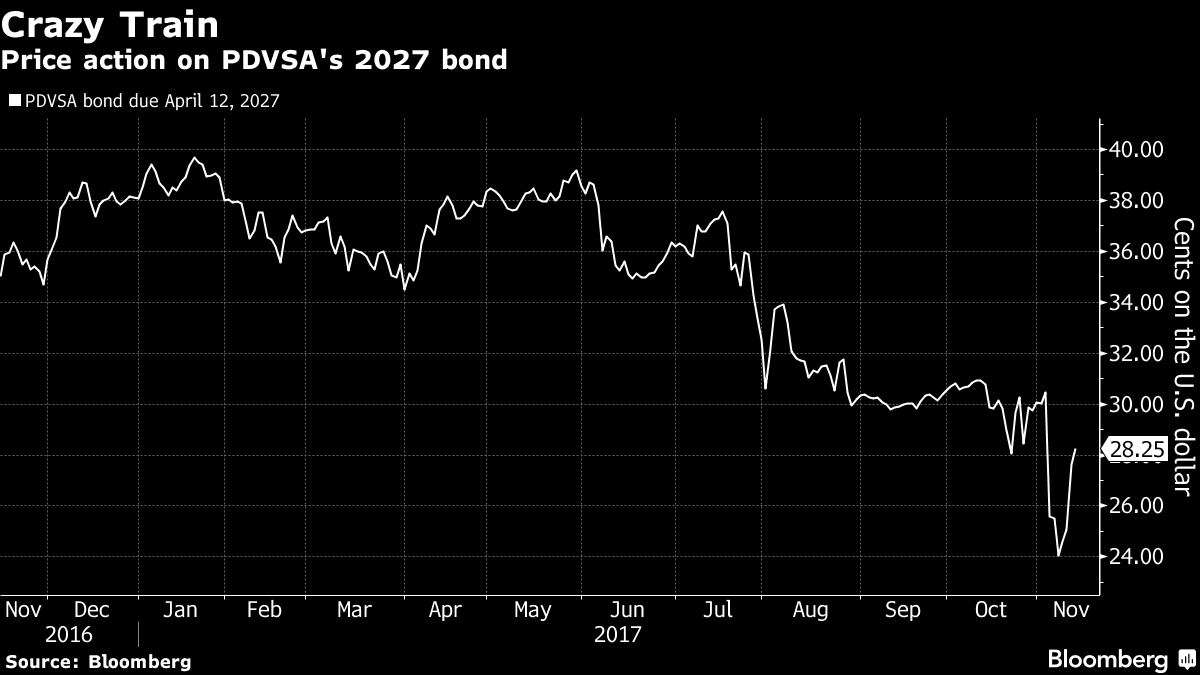 The nation, home to the world's largest oil reserves, owed investors about $200 million and failed to make those payments by the end of a 30-day grace period.
Investors in Venezuela's $5 billion of bonds maturing in 2019 and 2024 can organize to demand  to get paid immediately.
The things is It's possible investors won't take those actions, and instead put their hopes on getting a delayed payment. Otherwise, they risk setting off what could be the start of one of the messiest debt restructurings ever. S&P said there was a 50 percent chance Venezuela will default again within the next three months.
Stocks News
Vodafone +4.9% premarket after doubling its full-year growth forecasts, boosted by a strong rollout of IoT services and taking the knife to costs. The company now expects adjusted EBITDA to expand by around 10%, to between €14.74B-€14.95B. "It's the first time we have raised Vodafone's (NASDAQ:VOD) organic EBITDA guidance in recent history," said CEO Vittorio Colao.
Beijing Sinnet Technology is buying physical infrastructure assets of Amazon's (NASDAQ:AMZN) cloud business in China for up to 2B yuan ($301M), but the latter will still own intellectual property and isn't exiting the world's second-largest economy. A regulatory filing said the purchase, which is still pending, would help Amazon "comply with Chinese law that forbids non-Chinese companies from owning or operating certain technology for the provision of cloud services."
Separately, Amazon has told regulators it will not be using the pharmacy licenses it obtained from Tennessee and Indiana to sell prescriptions, but will instead use them to sell medical devices and supplies. That said, most industry experts aren't ruling out the possibility of Amazon (AMZN) entering the prescription drug market. However, they maintain that it's a matter of if, not when.
The FDA has approved the first digital pill – made by Otsuka Pharmaceutical (OTCPK:OTSKY) and Proteus Digital Health (Private:PRDI) – that is embedded with a sensor and can tell doctors whether, and when, patients take their medicine. While a patient can block transmissions via a smartphone app, the technology is still likely to prompt questions about privacy.
General Electric set forth a new agenda on Monday as it tried to claw its way back to stronger growth amid a reduced dividend and an aggressive corporate restructuring. The 125-year-old industrial conglomerate will also be cutting the number of seats on its board and will slice 25% of staff from its home office. GE shares sunk almost 8%, marking their worst day since April 2009.
Calling all bitcoin bears: You will be able to bet against the cryptocurrency in about a month. "When can you be able to short this product, I think sometime in the second week in December you'll see our contract out for listing," said CME Chairman and CEO Terry Duffy. "So you create a two-sided market, I think it's always much more efficient."
A bipartisan group of U.S. senators has reached a tentative deal to cut the number of banks labeled systemically risky, in a major step forward for efforts to roll back Dodd-Frank. It would raise the threshold at which banks are subject to boosted regulation to $250B in assets from the current $50B, meaning the number of institutions subject to the Fed's annual stress test would be just 12, instead of 38.
Roku shares soared nearly 43% yesterday after signing a licensing deal that would put its technology on Philips-branded televisions in the U.S. The surge has also made CEO Anthony Wood into a brand-new billionaire. The stock has spiked more than 70% since last Thursday, when investors jumped on the company's first earnings report since ROKU's IPO in September.
Confirming earlier rumors, Lord & Taylor (OTCPK:HBAYF) will launch a "flagship store" on Walmart.com (NYSE:WMT) in spring 2018. Sign of the times? Walmart is making heavy investments in its online operation in order to stay competitive with Amazon (AMZN), while department stores are trying to shore up online sales amid flagging foot traffic.
Buffalo Wild Wings climbed 22% in after hours trading after WSJ reported a takeover bid valued at more than $2.3B from Roark Capital. Investment bankers at Barclays are working with Roark, while Goldman Sachs is advising Buffalo Wild Wings (NASDAQ:BWLD). The company was founded in 1982 and went public in 2003.
Latest from the Dubai Airshow: Boeing (NYSE:BA) has signed off on a $1.3B deal to sell four cargo freighters to Ethiopian Airlines. Meanwhile, Bombardier (OTCQX:BDRAF) is in advanced talks with EgyptAir over a potential $1.1B order for CSeries jets after Airbus (OTCPK:EADSY) took a majority stake in the program. Defense news… The UAE is buying laser-guided missiles from Raytheon (NYSE:RTN) in a deal worth $684M.