Stocks Rebound in Short Week for U.S. Exchanges
Euro recovers  after Merkel fails to form German coalition
EU Barnier says Berxit means Banks to Lose EU Passporting
Merkel: "New elections the better way"
German Chancellor Angela Merkel says she would be prepared to lead her conservative party into fresh elections.
German Chancellor weakened  position will bring back the topic of uncertainty in the financial markets, and reducing the chances for any breakthrough in the EU reform agenda or the Brexit negotiations.
The Xetra Dax is higher and the euro is off lows though.
Bunds are bid relative to Treasuries this morning following the Merkel headlines, pushing the US-German yield spread to the critical 200bps level…
#Germany is strong enough to shrug off the country's dive into political uncertainty for now as econ is running fine in Autopilot mode.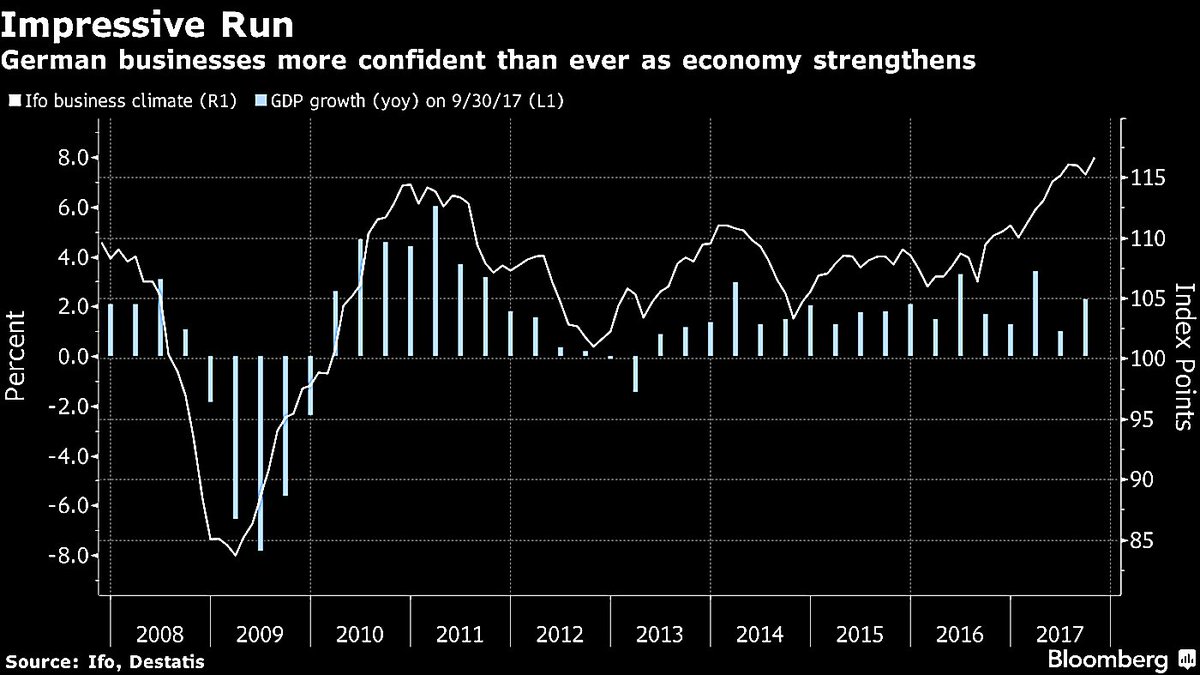 The dollar gained and U.S. stocks rose after two down weeks as Congress took a holiday break from tax talks.
The Standard & Poor's 500 Index climbed at the start of a truncated Thanksgiving week as investors gauge whether there are sufficient drivers to continue the march to historic highs.
Strong earnings and solid global growth are balanced against lofty valuations in some markets, as well as the negative signal from the U.S. yield curve.
The U.K. will submit proposals on how to settle its Brexit divorce bill before an EU summit next month and is expected to negotiate hard, Chancellor of the Exchequer Philip Hammond declared Sunday. He was speaking three days before he sets out Britain's budget plan, where he will have to find room within tight fiscal constraints at the same time as negotiating the country's exit from the EU.
The main moves in markets from Bloomberg
Stocks
The S&P 500 Index increased 0.1 percent at 10:49 a.m. New York time.
The Stoxx Europe 600 Index jumped 0.7 percent to 386.35.
The U.K.'s FTSE 100 Index increased 0.1 percent.
Germany's DAX Index jumped 0.6 percent.
Currencies
The Bloomberg Dollar Spot Index climbed 0.3 percent, the first gain in a week.
The euro dipped 0.3 percent to $1.1749.
The British pound climbed 0.3 percent to $1.3252, the strongest in almost three weeks.
The Japanese yen declined 0.2 percent to 112.35 per dollar.
Bonds
The yield on 10-year Treasuries rose one basis point to 2.36 percent.
Germany's 10-year yield dipped a basis point to 0.36 percent, the lowest in more than a week.
Britain's 10-year yield fell one basis point to 1.288 percent.
Commodities
West Texas Intermediate crude fell 1.5 percent to $55.68 a barrel.
Gold dipped 0.5 percent to $1,285.64 an ounce.
Copper gained 0.7 percent to $6,826 a ton.
Stocks News
Shares in Toshiba tumbled almost 6% overnight after the embattled company's board approved a ¥600B ($5.3B) share offering. The step would avoid a delisting from the Tokyo Stock Exchange if the planned sale of its chip unit is delayed. Toshiba's (OTCPK:TOSYY) finances are in a precarious state owing to a multi-billion dollar writedown on its now bankrupt U.S. nuclear unit, Westinghouse.
Qualcomm is set to win "imminent" Japanese antitrust clearance for its $38B bid for NXP Semiconductors (NASDAQ:NXPI) and gain Europe's approval by the end of the year with slight tweaks to its concessions, Reuters reports. Winning the green light would take Qualcomm (NASDAQ:QCOM) a major step forward to closing the deal and reinforce its fight against an unsolicited $103B takeover bid from Broadcom (NASDAQ:AVGO).
With activity in the semiconductor sector picking up, Marvell Technology (NASDAQ:MRVL) is near a deal to buy chipmaker Cavium (NASDAQ:CAVM) for about $6B in cash and stock, WSJ reports. The agreement, which will allow Marvell to diversify away from its traditional storage devices business following an agreement with Starboard Value last year, is likely to be announced today.
Part of a wider push into offline retail, Alibaba (NYSE:BABA) will invest $2.9B for a major stake in China's top hypermart operator, Sun Art Retail Group (OTCPK:SURRY). "Physical stores serve an indispensable role during the consumer journey, and should be enhanced through data-driven technology and personalized services in the digital economy," Alibaba CEO Daniel Zhang said in the statement.
Justice League opened to an estimated $96M in the U.S. and Canada this weekend, well below Time Warner's (NYSE:TWX) hopes and less than any DC superhero movie since the 2011 flop Green Lantern. Due to a combination of big ambitions and obstacles in production, the studio is reported to have spent nearly $300M to make the movie, which doesn't include marketing expenses.
Verizon is close to a new deal with the NFL for digital streaming rights that would give it the ability to deliver game broadcasts to internet-connected TVs and tablets, Bloomberg reports. The deal expands on a previous contract, which limited the carrier to streaming on screens 7 inches or smaller, meaning Verizon (NYSE:VZ) now will be able to give subscribers access to games on all devices.
Chicago plans to sue U.S. Steel (NYSE:X) for alleged violations of federal law after the company released more than the permitted daily amount of chromium into Lake Michigan in October and April. The move will follow an earlier notice of intent to sue U.S. Steel sent on Nov. 13 by the Surfrider Foundation, represented by the Abrams Environmental Law Clinic at the University of Chicago.
A housecleaning at General Electric's board will remove many long-term associates of former CEO Jeff Immelt and create a group that is more aligned with John Flannery's strategy to streamline the industrial giant. According to WSJ, the unusual shakeout will claim half of GE's 18 directors and add three new ones to form a 12-member board.
Honda is recalling 900,000 Odyssey minivans after receiving 46 injury reports related to a problem that causes second-row seats to tip forward. The recall, announced Saturday, includes vehicle models from 2011 to 2017. Of the affected Honda (NYSE:HMC) minivans, 800,000 were sold in the United States.
Avolon has firmed up an order for 75 Boeing (NYSE:BA) airplanes and may order 20 more. The confirmed part of the agreement would be worth $8.7B at list values, though analysts say buyers typically get discounts of at least 50% for significant orders. Including the possible extra purchase of 20 jets, Avolon's (NYSE:AVOL) total deal would be worth $11B.
In an analysis to be released today, the White House will say the true cost of the opioid drug epidemic in 2015 was $504B, more than six times larger than the most recent estimate. Most of that was attributed to healthcare and criminal justice spending, along with lost productivity. President Trump last month declared opioid abuse a national public health emergency.
The Senate Finance Committee has decided that a provision that would change tax rules on certain securities sales shouldn't apply to mutual fund companies, but would still apply to individual investors, WSJ reports. The clause would've prevented fund firms from minimizing taxes when they sell part of a position, insisting that they sell their oldest shares first.
The European Commission is poised to discuss financial settlements – likely to cost billions of euros combined – with UBS, RBS, HSBC, JPMorgan (NYSE:JPM), Citigroup (NYSE:C), Barclays (NYSE:BCS) and two other banks for allegedly rigging the forex market, FT reports. The four-year EU probe follows investigations by American, British and Swiss officials, which have fined global banks more than $10B for such offenses.
Last weekend's plunge to about $5,500K is very much old news, with bitcoin rising yesterday to more than $8,100 before pulling back a hair. At the time of writing, the cryptocurrency changed hands at $8,062. LedgerX has also announced the first-ever trade of bitcoin calls struck more than one year out, with a call struck at $10K and expiring on Dec. 28, 2018, trading at $2,250.25.