Stocks in United States Hit All-time High
Chinese Stock Rout Resumes
Dollar in broad: US Tax Cuts details expected
CyberMonday for Retailers
The three major Wall Street indexes were higher in early trading as gains in Amazon and other retailers on Cyber Monday outweighed losses in semiconductor makers and energy stocks. But that is changing rapidly as whipsaw behavior settles in, and markets are reversing earlier tendencies.
The traditionally illiquid post-Thanksgiving week has started with a series of whipsaws across stocks and bonds, as European stocks turned positive after starting the day on the back foot and as now  the Stoxx Europe 600 have erased earlier gains .
Investors are gearing up for a busy week, with U.S. President Donald Trump scheduled to address Senate Republicans Tuesday ahead of a potential vote on a tax overhaul.
In Asia, stocks took a turn for the worse and failed to sustain the early momentum from last week's Black Friday optimism in US, where the S&P 500 and Nasdaq posted fresh record levels.
Shanghai shares fell 0.9% to a three-month low, having already been on a shaky footing due to a rout in the domestic bond market.
The big mover was the euro, which hit a fresh two-month high of 1.955 before paring gains and trading flat on the day, with a Merkel ally saying on Monday that the "grand coalition" talks may not begin until next year, potentially prolonging the uncertainty in Europe's largest economy.
U.S. purchases of new homes unexpectedly advanced in broad fashion last month, reaching the strongest pace in a decade and offering an encouraging signal for residential construction, according to government data released Monday.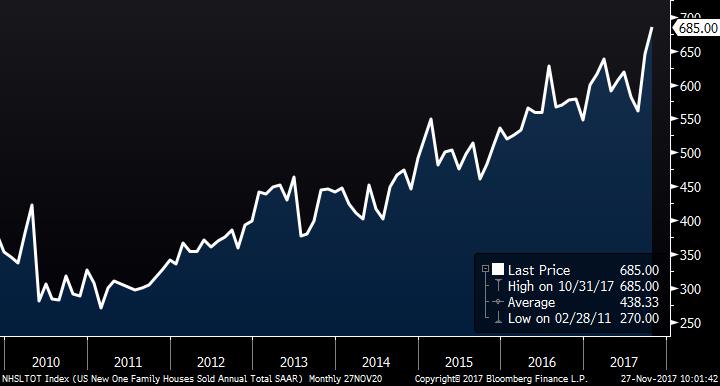 Venezuela: Some investors in Venezuelan debt are becoming more convinced that socialist leader Nicolas Maduro will stick around Miraflores Palace a good while longer as the U.S. sanctions that pushed him toward default do little to damage his political standing at home.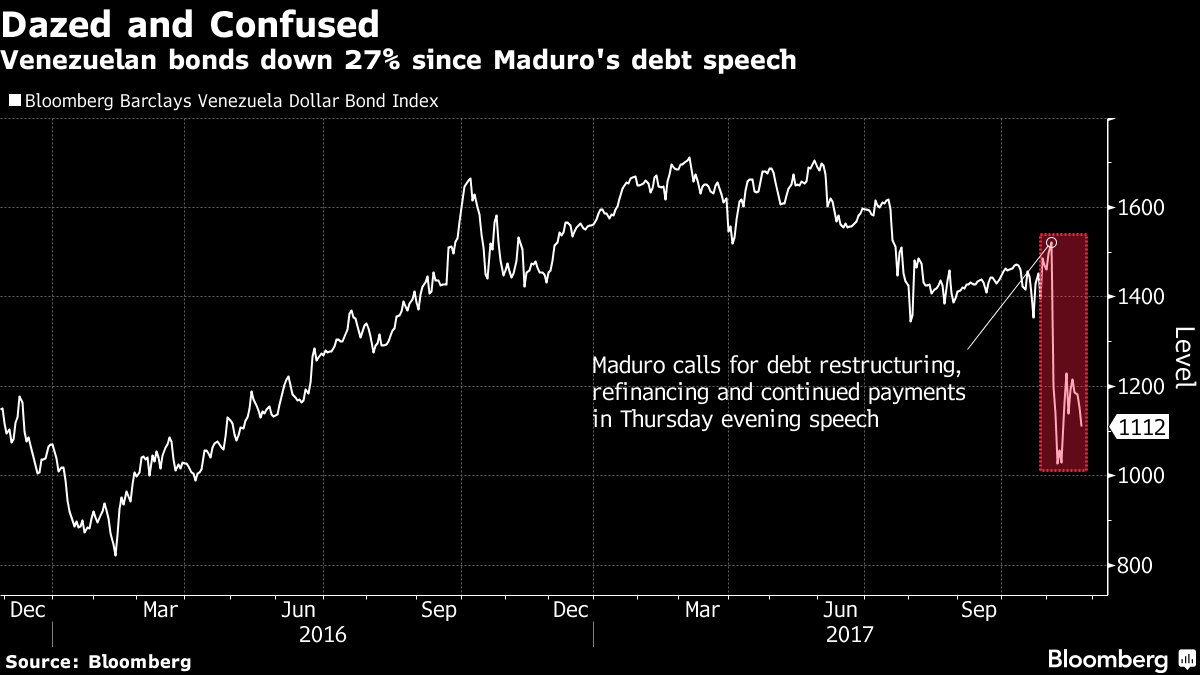 With overdue bond payments totaling $1.5 billion, the Venezuelan government has blamed intermediary banks for "financial sabotage." So far, creditors have been patient and refrained from accelerating payments on overdue debt. While its securities have posted the world's biggest losses this year, Venezuela has enriched fund managers over the past several decades under two successive socialist governments that seemed willing to honor their debt at all costs.
 Main moves in markets:
Stocks
The S&P 500 Index rose 0.1 percent as of 11:02 a.m. New York time.
The Stoxx Europe 600 Index decreased 0.1 percent.
The U.K.'s FTSE 100 Index fell 0.1 percent.
Germany's DAX Index declined 0.1 percent.
The MSCI Emerging Market Index dipped 0.8 percent.
Currencies
The Bloomberg Dollar Spot Index declined 0.1 percent to the lowest in almost two months.
The euro decreased 0.1 percent to $1.192.
The British pound advanced less than 0.05 percent to $1.3337.
The Japanese yen climbed 0.4 percent to 111.05 per dollar, the strongest in 10 weeks.
Bonds
The yield on 10-year Treasuries declined less than one basis point to 2.34 percent.
Germany's 10-year yield fell two basis points to 0.35 percent, the lowest in almost three weeks.
Britain's 10-year yield gained one basis point to 1.262 percent.
Commodities
West Texas Intermediate crude fell 2 percent to $57.76 a barrel.
Gold increased 0.5 percent to $1,295.36 an ounce, the highest in six weeks.
Copper declined 0.8 percent to $6,945 a ton.
Asia
Japan's Nikkei 225 Stock Average sank 0.2 percent.
The MSCI Asia Pacific Index sank 0.3 percent.
Japan's 10-year yield climbed one basis point to 0.043 percent, the highest in more than a week.
Extending last week's selloff, China's stock markets fell sharply overnight amid fresh moves to reduce financial risks across the economy. Shanghai -0.9%; Shenzen -1.6%; ChiNext -1.2%. Still, China's industrial firms weathered the broad regulatory crackdown, with profits increasing 25.1% Y/Y in October, compared to the 27.7% pace a month earlier.
Following massive plumes of smoke over the weekend, Indonesian authorities have raised the alert for Mount Agung to the highest possible level, meaning the "potential for a larger eruption is imminent." Official estimates suggest that the uncertainty has cost Bali and its banking industry a staggering 2T rupiah ($150M) since the alert was first raised on Sept. 22.
South Africa will use its annual budget next year to outline "decisive" policy and strengthen its fiscal framework after S&P cut the country's credit rating to junk status, while Moody's placed it on review for downgrade. It comes after Finance Minister Malusi Gigaba shocked markets on Oct. 25 by flagging sharply weaker growth expectations, a wider budget deficit and rising government debt.
Egypt was hit by its deadliest ever terrorist attack this past weekend after gunmen – linked to Islamic State – opened fire and set off explosives at a mosque in the Sinai Peninsula, killing more than 300 people. While the violence is unlikely to threaten the stability of the El-Sisi government, it has devastated the tourist sector, a crucial source of hard currency for the economy.
Stocks News
U.S. retailers raked in a record $7.9B in online sales on Black Friday and Thanksgiving, up 17.9% from a year ago, according to Adobe Analytics. Cyber Monday is expected to drive $6.6B in internet sales, which would make it the largest U.S. online shopping day in history. Another big winner? With Amazon (NASDAQ:AMZN) shares hitting a record high on Black Friday, Jeff Bezos's net worth surpassed $100B.
Meanwhile, Wal-Mart is now within striking distance of matching Amazon (AMZN) for the first time as it seeks to regain the title of "low price leader." Prices at Walmart.com (NYSE:WMT) are now only 0.3% more expensive than Amazon.com on average, according to a study by Market Track, which analyzed prices of 213 products in 11 categories over a period of 700 days ending Nov. 7.
Meredith has struck a deal to buy magazine publisher Time (NYSE:TIME) for $1.85B in cash as media companies try to find their footing in an increasingly digital world. "The vision is the absolute premiere media company in the country with premium branded content on every platform," declared Meredith (NYSE:MDP) CEO Stephen Lacy. TIME +10.6%premarket.
Karim Baratov, a 22-year-old dual Canadian-Kazakh national, is expected to plead guilty tomorrow to criminal charges stemming from the massive 2014 security breach of Yahoo (NYSE:VZ) and conspiring with Russian operatives. While terms of the plea deal are not yet known, either side could decide to scrap any proposed agreement, which will take place in federal court in San Francisco.
Announcing an extension to their 10-year partnership, Nvidia (NASDAQ:NVDA) will bring its artificial intelligence chips to GE Healthcare's (NYSE:GE) 500K imaging devices worldwide and accelerate the speed at which healthcare data can be processed. The companies also said the new Nvidia-powered Revolution Frontier CT system is 2x faster in imaging processing than its predecessor. GE +0.6% premarket.
Swiss private banking has been rocked by the defection of Julius Baer (OTCPK:JBAXY) CEO Boris Collardi to rival Pictet as the war between the country's largest asset managers heats up. Julius shares dropped as much as 5% in Zurich on the news. Current Chief Risk Officer Bernhard Hodler has been appointed as new CEO, but said he did not expect major changes in the bank's strategy.
Outside blood? Airbus (OTCPK:EADSY) is poised to hire the head of Rolls-Royce's (OTCPK:RYCEY) civil engines unit, Eric Schulz, to lead its commercial jetliner sales and succeed sales kingpin John Leahy, Reuters reports. Leahy has been in the post since 1994 and is a dominant aerospace figure, making his succession one of most closely watched moves in the industry.
TransCanada has recovered 44,400 gallons, or 1,057 barrels, of oil from the Keystone spill in South Dakota, but has not yet set an expected restart date for the pipeline. About 170 round-the-clock personnel are engaged in clean-up activities. Additional excavation by TransCanada (NYSE:TRP) will be conducted this week for soil remediation purposes.
Looking to boost profits amid volatile energy prices, Exxon Mobil (NYSE:XOM) CEO Darren Woods is reorganizing the company's refining and chemical operations, sources told Reuters. The restructuring will combine the fuels and lubricants group with the supply and refining divisions, but it was not immediately clear if the changes will involve job cuts or executive departures.
Memory chip peak? Samsung Electronics (OTC:SSNLF) shares fell more than 5%overnight in South Korea, helping drag the KOSPI down 1.4%, after Morgan Stanley cut the tech giant to Equal Weight from Overweight and trimmed its price target by 3.4%. "We see downside risk as NAND prices have started to reverse in 4Q17. Meanwhile, visibility on DRAM supply-demand dynamics has reduced beyond 1Q18."
A potential industry milestone… Samsung Electronics has also successfully developed a graphene-based battery that would take just 12 minutes to be fully charged, compared to current lithium-ion batteries, which take about an hour. Graphene has been dubbed a "miracle material" in the global electronics industry given its strength, electrical conductivity and elasticity.