Stock Futures Raise as Tech Stocks Recover
European Stocks Higher
Dow Hits new Record 24 000
The world's broadest equity gauge – the MSCI all-country index – was on course to finish November with its 13th straight monthly gain – the longest such winning streak in the index's 30-year history.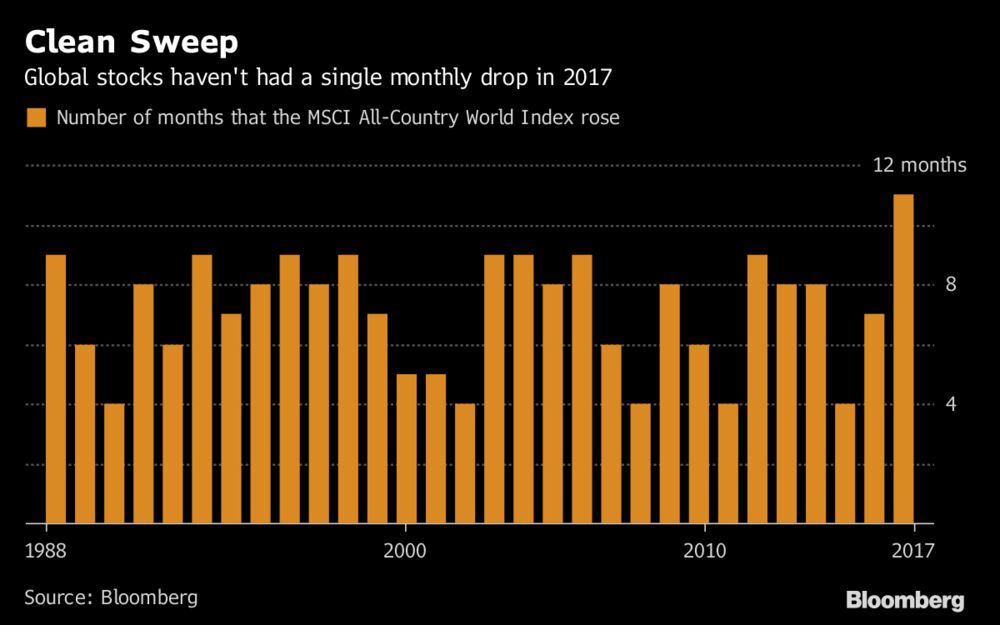 Despite the technology rout seen yesterday, the mood seemed to be improving again in Europe.
Germany's Dax and France's CAC 40  both inched up for a third day, though London's FTSE  was back in the red as  a likely breakthrough  in Brexit negotiations pushed the pound higher again.
Despite a Wednesday dive in high-flying U.S. tech stocks on worries their boom may have peaked following a MS downgrade – Possibly weighing on tech were concerns, sparked by a Morgan Stanley report earlier this week, that the "super-cycle" in memory chip demand looks likely to peak soon –  on Thursday morning the dip buyers have come up strong and both European stocks and US equity futures are once again solidly in the green and yesterday's tech selloff is quickly forgotten.
Dow futures were above 24,000 and  Europe in the green across the board due to some sort of progress on the tax reform plan, led some investors to shift to positions that may benefit from the  U.S. ever-changing tax reform.
At a glance:
Crude deal
Oil ministers from OPEC member states and Russia have agreed to extend the current output cuts until the end of 2018, according to delegates in Vienna attending today's meeting. Speaking at the opening of the conference, Saudi Arabia Energy Minister Khalid al-Falih emphasized the continuing need to see global inventories fall. Crude reversed some of yesterday's fall, with a barrel of West Texas Intermediate for January delivery trading at $57.50 by 5:20 a.m. Eastern Time.
Euro data
Policy makers at the European Central Bank will be disappointed to see Eurostat's flash inflation estimate for November coming in below expectations at 1.5 percent, with core inflation remaining unchanged at 0.9 percent. Unemployment in the euro area slid to 8.8 percent in October, the lowest in almost nine years. In Germany, the jobless rate held at a record low of 5.6 percent while retail sales unexpectedly declined 1.4 percent from a year ago. The Spanish economy's strong third-quarter performance was boosted by investment, while data showed that the Catalan crisis damaged tourism in the region. In the U.K., house prices rose 0.1 percent in the last month.
Look ahead
It's the time of year where investment houses turn their attention to what 2018 might bring. Yesterday, Goldman Sachs Inc. warned that current asset valuations show markets are possibly set for a painful return to earth. Credit Suisse Group AG strategists said that the clock is ticking on the global equity rally, which they see running out of steam in the second half of next year. Morgan Stanley, for its part, says it might be time to get out of credit markets, predicting underperformance in Asia, Europe and the U.S., while JPMorgan Chase & Co. says that cash will dethrone government bonds to post its best return since 2012 next year. In short, 2018 bulls are a rare breed at the moment.
Markets rise 
Overnight, the MSCI Asia Pacific Index fell 0.9 percent as Tencent Holdings Ltd. and Samsung Electronics Co. led regional tech stocks lower following yesterday's U.S. drop. Japan's Topix index closed 0.3 percent higher. In Europe, the Stoxx 600 Index was 0.6 percent higher at 5:50 a.m. with all sectors gaining. S&P 500 futures added 0.3 percent, the 10-year Treasury yield was at 2.385 percent and gold was slightly lower.
U.S. Tax debate
The GOP Senate tax bill is looking like a good compromise – insomuch as it effectively has something for every Republican to be unhappy about.  More changes may come over the next couple of days as the bill is refined to ensure sufficient support. Most of the party's Senators say that they will probably vote in favor nonetheless to meet the goal of holding a final vote by the end of the week. The legislation could prompt salary changes for U.S. workers within two weeks of its enactment.
Goldman says Market Valuations Are at Their Highest Since 1900.
With future returns harder to achieve and likely lower across all assets in the medium term. The also contemplates a risk scenario where inflation jumps and ushers "fast pain"
"It has seldom been the case that equities, bonds and credit have been similarly expensive at the same time, only in the Roaring '20s and the Golden '50s," Goldman Sachs International strategists including Christian Mueller-Glissman wrote in a note this week. "All good things must come to an end" and "there will be a bear market, eventually" they said.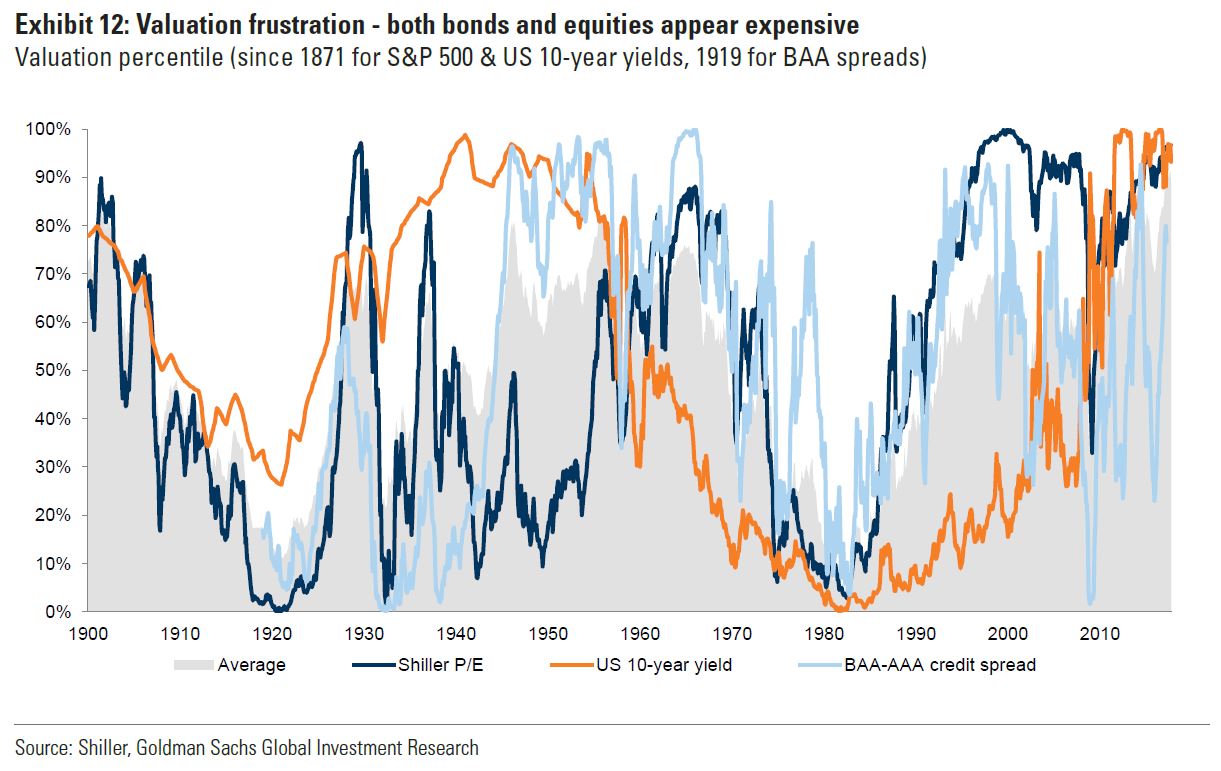 As central banks ends the easy money policy , pushing up the premiums investors demand to hold longer-dated bonds, returns are "likely to be lower across assets" over the medium term, the analysts said. A second, less likely, scenario would involve "fast pain." Stock and bond valuations would both get hit, with the mix depending on whether the trigger involved a negative growth shock, or a growth shock alongside an inflation pick-up. All good things must come to and end – eventually-  they say.
Valuations at all time high: 
"Elevated valuations increase the risk of draw-downs for the simple reason that there is less buffer to absorb shocks," the strategists wrote. "The average valuation percentile across equity, bonds and credit in the U.S. is 90 percent, an all-time high."
In the Goldman strategists' main scenario of lower but positive returns, investors should "stay invested and could even be lured to lever up." They suggested putting more in equities, with their greater risk-adjusted returns, and scaling back duration in fixed income.
Main Markets moves from Bloomberg
Stocks
The Stoxx Europe 600 Index rose 0.5 percent as of 11:31 a.m. London time, the highest in three weeks.
The U.K.'s FTSE 100 Index increased 0.2 percent.
Germany's DAX Index jumped 0.8 percent to the highest in three weeks.
Japan's Nikkei 225 Stock Average climbed 0.6 percent to the highest in three weeks.
The MSCI Asia Pacific Index sank 1 percent to the lowest in more than a week.
The MSCI Emerging Market Index dipped 1.5 percent to the lowest in more than two weeks.
Futures on the S&P 500 Index gained 0.3 percent to 2,633.25, the highest on record.
Currencies
The Bloomberg Dollar Spot Index rose 0.2 percent to the highest in more than a week.
The euro dipped 0.1 percent to $1.1837, the weakest in more than a week.
The British pound rose 0.2 percent to $1.3438, the strongest in two months.
The Japanese yen decreased 0.4 percent to 112.33 per dollar, the weakest in more than a week.
Bonds
The yield on 10-year Treasuries dipped one basis point to 2.38 percent.
Germany's 10-year yield fell one basis point to 0.37 percent.
Britain's 10-year yield climbed two basis points to 1.359 percent, the highest in five weeks.
Japan's 10-year yield gained one basis point to 0.039 percent.
Commodities
West Texas Intermediate crude rose 1 percent to $57.86 a barrel.
Gold dipped 0.1 percent to $1,281.98 an ounce, the weakest in more than a week.
Copper gained 0.7 percent to $3.09 a pound.
Stocks News
General Motors will demonstrate its growing fleet of self-driving Chevy Bolts in San Francisco today to investment analysts who are eager to evaluate the test vehicles. "Everything we are doing is geared to speed," said GM President Daniel Ammann, outlining that the cars would be ready for consumer applications in "quarters, not years."
It's one of the main attractions at the International Robot Exhibition in Tokyo. Toyota (NYSE:TM) has showcased a humanoid robot that can mirror its user's movements, a product it says has uses as varied as elderly care and disaster response. The T-HR3 can be controlled by a wearable system that allows users to operate the entire robot in real time by simply moving their own limbs.
SpaceX has been approved to send cargo to the ISS in December using a Falcon 9 rocket that had already flown to space. It marks the first time SpaceX (Private:SPACE) will launch a used rocket for NASA, further validating the company's reusable rocket technology. Other space news… Moon Express, the first private firm to get U.S. government clearance to go to the moon, has confirmed plans for its first mission in 2018.
Shopping for discounts? SoftBank (OTCPK:SFTBY) has offered to buy an undisclosed number of shares in Indian e-commerce giant Flipkart (Private:FPKT) at a reduced valuation of $9B-$10B, according to the Mint daily. The price range is lower than the pre-money valuation Flipkart clinched in two funding rounds of $1.4B each, one from SoftBank in August and the other from eBay (NASDAQ:EBAY), Microsoft (NASDAQ:MSFT) and Tencent (OTCPK:TCEHY) in April.
Alibaba's newly minted bonds rallied overnight after its $7B multi-tranche sale attracted a blowout response. "The tech sector (for bonds) is small in Asia and this sets a precedent for others to follow," said CreditSights analyst Sandra Chow. Flush with $22B in reserves, Alibaba's (NYSE:BABA) new cash could provide more firepower for acquisitions.
Amazon's Alexa is being sent to the office as the company hopes to spark a surge in voice computing in the workplace. With a planned launch at today's re:Invent conference, "Alexa for Business" could well come in handy for connecting into teleconferences or adding data to sales programs. The news comes after Amazon (NASDAQ:AMZN) pledged up to $100M in funding for voice technology.
Other tech news: Nokia (NYSE:NOK) has denied it's in talks to buy Juniper Networks (NYSE:JNPR), following a CNBC report that it was preparing a deal. Apple (NASDAQ:AAPL) is scrambling to fix a serious glitch within its latest Mac operating system, and AT&T (NYSE:T) said its proposed ban on programming blackouts of some Time Warner (NYSE:TWX) content shows it is willing to settle its DOJ fight.
Euronext is expanding to Ireland by acquiring the nation's stock exchange for €137M. The ISE "is ideally positioned to benefit from market opportunities in a post-Brexit environment," CEO Stephane Boujnah said in a statement. The purchase means Ireland will become Euronext's (OTCPK:EUXTF) sixth core European country, alongside France, Netherlands, Belgium, Portugal and the U.K.
New Mexico Attorney General Hector Balderas is demanding damages from Wells Fargo (NYSE:WFC) after an investigation showed the bank created nearly 19,000 unauthorized accounts in the state as part of its fake account scandal. If a resolution can't be reached, he'll pursue litigation. Wells Fargo is the largest bank in New Mexico with 93 branches and approximately $9B of business.
Ukrainian shipping firm Varamar will start accepting payment in bitcoin in an early sign that the cryptocurrency could be used for international commodity trading. It will make it easier to do business with customers in countries affected by sanctions, and means less paperwork than traditional bank deals. Other shippers are also looking at using bitcoin, as some clients aren't able to easily transact in dollars.