Stock futures jump after Senate approves tax bill
Dollar Higher: WS for a Strong Day
Bank Shares Rise
European Stocks Higher
Sterling Soars After UK, Ireland Agree On Brexit Border Deal
Technology stocks Wreck Continues
As the Tax Bill – a wide range U.S. tax overhaul- is approved, The dollar jumped on Monday versus the currencies of most other developed and emerging nations while Treasury yields rose and Wall Street was primed for a another record-setting day
As the markets are "very excited" about this Trump tax reform, there are some concerns about this piece of fiscal legislation. More precise,  Larry Summers, former Treasury secretary: " This bill is very dangerous"
Larry Summers: Senate tax plan will cause thousands to die  

"I think this bill is very dangerous," he said on CNBC's "Squawk Box" program. "When people lose health insurance, they're less likely to get preventive care, they're more likely to defer health care they need, and ultimately they're more likely to die."
Brexit Breakthrough?
The UK and EU seem to be close to an agreement on key issues, that will mean talks can move on to trade. Theresa May is in Brussels in an attempt to finalise the deal.
But tech stocks are getting pounded
The Dow has outperformed Nasdaq for six straight days:
In the meantime, main media are worried about how on earth can´t we get our hands in such an awesome asset, which lately has soured exponentially, but which is benefiting nobody knows: 900% increase this year…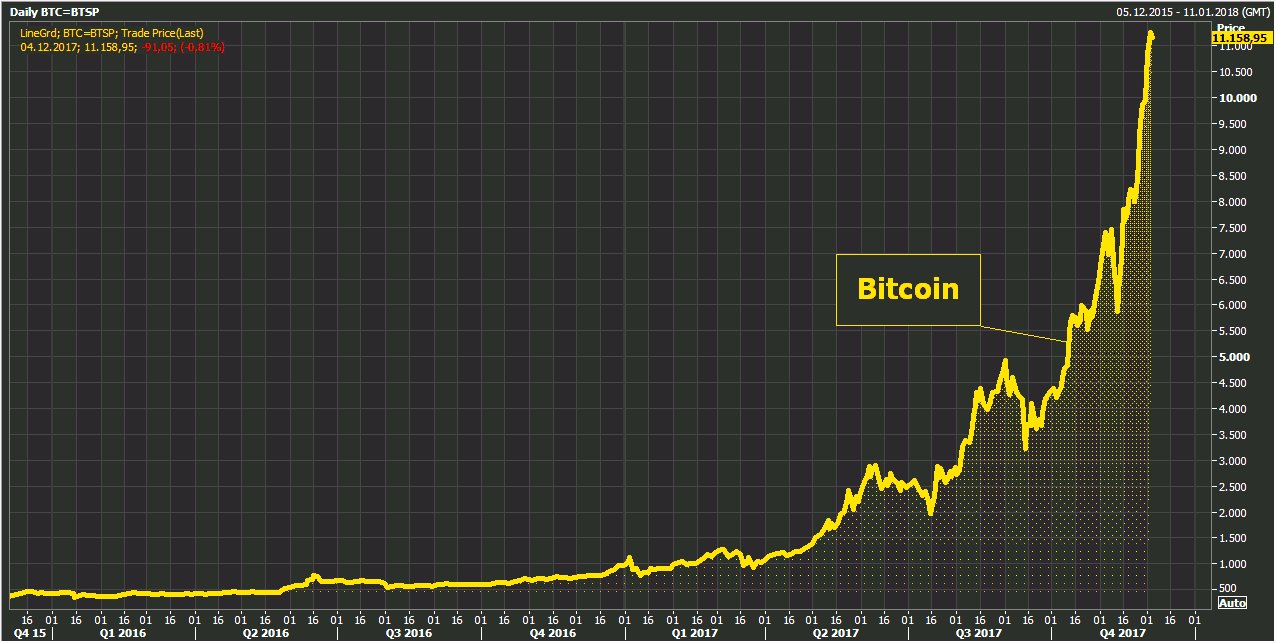 But wait: CBOE Bitcoin Futures Trading To Begin On Dec 10th . CBOE Global Markets said on Monday it would begin trading its bitcoin futures contracts, known as XBT futures, next Monday, and will offer free trading for the rest of the month to help draw in traders and create a market. According to the Financial Times, DRW of Chicago, one of the world's largest proprietary trading companies, has a subsidiary named Cumberland for buying and selling bitcoin.
The Stoxx Europe 600 Index headed for the first gain in three days as all sectors advanced. The pound gave up its gains after European Commission President Jean-Claude Juncker said talks over Britain's withdrawal from the European Union ended Monday without a deal.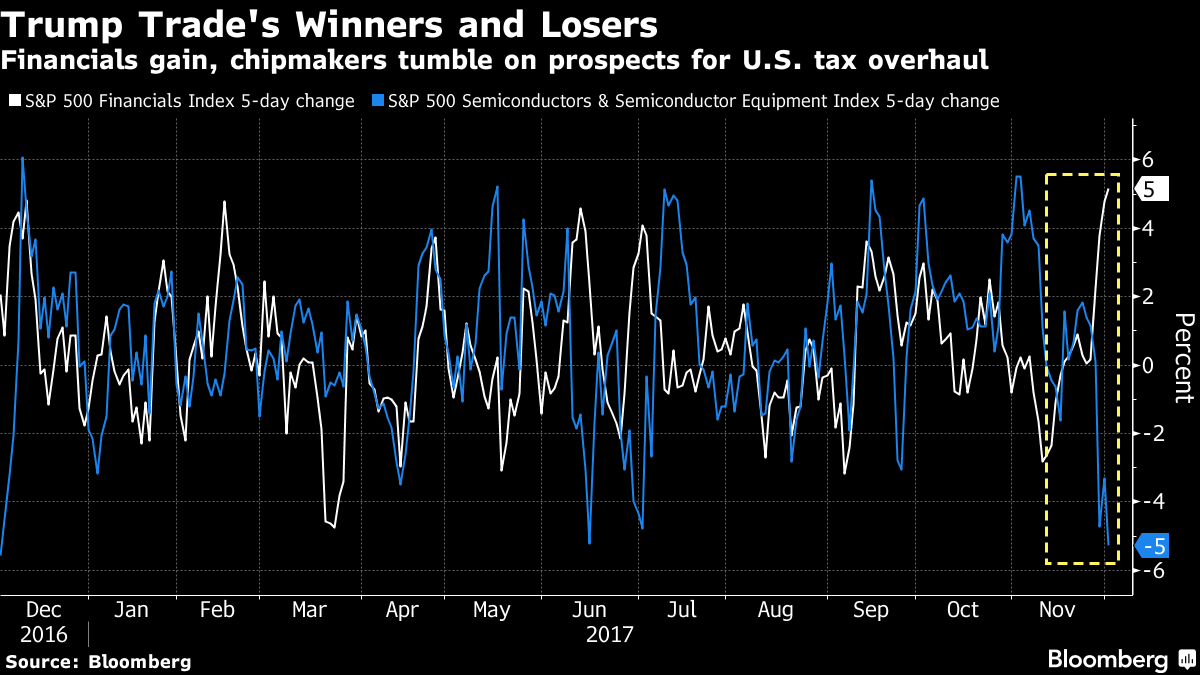 The main moves in markets:
Stocks
The S&P 500 rose 0.5 percent as of 10:59 a.m. in New York.
The Stoxx Europe 600 Index climbed 0.8 percent.
Japan's Nikkei 225 Stock Average dipped 0.5 percent.
The MSCI Emerging Market Index gained 0.5 percent.
The U.K.'s FTSE 100 Index increased 0.5 percent.
Currencies
The Bloomberg Dollar Spot Index rose 0.3 percent.
The euro decreased 0.4 percent to $1.1849.
The British pound was little changed at $1.3481.
The Japanese yen sank 0.5 percent to 112.71 per dollar.
Bonds
The yield on 10-year Treasuries rose two basis points to 2.38 percent.
Germany's 10-year yield climbed three basis points to 0.33 percent.
Britain's 10-year yield increased five basis points to 1.28 percent.
Commodities
West Texas Intermediate crude decreased 1.3 percent to $57.60 a barrel.
Gold fell 0.3 percent to $1,278.10 an ounce.
Stocks News
The landmark agreement is one of the year's largest so far. CVS Health (NYSE:CVS) is acquiring Aetna (NYSE:AET) for roughly $69B in cash and stock, creating the first healthcare triple threat that will combine pharmacy, benefit manager platforms and insurance. It comes as insurers are under pressure to lower medical costs, and retailers are under attack from new competitors.
Underlining its commitment to Britain as the country prepares for Brexit, Facebook (NASDAQ:FB) has opened its new London office, stating it would add 800 more jobs in the capital next year. The location will be Facebook's biggest engineering hub outside the U.S. and will also house the company's first in-house startup incubator, called LDN_LAB.
Apple could design its own power-management chips rather than rely on Dialog Semiconductor (OTC:DLGNF), but the Anglo-German chipmaker said this would not happen next year. Shares in Dialog, which analysts estimate derives more than half of its revenue from Apple (NASDAQ:AAPL), lost more than a fifth last week following a report that the tech giant could design its own PMICs for iPhones starting in 2018.
More hack attacks? PayPal (NASDAQ:PYPL) has found evidence of a data breach in TIO Networks, a payment processing company it bought this past July, but its platform and systems were not affected. The unauthorized access could have compromised "personally identifiable information" for approximately 1.6M customers, including TIO customers and customers of TIO billers.
Disney has restarted more serious discussions to buy some assets from 21st Century Fox (NASDAQ:FOXA), and Comcast (NASDAQ:CMCSA) remains in the mix, WSJ reports. Disney's (NYSE:DIS) talks center on the Twentieth Century Fox movie and TV studio, U.K. satellite TV provider Sky (OTCQX:SKYAY), India's Star TV and some U.S. cable networks.
Broadcom will take its first formal step today toward a hostile takeover of Qualcomm (NASDAQ:QCOM), unveiling nominees whom Qualcomm shareholders can vote on to replace the company's board of directors, Reuters reports. Stockholders who want the U.S. semiconductor giant to engage in sale talks will be able to vote on Broadcom's (NASDAQ:AVGO) board director slate on March 6.
ABC News has suspended its chief investigative correspondent, Brian Ross, for four weeks without pay following his erroneous story that Michael Flynn was prepared to testify on a collusion between President Trump and Russia. Wall Street's main indexes all fell by more than 1% after the report on Friday. "People who lost money… should consider hiring a lawyer and suing ABC (DIS) for the damages," President Trump wrote on Twitter.
Infosys has picked an outside CEO for a second time, ending a search for a new leader after previous head Vishal Sikka quit following a clash with the company's founders. Hailing from consultancy firm Capgemini, Salil Parekh will begin a five-year term effective Jan. 2, with the goals of reviving growth at Infosys (NASDAQ:INFY) and forging peace between top brass.
Looking to boost its reserves, Exxon Mobil (NYSE:XOM) recently held talks with Egypt's petroleum ministry about investments in oil and gas production, Petroleum Minister Tarek El Molla told Reuters. "We have been discussing with them, visiting them. They've visited us… We are exploring all opportunities for having more and further upstreamers in Egypt."
Once the most valuable startup in the world, Xiaomi (Private:XI) is now in discussions with investment banks about an initial public offering, seeking a valuation of at least $50B, Bloomberg reports. The Chinese smartphone maker is considering an offering as soon as next year with banks suggesting Hong Kong as the most likely destination.
General Cable +36% premarket after Prysmian (OTCPK:PRYMY) agreed to acquire the company for $30 per share in cash, or a total of $3B, including debt and certain liabilities. "This combination ensures we are well-positioned to meet the future opportunities and challenges in the dynamic and evolving wire and cable industry," said General Cable (NYSE:BGC) CEO Michael McDonnell.
Often the subject of tie-up speculation, Fiat Chrysler (NYSE:FCAU) is in talks with Hyundai (OTCPK:HYMLF) about a technical partnership, but there are no merger talks between the two. "We already buy components from [Hyundai]… let's see if we can agree on other points, especially for the development of transmissions and hydrogen," CEO Sergio Marchionne told reporters.
Putting its Dieselgate scandal behind it, Volkswagen's (OTCPK:VLKAY) Moia division has unveiled a battery-powered minibus that will roam the streets of Hamburg starting in 2018 as carmakers delve into ride-pooling services. Moia plans to then roll out its offering internationally with the goal of replacing 1M cars across European and U.S. cities by 2025, said Ole Harms, chief executive of the division.