Nikkei 225 Falls Despite Global Optimism
China, Hong Kong Shares Climb as Global Stocks Rally
Stocks in United Kingdom Hit 6-week High
Global Stocks Climb To Record Highs As U.S. Tax Reform Is "Priced In" Again
In Europe Stocks Mixed as Euro Climbs: 
European Stocks were struggling this morning to build on last markets close gains as the Euro currency advanced, while equities in the U.S. inched higher as good mood in the tax reform front continued to buoy sentiment.
The Stoxx Europe 600 was little changed as gains for airline shares and retailers offset a decline in utilities. The region's core bonds declined.
Earlier,The Nikkei 225 fell 34 points, or 0.2%, to close at 22,868 on Tuesday despite the positive cues overnight from Wall Street amid optimism about US tax reform.
The Shanghai Composite index rose 29 points, or 0.9%, to close at 3,297 on Tuesday buoyed by a record-setting session on Wall Street amid hopes for the passage of a key US tax reform bill. Also, Hong Kong's Hang Seng index gained 199 points, or 0.7%, to 29,249 around 8:15 AM London time.
Everything's going up in America at the same time – the stock market, the economy and inequality. The latter will be exacerbated by tax reforms that will probably be passed with a thin majority by the Senate today. The law will lower taxes on corporations and the rich in double-digit percentages and increase the US national debt by an estimated $1.4 trillion, which won't help the country's already starving social safety net. Trump's tax reforms help both sides: The rich get richer and the Democrats get fresh fodder for their next campaign.
Risks ahead: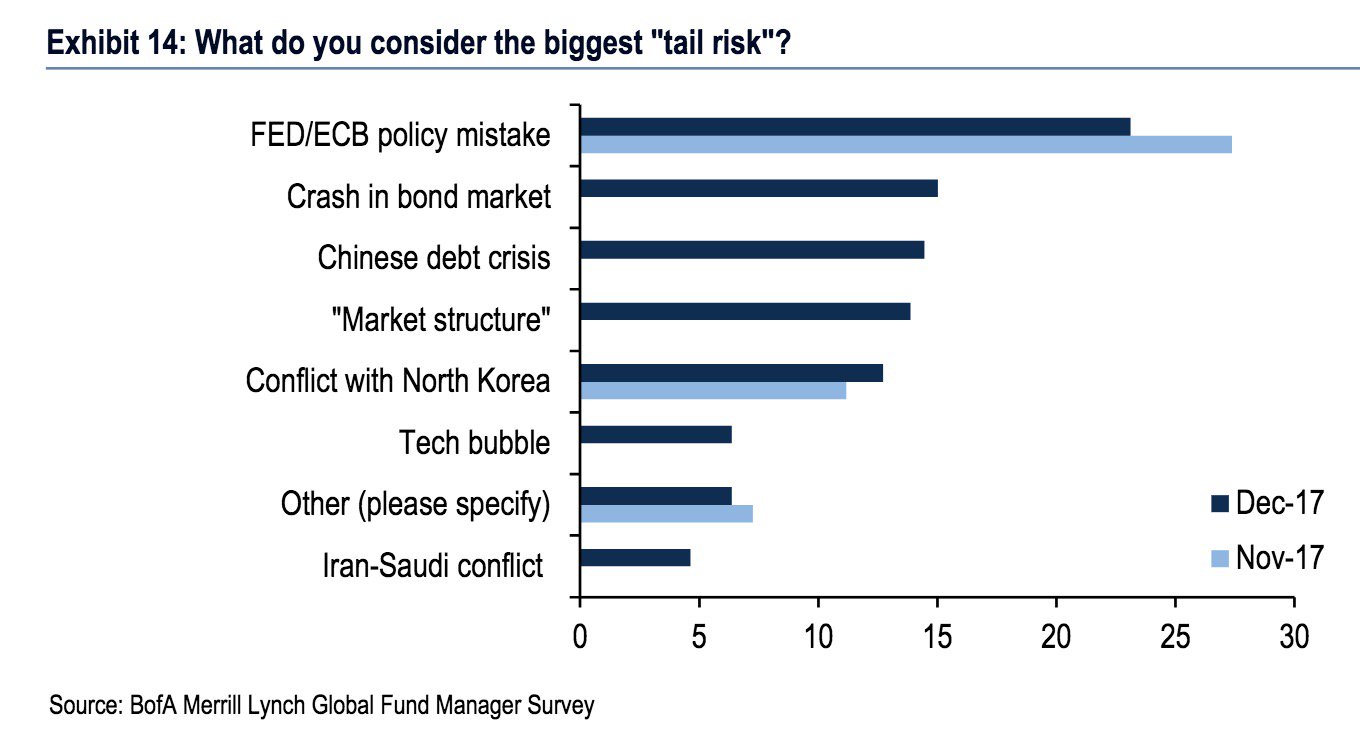 Trump tax bill drives world markets to record high. Tax reforms get investors excited
As the FT notes on the cuts to US corporation Tax:
Companies with relatively high tax rates and mainly US-based revenues, which are not hit by the new charge on overseas assets, will gain the most from the new code.

Oil refiners, railroads, airlines and banks are expected to be among the biggest beneficiaries. Delta Air Lines was one of the first companies to specify the expected boost to its profits, saying the tax cut would raise next year's earnings per share by about 18-19%.

One of the biggest gainers is likely to be Warren Buffett's Berkshire Hathaway, in part because of the conglomerate's focus on the US economy. The tax cut will boost its earnings next year by about $2.6bn, or 15%, according to forecasts by KBW, the investment bank.

The average company is likely to get a 10% boost to its earnings.
Fund managers in a poll from BoA: Most crowded trade 1.Long #Bitcoin (32%) is most crowded trade ahead of 2.Long FAANG+BAT (Baidu, Alibaba, Tencent) (29%), Short volatility (14%).
All trades vulnerable to higher inflation & aggressive ECB/BoJ Quantitative Tightening in 2018, BofAML says.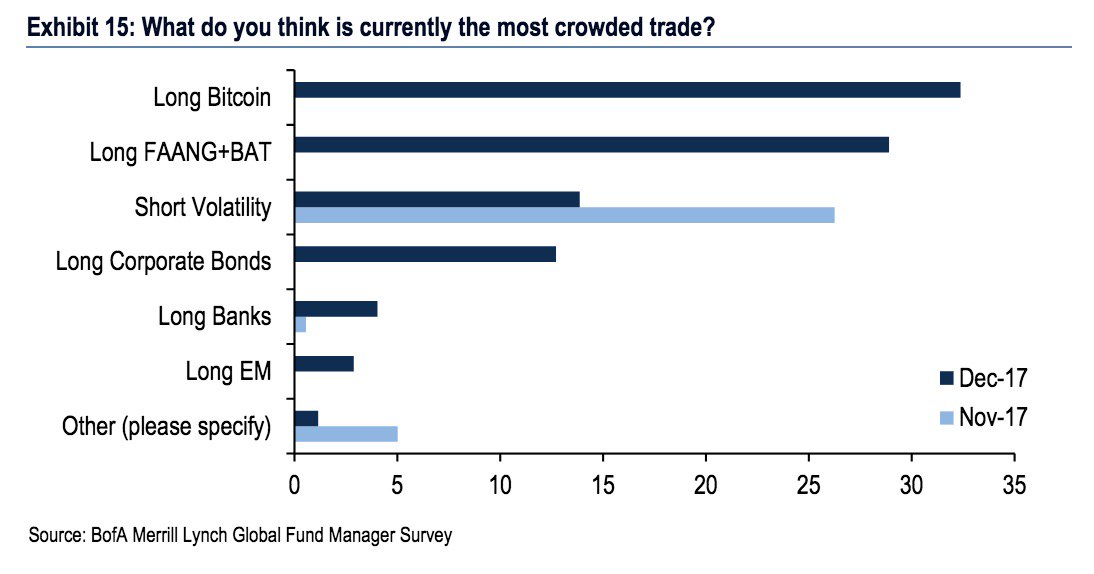 Bank of America: Percentage of Fund Managers saying equities overvalued at record high (45%); yet average cash levels are falling at least in Europe: this is a sign of "irrational exuberance," BofAML says.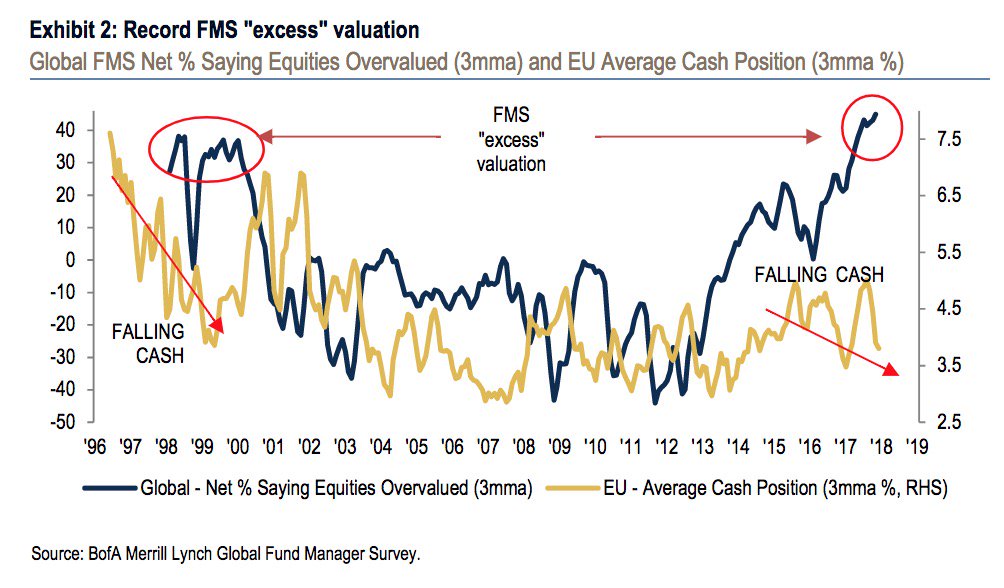 Global bond markets are diving: Some Traders Expects A Violent Move In Bunds. German 10y yields jump 5bps to 0.36%, Greek 10y yields above 4%, US 10y yields >2.40%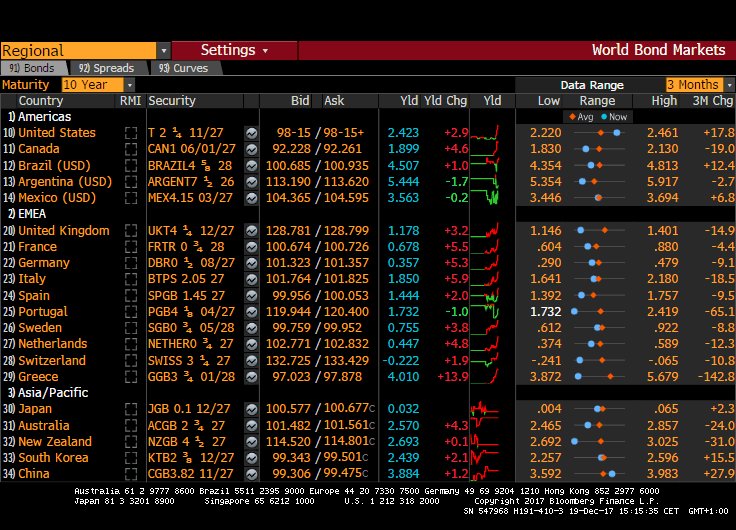 "The ECB's capital-key requirement, combined with documented early overbuying in the most liquid euro-zone nations' bond markets, resulted in the central bank accumulating almost 450 billion euros of German debt by end- November 2017. For that reason alone, German yields remain artificially low, with the curve negative all the way out to seven years. That's not sustainable."
Bloomberg´s main moves in markets:
Stocks
The S&P 500 Index declined less than 0.1 percent as of 9:51 a.m. New York time
The Stoxx Europe 600 Index dipped 0.1 percent.
The U.K.'s FTSE 100 Index gained 0.1 percent.
Germany's DAX Index sank 0.2 percent.
The MSCI Emerging Market Index increased 0.3 percent to the highest in almost three weeks.
Currencies
The Bloomberg Dollar Spot Index gained 0.1 percent.
The euro climbed 0.2 percent to $1.1809.
The British pound fell 0.2 percent to $1.3351.
The Japanese yen declined 0.2 percent to 112.82 per dollar.
Bonds
The yield on 10-year Treasuries advanced three basis points to 2.43 percent, the highest in almost eight weeks.
Germany's 10-year yield climbed five basis points to 0.36 percent, the highest in more than two weeks.
Britain's 10-year yield advanced four basis points to 1.185 percent.
Commodities
West Texas Intermediate crude advanced 0.2 percent to $57.25 a barrel.
Gold fell 0.1 percent to $1,260.59 an ounce.
Copper rose 0.2 percent to $6,916 a metric ton.
Stock News
Corfo and Pampa Calichera, a Chilean development agency that controls Sociedad Quimica y Minera de Chile (NYSE:SQM), said late Monday that it had agreed to suspend its arbitration battle with SQM for 30 days as they try to solve a dispute over lithium mining claims. Chile will be able to expand its lithium production "significantly" if the negotiations are successful, Corfo said. SQM surged Monday with the election of pro-business Sebastian Pinera.
Vale is saying it will not pay bonuses demanded by its workers now on strike at the company's Moatize coal plant in Mozambique. Workers downed tools on Friday demanding two bonuses, even though Vale (NYSE:VALE) increased the salaries of its workers by as much as 9% in 2016 and raised salaries 15.6% this year. Vale says the Moatize mine produced 5.5M metric tons of metallurgical and thermal coal in 2016.
Starboard Value LP disclosed late Monday that it has bought a 9.9% stake in Cars.com (NYSE:CARS). The activist investor believes Cars.com is undervalued by a market that is betting heavily against it and ignoring the potential for a sale, WSJ reports. Starboard also sees potential for the company to improve margins when it no longer has to share a large portion of its sales with the media companies that once controlled it, per the report.
GM lawyers were making their first arguments in a New York bankruptcy court trial Monday, asking a judge to throw out a $1 billion August settlement surrounding defective ignition switches in millions of recalled GM (NYSE:GM) vehicles. The deal was reached between plaintiffs and an entity that GM left behind as part of its 2009 $50 billion government bailout; the settlement would have GM pay $1 billion to that entity.
Dole Food, the world's largest fruit-and-vegetable outfit, is in late-stage talks to be taken out by Belgian food producer Greenyard. In a statement issued Tuesday, Greenyard said a definitive agreement has not yet been reached, but that it has secured the required financing to close the deal if a final pact is inked. If the companies can reach a final agreement, the resulting company will generate 8 billion euros in revenue annually.
Tegna announced late Monday that it agreed to acquire Midwest Television's broadcasting stations in San Diego for $325M, adding the 29th largest television market to its portfolio of affiliates in major markets. Tegna (NYSE:TGNA) says the deal represents an attractive purchase price multiple of 6.6x average expected 2017-18 EBITDA, including expected run rate synergies and tax benefits. Tegna expects the acquisition to be accretive to EPS by a few cents within the first 12 months of the closing.
The U.S. Department of Justice says it has reached a settlement with Parker-Hannifin (NYSE:PH) requiring the company to divest the Facet filtration business, including the aviation fuel filtration assets acquired from Clarcor in February. The DoJ's Antitrust Division filed suit in September after saying the acquisition eliminated competition in the development, manufacture and sale of qualified filtration products necessary for the proper filtration of aviation fuel used in commercial and military aircraft.
State regulators in New York and Massachusetts say they are investigating MetLife (NYSE:MET) after the insurer said last week it had failed to pay parts of pensions to about 600,000 retirees. New York's Department of Financial Services says it was aware that MetLife had failed to pay the pensions before the insurer's public disclosure last Friday and will work to remediate the issue. MET pledges to fully cooperate with regulators