Stocks on  Rally Mood Before Earnings.

2018 Started on a High Note

Inflation Bets increasing as Economy 

Complacency Alarm fro Global Economy?
U.S. equity futures pointed to further gains ahead of the open in New York.
The rally in global equities pushed on, with European stocks following Asian markets higher Monday after last week's rise.
The stock rally showed zero signs of letting up in the year's first week, with the Dow up 0.9%, and now setting its sights on 26K. The S&P 500 rose 0.7% and the Nasdaq 0.8%. All three indices closed at new records in all four sessions of 2018. For the week, the Dow gained 1.4%, the S&P 500 2.5%, and the Nasdaq 3.4%.
The Stoxx Europe 600 index was up by around 0.5% at around midday in London. Auto stocks were particularly strong, with the autos & parts sector of the Stoxx 600 rising by 1%.
The start of 2018 is being welcomed by a stock market rally, continuing on exceptional fundamentals: Growth is continuing to be revised higher, even as core #inflation forecasts revised lower. Asian shares (Japan closed) crept toward all-time peaks after Wall St boasted its best start to a year in over a decade.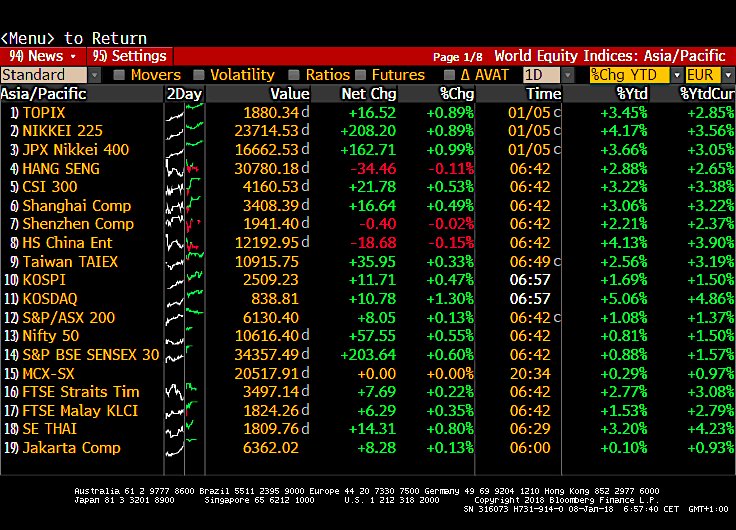 Eurozone Business Climate Highest Since 1985 
The Eurozone's business climate indicator rose to 1.66 in December from 1.49 in November, beating market expectations of 1.5. It was the highest reading since the series began in 1985, as managers' appraisals of overall order books, stocks of finished products and both past and future production improved.
And Eurozone Economic Sentiment Rises to Over 17-Year High
The Eurozone's economic sentiment index rose to 116 in December 2017 from 114.6 in the previous month and easily beating market expectations of 114.8. It was the highest level since October 2000, as sentiment improved among manufacturers (9.1 from 8.1 in November), service providers (18.4 from 16.4), consumers (0.5 from 0.0), retailers (6.2 from 4.3) and constructors (2.7 from 1.5).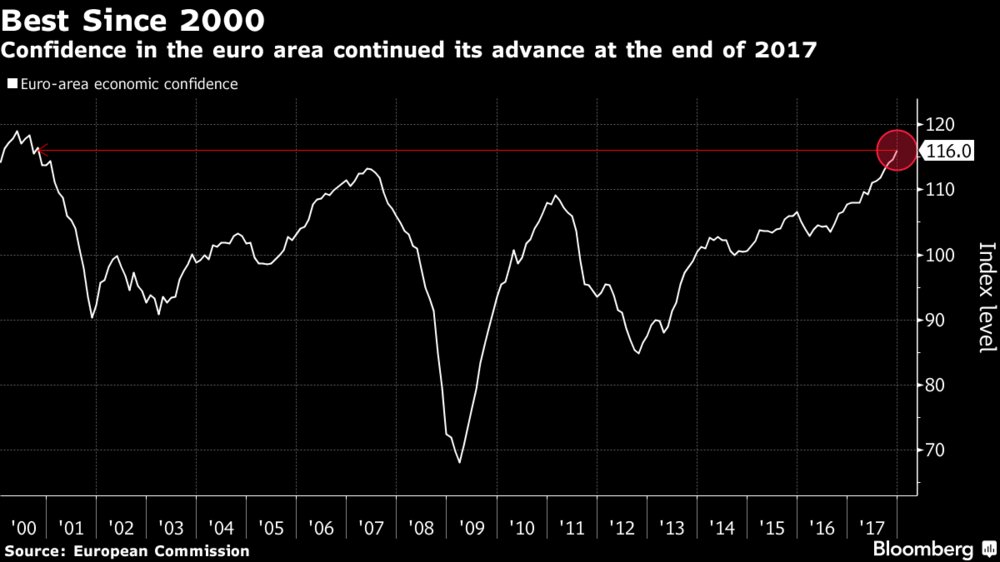 Markets at a glance:
Apart from the data being fueled to the markets which then are the signals that risky assets are yielding and so supported by the good news and in Europe by the ECB, too much money – or at least money that do not want to miss the rally-  as we say, too much money chasing too few assets. Hence  financial assets are costing more and returning less.
Central banks are still holding massive amounts of the bond market (and the ECB's case, still buying more.) And what are corporates doing with the vast amounts of new debt they are raising, and the cash they can now repatriate back into the US? They are buying back stock! The result is predictable – stocks and bond prices are rising.
Where all this may stop? Inflation may be? A number of bond investors say that. However, inflation has proved curiously shy in the wake of QE. While economies are growing, pay packets are not.
A rising number of economists looking at the US economy and wondering just how tired the recovery has become. How much longer can it struggle upwards? There are two rising fears: a recession, and the potential for stagflation.
One can look at the Global Synchronized Growth pushing markets higher, then there is plenty of remaining upside for stocks as global GDP expands. That´s an optimistic view. But the outlook for bonds can only be negative as spreads are way too tight and let's see how the economic forces start to stack up in the US – and whether it's a 3 or 4 hike year.
On the other hand Two of the biggest hitters in financial markets are sounding warnings against complacency in the global economic outlook.
After the first week of 2018 saw strong data and multiple stock-market records, Citigroup Inc. and Pacific Investment Management Co. told clients in the last few days that there are still reasons to be worried.
"It is too early to call an end to the bull-market in risk assets but the risk/reward profile is deteriorating as expected returns peak and volatility begins to rise. Asset allocators must weigh up where we are in the business cycle, and what comes next. The 'Goldilocks' environment cannot last forever; a plateau in growth would be more bearish than a pick-up in inflation." Mark Schofield @ Citi
Meanwhile, Joachim Fels at Pimco points to signs that U.S. jobs growth may be peaking as a "a clear sign that we are reaching the later stages of the business cycle" — a fact that also increases the chance of an inflation overshoot.
Still, the biggest risk is:
"Monetary overkill by central banks that seem more eager than ever to escape from bloated balance sheets and the dreaded lower bound of interest rates. Led by the Fed, the tide of global monetary policy is turning, and when the tide goes out, we will find out who is swimming naked."
Stocks News
Celgene has agreed to acquire privately-held Impact Biomedicines for as much as $7B. It's interested in a kinase inhibitor called fedratinib that has shown promise as a potential treatment for blood cancer myelofibrosis. The deal is structured in parts, with Celgene (NASDAQ:CELG) paying $1.1B in cash upfront, while the rest will be subject to certain sales and regulatory milestones.
Pfizer is giving up on discovering new drugs for Alzheimer's and Parkinson's diseases, abandoning costly efforts to find effective treatments for the disorders. The cutback will result in 300 layoffs over the next several months. "This was an exercise to reallocate [spending] across our portfolio, to focus on those areas where our pipeline, and our scientific expertise, is strongest," Pfizer (NYSE:PFE) said in a statement.
Aligning its strategy with peers Exxon Mobil (NYSE:XOM) and Chevron (NYSE:CVX), CEO Ben van Beurden told the FT that growth of Shell's (RDS.A, RDS.B) oil and gas operations in the next decade will depend on shale production. Shell has suffered prolonged difficulties with "unconventional" resources in the past, but the oil major now sees U.S. shale reserves as a principal source of new production.
Saudi Aramco and some of the kingdom's biggest companies said they'll pay Saudi staff more money, matching a royal order that extended handouts to government workers amid rising prices. Investors will be watching the decision as Saudi Arabia seeks to sell as much as 5% of Aramco (Private:ARMCO), part of Crown Prince Mohammed bin Salman's plan to reduce the economy's reliance on hydrocarbons.
The SEC has received a request to allow five bitcoin-related ETFs to be listed on Arca, a secondary marketplace on the NYSE (NYSE:ICE). The instruments, created by Direxion Asset Management, are not tied to the price of the cryptocurrency itself, but would track bitcoin futures. They include: Bitcoin 1.25X Bull Fund, 1.5X Bull Fund and 2X Bull Fund, as well as inverse ETFs Bitcoin 1X Bear Shares and 2X Bear Shares.
A U.S. federal court has thrown out a class action lawsuit against Starbucks (NASDAQ:SBUX) that alleged the company was cheating customers by under-filling drinks and overloading them with foam. It's not the first court to strike down a motion against Starbucks' portions. In 2016, a California court dismissed a lawsuit charging the chain with fraud and false advertising over the sizes of its iced beverages.
A sweet (tooth) deal… Hershey (NYSE:HSY) and Nutella-maker Ferrero have submitted final bids for Nestle's (OTCPK:NSRGY) U.S. confectionery unit, which is valued at $2B-$2.5B. The business includes Butterfinger, Baby Ruth, Sno-Caps and Laffy Taffy. Sources told CNBC that Ferrero appears to be the front-runner because it is more willing than Hershey to be aggressive on price.
The Force appears weak in China. Besides losing its top spot in the North American box office, Star Wars: The Last Jedi opened this weekend to a soft $28.7M in China, less than the prior two installments in the series. The movie has still grossed over $1.2B worldwide, making it the 13th highest grossing film of all time and another massive success for Disney (NYSE:DIS).
Takata is recalling an additional 3.3M faulty air bag inflators as it expands the largest automotive recall in U.S. history. The supplier identified at least 15 carmakers that purchased the devices, including Toyota (NYSE:TM), Honda (NYSE:HMC), Fiat Chrysler (NYSE:FCAU), Ford (NYSE:F), General Motors (NYSE:GM) and Tesla (NASDAQ:TSLA). At least 20 people have been killed worldwide and more than 180 injured from Takata's (OTCPK:TKTDQ) inflators.
Making further gains in the autonomous vehicle industry, Nvidia (NASDAQ:NVDA) is partnering with UBER and Volkswagen (OTCPK:VLKAY) on AI platforms. So far, 320 companies involved in self-driving cars – whether software developers, automakers, or sensor and mapping companies – are using Nvidia Drive, formerly branded as the Drive PX2. Nvidia also said its first Xavier processors would be delivered to customers this quarter.
Ford plans this spring to offer a diesel version of its best-selling F-150, which will likely achieve 30 mpg highway fuel efficiency, a level comparable to some midsize cars. Depending on the specific model, executives say the pickup will cost between $2,400 and $4,000 more than a comparable gasoline truck. Ford (F) sold 896,764 F-series trucks in 2017, more than in any year since 2005.
Citing in-house Volkswagen (OTCPK:VLKAY) estimates, Bild am Sonntagreports that VW group sales probably rose to around 10.7M cars last year, keeping the German behemoth ahead of Toyota (TM) as the world's largest automaker. The report came as Ron Stach, SVP of sales at Volkswagen of America, left the company. U.S. sales rose 5.2% to 339,676 brand models last year but plunged 19% in December.
With the aircraft's future in doubt, Airbus (OTCPK:EADSY) is offering an industrial partnership with China on the A380 if local airlines place orders for the world's largest passenger jet. Airbus COO Fabrice Bregier will hold early stage discussions on the matter today as part of a trade mission accompanying French President Emmanuel Macron on his first state visit to the country.
A federal judge has approved a $15M settlement between Southwest Airlines (NYSE:LUV) and members of a class-action lawsuit who allege that the company conspired to limit the number of seats to keep ticket prices high. While Southwest said the settlement "does not constitute any admission of wrongdoing," three other airlines named in the suit, American (NASDAQ:AAL), Delta (NYSE:DAL) and United (NYSE:UAL), continue to fight the allegations.
First mission of 2018: SpaceX successfully launched a secret U.S. government payload called Zuma on Sunday and landed its rocket back on Earth. The Falcon 9 powered a spacecraft made by Northrop Grumman (NYSE:NOC), which was sent into low-Earth orbit. SpaceX is now looking towards its next challenge, launching the Falcon Heavy – its largest rocket to date – at the end of January.
The main moves in markets from Bloomberg
Stocks
The Stoxx Europe 600 Index increased 0.2 percent as of 7:27 a.m. New York time, touching the highest in more than two years.
The MSCI Emerging Market Index gained 0.3 percent to 1,204.48, hitting the highest in almost seven years with its fifth consecutive advance.
Futures on the S&P 500 Index decreased 0.1 percent, the first retreat in more than a week.
Currencies
The euro dipped 0.3 percent to $1.1989, the weakest in more than a week.
The Bloomberg Dollar Spot Index jumped 0.2 percent to 1,155.31, the biggest increase in more than three weeks.
The British pound fell 0.2 percent to $1.3545.
Bonds
The yield on 10-year Treasuries decreased one basis point to 2.46 percent.
Germany's 10-year yield decreased three basis points to 0.41 percent, the lowest in more than a week on the largest dip in more than a week.
Commodities
Gold advanced less than 0.05 percent to $1,320.21 an ounce.
West Texas Intermediate crude increased 0.5 percent to $61.74 a barrel.
Copper decreased 0.1 percent to $3.23 a pound, the lowest in more than two weeks.