Euro Area 2018 Outlook to grow to 2.2%
Dollar Slide deepens as Euro gathers Strength
European Stocks lose ground on Euro Strength
The dollar traded weaker on Monday, pushing lower against the euro and pound. Volumes could be thinner than normal with U.S. equity and bond markets closed for Martin Luther King Jr. Day.
Asia shares hit historic highs after Wall St extended its record-breaking run amid optimism in global growth.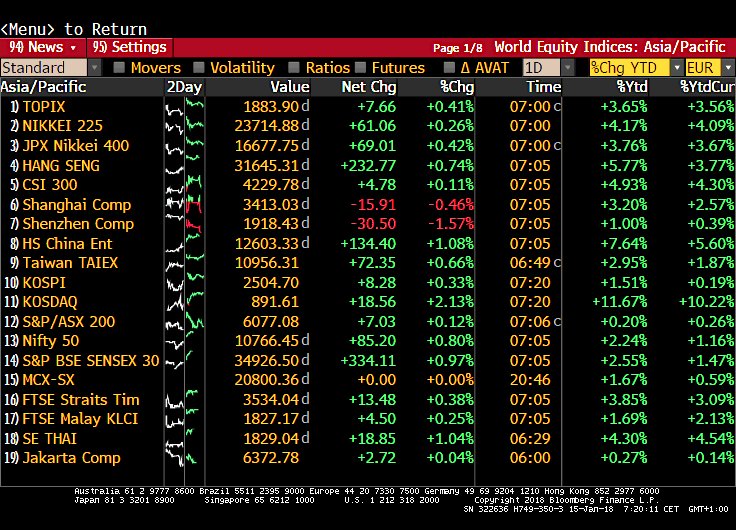 The WSJ Dollar Index BUXX, -0.33% , which gauges the greenback against 16 currencies, dropped 0.4% to 84.43.
The euro EURUSD, +0.4836%  climbed to $1.2267 from $1.2200 late Friday in New York, building on a 1.4% rally from last week.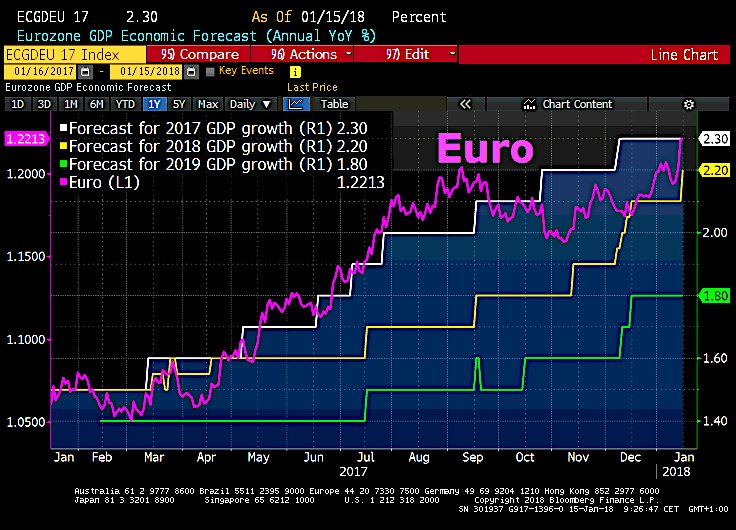 The British pound GBPUSD, +0.3205% was trading at $1.3774 from $1.3727 late Friday. Sterling on Monday has climbed as high as $1.3820, its best level against the US Dollar since the U.K.'s June 2016 Brexit vote.
Against the Japanese yen USDJPY, -0.34% , the U.S. currency bought ¥110.61 compared with ¥111.04 on Friday.
Data Friday showed core inflation was up in December, which lent further support to the Federal Reserve's plans to raise interest rates up to three times this year.
The euro has been given support on two fronts against the dollar, firstly by last week's minutes from the European Central Bank's December meeting suggesting a potential hawkish shift in policy. Further support from the single currency has come from news that German lawmakers are getting closer to agreeing on a governing coalition.
Euro Area Balance of Trade surplus widened to EUR 26.3 billion in November 2017 from EUR 23.8 billion in the same month of the previous year, easily beating market expectations of EUR 22.4 billion. It was the largest trade surplus since March, as exports rose 7.7 percent to EUR 197.5 billion, while imports increased at a softer 7.3 percent to EUR 171.2 billion.
Shares in some competitors of Carillion (CLLN.L) rose after the long-struggling construction and support services company collapsed, with banks refusing to lend it any more money and the company´s board request for British Gov support denied.
Carillion's collapse will have widespread consequences for local authorities and housing associations across the UK.
US Futures : Dow futures march higher, ready to blast out record after holiday, as dollar slumps .
Futures for the Dow Jones Industrial Average  +0.52% put on 122 points, or 0.5%, to 25,923, while those for the S&P 500 index  +0.13%  added 4 points, or 0.2%, to 2,792.75. Futures for the Nasdaq-100 index +0.01%  were up 1.25 points to 6,776.50.
What to watch out for this week:
Earnings season ramps up: Taiwan Semiconductor Manufacturing Co., ASML Holdings NV, Bank of America Corp. and Goldman Sachs Group Inc. are among some notable releases.
Industrial production in the U.S. probably increased in December, a report may show Wednesday, completing a solid year for manufacturing.
U.S. housing starts probably slipped in December for the first time in three months as frigid winter weather impeded work, forecasts show ahead of Thursday's release.
The Bank of Canada's interest-rate decision comes Wednesday. Monetary policy announcements are also this week due in South Korea, South Africa and Turkey.
China releases fourth quarter GDP, December industrial production and retail sales Thursday.
European Indexes:
Main moves in markets, from Bloomberg
Stocks
The Stoxx Europe 600 Index decreased 0.1 percent as of 12:22 p.m. London time.
The MSCI World Index of developed countries rose 0.3 percent, reaching the highest on record with its 11th consecutive advance.
The MSCI Asia Pacific Index gained 0.5 percent to the highest on record with the largest rise in more than a week.
Japan's Nikkei 225 Stock Average jumped 0.3 percent.
The MSCI Emerging Market Index increased 0.2 percent to the highest in almost 10 years.
The U.K.'s FTSE 100 Index declined 0.1 percent, the first retreat in a week.
Futures on the S&P 500 Index rose 0.1 percent to the highest on record.
Currencies
The Bloomberg Dollar Spot Index dipped 0.5 percent to the lowest in more than four months.
The euro climbed 0.5 percent to $1.2257, the strongest in more than three years.
The British pound gained 0.3 percent to $1.3774, the strongest in about 19 months.
The Japanese yen rose 0.4 percent to 110.64 per dollar, hitting the strongest in more than four months.
Bonds
Britain's 10-year yield dipped two basis points to 1.317 percent, the first retreat in a week.
Germany's 10-year yield dipped one basis point to 0.57 percent, the largest dip in more than a week.
Commodities
West Texas Intermediate crude declined 0.2 percent to $64.18 a barrel, the first retreat in more than a week.
Gold rose 0.3 percent to $1,342.19 an ounce, the highest in more than four months.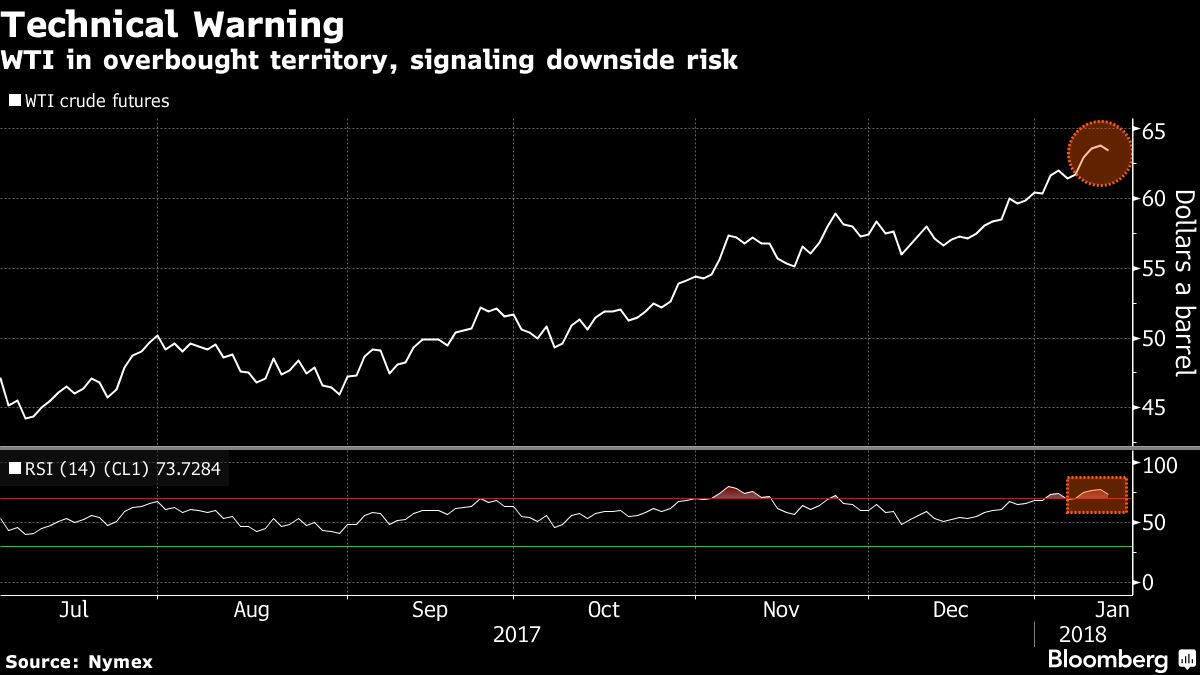 A number of experts don't seem to be getting too excited over crude's recent rally. It's premature to expect to see a further price rise, at least until the market gains a better grasp of the pace of U.S. production growth, according to RBC Capital Markets. UBS Group AG cites the potential of record output weakening prices over the course of the year.
Goldman Sachs Group Inc. warns that OPEC would try to talk down an oil rally above $70 a barrel to cushion the impact on the global economy and rival supplies. Russian Energy Minister Alexander Novak said Friday producers regularly talk about options for winding down the supply-reduction deal