Dow futures point  push toward 26,000

Oil prices slump for 2nd day

European Stocks fall

Crypto crash ahead
Asian equities stepped back from a record high as the region's resource shares were knocked by falling oil and commodity prices, however, Chinese shares bucked the trend, climbing to a fresh record in Hong Kong.  Australia's ASX 200 (-0.5%) and Japan's Nikkei 225 (-0.3%) were negative as losses in miners continued to weigh on Australia, while risk appetite in Japan remained sapped by the recent JPY strength.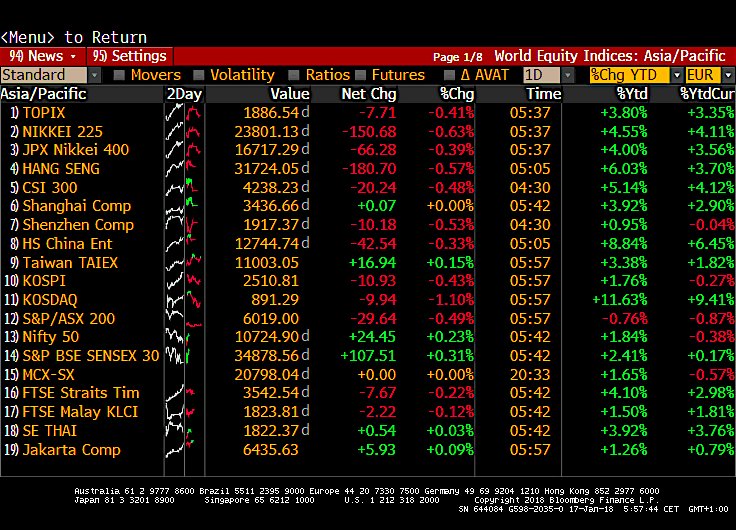 The dollar DXY index rebounded to close to a three-year low, bounding away from 90.00 level for third successive day while Treasury yields rose as investors braced for Congressional talks to avert a government shutdown Friday.
The euro slipped from a fresh cycle high, yet held comfortably above $1.22 even as ECB officials urged caution over the common currency's strength.
Euro Weakens on ECB Constâncio Comments:
The euro fell as much as 0.3% to $1.22 in early trading on Wednesday from a three-year high in the previous session, after the ECB's vice-president Vítor Constâncio said it is "concerned about sudden movements" in the exchange rate "which don't reflect changes in fundamentals".

Eurozone December Inflation Rate Confirmed at 1.4%Consumer price inflation in the Euro Area stood at 1.4 percent year-on-year in December 2017, unrevised from the preliminary estimate and compared to 1.5 percent in the previous month. Prices rose at a softer pace for energy and unprocessed food.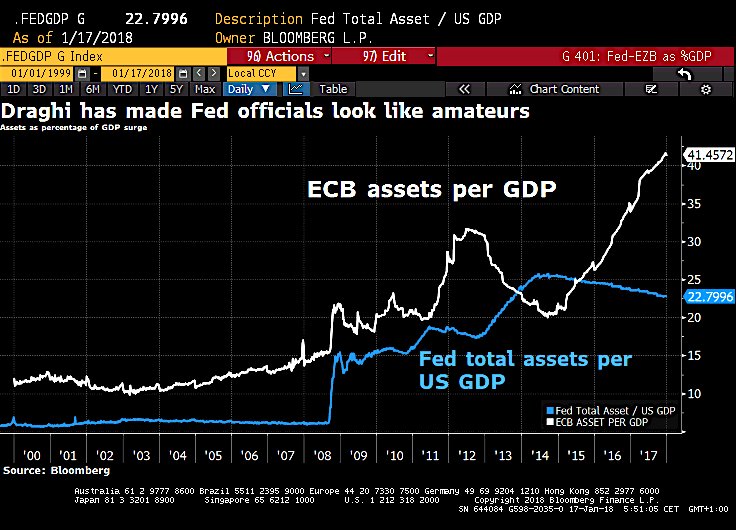 Eurozone inflation fell further from the ECB's target in December, rising at an annual pace of 1.4%, from 1.5% the previous month. The report from Eurostat confirmed an earlier "flash estimate" and saw the euro drop 0.4% to $1.2215. Meanwhile, Germany's central bank chief said today it would be "appropriate" for the ECB to stop its bond buying this year in an interview with Frankfurter Allgemeine Zeitung.
CNBC: Stock market optimism from pros reaches highest level in nearly 32 years.
Bullishness among professional investors is now at 66.7 percent in the latest Investors Intelligence survey, the highest reading since April 1986.
Bulls last reached this level a year before the infamous Black Monday crash that sent the Dow Jones industrials down nearly 22 percent in a single day.
Sentiment surveys can be contrarian indicators when at extremes, which is why the current rush into stocks has triggered some concern.
Crypto-World: Bitcoin drops below $10,000 with $36 billion of value wiped off in a day as cryptocurrency sell-off deepens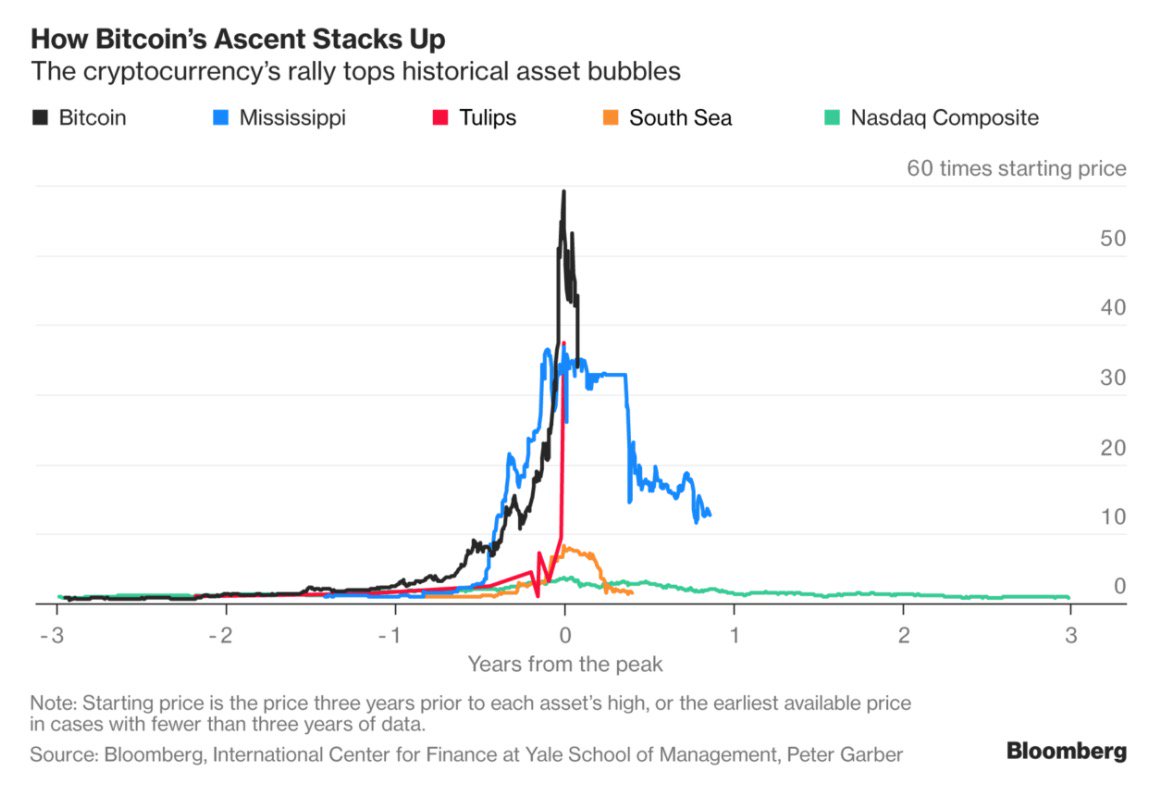 The world's largest cryptocurrency was trading at $9,958.31 at about 6:50 a.m. ET on Wednesday morning, and was down almost 12 percent in the last 24 hours, according to CoinDesk data. CoinDesk tracks prices from cryptocurrency exchanges Bitstamp, Coinbase, itBit and Bitfinex. It recovered slightly to a price of $10,551.48 at around 7:45 a.m. ET
Oil continued to slide from a three-year high on speculation that a record long position built up by money managers leaves prices vulnerable to a pullback.
Brent for March settlement dropped 51 cents to $68.64 a barrel on the London-based ICE Futures Europe exchange after losing 1.6 percent on Tuesday. The global benchmark crude traded at a premium of $5.31 to March WTI.
 Main moves in markets, from Bloomberg
Stocks
The Stoxx Europe 600 Index gained less than 0.05 percent as of 7:20 a.m. New York time.
Futures on the S&P 500 Index jumped 0.3 percent to the highest on record.
The U.K.'s FTSE 100 Index sank 0.2 percent to the lowest in more than a week on the largest decrease in more than a week.
The MSCI All-Country World Index fell less than 0.05 percent.
The MSCI Emerging Market Index climbed 0.1 percent to the highest in almost 10 years.
Currencies
The Bloomberg Dollar Spot Index increased 0.2 percent, the first advance in more than a week.
The euro decreased 0.4 percent to $1.2213, the largest decrease in more than a week.
The British pound declined less than 0.05 percent to $1.3786, the biggest fall in a week.
The Japanese yen sank 0.3 percent to 110.83 per dollar, the first retreat in more than a week and the largest decrease in four weeks.
The MSCI Emerging Markets Currency Index declined 0.1 percent, the biggest drop in more than a week.
Bonds
The yield on 10-year Treasuries rose three basis points to 2.57 percent, the highest in about 10 months on the largest rise in more than a week.
Germany's 10-year yield fell less than one basis point to 0.56 percent, the lowest in a week.
Britain's 10-year yield declined less than one basis point to 1.302 percent, the lowest in a week.
Commodities
West Texas Intermediate crude fell 0.5 percent to $63.43 a barrel, the lowest in more than a week.
Gold declined 0.1 percent to $1,336.45 an ounce, the largest drop in more than a week.
According to the St. Louis Fed, "all of the net increase in employment since 2000 – about 17 million jobs – has been among workers aged 55 and older." The reasons include aging population and a more stable employment-to-population ratio for older workers.
Hoe they fare in Europe:
Stocks News
A month after announcing plans to open its first AI lab in China, Google (GOOG, GOOGL) is expanding again through a move into Shenzhen, TechCrunch reports. The workplace will be the U.S. tech giant's third office in the country despite its signature search engine remaining blocked there. Like its other locations, the new office will employ sales staff, as well as engineers working on global products.
Star Wars: The Last Jedi has suffered one of the worst second-weekend declines the Chinese box office has ever seen. The film's debut of $28.7M was already viewed as disappointing, but its 92% plummet to just $2.4M in week two caused the majority of cinema chains to drop the movie. The Disney (NYSE:DIS) film still boasts a massive worldwide total of $1.27B, but may now finish in China with less than $50M.
As bitcoin ETF proposals languish amid a major crypto selloff, funds coming to market today will offer investors access to blockchain ETFs that may benefit from the digital asset's underlying technology. The Amplify Transformational Data Sharing ETF (NYSEARCA:BLOK) and Reality Shares Nasdaq NexGen Economy ETF (NASDAQ:BLCN) will invest in companies betting on blockchain, such as Hitachi (OTCPK:HTHIF), Accenture (NYSE:ACN) and Overstock.com (NASDAQ:OSTK).
Helping maintain its No. 1 position in national stock trading volumes, Intercontinental Exchange (NYSE:ICE) plans to launch its fourth U.S. equity market during the second quarter. NYSE National will also become the 13th domestic stock exchange and will differ from the NYSE, NYSE Arca, and NYSE American in that it will only be a trading venue and not a listing market.
General Electric has appointed Peter Stracar chief executive and president of its European region, the conglomerate's largest market outside the U.S. The area currently employs over 92,000 employees, generating revenues of more than $20B. It comes after GE indicated it was looking at breaking itself up as it announced more than $11B in charges from its insurance portfolio and new U.S. tax laws.
Volkswagen has reported a 4.3% rise in 2017 sales to 10.7M vehicles, likely staying ahead of Toyota (NYSE:TM) in the annual car contest despite its diesel-emissions crisis. "We are grateful to our customers for their trust," VW (OTCPK:VLKAY) CEO Matthias Mueller said in the statement. The Japanese automaker has forecast about 10.4M vehicle sales for 2017 and is scheduled to release final numbers later this month.
Dunkin' Donuts' newest location in Quincy, Massachusetts, is what the company is calling its next generation concept store. It features a modern design, drinks that come out of "beer-like" taps, drops "Donuts" from the chain's well-known name, and has a mobile order drive-thru lane that customers can use with its status board app. Dunkin' (NASDAQ:DNKN) hopes to open 50 such stores across the nation in 2018.
Looking to help curb the opioid crisis, Walmart (NYSE:WMT) is now providing customers with a packet of powder that will help them dispose of leftover opioid prescriptions. Opioids were involved in over 42,000 deaths in 2016, according to the CDC, with more than 50% of people who abuse the drugs obtaining them through friends and family.
Chinese bidders are circling the diabetes care business owned by Johnson & Johnson (NYSE:JNJ) in a deal that could fetch up to $4B, sources told Reuters. A year ago, J&J said it was evaluating options for the division, including companies LifeScan, Animas and Calibra Medical. Almost one in three of the world's diabetes sufferers lives in China, according to the World Health Organization.
Celgene is in talks to buy Juno Therapeutics (NASDAQ:JUNO) just days after announcing another major deal with Impact Biomedicines. The talks could produce a deal in the coming weeks, according to the WSJ. Juno would further boost Celgene (NASDAQ:CELG) in the market for drugs treating multiple myeloma and other blood cancers. JUNO +51% premarket.
California Representative Jerry McNerney has written to the chief executives of Intel (NASDAQ:INTC), ARM Holdings (NASDAQ:ARMH) and AMDasking them to explain the scope of Spectre and Meltdown, two major security flaws disclosed earlier this month. The request is one of the first responses from the U.S. Congress to outline the timeframe for understanding the vulnerabilities, how consumers are affected and whether the flaws have been exploited.
A group of 21 U.S. state attorneys general have filed suit to challenge the FCC's decision to do away with net neutrality, while Democrats said they needed just one more vote in the Senate to repeal the ruling. The battle could go on for years… A repeal would also require winning a vote in the House, where Republicans hold a majority, and would still be subject to a likely veto by President Trump. Related tickers: T, VZ, TMUS, S, CMCSA, CHTR, ATUS, CTL, FTR, CCOI, DISH, NFLX, ELNK
Today's Markets 
In Asia
, Japan 
-0.4%
. Hong Kong 
+0.3%
. China 
+0.2%
. India 
+0.9%
.
In Europe
, at midday, London 
-0.2%
. Paris 
-0.1%
. Frankfurt 
-0.3%
.
Futures at 6:20
, Dow 
+0.5%
. S&P 
+0.4%
. Nasdaq 
+0.4%
. Crude 
-0.4%
 to $63.46. Gold flat at $1337.70. Bitcoin 
-12.3%
 to $9958.
Ten-year Treasury Yield
 +2 bps to 2.56%