Stocks And Volatility Both On The Rise
Dollar at its lower in 3 years
 US 10Y Yields Reach 2014 Highs
WTI  Oil Upward trend Loosing Momentum
10Y Treasury yields touch 2.64%, topping the post-election peak to its highest since September 2014. The political uncertainty roiled the bond market, pushing the 10-year note yield to a 14-month high. But rising Treasury yields also reflect concerns about strengthening global growth and improving inflation prospects. One market based measure of inflation expectations surged to 2.09% on Thursday, a three-year high.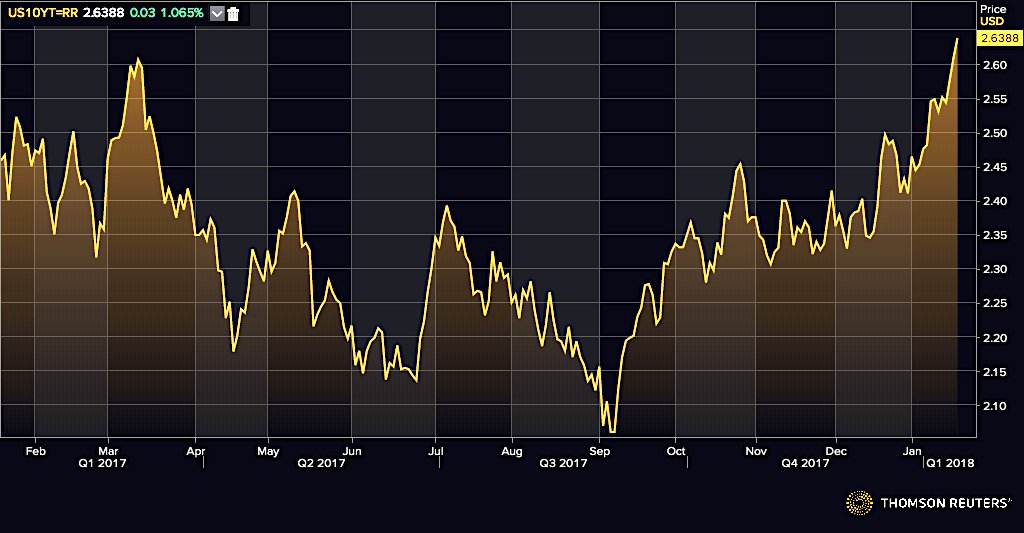 Asia stocks rose to fresh highs in wake of strong data. China 4Q GDP came in higher than exp, w/real GDP grew 6.9%YoY, comp to 6.7% in 2016, marking 1st time since 2010 that annual GDP growth rate ticks up from prev yr. Worries over possible US govt shutdown weigh on dollar, via Schuldensuehner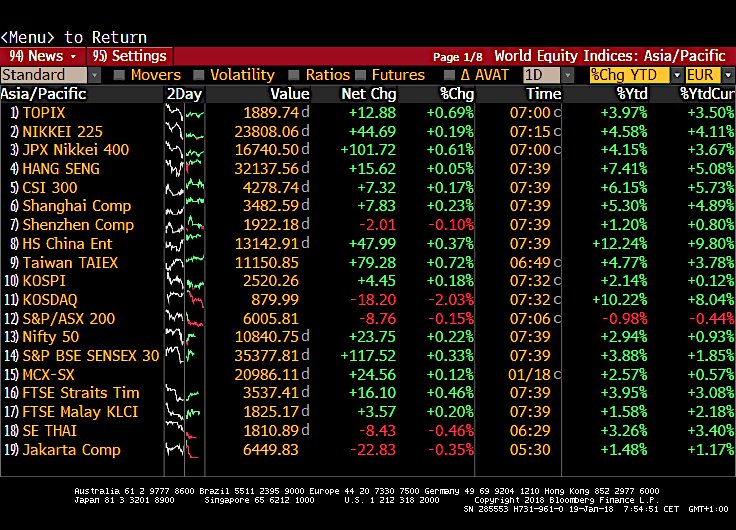 U.S. stocks added to records on a report that regulators are close to further easing banking rules, while the government shutdown drama in Washington weighed on the dollar.
Europe's Stoxx 600 rose 0.5%, and was poised to close at the highest level since August 2015, and S&P futures have rebounded, wiping out all of yesterday's losses.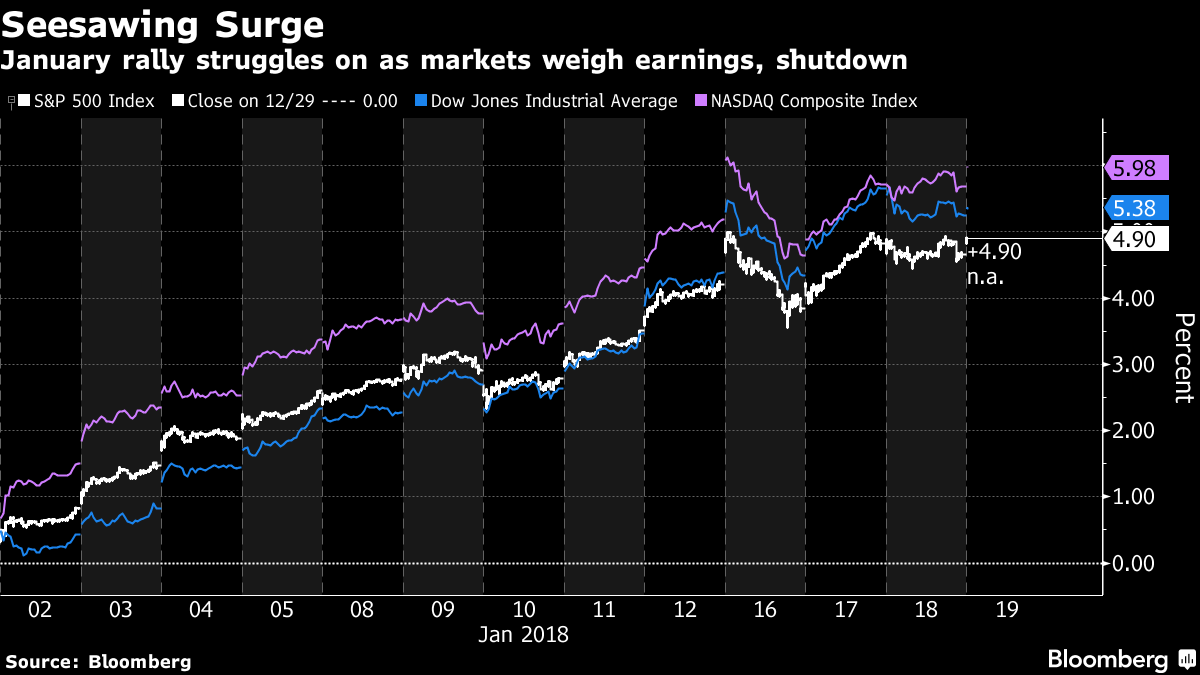 The dollar's weakness rippled across the globe, with the euro, yen, gold and precious metals among the beneficiaries. The risk-on mood that helped drive up Treasury yields this week was still evident, with European stocks following Asian peers higher. Emerging-market equities climbed for a sixth day, and West Texas crude extended a retreat.
The dollar's main nemesis, namely the euro, has been rebounding. Since the euro is the largest component of the U.S. Dollar Index DXY, +0.09% at 57.6%, a stronger euro means a weaker dollar. After the September 2017 election that left Germany without a governing coalition, the euroEURUSD, -0.0327%  weakened a bit, but last week finally saw Angela Merkel's CDU and the Social Democrats sign an agreement to start official negotiations.
Spanish bonds rose and outperformed their peers in Europe, driving the yield premium on 10-year debt to the lowest level since before the euro crisis, as investors position for a possible credit-rating upgrade on Friday.
Crude Loses Upward Momentum Amid U.S. Output Growth Worries. International Energy Agency sees "explosive" U.S. oil growth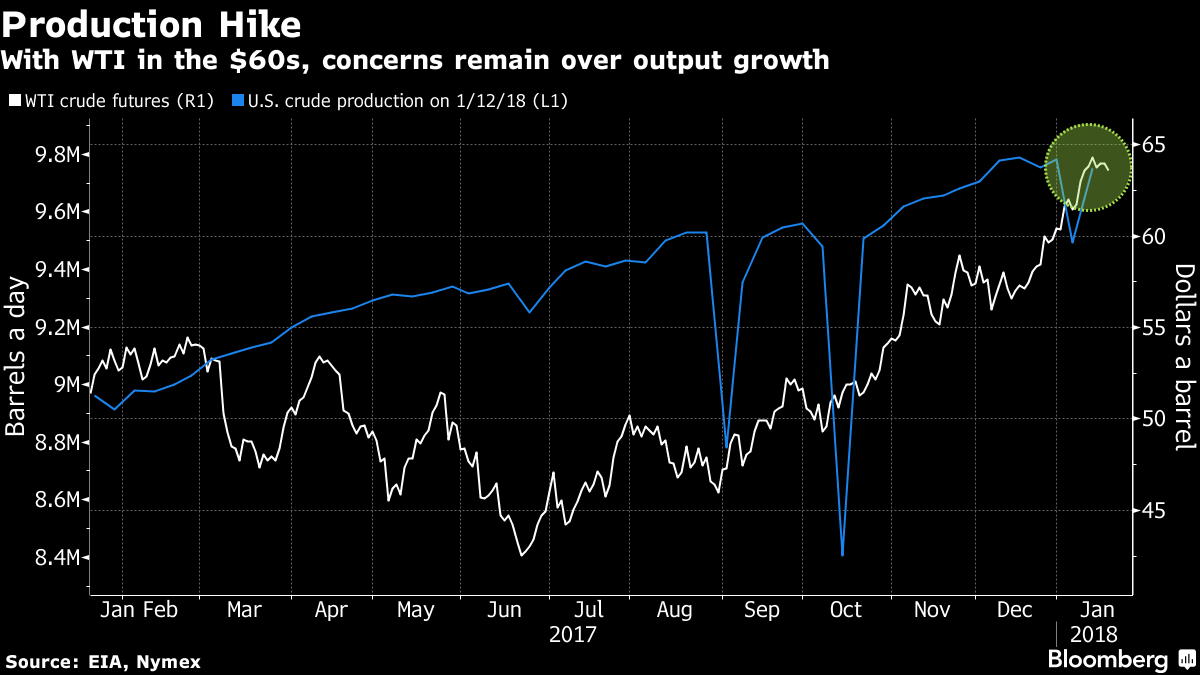 "The higher the price is, the more production we are going to get out of the U.S., which threatens the price," James Williams, president of London, Arkansas-based energy researcher WTRG Economics, said by telephone to Bloomberg.  "We are in that threatening cycle right now."
U.S. Consumer Sentiment Unexpectedly Falls to Six-Month Low:
Consumer sentiment unexpectedly declined in January to a six-month low as American households viewed the economy less favorably, a University of Michigan report showed Friday.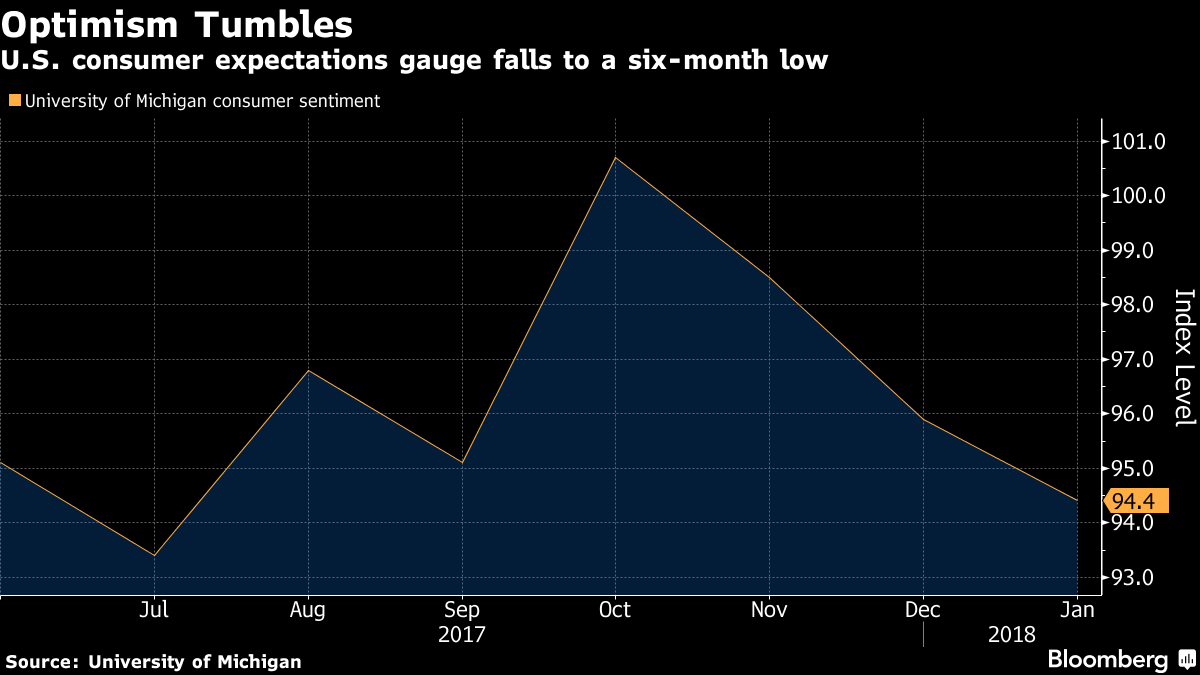 The setback in purchasing conditions was mainly due to less- attractive pricing, according to the University of Michigan. That was reflected in a pickup in increases in expected inflation rates over the coming year and longer term.
HIGHLIGHTS OF MICHIGAN SENTIMENT (JANUARY, PRELIMINARY)
Sentiment index dropped to 94.4 (est. 97) from 95.9 in December
Current conditions gauge, which measures Americans' perceptions of their finances, decreased to 109.2, the lowest since November 2016, from 113.8
Expectations measure improved to 84.8 from 84.3
Year-ahead inflation climbed to 2.8%, the highest since April 2016, from 2.7%
Main moves in markets, from Bloomberg
Stocks
The S&P 500 was up 0.1 percent at 2,801.47 as of 11:20 a.m. in New York.
The Stoxx Europe 600 Index jumped 0.4 percent to the highest in more than two years.
The MSCI All Country World Index gained 0.3 percent to an all-time high.
The MSCI Asia Pacific Index jumped 0.7 percent to the highest on record.
The MSCI Emerging Market Index rose 0.4 percent for its sixth consecutive advance.
Currencies
The Bloomberg Dollar Spot Index fell less than 0.1 percent to the lowest in about three years.
The euro slid 0.1 percent to $1.2229.
The British pound dipped 0.3 percent to $1.38532, its first decrease in more than a week.
The Japanese yen increased 0.4 percent to 110.62 per dollar.
Bonds
The yield on 10-year Treasuries rose one basis point to 2.6351 percent, the highest since June 2014.
Germany's 10-year yield slipped less than one basis point to 0.567 percent.
Britain's 10-year yield gained one basis point to 1.338 percent.
Commodities
West Texas Intermediate crude sank 1.1 percent to $63.26 a barrel.
Gold rose 0.5 percent to $1,333.83 an ounce, the biggest advance in a week.