Growing Trade War Fears Weigh on DoJ

Stock Climbing slowed, Bonds Advance

Bank of Japan: No end to Stimulus

Trump to Rise Trade Tariffs

2018 Market Rally Goes On
Futures for the S&P 500 Index edged lower and the dollar strengthened against the euro and pound as traders also digested President Donald Trump's first major move on foreign trade. In real terms it may probe more a stunt than a real economic threat but it could set the mood or be a catalyst to add to  a market more worrying about the economic success currently going on and the down turn that  all are expecting.
Compared with yesterday in which  US indices hit fresh records  as the government shutdown ended and the continuing resolution "can" got kicked down the road.
And technology stocks and Nasdaq going strong:
Asian stocks climbed to record highs as US govt shutdown ends. Yen inches higher on slightly hawkish BoJ. Dollar steady, US Treasury yields back below recent highs.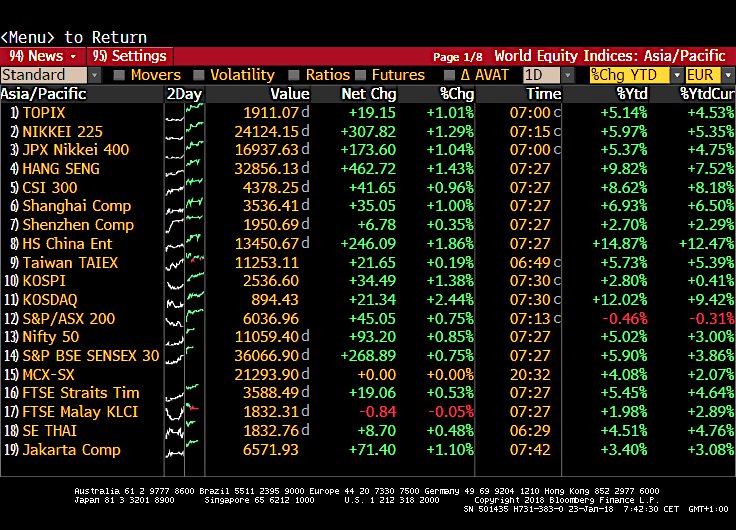 Pound hits the highest level since Brexit vote as the global elite gathers in #Davos. Sterling touches over $1.40 for the first time in 19 months. Theresa May, Mark Carney and Donald Trump all appearing in the Swiss elite resort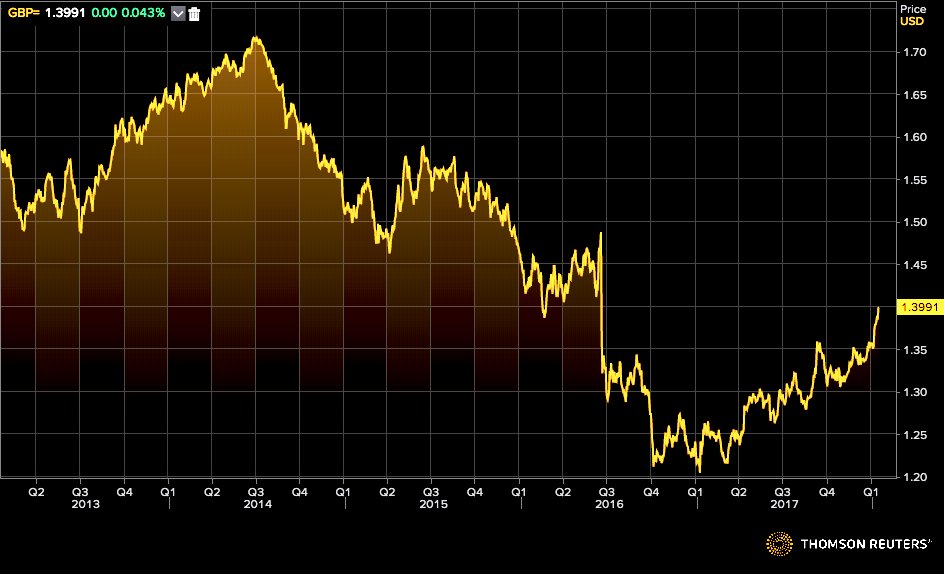 Even the cryptocurrencies will make an appearance at Davos in the disguise of a panel discussion called "The Crypto-Asset Bubble" on Thursday  with bubble expert and Nobel laureate Robert Shiller.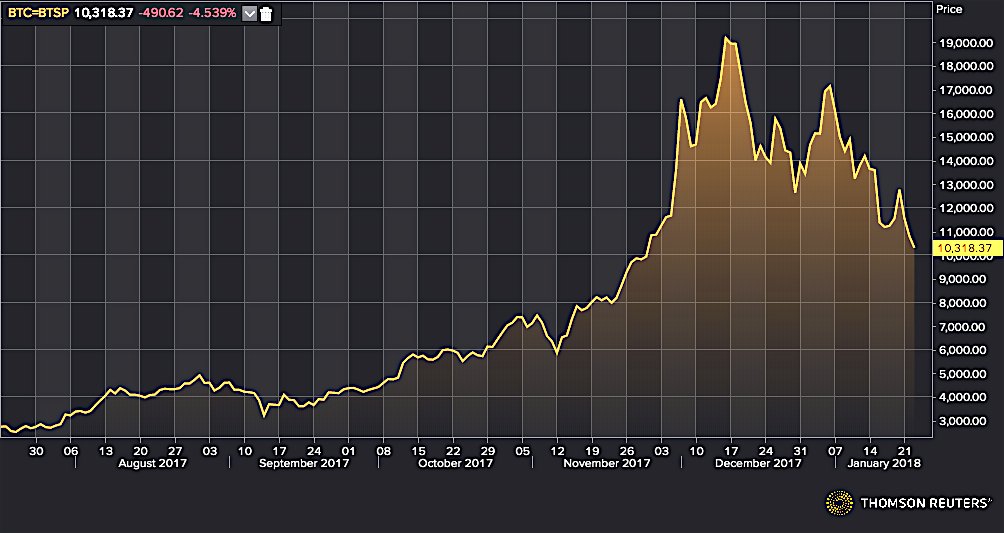 Investors will closely watch how markets respond to Trump's import tariffs. The positive impact from his signing of a temporary spending bill that ended a three-day partial government shutdown appears to have faded — perhaps because the deal simply delayed tough decisions for a few weeks, Bloomberg reports
Halliburton came out with an upbeat forecast for 2018 pointing to recovering margins in the oil services sector.
U.S. oilfield services company Halliburton Co (HAL.N) reported a bigger-than-expected adjusted quarterly profit on Monday and gave an upbeat outlook for 2018, as higher oil prices continue to push U.S. production to near-record levels.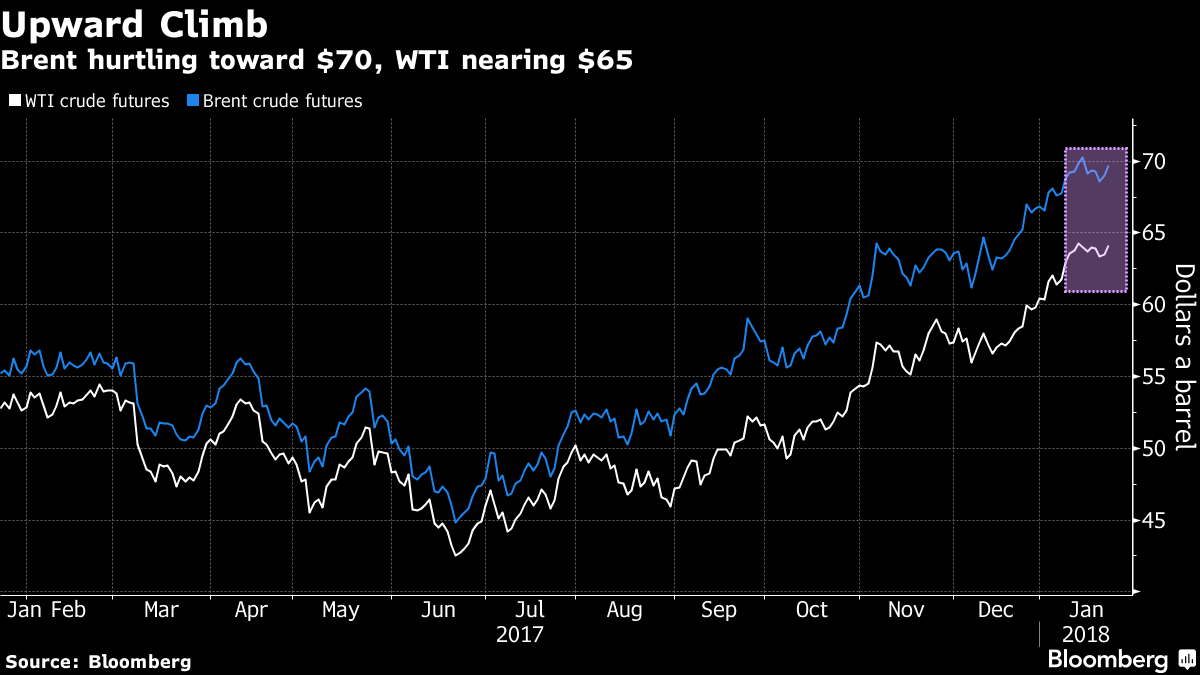 Prices are climbing toward $65 a barrel in New York and $70 in London as the Organization of Petroleum Exporting Countries and allied producers curb output for a second straight year. Refiners and exporters in the U.S. have turned to storage to acquire supplies, accelerating the reduction of the global glut.
This optimism quickly spread to other energy firms, resulting in a sharp rally across the oil industry.
Eurozone Consumer Morale Strongest in 17-1/2 Years
The Eurozone consumer confidence index rose by 0.8 points from the previous month to 1.3 in January 2018, easily beating market expectations of 0.6, the flash estimated showed. It was the highest reading since August 2000. Considering the European Union as a whole, the consumer sentiment index increased by 1 point to 0.4 in January, the highest level since January 2001.
U.S.
  More managers think this market rally will last through 2019 and beyond.
Main moves in markets, from Bloomberg News
Stocks
The S&P 500 Index rose less than 0.1 percent as of 10:30 a.m. New York time.
The Stoxx Europe 600 Index rose 0.2 percent.
The MSCI All-Country World Index climbed 0.3 percent to the highest on record.
The U.K.'s FTSE 100 Index increased 0.3 percent to the highest in a week.
Germany's DAX Index jumped 0.8 percent to the highest on record.
The MSCI Emerging Market Index increased 0.8 percent and the largest climb in more than a week.
Currencies
The Bloomberg Dollar Spot Index fell 0.1 percent.
The euro rose 0.2 percent to $1.2292.
The British pound rose 0.2 percent to $1.4014.
The Japanese yen gained 0.5 percent to 110.34 per dollar, the strongest in almost 19 weeks on the biggest rise in more than a week.
Bonds
The yield on 10-year Treasuries decreased four basis points to 2.61 percent, the largest decline in almost four weeks.
Germany's 10-year yield fell one basis point to 0.56 percent, the lowest in almost two weeks on the biggest fall in a week.
Britain's 10-year yield decreased two basis points to 1.337 percent, the first retreat in a week and the largest tumble in almost three weeks.
Commodities
Gold rose 0.2 percent to $1,336.80 an ounce, the highest in a week.
West Texas Intermediate crude increased 1.1 percent to $64.20 a barrel.
Monday's Key Earnings
Halliburton (NYSE:HAL) 

+6.4%

 upbeat on an oil recovery.
Netflix (NFLX) 

+8.3%

 AH smashing subscriber estimates.
Wynn Resorts (NASDAQ:WYNN) 

+8.7%

 announcing another Vegas hotel.
Today's Markets 
In Asia, Japan 

+1.3%

. Hong Kong 

+1.7%

. China 

+1.3%

. India 

+1%

.
In Europe, at midday, London 

+0.1%

. Paris flat. Frankfurt 

+0.6%

.
Futures at 6:20, Dow 

-0.1%

. S&P 

-0.2%

. Nasdaq 

-0.1%

. Crude 

+0.4%

 to $63.79. Gold 

+0.4%

 to $1337. Bitcoin 

-5.5%

 to $10178.
Ten-year Treasury Yield -3 bps to 2.63%
Economy News Wrap 
U.S. trading partners are starting to respond to the Trump administration's decision to slap steep tariffs on imports of solar panels and washing machines. China called them "an abuse," South Korea will file a complaint with the WTO, while Mexico said it would use all legal means at its disposal to ensure the U.S. meets its international obligations. Related premarket movers: ASYS+4.6%, CSIQ-0.4%, DQ-6.8%, ENPH+4.6%, FSLR+5.4%JASO-2.1%, JKS-2.9%, RGSE+46.1%, RUN+6%, SEDG+3.3%, SOL+0.7%, SKYS+2.5%, SPWR-1.4%, SUNW +29.5 TSLA+0.9%, VSLR+8.5%, WHR+3.2%.
Puerto Rico's Governor Ricardo Rossello intends to sell off the U.S. territory's troubled power utility to the private sector. Less than 64% of homes and businesses are receiving power, according to the U.S. Department of Energy. PREPA has yet to recover fully from the devastation wrought by Hurricane Maria, which in late September knocked out power to the entire island
A magnitude 8.2 earthquake off Alaska's Kodiak Island prompted a tsunami warning overnight for a large swath of coastal Alaska and Canada's British Columbia, while the remainder of the U.S. West Coast was under a watch. The following warning from the National Weather Service was sent to cellphones in Alaska: "Emergency Alert. Tsunami danger on the coast. Go to high ground or move inland."
Keeping monetary settings unchanged overnight, Japan's central bank said it would maintain its massive stimulus program, lagging behind global peers in normalizing policy. The BOJ also announced that "inflation expectations have moved sideways recently," versus a previous assessment that they were weakening, though risks to prices remain "skewed to the downside."
The Trump administration has entered into talks with Britain, France and Germany on ways to address its concerns with the Iranian nuclear deal, setting up a working group that will begin to meet next week. President Trump previously said he wouldn't renew U.S. sanctions relief to Iran in May, unless Europe agrees to restrict Iranian missile development, provide for expanded inspections and extend prohibitions on nuclear-weapons work.
U.S. Stocks again rose to new records yesterday, helped by the Senate vote to reopen the government and provide funding through Feb. 8. The next catalyst for equities could come from the slew of big earnings set to be unveiled this week. Of the 55 companies in the S&P 500 that have reported earnings through Monday morning, 80% have topped expectations.
Stocks News
Netflix claimed 2M more subscribers than Wall Street expected in the final three months of 2017, ending the year with 117.58M streaming subs around the globe. The results drove shares up 9% AH, resulting in a market cap of more than $100B for the first time. "With greater than expected member growth, we now plan to spend $7.5B-$8B on content on a P&L basis in 2018," Netflix (NASDAQ:NFLX) said in a statement.
21st Century Fox's £11.7B takeover of Sky (OTCQX:SKYAY) is not in the public interest and should only proceed subject to remedies, according to a provisional statement by the U.K. Competition and Markets Authority. Concessions could include divesting Sky News or insulating the channel from Murdoch's influence. The initial ruling for Fox (NASDAQ:FOXA) also complicates a plan by Walt Disney (NYSE:DIS) to buy the majority of Murdoch's assets.
Hoping to become the second largest spirits company in the U.S., Bacardi has confirmed a deal to buy high-end tequila maker Patron for $5.1B. While the global market for alcoholic drinks shrunk by 1.3% in 2016, the tequila market grew 5.2%, according to alcoholic beverage research firm IWSR. Diageo (NYSE:DEO) last year bought George Clooney's premium tequila brand Casamigos for up to $1B.
Toshiba has completed the sale of its claims against bankrupt U.S. nuclear unit Westinghouse Electric, allowing the Japanese conglomerate to replenish its depleted capital base and remain listed. The $2.16B sale, to a group of hedge funds led by the Baupost Group, will also come with tax benefits and improve Toshiba's (OTCPK:TOSYY) balance sheet by about ¥410B ($3.7B).
Recommending its customers hold off on patch installations, Intel (NASDAQ:INTC) said it has identified the cause of the reboot issue with Broadwell and Haswell platforms. The company rolled out an early solution last weekend to industry partners, and a final version for its two high-profile security vulnerabilities will become available following testing.
Adobe rose more than 3% AH after the company said its effective tax rate should be lower in 2018 as a result of recently passed U.S. tax reform. That's in contrast to IBM's statement last week which is leading to a higher tax rate. Mark Garrett, the CFO who led Adobe's (NASDAQ:ADBE) transition to a subscription business model, is also retiring after more than a decade in the role.
A Tesla Model S reportedly on "Autopilot" smashed into the back of a fire truck attending a freeway accident on Monday. While the car was said to be traveling at 65 mph before the crash, it was unclear to what extent the car may have slowed before striking the emergency vehicle. The feature is "intended for use only with a fully attentive driver," according to Tesla (NASDAQ:TSLA) officials.