Stocks Climb before CPI tomorrow.

U.S. Inflation Could Offer  Clues on Pace of Rate Hikes.

Why Global Economy may be due for a Downswing
World shares inched higher on Tuesday, eking out limited gains as investors kept a wary eye on a U.S. inflation reading later in the day that could offer clues on the pace of Federal Reserve interest rate hikes this year.
The consumer price index will likely be a sleeper for investors today, but if it's not, interest rates could spike and equities might sell off. It's expected to come in at 0.2% M/M for both headline inflation and core, which excludes energy and food, or 2.2% and 1.9% Y/Y. A CPI figure that misses or meets estimates is likely to reaffirm the case for just three rate hikes in 2018, but rising inflation could get the Fed, which meets next week, to change its forecasts.
While the consumer price index is a popular barometer of economic health, it is not the primary gauge the Fed uses to determine whether it is meeting its mandate of price stability. Instead, the Fed uses the personal consumption expenditure (PCE) index.
European shares opened positive, with the pan-European STOXX 600 gaining 0.1 percent. Italian and Spanish stocks rose 0.3 to 0.4 percent, while Britain's FTSE .FTSE was a laggard, down 0.1 percent.
As futures pointed to a gain for the S&P 500 Index, most of Europe's main gauges were in the green. Earlier, Japanese stocks fluctuated before closing higher, while Hong Kong and Chinese shares slipped. The yen slumped the most in three weeks as investors digested the political fallout from a scandal embroiling Japanese Finance Minister Taro Aso.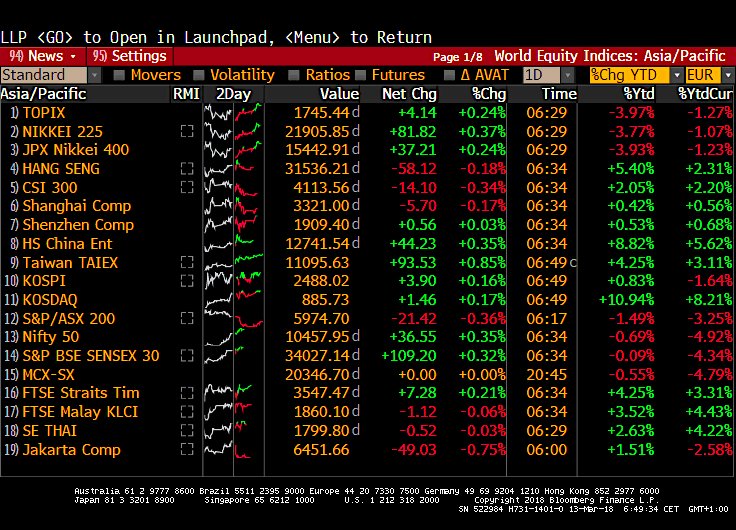 Global Economies could be up for a Downswing
Although global economic growth is a fact, the main thins is that the growth rate may be not enough. In fact after so many years of anaemic growth and low wages, it might seem unreasonable to suggest that the next economic downswing could be round the corner.
True that  unemployment rates have dropped dramatically and wages have picked up a touch in a number of countries, and both are useful "end-of-cycle" indicators, plus nobody is worrying about wage growth as tis has been also anaemic.
On the other hand interest rates are mostly low, and all are complacent that fiscal stimulus offered by Trump in the U.S. and a dynamic Eurozone makes that an economic meltdown seem absurd. But: history shows that periods when many countries are simultaneously growing above their long-run trends are associated with financial and economic upheavals.
Think about three factors:
 excessive risk taking: good times don't tend to last because we collectively start to do stupid things that bring them to an end. Think the wobbling equity market since February
Rise in comodity prices and capital as the global economy strengthens.
Rapid monetary tightening:

  Since the 1994 bond market collapse, the US Federal Reserve has boosted interest rates faster than economists or investors expected in only seven years. Those seven episodes correspond almost perfectly with periods of synchronised global growth.
Debt levels are higher than they were before the financial crisis. And, should things go wrong, interest rates are already so low that most central banks cannot ride to the rescue with sizeable rate cuts, as former Fed chairman Alan Greenspan did whenever the US economy wobbled.
Main moves in the markets, from BBG:
Stocks
The Stoxx Europe 600 Index climbed 0.1 percent as of 10:28 a.m. London time, hitting the highest in two weeks with its seventh consecutive advance.
Futures on the S&P 500 Index gained 0.2 percent to the highest in almost six weeks.
The MSCI Asia Pacific Index increased 0.1 percent to the highest in two weeks.
The U.K.'s FTSE 100 Index fell less than 0.05 percent.
The MSCI Emerging Market Index jumped 0.3 percent to the highest in more than five weeks.
Currencies
The Bloomberg Dollar Spot Index gained 0.2 percent.
The euro decreased less than 0.05 percent to $1.2331.
The British pound dipped 0.1 percent to $1.3898.
The Japanese yen declined 0.7 percent to 107.15 per dollar, the weakest in two weeks on the largest drop in three weeks.
South Africa's rand declined 0.2 percent to 11.8422 per dollar.
The MSCI Emerging Markets Currency Index advanced less than 0.05 percent to the highest in two weeks.
Bonds
The yield on 10-year Treasuries increased one basis point to 2.88 percent.
Germany's 10-year yield decreased one basis point to 0.63 percent, the lowest in almost seven weeks.
Britain's 10-year yield fell one basis point to 1.494 percent.
Commodities
West Texas Intermediate crude climbed 0.3 percent to $61.53 a barrel.
Gold decreased 0.3 percent to $1,318.50 an ounce, the weakest in more than a week.
Stock Talk & News
Blocked! "There is credible evidence that leads me to believe that Broadcom (NASDAQ:AVGO)… through exercising control of Qualcomm (NASDAQ:QCOM)… might take action that threatens to impair the national security of the U.S.," reads an order issued by CFIUS and signed by President Trump. "All 15 individuals listed as potential candidates filed by Broadcom… are also hereby disqualified from standing for election as directors of Qualcomm." QCOM -5% premarket.
Apple closed at an all-time high on Monday, briefly surpassing an intraday market cap of $925B for the first time. It comes after Apple Music (NASDAQ:AAPL) hit 38M paid subscribers, up 2M from last month, and signed on its first animated series show from Loren Bouchard, creator of Bob's Burgers. Apple also acquired digital magazine subscription app Texture for an undisclosed amount.
General Electric did not pay cash bonuses last year to its senior executives for the first time in the company's 126-year history. John Flannery, who took over as CEO on Aug. 1 with a $2M annual salary, received $9M in total compensation for 2017, including stock options and changes in values in his pension plan. Former GE CEO Jeff Immelt received $8.1M in total compensation, down from $21.3M in 2016.
Women working in U.S.-based technical jobs at Microsoft (NASDAQ:MSFT) filed 238 internal complaints about gender discrimination or sexual harassment between 2010 and 2016, according to court filings that were just made public. The figure was cited by plaintiffs suing the world's largest software company for systematically denying pay raises or promotions to women. Microsoft denies it had any such policy.
Data breach victims can sue Yahoo – meaning, Verizon (NYSE:VZ) – in the U.S., according to U.S. District Judge Lucy Koh. Yahoo has been accused of being too slow to disclose three data breaches in 2013 and 2016 that compromised 3B users, increasing the risk of identity theft and requiring them to spend money on credit freeze, monitoring and other protection services.
Overheated tech market? Dropbox (Pending:DBX) has offered a $16-$18 price range for shares in its IPO set for Friday that would value the cloud storage company at up to $7.1B, nearly a third below the valuation it commanded in 2014. Investors are carefully watching Dropbox for signs of how other highly valued tech companies will be received by the public markets.
Saudi Arabia is increasingly looking to just float Aramco (Private:ARMCO) locally, Reuters reports, as the kingdom counts on being awarded emerging market status by MSCI in June to help attract international funds. Saudi Energy Minister Khalid al-Falih said last week that Aramco was too important to risk listing in the U.S. because of litigation concerns, like existing climate change lawsuits against rival oil companies.
A "shared sacrifice" is needed to fix GM Korea, President Dan Ammann told Reuters. "It's a classical restructuring where everybody needs to contribute something," while unions and the South Korean government need to quickly agree on a restructuring. Nearly 2T won ($1.88B) of GM Korea's debts to its parent are due by end-March or early April.
Airbnb for cars? General Motors (NYSE:GM) is also planning to start a pilot program this summer through its Maven car-sharing unit that will enable car owners to rent out their vehicles when they aren't using them, Bloomberg reports. GM will try to grow the pilot into a full-fledged business if it's successful, marking another step towards transitioning from manufacturer to mobility provider.
The world's first commercial autonomous flying taxi service is hitting the runway in New Zealand. The venture has been unveiled by Prime Minister Jacinda Ardern, alongside Zephyr Airworks, the local operator of Kitty Hawk, which is backed by Alphabet (GOOG, GOOGL) CEO Larry Page. The self-flying taxi called Cora has a dozen lift fans – all powered by batteries – for vertical take-off and landing, and can fly about 62 miles and carry two passengers.