Global Stocks, Futures Slide Amid Rate Hike Fears, Trade Tensions.

Wall Street, Nasdaq Dragged by Tech-Stocks.

European Stocks Tumble.

Asian Markets: Nikkei drops 1 week Low.
Japan politics led Nikkei lower  as investors repsonded to opinion polls showing falling support for Prime Minister Shinzo Abe amid a cronyism scandal that has gripped the country.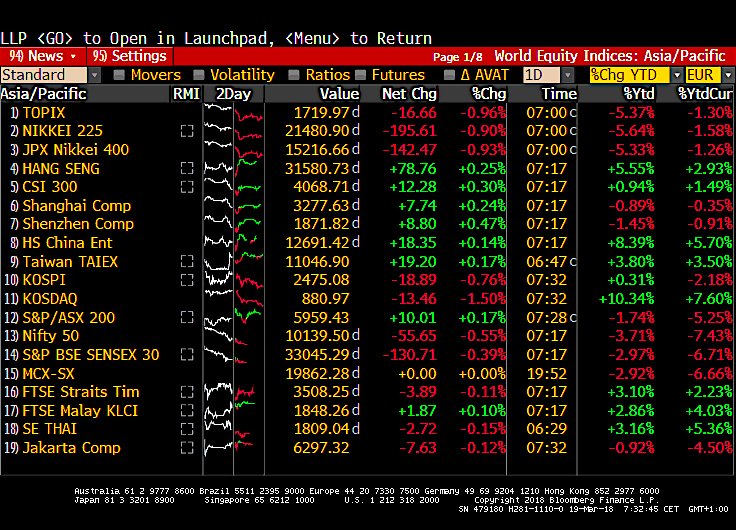 The turmoil is anchored on a series of geopolitical unsettling issues:  lack of Brexit clarity, Italy's struggle to form a government, Facebook sliding on data breach concerns, Russia's spat with the U.K., upcoming concerns about this Wednesday's Fed meeting, ongoing Brexit talks and today's G-20 gathering, and so on.
A retreat for the Stoxx Europe 600 Index, the gauge's drop threatens to trigger a trading pattern known as a "death cross," a bearish sign for many technical analysts.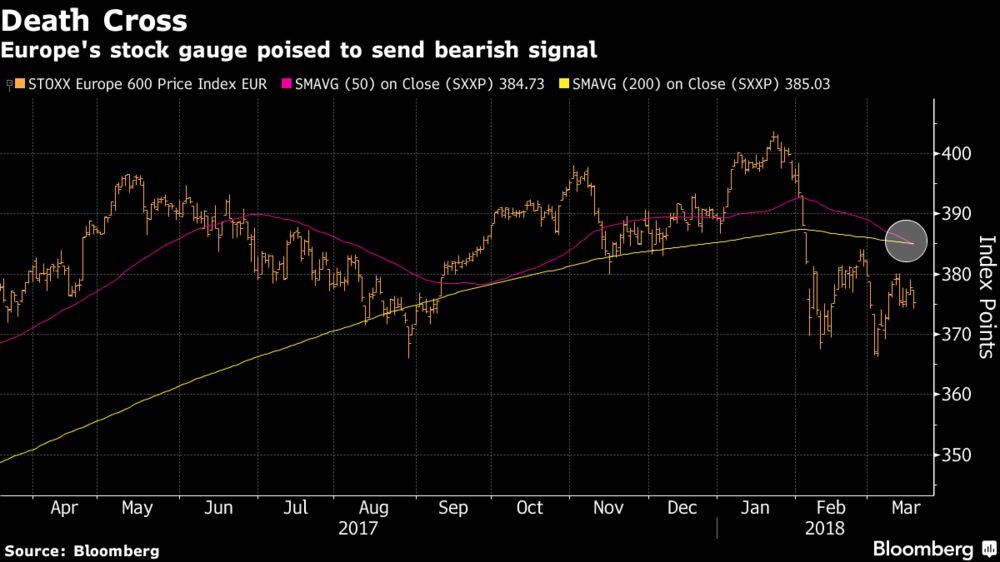 The Euro #Euro back above $1.23 as #ECB debate shifting to interest rate path from #QE, according to Reuters: Even Doves within the ECB accept that QE should end this year.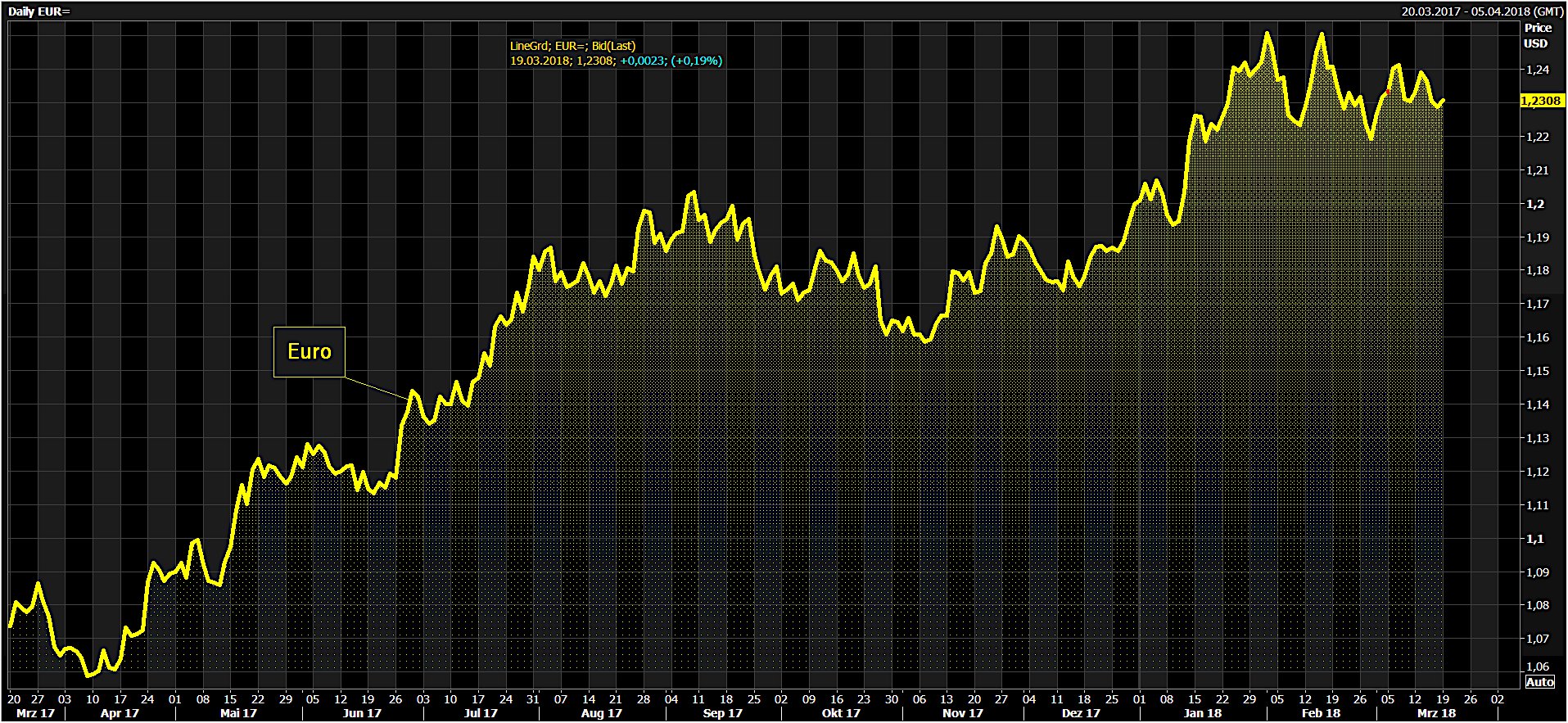 Britain and the EU have taken a "decisive step" towards withdrawal agreement, says Michel Barnier in Brussels.
After intensive work, the two sides have jointly published a new version of the draft withdrawal deal for Brexit, says Barnier at his joint press-conference with David Davis.
This includes "complete accord" on citizens right and Britain's financial settlement.
But.. Barnier also cautions that a step is just a step – a lot of work remains to be done, especially on the Ireland border issue.
As a result the Sterling ( aka cable)  spiked to 1.40…
Main moves in markets: from BBG:
Stocks
The S&P 500 Index fell 0.8 percent as of 10:19 a.m. New York time, while the Dow Jones Industrial Average dropped 0.8 percent and the Nasdaq Composite Index dipped 1.1 percent.
The Stoxx Europe 600 Index fell 0.6 percent and the MSCI Asia Pacific Index decreased 0.7 percent on the largest dip in two weeks.
The U.K.'s FTSE 100 Index sank 1.5 percent on the biggest tumble in more than two weeks.
The MSCI Emerging Market Index sank 0.6 percent.
Currencies
The Bloomberg Dollar Spot Index fell 0.1 percent.
The euro climbed 0.2 percent to $1.2313.
The British pound climbed 0.8 percent to $1.406 on the biggest increase in almost eight weeks.
The Japanese yen was little changed at 106.10 per dollar.
South Africa's rand sank 0.7 percent to 12.05 per dollar, after touching the weakest level in more than five weeks.
The MSCI Emerging Markets Currency Index sank 0.2 percent on the largest decrease in more than a week.
Bonds
The yield on 10-year Treasuries advanced four basis points to 2.86 percent.
Germany's 10-year yield increased two basis points to 0.58 percent, after posting the largest climb in almost two weeks.
Britain's 10-year yield climbed five basis points to 1.48 percent, after seeing the biggest surge in almost 11 weeks.
Commodities
West Texas Intermediate crude fell 0.4 percent to $62.08 a barrel.
Gold was little changed at $1,313.08 an ounce.
Stock News
Several Apple screen suppliers traded sharply lower overnight, including Samsung (OTC:SSNLF), Sharp (OTCPK:SHCAF), LG Display (NYSE:LPL) and Japan Display (OTCPK:JNNDF), following a report from Bloomberg stating the tech giant was making displays of its own. Apple (AAPL) has made a "significant investment in the development of next-generation MicroLED screens" at a facility near its California headquarters, but consumers will "probably have to wait a few years before seeing the results."
Following similar action by Facebook (FB) and Google (GOOG, GOOGL), Twitter (TWTR) is set to be the next to bar a range of advertisements for cryptocurrencies. The ban would apply to ads for initial coin offerings, token sales and wallets, according to the report from Sky News, and may include ads for exchanges as well with limited exceptions.
Meanwhile, Mastercard is "very happy to look at" facilitating the use of cryptocurrencies, but only as long as those virtual currencies are issued by central banks, FT reports. Mastercard (NYSE:MA) and its rival Visa (NYSE:V) both made it more difficult for users to buy bitcoin this year by reclassifying such purchases as "cash transactions," which attract higher fees.
The U.S. State Department and Coca-Cola (NYSE:KO) are launching a project using blockchain's digital ledger technology to create a secure registry for workers that will help fight the use of forced labor worldwide. This will "further increase transparency and efficiency of the verification process related to labor policies within our supply chain," said Brent Wilton, the company's global head of workplace rights.
Igniting a firestorm over how it manages third-party access to its users' information, Facebook (FB) was slammed by U.S. and British lawmakers over the weekend for not providing more information about its ties to Cambridge Analytica. The data firm, which worked for President Trump in the 2016 election, improperly kept Facebook (FB) user data for years despite saying the records were destroyed. FB -3.3% premarket.
Google is teaming up with retailers including Target (NYSE:TGT), Walmart (NYSE:WMT), Home Depot (NYSE:HD), Costco (NASDAQ:COST) and Ulta Beauty (NASDAQ:ULTA) on a new program called Shopping Actions, Reuters reports. In exchange for search listings and linking to loyalty programs, the companies will pay Google (GOOG, GOOGL) a piece of each purchase. According to analysts, the current default choice for many consumers is a Google search that ends with a transaction on Amazon (AMZN).
Alibaba is investing an extra $2B in Southeast Asian e-commerce firm Lazada (Private:LZDA) and tapped one of Alibaba's 18 founders, long-time executive Lucy Pen, to take over as chief executive. The region "is a key part of Alibaba's global growth strategy," Alibaba (NYSE:BABA) said in a statement. It held an 83% stake prior to the investment, which now totals $4B after a $2B infusion over the past two years.
In the midst of a turnaround that hopes to achieve same-store sales growth, Macy's (NYSE:M) detailed some new app experiences at the ShopTalk conference in Las Vegas. The company will roll out a mobile checkout option at every location by the end of the year and announced the expansion of a successful virtual reality pilot for furniture to 60 stores by this fall.
UPS's entire central London fleet will soon be made up of electric vehicles, marking the "beginning of the end" of what the company called reliance on the internal combustion engine. The new "intelligent smart grid" from UPS will stagger when delivery trucks charge, solving the problem of needing to recharge a large number of vehicles simultaneously without having to pay for an expensive power supply upgrade.
The NHTSA is opening a probe into why some air bags failed to deploy in Hyundai (OTCPK:HYMLF) and Kia (OTCPK:KIMTF) vehicles after crashes in which four people were reportedly killed and another six injured. The agency is specifically reviewing 425,000 2012-2013 Kia Forte and 2011 Hyundai Sonata cars, but also said it will determine if any other manufacturers used similar air bag control units.
General Dynamics intends to proceed with its tender offer to acquire all outstanding shares of CSRA for $40.75 per share in cash, or a total of $9.6B, despite CACI's unsolicited stock and cash offer of $44 per share. General Dynamics (NYSE:GD) said it had secured all necessary regulatory approvals and has the funding in place to complete the transaction in early April. CACI +2.1% premarket