China Standoff Easing: Risk-On mood.

Bonds are not Buying it: Risk-Off.

Wall Street opens higher as tech stocks gain.

Asian Stocks Rally.
With trade war fears easing after the overnight speech from Chinese president Xi, US markets have opened sharply higher.
The Dow Jones Industrial Average is currently 390 points or 1.63% higher, while the S&P 500 is up 1.36% and the Nasdaq Composite has climbed 1.65%.
Asia stocks rally as Xi calms jitters over US-China trade row. #China President backs globalization in key speech. He promised to lower import tariffs on products including cars this year. Haven assets like US treasuries decline w/ gold, yen. Oil holds advance.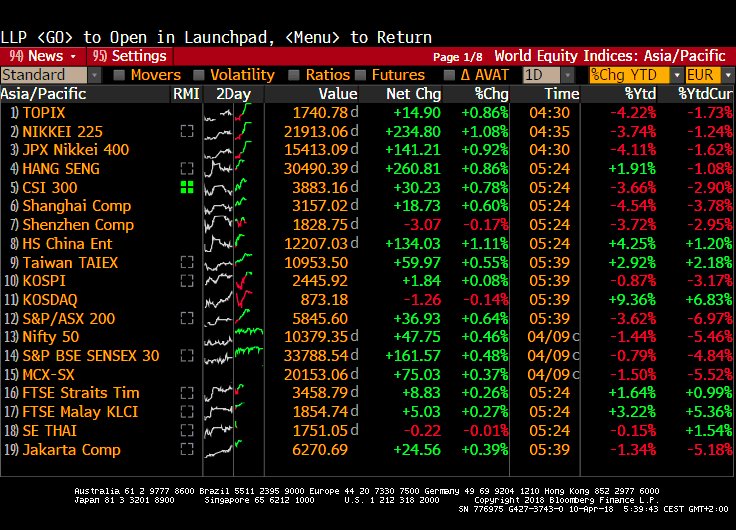 Stocks surged Tuesday following conciliatory remarks from Chinese President Xi Jinping aimed at releasing some pressure from a trade dispute between the world's biggest economies. Treasuries fell with the dollar.
The Stoxx Europe 600 Index followed shares from Sydney to Hong Kong higher alongside oil and metals.

But Equity market participants appeared to 'miss' China's actual 'actions' overnight (WTO complaints): Bonds don´t buy it:
European government bonds edged lower and the single currency rose after somewhat hawkish remarks by a European Central Bank official.
With Xi's comments and U.S. President Donald Trump's more friendly tone pointing to a less-combative approach to the nations' disagreements, traders are weighing whether fears of a trade war have become overblown. That's reinvigorating faith in the synchronized global-growth story ahead of earnings season, even after a Federal Reserve official cautioned that the spat won't be resolved soon. Bloomberg
And Russian assets remain in focus in the wake of a fresh round of U.S. sanctions. The ruble extended its decline, dropping to the weakest level since December 2016, and equities fluctuated before rising.
WTI crude prices are up overnight, extending post-XI-sprech gains following headlines that Saudi Arabia wants to get oil prices near $80 a barrel to pay for the government's crowded policy agenda (and costly war with Yemen) and support the valuation of state energy giant Aramco before an IPO
These are the main moves in markets, from Bloomberg
Stocks
The S&P 500 was up 1.2 percent to 2,644.78 as of 9:39 a.m. in New York.
Stoxx Europe 600 Index climbed 0.4 percent, the highest in more than three weeks.
The MSCI All-Country World Index advanced 1 percent.
The MSCI Emerging Market Index gained 0.8 percent.
The MSCI Asia Pacific Index advanced 0.9 percent.
Currencies
The Bloomberg Dollar Spot Index fell 0.2 percent to the lowest in two weeks.
The Japanese yen decreased 0.2 percent to 106.97 per dollar.
The euro gained 0.3 percent to $1.2359, the strongest in two weeks.
The British pound increased 0.3 percent to $1.4171, the strongest in more than two weeks.
Bonds
The yield on 10-year Treasuries climbed one basis point to 2.7863 percent.
Germany's 10-year yield was little changed at 0.504 percent.
Britain's 10-year yield advanced one basis point to 1.395 percent.
Commodities
Gold climbed 0.3 percent to $1,339.83 an ounce, the highest in more than a week.
West Texas Intermediate crude increased 2 percent to $64.57 a barrel, the highest in more than a week.
Economy main News:
Tax cuts and spending increases will lead the U.S. budget deficit to surpass $1T by 2020, two years sooner than previously estimated, according to the Congressional Budget Office. By 2028, the agency expects the deficit to top $1.5T. While economic growth this year will jump above 3% thanks to the fiscal stimulus, the acceleration will likely prove fleeting, with GDP slowing to 1.8% by 2020.
Better timeline for NAFTA 2.0? "There's a very high probability of reaching an agreement in principle, an 80% chance," Mexico's Economy Minister Ildefonso Guajardo said in an interview on the Televisa network. The U.S., Canada and Mexico originally set January 2018 as the goal for concluding NAFTA talks, then pushed the deadline to March 31.
Venezuela stopped paying bondholders in September, according to central bank data, contradicting statements by President Maduro that the country would continue to honor its debts while negotiating a creditor restructuring. The debt crisis could hit another fresh low today as a $650M bond from Electricidad de Caracas matures with little hope it will get paid.
Kim Jong-un has briefed top ruling party officials on his "profound analysis and appraisal" for the future direction of dialogue with the U.S. and his upcoming summit with South Korea. It comes ahead of tomorrow's annual meeting of North Korea's Supreme People's Assembly, which approves the national budget and other policy issues that have already been decided on by Kim and party leadership.
Simmering tensions… A U.S. military response in Syria is likely on the table in the next 24 hours following a chemical weapons attack, while Russia's ruble tumbled over 4% for a second day amid its relationship with the Assad regime. Iran has also announced the capability of restarting its full-scale nuclear enrichment program in just four days should the U.S. withdraw from the 2015 nuclear accord.
Main Stocks News
Facebook and social media stocks are on watch this morning as Mark Zuckerberg gets grilled over the Cambridge Analytica scandal on Capitol Hill. Investors will be parsing over questions on privacy, as well as mentions of regulation. Several analysts have also seen Facebook's (NASDAQ:FB) recent decline as a good opportunity to buy the previously high-flying shares, though they cautioned that much will depend on Zuckerberg's testimony. Premarket movement: FB +1%; TWTR +2.1%; GOOG, GOOGL +1.7%; VZ +0.4%; MSFT+1.9%; SNAP flat.
Continuing its expansion across the U.S., Amazon (NASDAQ:AMZN) will begin offering Whole Foods delivery today to Prime members in Southern California. Two-hour delivery will be free, while delivery in under an hour will cost $7.99 for orders of $35 or more. The service – which is now available in seven cities – comes nearly a year after Amazon bought Whole Foods for $13.7B.
Sign of the times… Mattel (NASDAQ:MAT) is closing its New York office as part of a previously announced $650M cost savings plan. The toy company has had a tough year, impacted by the bankruptcy and liquidation of Toys 'R' Us, its second-largest customer. Mattel reported an adjusted loss per share of $1.08 in Q4 and saw net sales drop 11% in 2017.
In an effort to carve out a piece of the $3T healthcare market, big tech companies are looking to partner with established industry players to promote innovation. Google (GOOG, GOOGL) is now teaming up with the American Medical Association, a physician lobbying group, on a plan to get startups to come up with the "best new ideas for fostering data sharing from health monitoring devices."
Good and bad news for Boeing? Indonesia's Lion Air Group has announced a $6.2B list price purchase for 50 737 MAX 10 jets, the newest and largest member of the U.S. planemaker's narrow-body family. However, Malaysia Airlines – which has an all-Airbus (OTCPK:EADSY) fleet – just launched a fresh tender process for 20-30 wide-body jets that could supersede a Boeing (NYSE:BA) 787 deal agreed to last year.
NTSB Chairman Robert Sumwalt and Tesla (NASDAQ:TSLA) CEO Elon Musk seem to have patched things up with a "constructive conversation" following testy exchanges related to a fatal Autopilot crash on March 23. Musk had been dismissive of the company's role in regulating cars and defended the release of information showing the driver's hands were not on the wheel before the collision, which ran afoul of NTSB protocol.
Another legal setback? France is entitled to bring criminal proceedings against UBER's local managers for running an illegal taxi service, according to the European Court of Justice. The ruling follows the court's previous decision classifying Uber as a transport service and therefore stripping it of the protections against undue national regulation that are enjoyed by digital services.
Apple has achieved its goal of powering all of the company's facilities and operations off 100% renewable energy. The milestone includes data centers, offices and retail stores in 43 countries, but excludes third-party suppliers and manufacturers. "We're not going to stop until our supply chain is 100% renewable," said Apple (NASDAQ:AAPL) Vice President of Environment Lisa Jackson.
The Canadian government is weighing all its options on the Trans Mountain pipeline expansion, including a possible investment of public funds to ensure construction goes ahead. Kinder Morgan (NYSE:KMI) had previously halted most work on the project and set a May 31 deadline to scrap the plan. Shares of Kinder Morgan Canada (OTCPK:KMLGF) fell 13% on Monday, the biggest decline since its IPO last May.
Glencore CEO Ivan Glasenberg has resigned as a director at Russia's Rusal (OTC:RUALF) – which produces around 6% of global aluminum supply – following the imposition of targeted U.S. sanctions on the company. Glencore (OTCPK:GLCNF) owns an 8.75% stake in Rusal and is the largest buyer of its metal. The firm will also no longer carry out a plan to swap its holdings for a stake in Russian energy company En+.
The Justice Department will allow Bayer (OTCPK:BAYRY) to acquire Monsanto (NYSE:MON) for $60B after the companies pledged to sell off additional assets to secure government antitrust approval, WSJ reports. The megadeal presented the DOJ with its second major merger decision under the Trump administration following its move last November to challenge AT&T's (NYSE:T) acquisition of Time Warner (NYSE:TWX).
World's biggest unicorn? Alibaba (NYSE:BABA) affiliate Ant Financial plans to raise $9B in its latest round of funding that could value the company at $150B, WSJ reports. At that valuation, the company would be worth more than large U.S. financial firms including Goldman Sachs (NYSE:GS), Paypal (NASDAQ:PYPL) and BlackRock (NYSE:BLK). According to sources, Ant is expected to list on both domestic and overseas exchanges.