US Stocks Rise
U.S. Stocks Get a Boost from Strong Corporate Results
Dow Tests Critical Technical Support
European shares higher as Results come in.
Putin Warns Of Global "Chaos" If West Hits Syria Again
U.S. stocks edged higher on Monday as companies that reported strong corporate earnings helped push major indexes higher.
Markets are digesting a huge amount of information and  headlines, on trade, Geopolitics, but the main driver for stock markets will be earnings reports.
Crude Oil Falls From Three-Year High as Mideast Tensions Ease. Futures declined as much as 1.9 percent in New York after rallying for five sessions. President Donald Trump declared "mission accomplished" a day after the U.S., France and the U.K. bombed Syrian in response to chemical attacks on civilians. The Trump administration's next measure may be stiffening sanctions against Syrian leader Bashar al-Assad's ally Russia, Bloombreg reports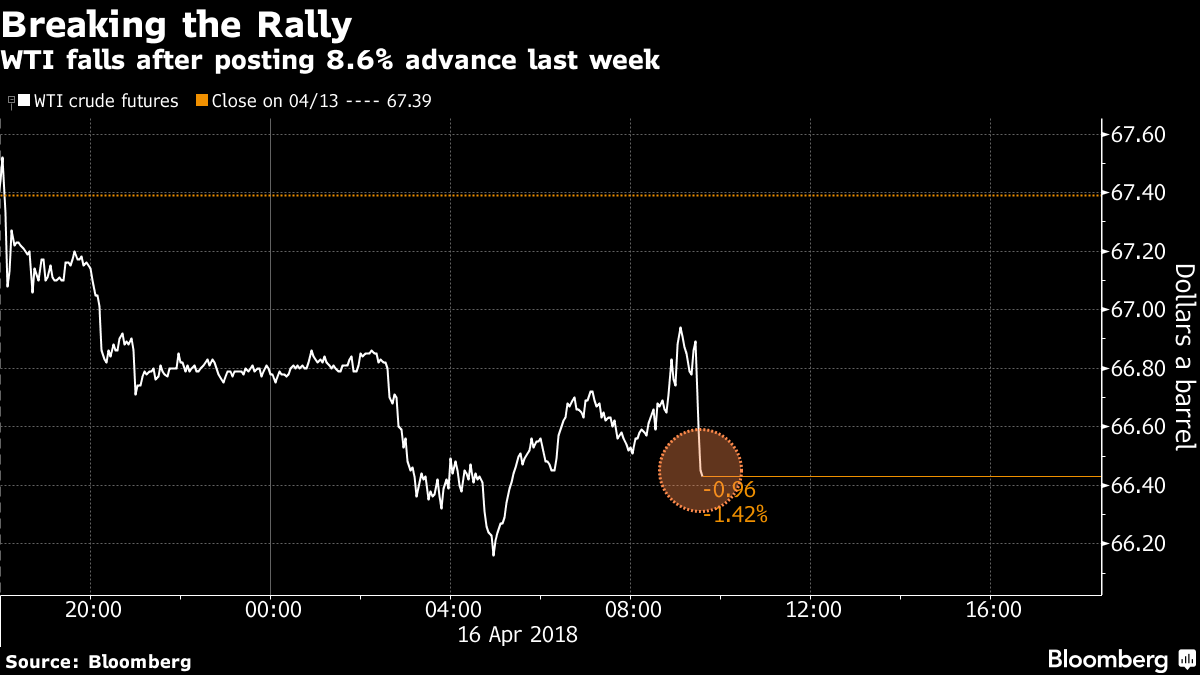 Wall Street firms are showing they can benefit from turbulent stock markets, with JPMorgan posting record revenue from equity trading, and Bank of America and Citigroup generating the most money from that business since 2010.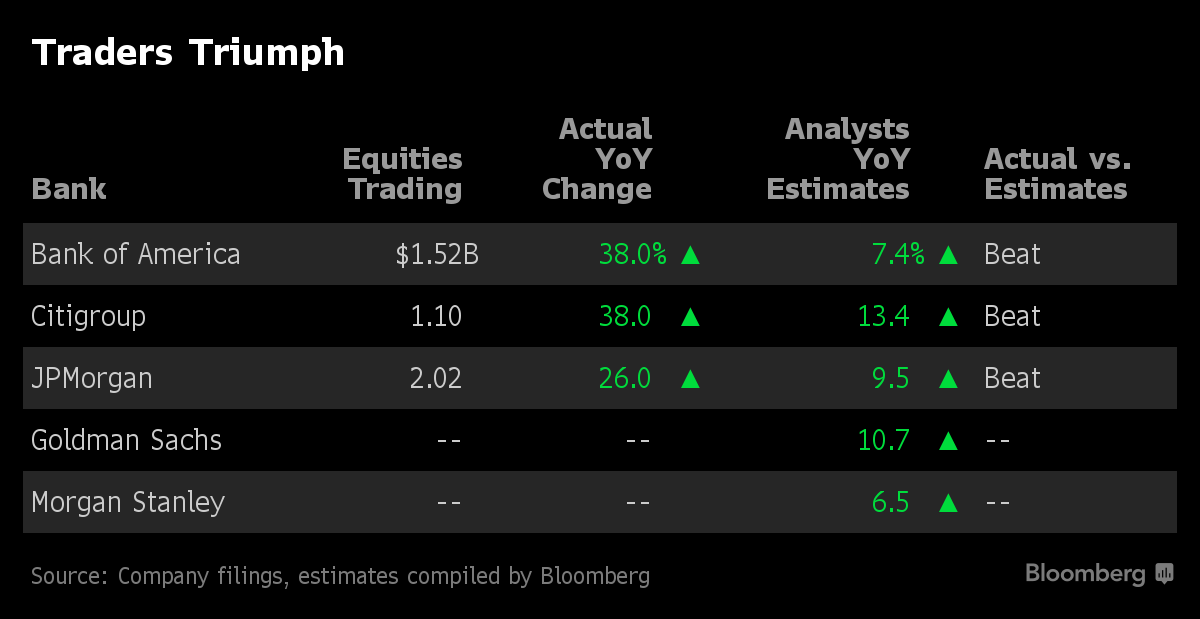 As US banks start reporting results, JPMorgan, Bank of America and Citigroup benefited as the Federal Reserve raised rates twice in the past four months, meaning they can charge more for loans. All three firms posted higher net interest income in the first three months of the year, which they attributed to higher rates and loan growth.
Credit quality remains a top concern for investors as Federal Deposit Insurance Corp. data show credit-card loans reached a record last year.
Here the main moves in markets from BBG:
Stocks
The S&P 500 Index gained 1.1 percent as of 2:01 p.m. New York time.
The Stoxx Europe 600 Index decreased 0.4 percent.
The MSCI All-Country World Index rose 0.3 percent.
The U.K.'s FTSE 100 Index fell 0.9 percent to the lowest in a week.
Currencies
The Bloomberg Dollar Spot Index declined 0.3 percent to the lowest in three weeks.
The euro gained 0.4 percent to $1.2375.
The British pound rose 0.6 percent to $1.4327, hitting the strongest in about 22 months.
The Japanese yen advanced 0.2 percent to 107.19 per dollar.
Bonds
The yield on 10-year Treasuries rose one basis point at 2.84 percent.
Britain's 10-year yield increased three basis points to 1.463 percent.
Germany's 10-year yield rose one basis point to 0.525 percent.
Commodities
Gold rose 0.1 percent to $1,347.29 an ounce.
West Texas Intermediate crude dipped 1.5 percent to $66.36 a barrel, the first retreat in more than a week.
LME aluminum gained 4.99 percent to $2,399.00 per metric ton, the highest in more than six years.
Shortly after US Ambassador Nikki Haley revealed that Russia would be slapped with a third round of sanctionson Monday for "enabling the Syrian government's use of chemical weapons in civil war," Russian President Vladimir Putin said that further attacks on Syria by Western forces, "in violation of the U.N. Charter," would send international relations into "chaos."
Russia's Moex stock market index opened 1.3% lower this morning, with aluminum giant Rusal (OTC:RUALF) plunging another 8% and the ruble on the back-foot once again amid the latest tensions in Syria. On Sunday, Vladimir Putin warned that further Western attacks on the region would bring "chaos" to world affairs as Washington prepared a new round of economic sanctions against Russia.
Boost for the defense sector? Friday night's barrage on Syria consisted of 105 U.S., U.K. and French missiles fired from the Red Sea, Arabian Gulf and the Mediterranean. According to the Pentagon, 19 Lockheed Martin (NYSE:LMT) JASSMs were used, as well as 66 Raytheon (NYSE:RTN)-made Tomahawk cruise missiles. The allied weaponry also included French SCALP-EGs and British Storm Shadow standoff missiles.
On the sidelines of the Summit of the Americas, Mexican President Enrique Pena Nieto, U.S. Vice President Mike Pence and Canadian Prime Minister Justin Trudeau said they thought a renegotiated NAFTA deal could be reached before Mexican elections on July 1, although they cautioned no deadlines had been set. Pence also revealed that the topic of funding for President Trump's proposed border wall did not come up at the conference.
Against a backdrop of American trade threats, China and Japan have taken another step toward mending their troubled relations, resuming economic talks for the first time in nearly eight years. Japan's Shinzo Abe now heads to the U.S., where he will meet with President Trump to discuss trade and plans for a summit with North Korean leader Kim Jong-un.
China's President Xi is "personally opposed" to life-long rule, adding that foreign observers have "misinterpreted" a recent constitutional amendment that revoked the two-term presidential limit, FT reports. The decision was meant to align the country's top government and Communist party jobs.
Economic data and earnings are likely to keep investors busy today, with the retail sales report on watch, as well as whether tax cuts and labor market gains are starting to translate into higher spending. In February, retail sales dipped 0.1%, marking a three-month slide and presenting a puzzle given conditions including a strong job market and growing worker paychecks.
Stocks News
First FAANG? Netflix (NASDAQ:NFLX) +1.3% premarket with the streaming giant set to report earnings after the bell today. The company's last results in January featured a record number of new subscribers, which lit up the stock. Netflix shares have surged 37% since that report and 62% YTD, outperforming every other company on the S&P 500 on that basis, save for biotech company Nektar Therapeutics (NASDAQ:NKTR).
China is slowing reviews of multibillion-dollar takeover deals as U.S.-China trade tensions escalate, WSJ reports. The delay could end up quashing Qualcomm's (NASDAQ:QCOM) planned $44B purchase of NXP Semiconductors (NASDAQ:NXPI), or Toshiba's (OTCPK:TOSYY) planned $19B sale of its chip unit to a consortium led by Bain Capital.
Facebook CEO Mark Zuckerberg's compensation jumped 54% to $8.9M in 2017, which was almost entirely spent on personal security and the use of a private jet. His base salary was unchanged at $1, as it has been since 2013, while his total voting power at the company rose slightly to 59.9%. As of March 31, Zuckerberg owned 401.5M shares of Facebook (NASDAQ:FB) stock, currently worth $66B.
It's a new era for the world's biggest advertising firm. WPP CEO and founder Martin Sorrell has stepped down after 33 years at the company, where he had been under investigation for personal misconduct since April 3. Chairman Roberto Quarta will become executive chairman until a new CEO is appointed. WPP -4.8% premarket.
Humans are set to be genetically modified for the first time in Europe after regulators gave the go-ahead to trial Crispr Therapeutics' (NASDAQ:CRSP) DNA-splicing therapy for blood disorder beta thalassaemia. "We will look back and think that this is the real beginning of gene therapy," said Prof. Robin Lovell-Badge of London's Francis Crick Institute.
Rare diseases specialist Shire is selling its oncology business to France's Servier for $2.4B. The divestment may be a deterrent for Takeda (OTCPK:TKPYY) – which is eyeing a potential takeover of Shire (NASDAQ:SHPG) – since cancer was one disease area the Japanese company had highlighted as benefiting from an acquisition.
Israeli labor federation Histadrut intends to take labor or legal action against Teva Pharmaceutical (NYSE:TEVA) if it does not suspend a decision to close a plant in the port city of Ashdod. The drugmaker, which is in the middle of cutting 25% of its global workforce, said last week that it would close the unprofitable plant in March 2019 after failing to find a buyer for the facility.
Ottawa is prepared to offer financial aid to ensure Kinder Morgan Canada's (OTCPK:KMLGF) oil pipeline goes ahead, Prime Minister Justin Trudeau declared, calling the line "a vital strategic interest to Canada." Kinder Morgan (NYSE:KMI), unhappy about moves by the British Columbia government to impede the C$7.4B project on environmental grounds, is threatening to walk away unless it receives sufficient clarity by May 31.
Amid growing calls to boycott the coffee chain, Starbucks (NASDAQ:SBUX) has issued an apology following the arrest of two black men at a store in Philadelphia who said they were waiting for a friend. "The video shot by customers is very hard to watch and the actions in it are not representative of our Starbucks Mission and Values," CEO Kevin Johnson said in a memo.
The food delivery wars are heating up as Domino's Pizza (NYSE:DPZ) adds online ordering for more than 150,000 "hotspots" at U.S. parks, beaches and other destinations that do not have traditional addresses. Drivers will pull up to the offbeat locations to meet customers, according to the company, and people can tell the app what they're wearing so they're easier to spot.
Public funds could only be used to support GM Korea (NYSE:GM) if it's clear that the business could survive on its own long term, according to South Korea's finance minister. Kim Dong-yeon also said major shareholders and other parties need to swiftly come to an agreement on sharing the burden of improving the loss-making operation.
A newly amended lawsuit from Darwin Deason and Carl Icahn, who together hold about 15% of Xerox (NYSE:XRX) shares, claims that CEO Jeff Jacobson pursued a deal with Fujifilm (OTCPK:FUJIY), even after the board advised him to halt negotiations, WSJ reports. The activists are fighting the combination, which they say "disproportionately" favors Fuji, and are separately looking to shake up the Xerox board.
Caesars Entertainment is ditching the slot machines and blackjack tables at its new luxury hotels and beach club in Dubai, teaming up with Meraas Holding, a development company owned by the city's royal family. Since Caesars's (NASDAQ:CZR) largest unit emerged from bankruptcy last fall, executives have highlighted management and licensing deals, which are significantly less expensive than developing new casinos.
Acquiring a mobile storefront for its growing consumer bank, Goldman Sachs (NYSE:GS) has bought personal finance app Clarity Money. It's expected to add over 1M customers to the firm's Marcus business, which has originated more than $2.5B online personal loans since 2016. Adam Dell – brother of Michael Dell – founded Clarity Money and will join Goldman as a partner, a title rarely given to outsiders.