Oil after Trump Iran Decision: Brent $ 77, WTI $ 71…

Stocks in Europe, US climb on Oil Strengh.
U.S stocks advanced on Wednesday as a surge in oil prices boosted energy stocks following President Donald Trump's decision to withdraw the United States from a nuclear deal with Iran.
Energy shares led equity gains as West Texas oil climbed above $71 per barrel after an unexpected drop in U.S. stockpiles and as the market came to terms with President Donald Trump's decision to withdraw from the Iran nuclear deal.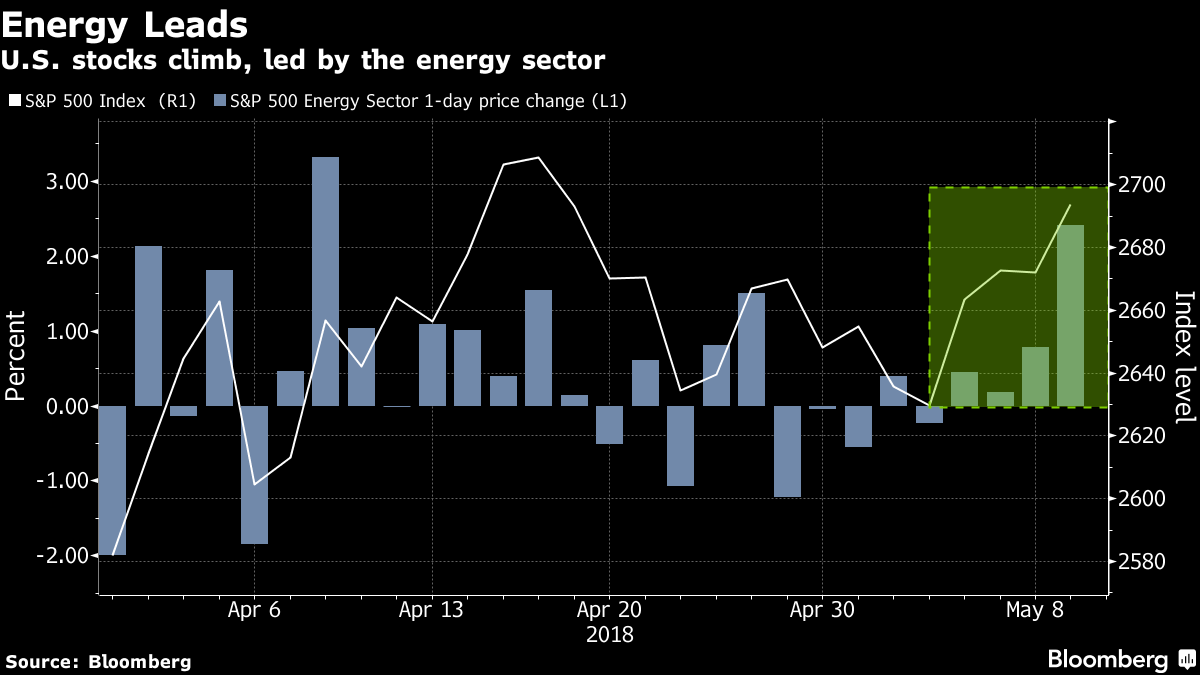 Sanctions on Iran will be re-instated after wind-down periods of 90 or 180 days, according to the U.S. Treasury.Some analysts see an upside risk to  oil price forecast after Trump's actions on Iran at a time when there are risks in Saudi Arabia and Venezuela and inventories are at low levels.
Geopolitical anxiety is driving investors into the safety of the US dollar today, sending it to its highest level since December 2017: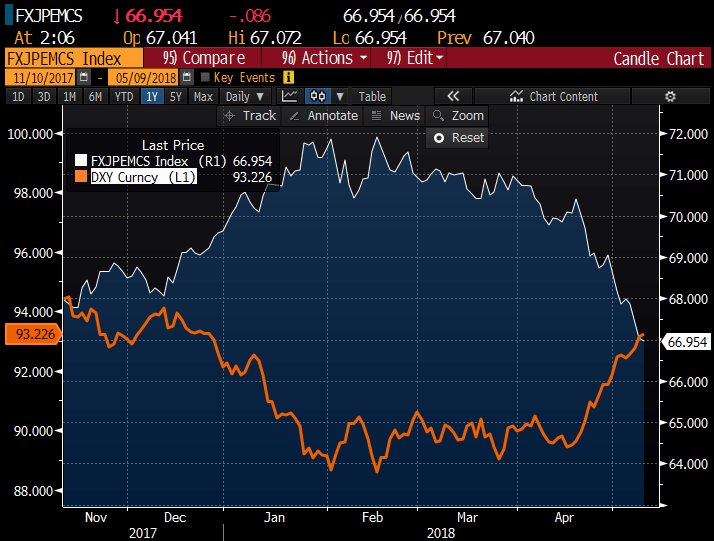 It was a message harsher than some oil traders had expected. Yet Mnuchin said his "expectation is not that oil prices go higher," adding that the U.S. has spoken to "various parties that would be willing to increase oil supply" to offset Iran.
The FT reports that Saudi Arabia will not act alone to plug Iran oil gap: Gulf source

Saudi Arabia will not act unilaterally to increase oil supplies following renewed US sanctions on Iran's energy industry, a Gulf source familiar with Riyadh's thinking said on Wednesday, with any rise in output to be co-ordinated with Russia and other producers.

The comments, which came as oil crested $77 a barrel for the first time since 2014 on fears of a drop in Iranian exports, are a signal the Opec kingpin is not willing to turn its back on a growing energy alliance with Russia, with whom it has worked with since early 2017 to manage output and help prices recover.
"The rise in oil is helping energy sector, which is expected to be a pretty big growth sector. A lot of analysts are expecting strong earnings as oil rebounds, and that hasn't really played out so much early this year."
Now, worries  that rising oil prices will pressure up inflation will have many lectures and outcomes.
Europe opened, and the Stoxx Europe 600 Index rose a fourth day as energy companies surged, while US equity futures were trading  and closing solidly in the green.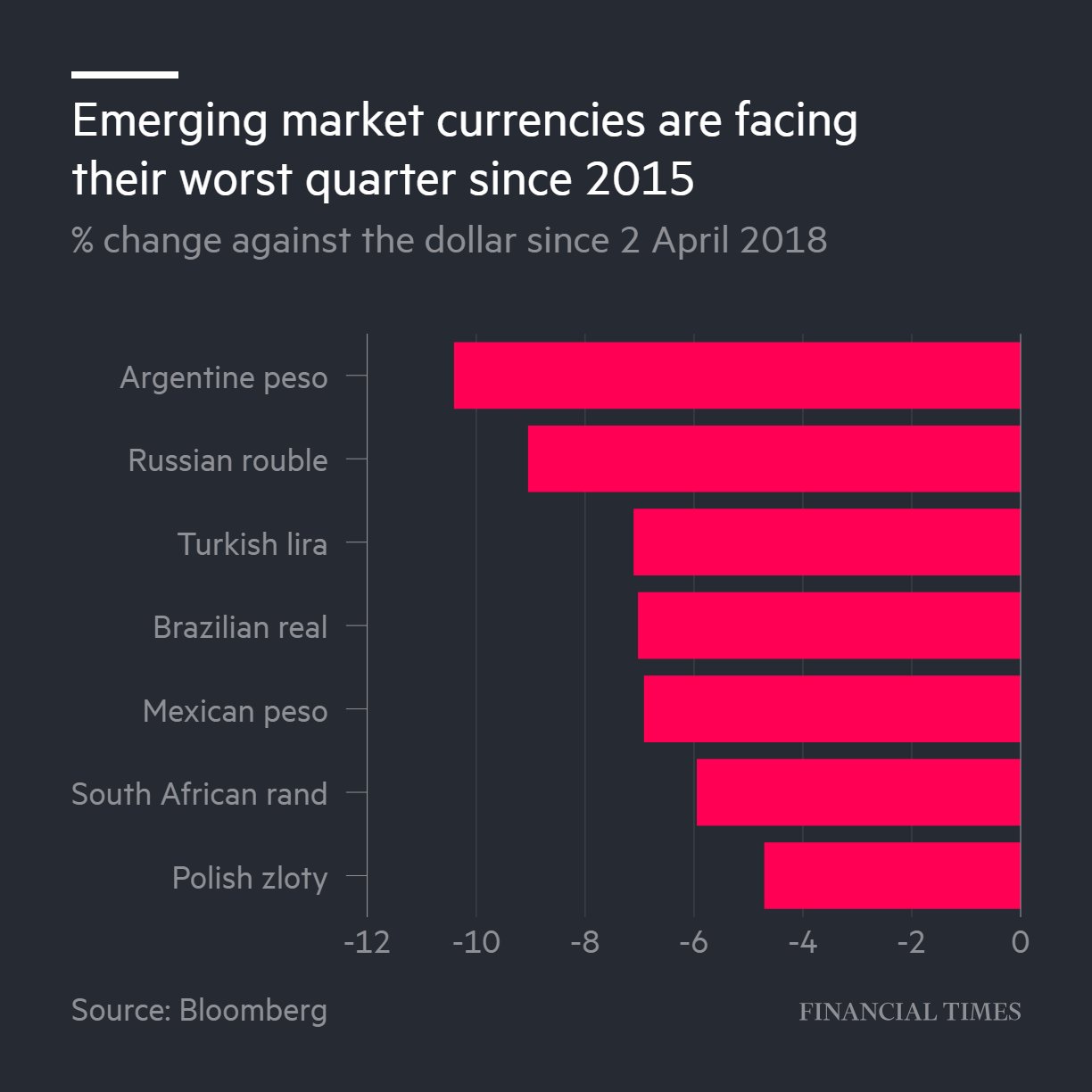 Gasoline futures added 2.2 percent to $2.1570 a gallon on Wednesday.
The International Energy Agency said restoring sanctions on Iran, the world's fifth-largest oil exporter, "may have implications for the market balance."
Iran is still sticking to its nuclear commitments, according to IAEA inspectors. IAEA says it's "closely following" developments after U.S. withdrew from JCPOA nuclear deal and reimposed sanctions, according to emailed statement.
More comments on Iran ´s decision:
Bart Melek, global head of commodity strategy at TD Securities, said this announcement comes at a time where there are increased geopolitical tensions in the Middle East and global crude oil inventories are normalizing after being in a supply glut for the past few years. In the US inventory levels are now below the five-year average.
"There's a broad consensus that [supplies are] going to rebalance and tighten up, but you throw the possibility of disruptions of flows from Iran, and the markets started to worry," he said.
From The guardian:
What does the nuclear deal have to do with the oil price?

When Iran pledged to limit its nuclear ambitions to civil energy production under the deal with the P5+1 group of world powers – the US, UK, France, China, Russia and Germany – sanctions were lifted on its oil exports, giving a significant boost to global oil supplies.
How big is Iran's contribution to global supplies?
Iran is the third largest producer in the Organisation of the Petroleum Exporting Countries (Opec), which makes it a heavy hitter in the production of oil. It produces 2.5m barrels a day, equal to about 3% of global demand. Trump's threat to reimpose sanctions and effectively keep up to half of Iranian oil in the ground has hit the oil price since he was elected in November 2016. The price of Brent crude is now up 50% year on year.

The FTSE 100 closed up 92 points, or 1.2%, at 7,658 on Wednesday driven by a rally in energy shares as oil prices jumped to 3-1/2-year highs following US President Trump's decision to withdraw from the Iran nuclear deal and re-impose sanctions.
"The Iran deal is not dead," declared French Foreign Minister Jean-Yves Le Drian, calling President Trump's withdrawal from the 2015 nuclear accord "an error." European nations will soon meet with Iranian officials as they urged the U.S. not to take steps that would make life harder for countries that still want to stick to the pact. Talks will also be held with oil giant Total (NYSE:TOT) and others with major business and economic stakes in the region
US Secretary of State Mike Pompeo has arrived in Pyongyang to continue preparations for an upcoming meeting between President Trump and Kim Jong-un. "The location is picked, the time and date, everything is picked," Trump said at the White House on Tuesday. Reports also suggest that three American detainees who have been held in North Korea for months will leave with Pompeo.
Echoes of 2001? Argentina's peso is in rebound mode against the dollar after the Latin American nation opened talks with the IMF over a reported $30B financial aid package. On Friday, Argentina's central bank hiked rates for the third time in eight days to a whopping 40% – the highest overnight interest rate in the world – attempting to rein in the country's rampant inflation.
Stocks
Disney shares swung softly in after-hours trading on Tuesday despite a beat on top and bottom lines in fiscal Q2 earnings. ESPN proved less of a drag and once again strong Parks results and a healthy film slate carried the day. Disney (NYSE:DIS) further teased the possibility of even more "Avengers" movies and said it was confident its deal with Fox (NASDAQ:FOXA) will close.
Originally rumored to take a senior position at Disney (DIS), 21st Century Fox (FOXA) CEO James Murdoch is planning to strike out on his own upon the closing of the Mouse House-Fox deal, WSJ reports. He would likely start a venture-capital fund to invest in digital and international media businesses. Lachlan Murdoch is expected to become CEO of the remaining Fox company, so-called New Fox.
Overnight earnings roundup: AB InBev (NYSE:BUD) +2.4% premarket as growth in Latin America offset the U.S. Toyota (NYSE:TM) flagged lower annual operating profit on a higher yen, while Siemens (OTCPK:SIEGY) lifted its full-year profit guidance after a one-off gain. SoftBank (OTCPK:SFTBY) also posted record annual profits on swelling tech investments.
It's official! Walmart (NYSE:WMT) is acquiring Indian e-commerce player Flipkart (FPKT), SoftBank (OTCPK:SFTBY) CEO Masayoshi Son confirmed on the company's earnings conference call. The deal will stoke retail tensions in the region as Walmart shoots to globalize its business and build its technological arsenal. Amazon (NASDAQ:AMZN) has already committed investments to the tune of $5B for its operations in India.
Vodafone has agreed to buy operations in four European countries – Germany, Czech Republic, Hungary and Romania – from Liberty Global (NASDAQ:LBTYA). The deal, valued at €19B ($23B), would face a possibly lengthy EU antitrust review and represents the latest in a global trend toward "quad-play" packages: cable, internet, wireless and phone service on a single bill. VOD +1% premarket.
Alongside an executive shakeup focusing on communication and privacy, Facebook (NASDAQ:FB) said it will create a group that will explore ways to use blockchain technology across its products, "starting from scratch." The division will be run by Coinbase board member David Marcus, who's leaving his role as the head of the Messenger team, and will include outgoing Instagram product VP Kevin Weil.
Online jobs portal Glassdoor (GDOOR) has agreed to be acquired by Japan's Recruit Holdings (OTCPK:RCRUY) for $1.2B, the latest in a string of overseas acquisitions by Japanese companies. Recruit has been pushing to increase its offshore presence over the past few years to make up for weak prospects at home. It already gets 40% of its total revenue from foreign markets.
Major tech and aerospace companies including Amazon (AMZN), Apple (NASDAQ:AAPL), Intel (NASDAQ:INTC), Qualcomm (NASDAQ:QCOM) and Airbus (OTCPK:EADSY) are vying to take part in a new slate of drone tests set to be announced today by the U.S. Transportation Department. The pilot program will allow a much larger range of tests than are generally permitted by the FAA, including flying drones at night, over people and beyond an operator's line of sight.
AT&T has confirmed it paid $200K to President Trump's personal attorney Michael Cohen for "insights" about the Trump administration, but his shell company "did no legal or lobbying work for us, and the contract ended in December 2017." The disclosure came after Stormy Daniels' lawyer, Michael Avenatti, claimed AT&T (NYSE:T), Novartis (NYSE:NVS) and a Russian oligarch had all made payments to Cohen's "Essential Consultants."
Amid an internal investigation into inappropriate workplace behavior at Nike (NYSE:NKE), five more executives have departed the company. That makes it 11 who have exited the sportswear giant thanks to the probe. Among the group is the first woman to leave – Helen Kim, VP and general manager of Nike East, North America.
Annual meeting drama… AIG is looking to convince shareholders today to approve a $43.1M pay package for CEO Brian Duperreault. Proxy advisory firms ISS and Glass Lewis have both advised stakeholders to reject the package in the non-binding vote, saying it did not align with AIG's performance. The stock has dropped 13% since Duperreault took the company reins last May.
Takeaways from the I/O developers conference: Google (GOOG, GOOGL) executives stressed that AI was at the core of their products, showing off advancements in Gmail, Maps, and smart Assistant. The company is further revamping its news product, featuring YouTube videos and tweets, as well as traditional articles. Nvidia (NASDAQ:NVDA) was also watching as Google unveiled a third generation of AI chips.
Tesla has changed the terms of its borrowing agreement with banks to allow it to pledge its Fremont auto factory – the production hub of its Model 3 sedan – as collateral, Thomson Reuters IFR reports. The carmaker has just $543M of the $1.8B credit facility left to use, but banks periodically review the amount they are willing to lend, and Tesla (NASDAQ:TSLA) continues to burn through cash.
Boeing had deals in place for about $20B in jet sales to Iran, but its license for that will now be revoked, according to Treasury Secretary Steven Mnuchin. Not to worry? Bloomberg is reporting that United (NYSE:UAL) has held talks with Boeing (NYSE:BA) and Airbus (OTCPK:EADSY) to replace a fleet of 50 767s with the A330neo or 787 Dreamliner.
Tuesday's Key Earnings
Disney (
DIS
) 
-1.2%
 AH seesawed after strong studio, Parks results.
Electronic Arts (NASDAQ:
EA
) 
+2.5%
 AH wrapping up a record year.
JD.com (NASDAQ:
JD
) 
-4.6%
 amid higher costs.
LendingClub (NYSE:
LC
) 
+3.2%
 AH ramping up loan volumes.
Occidental (NYSE:
OXY
) 
+2.8%
 AH bringing back its buyback.
TripAdvisor (NASDAQ:
TRIP
) 
+17.8%
 AH following an upbeat quarter.
Marriott (NYSE:
MAR
) 
-1.3%
 AH as revenues fell short.
Valeant (NYSE:
VRX
) 
+8.9%
 raising guidance.